Digitization can activate the research value of archives, special collections, and rare materials at libraries, museums, and other cultural institutions for scholars all over the world, and offer libraries the opportunity to showcase unique collections to the general public. Ongoing projects in Maryland, Montana, and Houston, TX, present a glimpse of current trends in digital archives, as state and city libraries work to create collections that reflect local and regional history.
---
Digital Maryland
By Matt Enis
As a state-funded project charged to work with cultural heritage institutions throughout Maryland to identify and help digitize unique content related to the state's culture and history, Digital Maryland has built an impressive collection. During the past two decades, the project has worked with over 100 partner institutions to gather more than 250,000 digital items. From historical photos and maps to collections chronicling recent events—such as digitized Black Lives Matter protest signs from the Reginald F. Lewis Museum of Maryland African American History and Culture—the widely varied collections offer valuable resources for students, genealogists, researchers, and anyone interested in Maryland's history.
"We get to work on a lot of cool stuff," says Jodi Hoover, digital resources manager for Enoch Pratt Free Library and the Maryland State Library Resource Center. "We've been very lucky that we have considerable institutional support, and our funding is stable."
Many of the collections have practical applications for research. For example, a collection from the Mutual Benefit Society of Baltimore—the first Black-owned insurance company in the state, which operated from 1903 to 1977 before being merged with another insurance company—contains a wealth of local genealogical information. The collection features ledgers dating from 1903 to 1947 that include "things like where [policy holders] lived, cause of death, and dates. It's full of genealogical, demographic information from a time period when not a lot of records about that community would have been kept," explains Megan Kean, digital project archivist for Enoch Pratt Free Library and the Maryland State Library Resource Center.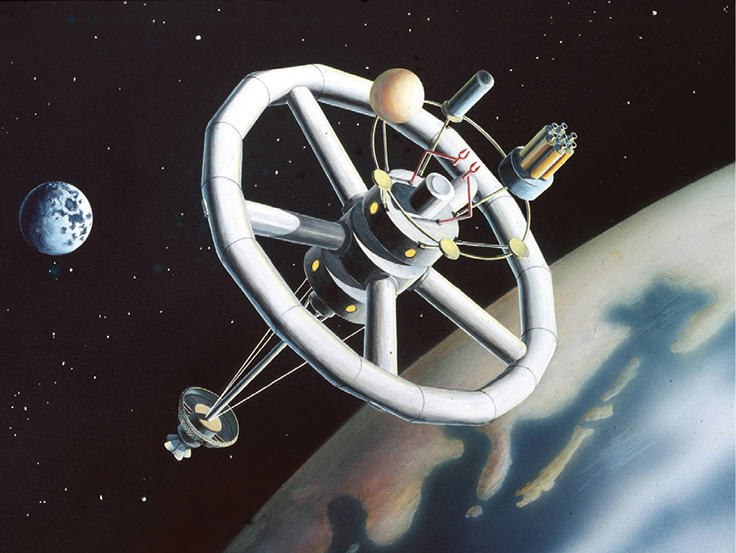 SPACE STATION I

by a Lockheed Martin artist with the last name Montgomery, from the Saunders B. Kramer Lantern Slide Collection. Photo courtesy of the Space 3.0 Foundation
The ledgers are handwritten, so Digital Maryland has set up an active crowdsourcing project using the volunteer platform fromthepage.com in order to make the ledgers more easily searchable. Using FromThePage "has been really exciting in that there's a group of volunteers built in…. Some of it is luck—we have one volunteer who is recently retired and really likes this particular project and has just been moving through pages," Hoover says. Digital Maryland staff "would never be able to devote the time to transcribe" the volume of content in these collections without the help of volunteers, she adds.
Other collections open windows into the past century, such as the Saunders B. Kramer Lantern Slide Collection, which features concept art of space stations, lunar probes, satellites, and space vehicles created by Lockheed Martin aerospace engineers in the 1960s. "We have these amazing illustrations of the space age," Kean says. Hoover adds, "When they first contacted us about it, I had them send pictures of the actual items, because I couldn't believe that space station lantern slides would be a thing. I thought, 'Clearly they mean 35mm slides.' But no—they're beautiful."
Digital Maryland has been on OCLC's CONTENTdm "since almost the inception of the project," Hoover says, noting that the biggest challenge with the platform is that the back end is currently not web-based. But she adds that OCLC has been working on a new version, and they're hoping to be part of the beta test.
Carla Hayden, currently Librarian of Congress, was the director of Enoch Pratt from 1993 to 2016 and was part of the original steering committee of the Digital Public Library of America (DPLA) in 2012, so Digital Maryland has deep roots with that project as well, expanding the reach of their collections through DPLA's national union catalog. "Our collections are not always Creative Commons or public domain, so our thumbnails don't always show up in DPLA, but the records and the metadata [do, and] we do get traffic from DPLA," Hoover says.
Digital Maryland continues to add to its collections. In addition to projects with the Maryland State Archives, a lot of the work comes from "word of mouth from partner to partner," Kean says. "We've stayed consistently busy—we haven't had to do a wide callout for projects; they keep finding us, which is great."
---
Montana History Portal
By Denice Rovira Hazlett
Montana museums, libraries, and cultural institutions are embracing their role to document and provide public access to their local history collections through the Montana History Portal (MHP). MHP is a free online resource showcasing historical and contemporary digital collections relating to Montana's cultural heritage and the Montana experience. Used worldwide by researchers, genealogists, teachers, students, and historians, both amateur and professional, the portal includes maps, copies of photographs, rare books, historical documents, diaries, oral histories, audio and video clips, illustrations, and art. It also hosts more than 200 published collections from 95 contributing institutions, including the Marlene Saccoccia Quilt Heritage Project and the Great Falls Fire Department collection.
Prior to the Portal, researchers had to request access to items from each individual institution across Montana's large geographical area; the Portal makes these items more accessible while simultaneously providing a landing page for each contributing institution, with links to their websites so end users can learn more about the contributors' physical collections.
Recollect is the cloud-based special collection management and community engagement platform on which the Portal is hosted that enables contributing institutions to add content without requiring them to download additional software. It also offers tagging and "recollections" features for crowdsourcing, allowing end users to tag people in images and write in memories that are initiated by an item, all moderated before being published.
"We wanted a platform that would allow us to create topic-specific exhibits," says MHP Director Jennifer Birnel. "We love the ability to create exhibits within our website. We have published 31 exhibits, and we plan for many more."
MHP has two full-time staff—Birnel and her colleague Dave Colamaria—plus assistance from Montana State Library employees when the Portal hosts contests or creates social media content. The team promotes content for greater reach through a weekly email newsletter and daily social media posts that tag contributors.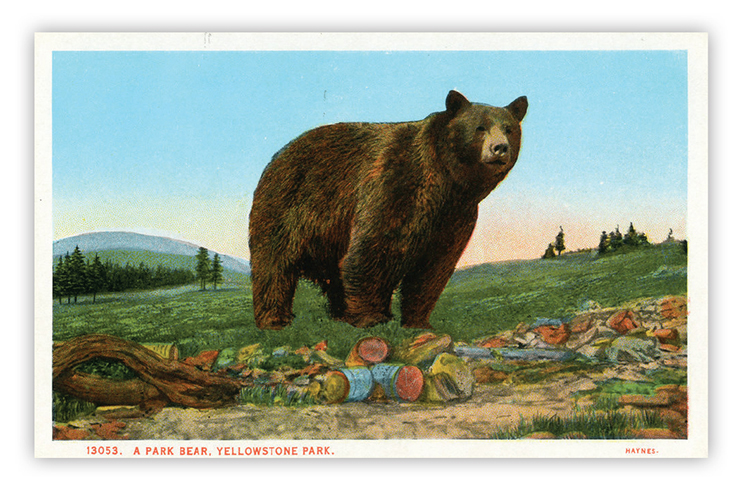 A PARK BEAR

by F. Jay Haynes, from the Yellowstone National Park Souvenir Postcards by Haynes Photo Shops collection. Photo courtesy of the Museum of the Rockies
The Montana Historical Society helps fund the hosted platform and has added the most collections, while the Foundation for Montana History has made it possible for many organizations to contribute content through their grant program. They also encourage digital content projects to work with MHP to make their projects accessible online. The University of Montana Mansfield Library has also been an important content contributor and partner, providing staff time to committees as needed to develop better policies and procedures and to improve metadata quality.
To drive engagement, the Portal team hosts annual contests, such as an all-ages fiction competition where writers use an image from the Portal as a story prompt and a contest inviting participants to create a meme using an image from the Portal's collections. A new contest uses Legos to re-create historical scenes, using image collections for inspiration. The Portal team has also utilized the Adventure Lab Geocaching app to create walking tours of communities, showing then and now images of locations to highlight content to a new audience and create unique ways to experience an area's history.
MHP's hub exhibits collection content from various contributors on a single page related to a person, place, or event, while narrative exhibits tell a story using content from various collections to support the text. Birnel says one recent wave of interest in these online exhibits has come as a result of the Paramount+ television series 1923—a prequel to the hit series Yellowstone. A major plotline involves an Indigenous young woman growing up in a government boarding school in Montana.
"The MHP hosts a digital exhibit on this tragic episode in our nation's past," Birnel says. "It contains dozens of photos and a detailed accounting of what life was like for the children at these schools in Montana."
The exhibit illustrates how boarding schools separated children from families and tribes, instituted forced assimilation, and dictated a life of largely manual labor. Children were abused and mistreated, and countless died from disease and malnutrition. Visits to the MHP website exhibit page and social media interactions increased after the release of 1923, which presents this topic unflinchingly.
"The Portal originally launched the boarding school exhibit in 2019," Birnel says, "and in three and a half years across two different web platforms, it had only 3,682 page views."
After the launch of 1923, that same exhibit generated more than 5,000 page views, with hundreds per day. TV review websites covering the 1923 series have cited the exhibit as a source. It remains one of Portal's most viewed pages.
The MHP team's goal is for every county in Montana to be represented through maps, documents, oral histories, and images that tell the rich history of each community within the Treasure State.
---
Harris County Public Library Digital Archive
By Omar L. Gallaga
When the world shut down in 2020 due to the COVID-19 pandemic, archivist CJ Williams, manager, technical services at Harris County Public Library (HCPL), did not let it stop her from working on a wide-ranging digital project to celebrate the 2021 centennial of HCPL.
Working with a writer to craft narratives around branch libraries' histories (HCPL's 26 libraries are spread out over a vast geographic area that includes Houston) and a staff member handling physical collections and processing, Williams oversaw the official launch of the library system's digital archive. "We were able to launch the first day of the centennial with material in there and some of our first exhibits," Williams says. "And then throughout 2021, every month, we had about three new exhibits. We've grown, but we had 26 branch library narratives throughout the year that were both community histories, explaining how the library fit within the community, and following all the way to where we were in 2020, 2021."
Tracking 100 years of library history was an ambitious project, and it also involved a switch to a new archiving system, AM Quartex, which Williams says made it possible to work on archive exhibits remotely and without duplication of efforts in processing materials.
Harris County is spread across 1,778 square miles, larger than the state of Rhode Island, and takes about two hours to drive through end to end. Williams says that because of the diversity of the area, it was important to tell each branch's story as its own. "All these communities are different…. These are local communities that put in the effort to build these branches, and we wanted to honor that effort."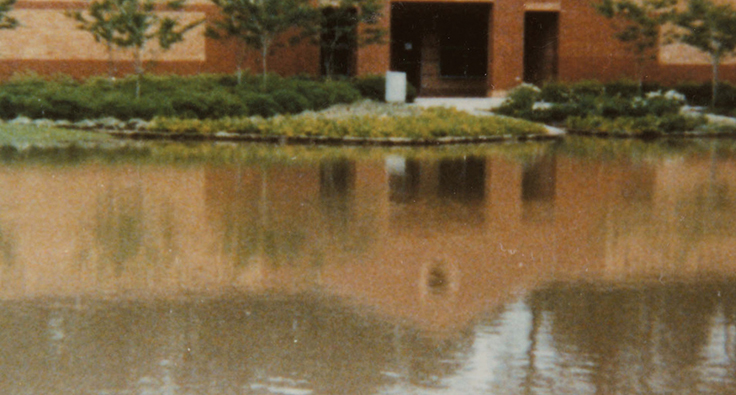 BALDWIN BOETTCHER LIBRARY

surrounded by floodwaters, 1989. Photo courtesy of the Baldwin Boettcher Library, HCPL
Since Williams joined HCPL in 2017, Harris County has endured several natural disasters. That year, damage from Hurricane Harvey caused four branch libraries to close; three have since reopened, and the fourth will be back next year. In 2021, Winter Storm Uri, a severe snowstorm, cut power and water to many parts of Texas. The local impact of these disasters and others from further back in time, such as 1983's Hurricane Alicia, are featured as part of an exhibit.
The importance of storytelling has been a big component in getting the archive right. Not only does it feature timelines, photos, videos, oral histories, and other multimedia one might expect in a modern archive, but the team worked to make it more than a collection of random items. "The narrative thing was always the most important part of this to me," Williams says. "What's the point of [digitizing] things if people don't understand the context? We can have a one-stop place where people can learn, and they can dig deeper in the narratives."
Williams would like to do more with the archive, including telling stories about segregation in HCPL's history; she keeps a list of archive topics she'd like to have covered in the future, as time and the system's budget allow. HCPL doesn't have physical space for archiving materials, so the digital archiving capabilities that AM Quartex offers have made the process easier.
Williams notes that AM Quartex permits the whole project to live on one site instead of being spread across multiple sites, doesn't have a steep learning curve, and has excellent customer support. "I've never had such a positive experience, where we can make suggestions and they acted upon them. We'd get confirmation that issues had been resolved, and they'd keep developing."
Williams adds that one of the reasons she wants to keep telling stories about the library system through the digital archive is that these are stories patrons need now, as books and libraries get politicized and ostracized. "We are rooted in our communities and our communities will rally behind us. They are part of our story."
---
Matt Enis is senior technology editor for LJ.
Denice Rovira Hazlett is a feature, profile, and fiction writer.
Omar L. Gallaga is a tech and culture reporter who has written for Wired, NPR, CNN, the Wall Street Journal, and Washington Post.