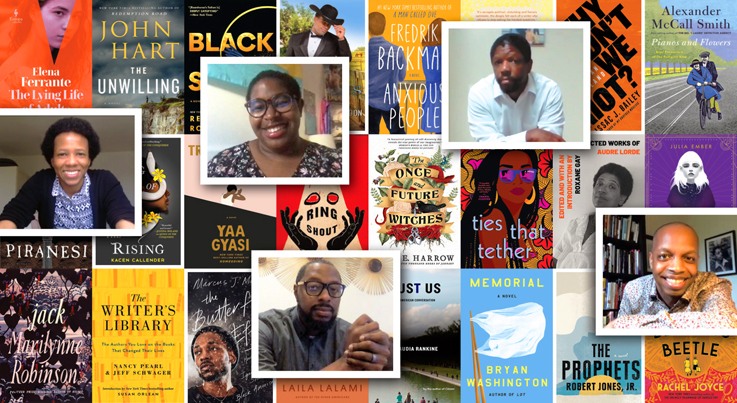 One thing we know for sure about the fall publishing season: It's going to be a full one. Many publishers pushed books forward because of the COVID-19 pandemic, hoping for better conditions for promotion later in the year. For librarians, many of whom are struggling with reduced budgets brought about by the weakened economy, this presents a challenge. The bevy of new books presents its own challenges for library patrons and book lovers, too. Can readers balancing a focus on social justice, the pandemic, and the upcoming election absorb the astonishing number of titles coming this season?
From big name authors like Christopher Paolini and Nnedi Okorafor to those new to the literary world (see Barbara Hoffert's spotlight on debut novels), it's shaping up to be a reading season like nothing we've seen before.

Spring Titles on the Move
The big story of fall is spring. While the pandemic caused publishers to shift some spring titles to the summer, many more moved to autumn and beyond, some even jumping to next year. Books such as Elena Ferrante'sThe Lying Life of Adults (Europa, Sept.) and Bill Clegg's The End of the Day (S. & S., Sept.) moved to the fall while Michael Sears's Tower of Babel (Soho, Apr.) and John Hart's The Unwilling (St. Martin's, Feb.) leapt to 2021. This shifting ground has multiple effects on authors, including lost sales, a move away from in-person tours to Zoom book chats, and anxious uncertainty. Hart called his delay "a necessary choice, based almost entirely on how much I believe in the power of a national book tour. Connecting with readers is that important to me, not just to promote what I do, but to rejoin the human race after long months of writing-induced isolation, to spend time with those who celebrate the written word, and yes, to see my newest 'child' into the world. I live for those moments; my sanity requires them. Hopefully, by next year, people can come together without worry or fear. I see it in my mind's eye, and a lovely thing it is."
The forward push has repercussions for librarians, too, as delayed titles get shoehorned into a schedule already crowded with blockbusters. There will be challenges finding enough display space. Long holds queues for an unexpectedly high number of titles will strain budgets. There will be difficulties in the essential discovery process for readers as well as a review logjam and competitive space for author features, causing some books to get crowded out. Readers' advisers (RA) will need to find ways to make sure a book they read as a digital advance reader copy in March is still in their RA back pocket when it finally arrives in November.
Listening to Librarians, Editors, Authors
Challenges aside, fall offers a bonanza for readers. As Wendy Bartlett, collection development and acquisitions manager, Cuyahoga County Public Library, OH, says, "It's going to be the reading season of a lifetime. I want to take the month of October off just to read!"
What's on her list? "Jonathan Lethem's The Arrest (Ecco, Nov.) promises to be a dystopian/utopian Vonnegut-esque romp with just the right amount of underlying satirical observation. [It's] my top most anticipated [title]!"
Another book with buzz is Emily M. Danforth's (The Miseducation of Cameron Post) adult debut, Plain Bad Heroines (Morrow, Oct.; see "Turn the Page"). Says Bartlett, "There are four things I can never resist in a book: a map in the front papers, a New England boarding school setting, an LGBTQ romance, and a smart-ass protagonist. All four will show up in [Danforth's latest]."
Robin Bradford, collection development librarian for Pierce County Library System, WA, is excited about two fall titles: "I'm currently reading Legendborn by Tracy Deonn (Margaret K. McElderry, Sept.), a modern-day reimagining of the Arthurian legend, set in the American South [with] a blending of two very different kinds of magic. Very hard to put down. On my TBR pile is Rebekah Weatherspoon's If the Boot Fits (Dafina, Oct.), a contemporary retelling of Cinderella where, instead of running away and leaving her shoe, the heroine runs away with the hero's brand-new Oscar statuette. The hunt is on for the hardware and the girl!"
Stephen Sposato, manager, content curation at Chicago Public Library, is excited about Piranesi by Susanna Clarke (Bloomsbury, Sept.). "I've already read—no, devoured—this completely fresh, original fantasy. It's nothing like Jonathan Strange & Mr. Norrell, which I adored, but that makes it all the more exciting coming from Clarke." Sposato also recommends Memorial by Bryan Washington (Riverhead, Oct.): "The author has waged an irresistibly effective charm campaign since his short story collection last year, and I'm excited to see what he has up his sleeve for his debut novel."

What are editors and authors looking forward to? Kate Seaver, Berkley's executive editor, says, "I love Ties That Tether (Sept., see starred review, p. 50) and am proud to publish it this fall! Debut author Jane Igharo draws on her own experiences as a Nigerian woman who immigrated to Canada to tell an authentic, powerful story about love, identity, and family. Azere, a young Nigerian woman, must choose between love and her family when she starts to date a white man and her mother threatens to disown her."
In turn, Igharo offers a fall pick of her own: "I am incredibly excited about Yaa Gyasi's upcoming novel, Transcendent Kingdom (Knopf, Sept.). Like her debut, this one promises to be powerful, heart-wrenching, and eye-opening as it focuses on a family of Ghanaian immigrants living in Alabama. The novel honestly explores depression, addiction, science, faith, and love."
Carl Engle-Laird, editor at Tor.com, suggests Ring Shout (Oct.; see "Turn the Page," p. 19): "In America, demons wear white hoods, and Maryse Boudreaux, the heroine of P. Djèlí Clark's historical horror novel, stands between the Klan and their plans for hell on Earth."
Clark says, "This fall, I'm most looking forward to Rebecca Roanhorse's Black Sun (Gallery, Oct.), the debut novel in the 'Between Earth and Sky' trilogy. Fantasy is my first love, and this tale, set in a secondary world inspired by the pre-Columbian Americas and filled with prophecies, magic, politics, and resistance, sounds incredible!"
Tara Parsons, associate publisher, Amistad/HarperVia/HarperCollins Español at the HarperOne Group, recommends The Writer's Library by Nancy Pearl and Jeff Schwager (HarperOne, Sept.). "I'm thrilled to introduce this delightful, intimate, and insightful guided tour through the libraries and minds of a diverse group of modern literary legends captured with sincerity, humor, and effervescence by Nancy and her wonderful cowriter, playwright Jeff Schwager."
No stranger to suggesting books, Pearl points to The Cold Millions by Jess Walter (Harper, Oct.). "There are some things you can count on with every Jess Walter novel: It isn't going to be like any book he's written before, the prose and the plot won't let you put the novel down, and you'll never forget the characters."

Season of the Witch & Other Trends
A year of turmoil provides a shaky platform to guess the future, but the crystal ball of the fall catalogs and the buzz on EarlyWord's "GalleyChat" reveals that witches continue to cast a spell and "uplit" is in demand.
The witchiest book of the season is Magic Lessons by Alice Hoffman (S. & S., Oct.). Jim Butcher also returns with his beloved wizard in Battle Ground (Ace, Sept.), and Alix E. Harrow has The Once and Future Witches (Redhook, Oct.).
Uplit, or feel-good books with happy endings, soothes the weary soul. Anxious People by Fredrik Backman (Atria, Sept.) and Miss Benson's Beetle by Rachel Joyce (Dial, Nov.) are likely to be two popular titles in this vein.
While too constant to be called trends, winter holiday titles and art-heavy, coffee-table books are strong this season. Key examples include A Dog's Perfect Christmas by W. Bruce Cameron (Forge, Oct.), Designing History: The Extraordinary Art & Style of the Obama White House by Michael S. Smith (Rizzoli, Sept.), and Humans by Brandon Stanton (St. Martin's, Oct.).
Top short story collections include Prayer for the Living by Ben Okri (Akashic, Feb.), Likes by Sarah Shun-lien Bynum (Farrar, Sept.), Pianos and Flowers by Alexander McCall Smith (Pantheon, Jan.), and Daddy by Emma Cline (Random, Sept.). For classics, look for The Selected Works of Audre Lorde, edited by Roxane Gay (Norton, Sept.; see "Turn the Page," LJ 8/20).
Bartlett says to look for strong fantasy this fall: "This world sucks? Let's world-build ourselves another one!... Also, fiction that is not afraid to give us room to ponder the big questions: life and death, what spiritual answers may be out there—or not. I'll be looking for answers from Marilynne Robinson in Jack (Farrar, Sept.), her latest entry in the world of Gilead (one of my top five reads of all time!)." Other highly anticipated speculative fiction titles of the season include Kacen Callender's King of the Rising (Orbit, Dec.), the second novel in their "Island of Blood and Storm" series, and Julia Ember's Ruinsong (Farrar, Nov.), an LGBTQ romantic fantasy.

Robin Bradford writes that "Trends come and go, but one change I hope will only increase as time goes on is the widening of space available to diverse stories. The pace has been entirely too gradual, but it seems to be picking up. Case in point: Carina has announced an LGBTQ line of romances, Carina Adores. Upcoming titles such as Just Like This by Cole McCade (Nov.) bring more happily ever afters to the forefront."
Stephen Sposato trend-spots, too: "Following in the footsteps of Ta-Nehisi Coates and Colson Whitehead, a new generation of Black writers are boldly taking on the history of slavery and racism in fiction." Sposato cites The Prophets by Robert Jones Jr. (Putnam, Jan.) as a prime example, the story of a relationship between two enslaved men on a plantation in the South. "The Afropolitan literary scene keeps expanding to a wider audience," adds Sposato, who recommends Akwaeke Emezi's The Death of Vivek Oji (Riverhead, Aug.), one of the most highly anticipated novels of the year, centering on a Nigerian family's reckoning with the loss of a child.
---
Black Voices on This Moment in Publishing
Four of the authors highlighted on our cover share their thoughts about what makes this moment in publishing different.
"The world is on fire … with a racial reckoning stacked atop the worst pandemic of our lifetimes. [...] It may take generations to heal these wounds. But it also provides us an opportunity to correct long-held wrongs. It can help us chart a new course and move us a little closer to living out our stated ideals."—Issac J. Bailey (Why Didn't We Riot: A Black Man in Trumpland, Other Pr., Oct.)
---
"The pandemic is highlighting the ways people of color and especially Black people, poor people, and the intersection of poorness and Blackness, have been fatally overlooked systemically, which adds more fuel to the quickly spreading realization that this country needs to change in real, long-term ways. […] Publishing is a part of this. There's a new white consciousness and awareness that will hopefully translate into permanent change when it comes to hiring practices within publishing, and which stories and voices will be seen and heard and be given opportunities that they might not have been given before."—Kacen Callender (King of the Rising, Orbit, Dec.)
---
"This is the first time that Black people in the industry […] have been permitted to speak freely about our experiences without the validity of our perspectives being immediately questioned or dismissed. […] I want to say it feels like a renaissance, particularly for Black writers, whose works are now highly sought after by, perhaps, primarily non-Black people hoping to discern how we arrived at our current racial impasse and how we might move beyond it. […] But I also know how these moments of earnestness can often be fleeting. What seems like a welcome clarity might merely be, instead, trendy. We have been here many times before. […] Still, where I find hope is in this: […] For those of us seeking to reduce harm, to better ourselves and the world around us, we have turned to books. After all these millennia, books are still where we intend to find progress."—Robert Jones, Jr. (The Prophets, Putnam, Jan. 2021)
---
"We are seeing so many wonderful stories from Black authors and authors of color and publishing is now at a place where they can really bring in more voices and pay those voices well for that work."—Rebekah Weatherspoon (If the Boot Fits, Dafina: Kensington; Oct.)
---
Books of the Now
In the wake of George Floyd's death at the hands of Minneapolis police officers and the subsequent wave of protests, books about antiracism and the Black experience in America have jumped to the top of best seller lists. This fall, several new works offer readers opportunities to deepen their understanding and affect change. Key titles include Ijeoma Oluo's Mediocre: The Dangerous Legacy of White Male America (Seal, Dec.; see "Turn the Page," LJ 8/20), Claudia Rankine's Just Us (Graywolf, Sept.), Marcus J. Moore's The Butterfly Effect: How Kendrick Lamar Ignited the Soul of Black America (Atria, Oct.), Laila Lalami's Conditional Citizens (Pantheon, Sept.), and Issac J. Bailey's Why Didn't We Riot: A Black Man in Trumpland (Other Pr., Oct.).

As for books directly related to the pandemic, most are coming out in 2021 and beyond, but for fall consider Fareed Zakaria's Ten Lessons for a Post-Pandemic World (Norton, Oct.) and the hardcover version of an early ebook release of Together in a Sudden Strangeness, edited by Alice Quinn (Knopf, Nov.).