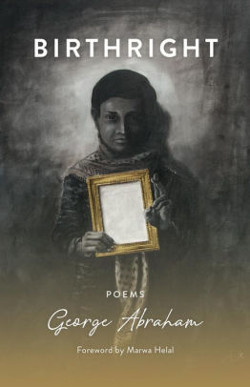 Abraham, George. Birthright. Button. Apr. 2020. 144p. ISBN 9781943735679. pap. $16. POETRY
In their first full-length collection, Palestinian American poet/activist Abraham highlights the plight of the Palestinian people in caustic, free-flowing language. This is poetry not just read but laceratingly felt, as Abraham condenses to tar-thick fury what it's like to lose one's home ("i was whole once;...now they paint us arsonist/ on our own land") as "My people carry another sunrise on their backs;/ Bear the ashes of two diasporas on their backs." Even love is not necessarily a balm: "the first time a boy craved/ me, he said, i want what my god refuses// me... ; he still called me// fucking queer," says one poem, and a plaintive ending to the collection addresses their father: "I love you — I mean, do you love me enough to stay? VERDICT A gut-punch read, excellently crafted and clarifying not just the political but the human condition.
Alexander, Meena. In Praise of Fragments. Nightboat. Feb. 2020. 104p. ISBN 9781643620121. pap. $17.95. POETRY
Assembled during the last year of her life, this collection from distinguished poet Alexander (Atmospheric Embroidery) moves briskly from her Kerala, India, childhood to Hyderabad, Venice, and 17th-century Venetian Jewish poet Sarra Copia Sulam. Bright and lush, these ingratiating poems fly by but aren't really fragments; each contains a well-articulated moment, and they are united by their reflections on our pasts and ourselves. "All of us live with ghosts./ This is part of what makes us human," says a prelude poem, which ends affectingly, "Where and what is home? How much can a body be home?"—an important question given the geographic territory Alexander covered in her life and work. Wherever her poems head, she recalls "all that tethered me there." VERDICT Vibrant, approachable work; the Sulam poems are accompanied by Alexander's exuberant drawings.
Barot, Rick. The Galleons. Milkweed. Feb. 2020. 88p. ISBN 9781571315236. pap. $16. POETRY
This ambitious new work by multi-award-winning poet Barot (Chord) presents his family's immigration from the Philippines to America as part of a larger investigation: What is history, and how does it comprise our stories? Are they illumination ("a matchstick lit in the black seam of time"), foregrounding, or perhaps nothing at all ("like the dusty stuff in the corner of a windowpane")? While the title suggests the ships plying the oceans in the 1500s–1800s, carrying people and cargo (or, terribly, people as cargo), Barot embraces all sorts of transits worldwide, like the Palestinian girl who carries a ladder each morning so she can climb a wall and get to school. The result is a quietly assured unwinding of a key aspect of human history. ­VERDICT Important reading, especially for those interested in the issues of colonialism and immigration.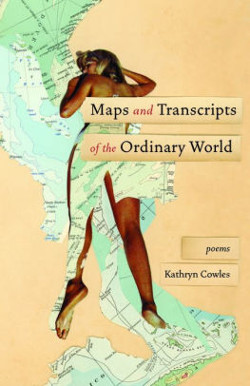 Cowles, Kathryn. Maps and Transcripts of the Ordinary World. Milkweed. Mar. 2020. 96p. ISBN 9781571315021. pap. $16. POETRY
It's hardly surprising that a collection whose title references "maps and transcripts" addresses our desire to nail down experience, but the award-winning Cowles (Eleanor, Eleanor) deftly shows that as we struggle to transform into language what we see and hear and feel, the results are inevitably incomplete; there's a gap between what we want to say and what we actually manage. Of course, she faces the same problem, and sometimes the poems feel unsatisfactory—which is exactly the point. Life doesn't happen as neatly as art can make us believe, and Cowles can be good at capturing that disjunction: "and one day everyone decides/ to bale their hay/ every single field down/ all at once everyone// all at once/ my friend is sick/ sick and far away." VERDICT An intriguing, risk-taking work, with special appeal for millennials and crossover readers; poem-photograph collages throughout.
Irwin, Mark. Shimmer. Anhinga. Jan. 2020. 68p. ISBN 9781934695630. pap. $22. POETRY
In his latest, the multi-award-winning Irwin alights urgently on a world filled with sun-soaked marmalade and animals dragged terrified to slaughter. Certainly, there are wonders here: "just look/ from any jet and marvel at the astral makeup" and "Life is a red car/ with the top down." But Irwin also addresses weightier concerns: "What a great responsibility to think of things that no longer exist/ …of creatures no longer here/ …of people no longer here," and he's willing to take up the pen for them all so "the pear trees bud and flower in an instant." VERDICT Masterly, meditative work for all readers.
Jeffers, Honorée Fanonne. The Age of Phillis. Wesleyan Univ. Mar. 2020. ISBN 9780819579492. $26.95. POETRY
Phillis is, of course, Phillis Wheatley, the West Africa–born woman who rose above enslavement to challenge society's presumptions by publishing a collection of poetry in 1773. Having spent 15 years researching Wheatley's life, award-winning poet Jeffers (The Glory Gets) transforms fact into beautifully conceived verse, moving from Africa (where "the mother/ poured a ritual/ for her daughter/ to remember") to the appearance of slavers ("The men arrive. The mourning longs./ The men arrive. Our names shall scatter") to life in Boston with her white owners, who introduce her to literature ("We know she was brilliant, this child./ Also: biddable, quiet, no wild tendencies"). Woven throughout are fragments of Wheatley's life, meditations on mercy and mothering, and imagined correspondence with friend Obour Tanner, husband John Peters, and others. VERDICT A true and rounded life, told in elegant, sometimes ravishing verse.
Marsh, Roya. DayliGht. MCD: Farrar. Mar. 128p. ISBN 9780374538897. pap. $15. POETRY
Fulfilling that old-fashioned term tomboy as she was growing up, nationally ranked poet/performer Marsh didn't see anyone like her in either the neighborhood or the media. Now, in a straight-at-you debut, she talks about being a butch black woman, revealing a complex, hard-won sense of identity grounded in her physical being. "For what it's worth i ain't never wanted to be no man," she insists, while also confronting this country's long history of racism. Hunting down her ancestry, she encounters a feckless white woman and cuttingly comments, "results say i'm hers/ in history/ in old law," even as painful vignettes of racial oppression give way to the observation, "even black will crack if you beat it enough." VERDICT Throughout, you can hear the pain—and this performer's stage strut, though these poems are as easily and ­rewardingly read as heard.
Matson, Brooke. In Accelerated Silence. Milkweed. Feb. 2020. 96p. ISBN 9781571315151. pap. $16. POETRY
Facing the loss of a loved one, many people rail against the heavens. But in her debut collection, Matson chooses to investigate them instead, like Eve with a pomegranate, "smashing a chest of rubies,/ …split[ting] the vermilion world in a violent need to know." Yet she also cries, "tow the borders/ of this universe far beyond// our grasp" because the very idea that tragedies have explanations is repugnant. Knowing that all her touchstones are gone, Matson struggles with grief ("I force my heft against an unseen fence/ every morning") and eventually is able to face the glorious "thumbprint" of the sun. Both anguished and unblinking, these poems deliver an understanding of being divided—tumor from body, self from beloved, and self from self after the fusion of passion burning hot as a megastar's core. VERDICT Accomplished poetry that will move those who have sorrowed—that is, everyone.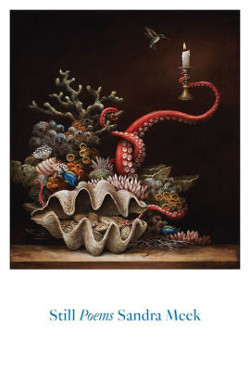 Meek, Sandra. Still. Persea. Jan. 2020. 96p. ISBN 9780892555055. pap. $15.95. POETRY
If you had cabinets juxtaposing human artifacts and natural wonders, as they often did in the Renaissance, what would they look like? "O cabinet/ of wonders: these// are not those," warns Meek ( The Ecology of Elsewhere) of the "cabinets" in her latest collection, which is equal parts thought-provoking, language-drunk, and innately challenging. Divided into four cabinets, each containing a half-dozen "Still Lifes" ("with White," "with Caribbean Reef Squid"), the poems defy easy logic, leaping from line to line and image to image. In one, for instance, a phantom crane fly ("stilled wings/ the veined gauze of obsolescence") leads to disappearing images in a fitting-room mirror ("you let her go rather/ I made her gone"). It's worth it to take the time to see how dust settling from a shattered statue of Stalin relates to the forward propulsion of music, life never being static. VERDICT Absorbing reading for poetry pros.
Metres, Philip. Shrapnel Maps. Copper Canyon. Apr. 2020. 182p. ISBN 9781556595639. pap. $18. POETRY
In his fourth collection (e.g., Sand Opera), Lebanese American Metres offers verse at once intimate and politically taut as he explores the conundrum of Israel/Palestine today. "Two people, one tree, not enough land or light or love" he says early on; "we lived in those leaves/ before we were torn,/ scissored from branch,/ shorn from the spine." Whether chronicling a border-crossing family wedding, a suicide bombing, or unease between Arab and Jewish neighbors, Metres portrays a beautiful but damaged landscape where deep-rooted political realities dominate, where a man finds "history/ holding him at passport control" and an activist "inserts the inked ribbon of herself/ between the black roller of history// and the alphabetic metal legs" of soldiers' rifles. VERDICT An aside says, "(this is not news, this is not poetry)," but Metres's thoughtful ­collection is both.
Murillo, John. Kontemporary Amerikan Poetry. Four Way. Mar. 2020. 88p. ISBN 9781945588471. pap. $16.95. POETRY
"The jazzman, I think, wanted only/ to get it down pure" says Murillo ( Up Jump the Boogie) in a startling poem about how much he can—or cannot—empathize with a sparrow trapped in a car door. And that's his own aim: to get down pure the pain of living, particularly in a world contorted by institutional racism. He reveals here the uneasy balance of learning to save himself in a bruising environment, where he must "Start with loss. Lose everything. Then lose it all again." Thus does he articulate the African American experience in language that's intimate, even conversational, yet carefully crafted for maximum effect. "You've heard this one before, in which there's blood," he confides in "A Refusal, To Mourn the Deaths, by Gunfire, of Three Men in Brooklyn," echoing Dylan Thomas in a search not for poignancy but truth. ­VERDICT Essential for ­#ownvoices ­collections.
Paredez, Deborah. Year of the Dog. BOA. Apr. 2020. 128p. ISBN 9781950774012. pap. $17. POETRY
CantoMundo founder Paredez (This Side of Skin) chronicles 1970, the Year of Metal Dog in the lunar calendar, the year of her birth, and the year her father was deployed to Vietnam with a troop of Mexican American immigrant soldiers. "My father has never eaten a pomegranate though he has spent time on the other side/ and its shadow darkens his return," she says of his experience. But she doesn't stop with his understanding that "close only counts in/ horseshoes/ and hand grenades," showing us both a Vietnam people battered by napalm and social unrest at home ("The mentality that calls Vietnamese 'gook' is the same mentality that calls brown people 'spics.' ") And she moves forward to self-portrait (she's a howling woman, a self-styled Hecuba), the Vietnam War Memorial, and schoolchildren today, for whom 2018 was deadier than it was for deployed U.S. soldiers. VERDICT A frank, lucidly written work that grounds readers
in history.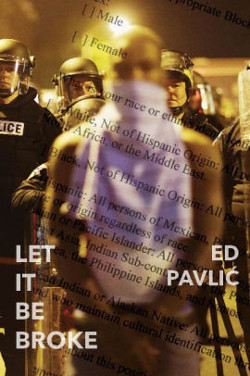 Pavlić, Ed. Let It Be Broke. Four Way. Mar. 2020. 134p. ISBN 9781945588457. pap. $16.95. POETRY
As with his National Poetry series winnerVisiting Hours at the Color Line (he also won for Let's Let That Are Not Yet: Inferno), Pavlić fiercely confronts a culture defined by racism when race itself is just a construct. "Are you Black? I wouldn't say that. Sometimes the world says that," states a long opening poem, which later adds, "Are you white? No, I've never said that. Sometimes the world says that." Yet "in high school, I'm what that racist country boy/ in Wisconsin called a nigger." These defiant poems highlight injustice through memoir; the first dozen pages alone move from a boyhood summer, Mogadishu, and Miles Davis to James Baldwin, a sister's departure, and memories of the Day of Outrage. VERDICT A hard, sharp kick to the color line; important reading in "a country that's busy day and night/ …putting you in charge of its lies."
Perez, Craig Santos. Habitat Threshold. Omnidawn. Mar. 2020. 80p. ISBN 9781632430809. $17.95. POETRY
A native Chamorro from Guam, Perez has challenged colonial dominance in his excellent "from unincorporated territory" series. Here he examines ecological catastrophe in urgent, forthright language, limning a world pushed to the limit by escalating carbon emissions where "Our daughter falls/ asleep in a plastic crib, and I dream/ that she's composed of plastic,/ so that she, too, will survive/ our wasteful hands." And he wastes no time in connecting this tragic situation to those marginalized worldwide. Addressing surging tropical storms, "Disaster Haiku" states "the world/ briefly sees us/ only after/ the eye/ of a storm/ sees us," and Perez highlights the refugee crisis, which comes partly from climate change, by asking, "Will we build/ a tender country, where the only/ documents needed for citizenship/ are dreams of sanctuary?" ­VERDICT Not just for environmental activists; showing what an informed poetic voice can do.
Ray, Megan Denton. Mustard, Milk, and Gin. Hub City. Mar. 2020. 80p. ISBN 9781938235641. pap. $16. POETRY
In this heartfelt debut collection, Ray uses luscious, pitch-perfect language to explore her childhood: "Southern girl, flint and dandelion girl,// toward the lighthouse girl with moonshine/ and moss." But it's not a pretty picture, more like "Dry-salt/ of my past, retrieval of my edges," as Ray recalls her constant care of addicted parents mired in an opioid-ridden community. There's ongoing trouble, too, with an identical twin sister: "Sister Shadow, we are decades out of the crib and in our own/ cities now." Tension builds throughout, but Ray isn't showing off her wounds. She lets her writing, not her subject, do the work, and she slides into her observations as if she were sliding smoothly into water. VERDICT Skilled, plangent ­writing, and the tragedy of ­addiction in the family adds currency.
Schwartz, Leslie Contreras. Who Speaks for Us Here. Skull + Wind. Mar. 2020. 96p. ISBN 9781733425308. pap. $17.50. POETRY
When she began researching sex trafficking several years ago, Houston poet laureate Schwartz (Fuego) suddenly came face to face with the long-suppressed anguish of an abusive high school relationship. What resulted is this arresting study of individuals, from the sex trafficked to the mentally ill, who dissociate from their selves to avoid trauma. The first poem lands with a wallop, as nightmarish, bunkered horses embody her past pain ("These are my animals. If I destroy them, I destroy myself"), while the following poems, real and raw, detail the experience of splintering ("sacred self fractured self part times part to choir self// …loud architecture// ...uproar, racket, orchestra harmonic// …golden trapped space of your own body." VERDICT Appropriately, syntax sometimes fractures here along with the self, intensifying an experience Schwartz captures in vervy writing.
Smith, Danez. Homie. Graywolf. Jan. 96p. ISBN 1644450109. pap. $16. POETRY
Queer, black, poz poet/performer Smith, a National Book Award finalist for Don't Call Us Dead, roars back with an energized, affirmative work about the ties that bind him, partly to community but mostly to friends. He's upfront in an opening note, saying "this book was titled homie because i don't want non-black people to say my nig out loud. this book is really titled my nig." Whether mourning the dead ("the wind is tangled/ with the dust of dead homies"), imparting an important lesson (after a beating, he realizes, "i didn't know/ a thing about love/ until those boys/ walked away/ so happy"), boosting potential presidents from his grandma to Colin Kaepernick, or honoring those dead of "gay cancer" ("blood's gossip/ cum cussed"), this is the real stuff. VERDICT If you liked Don't Call Us Dead, this will lodge under your skin.
Sullivan, Hannah. Three Poems. Farrar. Jan. 2020. 80p. ISBN 9780374276713. $24. POETRY
Sullivan's T.S. Eliot Prize–winning debut collection moves through phases of the poet's life in three sections. "You, Very Young in New York," offers a richly detailed incantation of young adulthood ("Then a smear of olive lipstick, and you walk out into the night"). The California-set "Repeat Until Time: The Heraclitus Poems" battles against the predictable ("When things are patternless, their fascination's stronger"). Finally, "The Sandpit After Rain" evokes the simultaneous birth of a child and loss of a father (of them, she says, "there was a resemblance:/ Our slight awkwardness with each other"). Sullivan condenses everyday experience to something bright and malleable, rich in concrete detail. VERDICT Visceral, lived-in poems told with a classicist's control; though the long lines sometimes lack music, this is ultimately an accomplished volume from a poet to watch.
White, Allison Benis. The Wendys. Four Way. Mar. 2020. 80p. ISBN 9781945588426. pap. $16.95. POETRY
As in the Rilke Prize–winning Please Bury Me in This and LJ best-booked Small Porcelain Head, White puts herself on the line to plumb death and its awful impact in poems that are teardrop radiant but never sentimental. To face the loss of her mother, Wendy, she probes the deaths, sometimes violent, sometimes self-inflicted, of five other Wendys: Wendy O. Williams, lead singer of the Plasmatics; photographer Wendy Given; Wendy Torrance in Stephen King's The Shining; teenage Wendy Coffield, the first recovered victim of the Green River Killer; and Wendy of Peter Pan fame. However disparate, they are linked by a sense of unassuaged longing ("Take me, take me, across the universe") and White's ringing voice. VERDICT For anyone coming to terms with loss.
---
This article was originally published in Library Journal's February 2020 issue