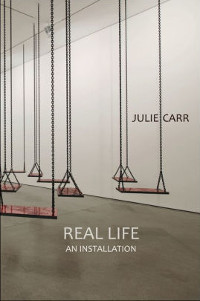 Carr, Julie. Real Life: An Installation. Omnidawn. Oct. 2018. 232p. ISBN 9781632430571. $17.95. POETRY
Art installations dramatically enfold us, conveying a heightened sense of our world, but what if life itself were viewed as one large installation? Carr (100 Notes on Violence) here blends statistics ("in 2013, 1 out of every 30 children in America is without a home"), social commentary ("The candidate does not believe in contraception because he does not believe in sex without procreation (for women anyway")), lists (often 14-line poems with numbered lines), fairy tales (the witches are nowhere near as scary as the politicians), snatches of ordinary life ("In real life it takes a long time to remember what month it is"), and, of course, envisioned installations ("No door through which to enter, no door through which to leave"). All of this yields, as one poem is titled, "The Lived Experience of Social Power"—and in fact experience in general. Reading this book feels like living and breathing the life we live and breathe, and Carr manages to make it all compulsively readable.
VERDICT Sharp social and political observation from a poet who does it right.
Charles, Jos. Feeld. Milkweed. (National Poetry). Aug. 2018. 80p. ISBN 9781571315052. pap. $16; ebk. ISBN 9781571319913. POEtRY
All poetry aims to refresh, reframe, even revolutionize language, but in an effort to find a new and better way to discuss the trans experience, Charles goes farther than most: "a tran is a thynge u leeve / wen u scape a streem / the grls putting ther saltie secks inn the aire" proclaims one poem. Elsewhere, "the trans knos / bieng at the hart off it / pumpynge the rowndes / her crop a 1000 holes inn everie grownde." The result sounds like medieval English but feels eerily modern; careful reading will untangle meaning, a task that will exhilarate some and exasperate others. Beyond the lushness, the sexual vividness, the "feemale depositrie room," the hemorage that recurs and rules, the sense of a life freshly and differently lived, there's a keen sense of political rebellion: "r reckage off trees existing tot & securelie / the wharing masckulin economyes."
VERDICT This book will shape the conversation on poetry and can make other collections feel ordinary, but its challenges are best left to serious poetry lovers.
Christina, Dominique. Anarcha Speaks: A History in Poems. Beacon. (National Poetry). Oct. 2018. 92p. ISBN 9780807009215. pap. $16; ebk. ISBN 9780807009314. POETRY
Called the father of modern gynecology, Dr. J. Marion Sims arrived at his methods through painful experimentation (without anesthesia) on African American slave women who obviously had no choice. One such woman was Anarcha, rescued here from history (as she never can be from Sims) by the award-winning Christina (This Is Women's Work). Christina gives her a history, from the Middle Passage ("we bottom of the boat heavy heavy") through sexual abuse by her master ("he take what he want/ he keep a hot hand"), her pregnancy ("how you translate a bludgeonin to/ a birth?"), a vaginal fistula ("we caint shut up the piss, the blood") to intervention by Sims ("doctor/massa makin science 'tween my legs"). While he inflicts suffering ("ain't enough language/ for the hurt of me," cries Anarcha), Sims coldly observes, "But Anarcha, the cougar-eyed gal/ split clean from end to end/ is where the work is."
VERDICT As befits a Women of the World Slam Champion and 2011 National Poetry Slam Champion, Christina uses rhythmic, throbbing, vervy language that lets readers live Anarcha's tragic story.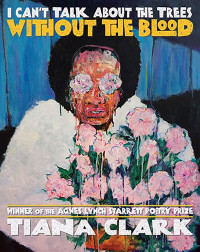 Clark, Tiana. I Can't Talk About the Trees Without the Blood. Univ. of Pittsburgh. Sept. 2018. 80p. ISBN 9780822965589. pap. $17. POETRY
"For me, trees will never be just trees. They will also and always be a row of gallows from which Black bodies once swung." Thus does Clark explain the title of her Agnes Lynch Starrett Poetry Prize winner, which viscerally imparts the trauma visited on the African American body—and therefore the African American soul. "I carry so many black souls/ in my skin," she says in one poem prompted by her white mother-in-law's wish for the family to be photographed at Carnton Plantation. The plea, "Can't we just let/ the past by the past?" is resoundingly answered throughout in the negative. In the unsettling and ambitious "Cottonmouth," the snake's gaping mouth evokes both being swallowed and the dilating vagina, with the speaker finally "[giving] birth to myself." Yet the struggle to claim herself against physical and psychic violence continues, as she hears the incessant echo of racial epithet and, in the affecting "Tim," identifies with a terrified baby goat.
VERDICT An honest, punch-angry portrait of being American while black.
Ferrell, Monica. You Darling Thing. Four Way. Sept. 2018. 88p. ISBN 9781945588228. pap. $15.95. POETRY
This new collection from the award-winning Ferrell ( Beasts for the Chase) opens with "The Date," but the young women parading through its lines are "gloved & blind-/folded." Clearly, Ferrell's exploration throughout of love and marriage is going to be anything but sentimental. An eponymous savage bride proclaims, "You need me like ice needs the mountain," passion's on-the-edge riskiness is summed by the line, "Every sixteen-year-old girl likes// A murderer for an admirer," and "You are sexier that anyone I've ever met" opens the poem "Oh You Absolute Darling," a phrase muttered by Anna Karenina's Count Vronsky to his horse—but the horse ended up dead. "I don't mind living alone" proclaims one speaker, but that's hard in a dark world defined by "The inventions of lust, the pageantry of what." Another poem prevaricates: "There is nothing beautiful here/ However, I may want it."
VERDICT Eerie, otherworldly, and enthrallingly dangerous, this smart, disquieting collection should be handed to ­sophisticated readers.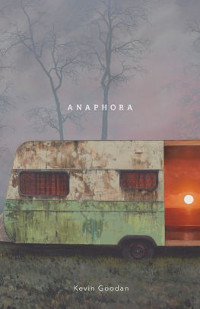 Goodan, Kevin. Anaphora: An Elegy. Alice James. Oct. 2018. 100p. ISBN 9781938584961. pap. $15.95. POETRY
Raised on the Flathead Indian Reservation, where his stepfather and brothers are tribal members, and a firefighter for ten years, Goodan here memorializes his cousin Jimmy, never referenced by family or friends after he hanged himself. And that flat summation says absolutely nothing about the heart-searing intensity of this distinctive book. Instead of offering a straightforward account, Goodan gives punch-in-the-gut snapshots of both his and Jimmy's pain, repeating and compacting words and phrases in a dense and fractured syntax: "Sway November watertower bright/ where Rosabelle believed/ fuck Joe Grady fuck your dog/ dead as the Houdini you rode in on." The poet later cries, "someone cut my cousin down please/ goodbye goodbye cut him the fuck down" and acknowledges the pain of "packing Jimmy/ all these twenty years." Finally, when he says, "When Jimmy told people/ he could fly nobody came/ so when he let loose/ the rope he was alone," we get the sense of a wound-up dreamer looking for escape, maybe, but also something better.
VERDICT Tough emotionally and stylistically but a remarkable read.
Hicok, Bob. Hold. Copper Canyon. Oct. 2018. 88p. ISBN 9781556595448. pap. $16. POETRY
As always, the multi-award-winning Hicok (Sex & Love) manages to be both freshly whimsical and knife-sharp insightful in his latest collection: "The point of love/ is to lie consistently and with an eye/ toward the better world that will never exist." Life's rough patches, its sheer averageness, our inevitably not being that attentive—all are Hicok specialties handled with finesse. Discussing retirement, Hicok starts by observing that his brother was "[worried] about how expensive it is/ to get to the finish line, let alone die," then pulls out that knife and says half-plaintively, half-caustically, "This is not the life we wanted, is it?" There are personal meditations (e.g., on inadvertently killing a bat) and perhaps a stronger look at social issues than previously: "he accepted/ the orthodoxy of your cop// fist," says one poem; another muses tartly, "It's interesting to me there's a minimum/ but no maximum wage."
VERDICT Hicok pours forth his incisive observations rat-a-tat, and occasionally one falls down, but he remains good company for most readers.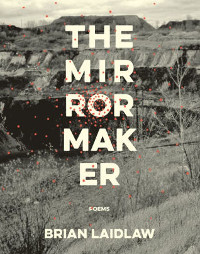 Laidlaw, Brian. The Mirrormaker: Poems. Milkweed. Oct. 2018. 96p. ISBN 9781571314840. $16; ebk. ISBN 9781571319487. POETRY
Singer/poet Laidlaw follows up The Stuntman by blending the story of Echo and Narcissus with that of Echo Star Helstrom and Bob Dylan, who immortalized her in "Girl from the North Country." Certainly, Echo is a poignant presence throughout, not only for her insightful wordplay ("here's to being heretofore human, here's/ to the time being") but simply her insights. "Just ask Echo// we want to invent a microphone that makes the moon its coil," says one poem; elsewhere, she says we're "dreaming of turning into the rich/ dust of our labor." Also striding through, "tallnorthcountrygirl" locates us in a world where "boys…/torch dead elms// like ten elkhorns" and observes "when we met/ you were already/ onstage." Yet readers won't dwell on the framework as they steer through this richly variegated and thoughtful work. What matters overall is the landscape, threatened with despoliation; the tough, ingratiating persona ("I missed the day they said think small"); and a beautifully articulated sense of longing.
VERDICT Look for the release of accompanying songs, but first get the book.
Malhotra, Mia Ayumi. Isako Isako. Alice James. Sept. 2018. 100p. ISBN 9781938584947. pap. $15.95. POETRY
While it opens with an official U.S. document regarding the World War II interment of those with Japanese ancestry, this beautifully conceived and executed debut collection goes far beyond reportage, instead offering a deeply personal reconstruction of Malhotra's female forebears. "Instead I write about dust. A pigment that stains yellow and cannot be removed," says an early poem recalling Isako, the author's grandmother, emphasizing both the blown-away aspect of the past and the intractability of racism. "How little/ we leave behind. ­Feathers/ on the bottom of a bird cage," says one poem, while a child's effectively escalating distress when a dog attacks her pet rabbit expands in the following poem to conclude, "We,/ the hunted, are formed// to flee, feet furred for speed." The poems move deftly from ash-exploded Japanese cities to Laos, Thailand, and the Vietnam War Memorial, also depicting the grandmother's struggle with cancer, thus capturing a family's many lifetimes in persuasive verse.
VERDICT This Alice James Award winner is a strong addition to most collections.
Rebele-Henry, Brynne. Autobiography of a Wound. Univ. of Pittsburgh. Sept. 2018. 96p. ISBN 9780822965671. pap. $17. POETRY
Here, Rebele-Henry uses language that's angry, obsessive, visceral, energized, and accomplished for her years; she was not quite 18 when this debut collection won the AWP's Donald Hall Prize for Poetry. At its heart is a kneeling fertility figure that proclaims, "All I need to be pretty is salt and old bruises," and the poems as a whole capture the many ways that women are wounded. "Everyone likes to see a pretty girl with her face crumpled/ Into a hurt beyond recognition or, better yet,/ dead somewhere with her legs open" says "Portrait of a female figure with puncture marks & frayed rope," while "Self-portrait as a broken Venus statuette" features a girl who says "I don't like children and can't give birth" while finally asserting, "We will be beautiful/ and deadly." Throughout, portraits and self-portraits, aubades and letters to F (for the fertility carvings) and A (for Aphrodite, a figurine representing womanhood) echo with a multitude of desperate voices.

VERDICT Wise, startling, often painful reading from a poet to watch.
Ritvo, Max. The Final Voicemails: Poems. Milkweed. Sept. 2018. 88p. ed. by Louise Glück. ISBN 9781571315113. $22. POETRY
Diagnosed with cancer in his teens, Ritvo died in 2016 at age 25, near the release date of his remarkable debut collection, Four Reincarnations. This second collection, edited by Pulitzer Prize–winning poet Glück, again offers his distinctive voice—partly insouciant, partly penetratingly smart—imparting an immediate sense of what it's like to die as he effectively reminds us what it's like to live. "Nobody ever tells you how busy loneliness is," he observes, adding, "I'm just exasperated. Everywhere life-sounds/ swarm this, our shared pond." But if Ritvo makes us acutely aware of what we skim through daily, he refuses to play guru: "My baldness is not wisdom," he insists, and quickly reminds us that each day he's learning, too: "I thought I would at least know myself." Ritvo is generous to take us along on his final journey, and along the way, as he shows us a bare tree, a blue-eyed crow, the joy of moving, how stars sometimes don't join in constellations on a dark, wet night, he's making us see, really see.
VERDICT Highly recommended.
Smith, Austin. Flyover Country. Princeton Univ. (Series of Contemporary Poets). Sept. 2018. 128p. ISBN 9780691181561. $45; pap. ISBN 9780691181578. $17.95; ebk. ISBN 9780691184029. POETRY
In this heartland journey, former Wallace Stegner Fellow Smith takes us along deer paths and cattle trails, tumbling into cornfields, and by barbed-wire fences that "clarify the prairie." Elegantly delivered though these portraits may be, they aren't just pretty pastorals. Travelers are told "Don't trust the bullet-riddled signs," boys recall the spooky story of a lad lost forever among the cornstalks, and oak saplings "sensed the wire tapping/ their bodies…// Until they began to believe/ they needed it/ In order to stand." Smith capably sees deeper meaning or darker substance where rural steadiness might lull, but he's never self-consciously showy. Poems about a bullied child or the neighbor taunted as a vampire ("the poor man probably just worked third-shift/ at Honeywell") quietly state their business, and the invidious effect of living near the glue factory is summed up thus: "You knew horses/ were what hung the gold and silver/ stars in the firmament of your notebook."
VERDICT Charming work for many readers.
Tracy, Kristen. Half-Hazard: Poems. Graywolf. Nov. 2018. 72p. ISBN 9781555978228. pap. $16. ebk. ISBN 9781555978730. POETRY
Nearly 20 years in the making, this debut collection from a prolific children's author won the Poetry Foundation's Emily Dickinson First Book Award and was previously a Yale Younger Poets Prize finalist and a Walt Whitman Award semifinalist: evidently, it was worth the wait. Written in an open, conversational voice, the collection begins with the speaker saying "Good-bye, Trouble," walking away from her rural, Bible-Belted beginnings toward what she assumes will be a brighter future ("Trouble makes trouble and soon Trouble went poof"). But life doesn't always oblige. "My life was going by. Year. Cake. Year. Cake.// And no circus," she says later, and she can't help acknowledging her students' problems ("—An alcoholic father, a sad-faced mother") or recalling the pet rabbit lost to her carelessness and the cow who will doubtless die from eating barbed wire. Yet she also commemorates rescuing a baby jay and must conclude "even if the world is half bad, it remains/ half-good."
VERDICT Empathetic, accessible reading.
Wadud, Asiya. Crosslight for Youngbird. Nightboat. Oct. 2018. 96p. ISBN 9781937658878. pap. $15.95. POETRY
"A baby be damned without a mother. A mother be damned without her child. A man be damned without a country. A country be damned without a people." That's Omar speaking, ready to risk a Mediterranean crossing, for "the salted seas preserve a dream." Martin responds by warning him with a story about liberated Buchenwald inmates whose starved bodies sometimes couldn't withstand K-Rations: "So close to liberation and some empire licks back." A third-grade teacher in Brooklyn who also instructs new immigrants and refugees in English, Wadud readily references language mashups and lost lives (71 people asphyxiated in a truck, 3,771 drowned), all forming a veritable "palimpsest marking some memory." Yet she speaks not just of hard crossings and hard adaptation but the longing for community, recalling Omar's salt-preserved dream. "We three are a small nation," she cries as her sister teaches her to float, even if the water recalls darker murmurings. And the title's Youngbird says, "So pass through a ready sieve some what you need to make a little country by the supple, giving sea."
VERDICT An affecting debut collection.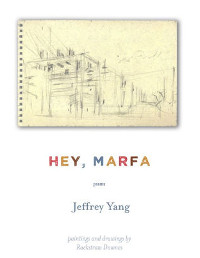 Yang, Jeffrey. Hey, Marfa: Poems. Graywolf. Oct. 2018. 184p. illus. ISBN 9781555978198. pap. $20. POETRY
" 'Marfa is no arid La Jolla, no Palm Springs decoy,... [but] an art-/ island that depends on poor locals and neighboring islands/ to keep costs down.' " So says modern-day gunslinger Stra of the celebrated Texas town at the heart of this heady new book by PEN/Joyce Osterweil Award winner Yang (An Aquarium). Yang doesn't dwell on the town's reputation as a modern-day arts center, instead investigating the history and gorgeously desolate terrain of the surrounding area. "And the blood of the defeated runs/ fast through the earth's veins," says the poem "Conquistadores," and Yang also features Chinese laborers and others eaten up as the land was settled ("no fortress but bodies/ offered to the mines"). He also effectively captures the desert in its grand eternity ("A mirage of sameness/ dispelled, each sand-/ grain a snowflake"), but the proximity of Juárez evokes contemporary issues. Then there are the many power substations pockmarking the landscape, featured in Rackstraw Downes's stark paintings and drawings.
VERDICT Remarkably blended, with references from Bach to Hollywood showing how Marfa fired Yang's imagination, just as he will fire yours.