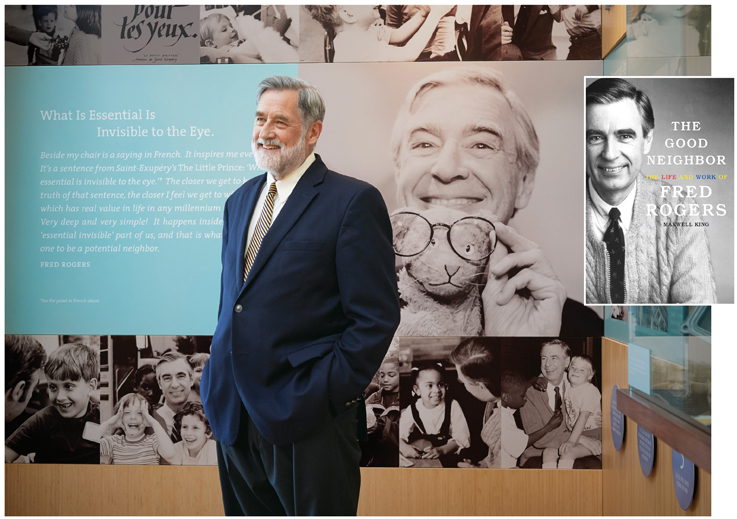 IN THE NEIGHBORHOOD Maxwell King at the Fred Rogers Exhibit at the Fred Rogers Center that inspired his authoritative biography. Photo by Karen Meyers
Maxwell King, CEO of the Pittsburgh Foundation and former editor at the Philadelphia Inquirer, began fundraising for the Fred Rogers Center for Early Learning and Children's Media (FRC) at Saint Vincent College, Latrobe, PA, in 2008. "There I learned about Fred's extraordinary presence as an innovative educator and an exemplary figure. I proposed to the chancellor of the college that we take on the writing of a biography," King explains. Nearly a decade later, the fruit of King's extensive research comes together in The Good Neighbor: The Life and Work of Fred Rogers (Abrams, Sept.; LJ 8/18). This definitive biography covers this iconic figure's childhood, education, and career as well as his impact on child development, public television, and American culture. King spent hours at various archives and special collections, notably the FRC, where he was assisted by archivist Emily Uhrin.
"We live in an age of so much tension and anger—I sometimes call it the Age of Incivility—and I felt Fred has so very much to teach us about kindness, consideration, and respect. Those are the things needing most emphasis in our culture today, and Rogers's life offers them in abundance," King says. King is not the only one whose passion for the soft-spoken, sweater-clad TV host runs deep. In fact, Mister Rogers is having something of a pop culture moment. The recent documentary by Morgan Neville, Won't You Be My Neighbor (Focus Features), has garnered rave reviews from critics and audiences alike. This fall, a biopic about Rogers starring Academy Award winner Tom Hanks begins filming on location in Pittsburgh. Yet the ubiquitous influence of Rogers and his beloved public television series for children, Mister Rogers' Neighborhood, which ran for 31 seasons from 1968 to 2000, has been steadily growing within Internet culture and social media for years—even after Rogers's death in 2003 at age 74. As King recounts in the book's prolog, "[Rogers's] powerful connection to American parents and children has persisted, even years after he stopped making television."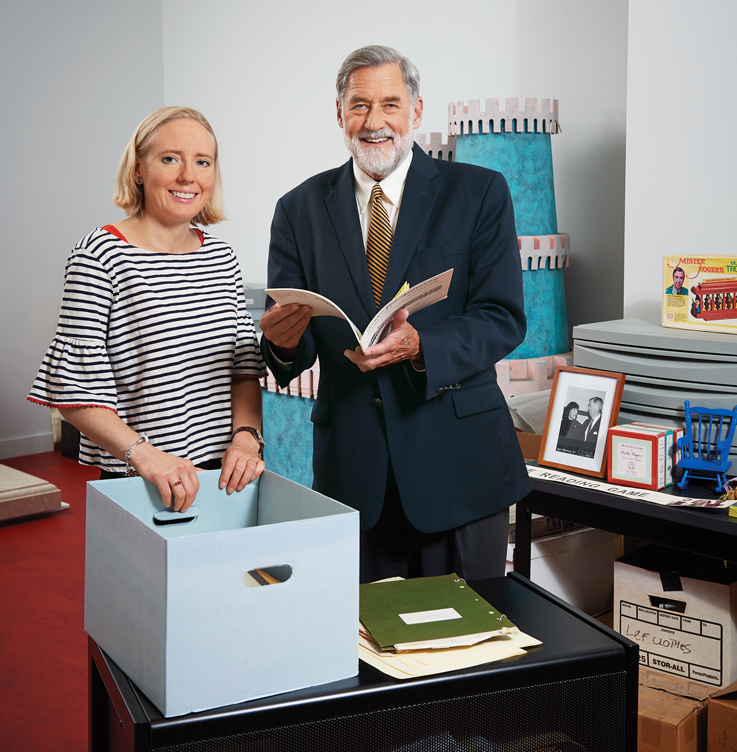 IN OUR NEIGHBOR'S YARD

Archivist Uhrin (l.) with author King (r.), surrounded by letters, ephemera, and artifacts at the Fred Rogers Center archive. Photo by Karen Meyers
Readers learn that Rogers grew up surrounded by wealth and privilege. His father, James Hillis Rogers, was a successful businessman in Latrobe; his mother, Nancy McFeely Rogers, was the daughter of and heir to an equally wealthy family. The young Fred was a shy, lonely child, teased for being overweight. His mother doted on him and was overprotective. Rogers suffered from asthma and was often confined to his room for long periods of time. His early social isolation and physical challenges encouraged the boy to develop a rich interior life and imagination. He used puppets and toys to create fantastic worlds in his mind—precursors to what would, one day, evolve into the elaborate "Neighborhood of Make Believe," featuring characters such as King Friday XIII, X the Owl, Daniel Striped Tiger, and Lady Elaine Fairchilde.
THE RADICAL ROGERS
Despite his mild-mannered personality, Rogers pushed boundaries on the program, subtly—and not-so-subtly—undermining and resisting the racism and sexism of the day. Officer Clemmons, played by musician François Clemmons, was the first African American to have a recurring role on a children's television series. During a time when segregation prevented black Americans from sharing public pools and other facilities with whites, a now-famous episode featured Mister Rogers inviting Officer Clemmons to join him cooling his feet in a kiddie pool. Over the years, many people of color, women, and people with disabilities would be welcomed into the Neighborhood, making Rogers's show one of the most inclusive of its time. "I think Fred and his team were aware of how bold and experimental they were," says King. "And they were fierce in defending the highest standards for their work."
Also unusual and progressive for the time, Rogers saw the critical importance of helping children develop social emotional skills. He was also passionately opposed to commercialization. "Fred knew that little children could not parse the difference between a program message and an advertising message, and, so, he felt advertising to them was immoral. He fought it all his life." Perhaps one of the oddest aspects of Rogers's legacy is the enduring myths and urban legends that surround him—that he wore those sweaters to cover tattoos, or that he was a deadly sniper during the Vietnam War. "People always want to believe that there is a dark side; it confirms their fears and suspicions," King explains. "There were struggles in Fred's life but no real dark side." Indeed, one of the most surprising takeaways from King's biography is that Rogers was exactly as kind, openhearted, and humble as his character in the Neighborhood.
This article was originally published in Library Journal's August 2018 issue as part of the Fall Editors' Picks cover story.