The title of James Hamblin's If Our Bodies Could Talk (see the list below) perfectly sums up today's antagonistic attitude toward the human body. Our bodies can talk, after all, through our mouths, but the idea that the renegade neck-to-toe mass is a separate thing that works against "us," refuses to impart its secrets, and can and must be conquered is ubiquitous. The subtitle, Operating and Maintaining a Human Body, is also telling, encouraging as it does the concept that the body is a machine at our disposal, akin to a car that must be tuned up occasionally.
At the extreme end of this ethos is the biohacking movement, described in detail in a 2012 Verge article, "Cyborg America: Inside the Strange New World of Basement Body Hackers." In it, author Ben Popper introduces young people who aim to meld their bodies with technology. It's not a new impulse—as Popper points out, eyeglasses are an early tool of this movement, and one also thinks of implants that were once cutting-edge but are now relatively commonplace, such as pacemakers and cochlear implants. Popper's subjects are going further, however. Having magnets implanted in the fingers is a familiar modification in the biohacking world; the author also describes a man who has created synesthesia (colors become sounds for him) by wearing a camera that translates colors into audible vibrations.
BIOTECH & LIBRARIES
In terms of library collections, rapidly advancing technology is more the province of magazines than of books. Patrons who are interested in the kinds of boundary-pushing practices described above are best served by print and online magazines such as The Verge as well as Wired, The Aeon, and The Atlantic, which often has articles that examine the social impact of technology—for an antidote to the Verge article on basement biohacking, for example, read Samuel Arbesman's "The Human Body Is Too Complex for Easy Fixes."
The rest of us live in a technology-rich world, too, even if we're more interested in pursuing a restored rather than an enhanced version of that with which we were born. ­Ideally, we inform ourselves by listening to physicians and other scientists. We monitor our activity and health using wearable technology such as FitBits and even smart shoes (they "typically feature a Bluetooth-connected accessory...that links activity or location to a smartphone app"). We try to avoid invasive technology—drugs and surgeries—by understanding and implementing the science of preventive health. Still, when a fix is required, we rely on technology to create medications that target the strain of the disease that has manifested. Today, we can even seek medicine tailored to our genetic makeup. It is for the "rest of us" that most books on the market are aimed and upon which this article will ­concentrate.
Starred (
) titles are essential for most collections.
The Basics
The following titles will give patrons a solid foundation for health before they attempt high-tech tweaks.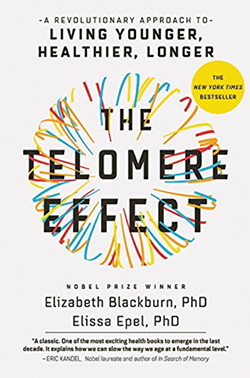 Blackburn, Elizabeth & Elissa Epel. The Telomere Effect: Living Younger, Healthier, Longer. Grand Central. 2017. 416p. illus. notes. index. ISBN 9781455587971. $28; ebk. ISBN 9781455587988.
Why we age and how to slow down the process is the subject of this look at telomeres, regions of our chromosomes that can be shortened by poor diet, stress, and more, causing aging. After learning the science, readers can discover how to lengthen their "healthspans"—the time during which they are healthy and active.
Litin, Scott C., ed. Mayo Clinic A to Z Health Guide: Everything You Need To Know About Signs, Symptoms, Diagnosis, Treatment and Prevention. Oxmoor House. 2015. 320p. illus. ISBN 9780848745790. pap. $21.95; ebk. ISBN 9780848746964.
"Straight advice from trusted experts," promises the publisher of this home reference, and that's just what's delivered. The famed Mayo Clinic also publishes guides on diseases and conditions such as diabetes and breast cancer, with each including information on the technology involved in today's approach to managing them.
Nestle, Marion. What To Eat: An Aisle by Aisle Guide to Savvy Food Choices and Good Eating. Farrar. 2006. 624p. notes. index. ISBN 9780865477049. $30; pap. ISBN 9780865477384. $18; ebk. ISBN 9781429934473.
Nestle's hefty reference walks readers through a pitfall-beset chore: a super­market visit. In sections such as "Organics: Hype or Hope" and "Yogurt: Health Food or Dessert," she imparts no-­nonsense advice on each area and foodstuff that can be found in our modern megastores. For a tech-based version of this, try the Fooducate app.
Taubes, Gary. Why We Get Fat: And What To Do About It. Knopf. 2010. 288p. illus. notes. index. ISBN 9780307272706. $28; ebk. ISBN 9780307595515.
Taubes engages retro science to explain our waistlines: the laws of thermo­dynamics. His physics is accompanied by simple dietary advice—if you're predisposed to getting fat, you have to eat fewer calories.
Recent Science
Davis, William. Undoctored: Why Health Care Has Failed You and How You Can Become Smarter than Your Doctor. Rodale. 2017. 416p. photos. index. ISBN 9781623368661. $27.99; ebk. ISBN 9781623368678.
This manifesto for getting health-care corporations out of your life includes a chapter on using smartwatches and other home health–monitoring devices to track sleep, blood pressure, and even brain waves. (LJ 4/1/17)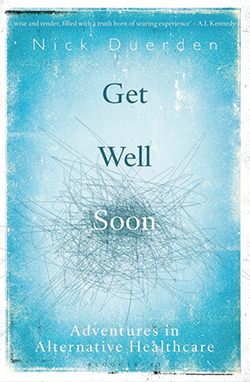 Duerden, Nick. Get Well Soon: Adventures in Alternative Medicine. Green Tree. Apr. 2018. 272p. ISBN 9781472950482. pap. $20; ebk. ISBN 9781472950499.
After he contracted a virus and developed chronic fatigue syndrome, Duerden felt that his life was unsustainable and turned, with a healthy dose of skepticism, toward alternative therapies. His straightforward approach, coupled with his dry wit, makes his chronicle of trying yoga, meditation, nutritional therapies, and more absorbing and ­informative.
Ehrenreich, Barbara. Natural Causes: An Epidemic of Wellness, the Certainty of Dying, and Killing Ourselves To Live Longer. Grand Central. Apr. 2018. 256p. notes. ISBN 9781455535910. $27; ebk. ISBN 9781455535880.
Once she judged herself old enough to die, Ehrenreich abandoned preventive medicine as a waste of the precious time left, and here she explains the science around why readers should do the same. (LJ 3/15/18)
Hamblin, James. If Our Bodies Could Talk: A Guide to Operating and Maintaining a Human Body. Knopf. 2016. 400p. illus. notes. ISBN 9780385540971. $26.95; ebk. ISBN 9780385540988.
Hamblin's accessible entries take a Q&A approach to explaining the basics about the organism you're stuck with and what science has to say about it. The sections are appropriately labeled as parts ("Eating: The Sustaining Parts," "Relating: The Sex Parts") and cover questions from "Do probiotics work?" to "What happens to the data version of me when I die?"
Hollingsworth, Alan B. Mammography and Early Breast Cancer Detection: How Screening Saves Lives. McFarland. 2016. 260p. illus. notes. bibliog. index. ISBN 9781476666105. pap. $35; ebk. ISBN 9781476625881.
Screening for breast cancer is controversial, with recent years seeing a debate over whether screening and early detection are as helpful as previously thought. Hollings­worth delves into the science on both sides of the debate, also offering a look at the efficacy of evidence-based medicine overall. (LJ 9/1/16)
Lombardo, Gerard T. Sleep To Save Your Life: The Complete Guide to Living Longer and Healthier Through Restorative Sleep. HarperCollins. 2005. 320p. illus. notes. index. ISBN 9780060742539. $24.95.
Lombardo, an MD and the founder and director of the Sleep Center at Methodist Hospital in Brooklyn, discusses the personal and societal costs of too little sleep. He outlines what to do about problems such as sleep apnea, insomnia, and snoring. A chapter devoted to how hormones affect women's sleep is a bonus.
Mackenzie, Brian & others. Unplugged: Evolve from Technology To Upgrade Your Fitness, Performance, and Consciousness. Victory Belt. 2017. 272p. photos. notes. index. ISBN 9781628602616. $34.95.
Wearable fitness trackers have taken over users' lives to an unhealthy extent, say Mackenzie and coauthors Andy Galpin and Phil White. Athletes should learn to use physical cues to gauge progress and recognize that while technology can offer some gains, those are invariably accompanied by negative consequences. The authors recommend ditching the wearables and following their in-depth advice; they also outline myriad ways to work toward fitness goals.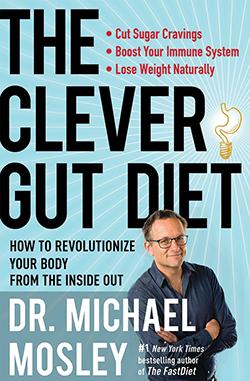 Mosley, Michael. The Clever Gut Diet: How To Revolutionize Your Body from the Inside Out. Atria. 2017. 288p. photos. notes. index. ISBN 9781501172731. $25; ebk. ISBN 9781501172755.
British doctor Mosley (The FastDiet; FastExercise) urges a metaphorical trip to the body part that accounts for most of our immune-system functions. His accessible, encouraging work describes his daily diet and other gut health–boosting habits, a narrative supported by the science presented, much of it recent.
Parnia, Sam. Erasing Death: The Science That Is Rewriting the Boundaries Between Life and Death. HarperOne. 2013. 344p. bibliog. ISBN 9780062080608. $25.99; pap. ISBN 9780062080615. $14.99; ebk. ISBN 9780062080622.
Resuscitation science has come a long way in recent years, explains physician Parnia. Better imaging and other techniques have led doctors to recognize that death is a process rather than a single moment and that death can be reversible in many cases that would have previously been thought hopeless. (LJ 4/1/13)
Rochman, Bonnie. The Gene Machine: How Genetic Technologies Are Changing the Way We Have Kids—and the Kids We Have. Farrar. 2017. 288p. notes. index. ISBN 9780374160784. $26; ebk. ISBN 9780374713966.
Rochman discusses the revolution taking place before and during pregnancy in chapters covering genetic testing of parents before pregnancy and in vitro fertilization (IVF)–created embryos before implantation. She also discusses the uncertain continued existence of conditions such as Down syndrome in this new realm.
Shapiro, Nina with Kristin Loberg. Hype: A Doctor's Guide to Medical Myths, Exaggerated Claims, and Bad Advice—How To Tell What's Real and What's Not. St. Martin's. May 2018. 304p. notes. index. ISBN 9781250149305. $26.99; ebk. ISBN 9781250149312.
The first chapter of this mine of current information explores the quality of Internet health advice and online doctor ratings and looks at what can reliably be diagnosed using the web. Bonus debunking is found in later chapters on juicing, vitamins, and vaccine scare-mongering.
Verburgh, Kris. The Longevity Code: Secrets to Living Well for Longer from the Front Lines of Science. The Experiment. Jan. 2018. 320p. illus. notes. index. ISBN 9781615194131. $25.95; ebk. ISBN 9781615194254.
Some organisms age rapidly, while others live hundreds or thousands of years, notes Verburgh, a medical doctor member of a think tank dedicated to using technology against our biggest problems. Verburgh examines how we age and takes a valuable look at ethical issues surrounding the prevention of aging. Age-combating recipes are included.
Watson, Lonzell. My Health Technology for Seniors: Take Charge of Your Health Through Technology. Pearson Education. 2016. 496p. illus. index. ISBN 9780789758217. pap. $24.99.
While some of the device-screen illustrations in this guide written in conjunction with AARP are likely already dated, the book provides solid information on how to choose and use technology such as smartphones and fitness trackers to support health.
Reports
American Library Association Reference and Users Services Association (RUSA). "Health and Medical Reference Guidelines"
Reference staff who provide medical information enter an ethical minefield. Here is ALA's advice on approaching health reference with ­confidence.
Ericsson. "From Healthcare to Homecare"
In this June 2017 report, telecommunications giant Ericsson looks at how preventative, routine, and postoperative health care has been and will be affected by ­technology.
European Commission Directorate-General for Communications Networks, Content and Technology. "Smart Wearables: Reflection and Orientation Paper"
Patrons interested in technical and public policy aspects of fitness trackers and similar devices should be guided toward this 2016 paper that discusses the present and future of near-, on-, and in-body electronics and smart textiles.
DVD
Cyborgs Among Us. 75 min. Rafael Duran, dist. by Passion River, www.passionriver.com. 2017. DVD UPC 602573452066. $59.95. Public performance.
A man has an implanted prosthetic arm controlled directly through his brain. Another with hearing loss has programmable cochlear implants that directly stimulate the auditory nerve. A group of young experimenters have implanted magnetic chips under their skin to connect to computers or communications through technology such as Bluetooth. Amazing or just plain weird? (LJ 5/15/18)
Apps
Fitness apps are a booming business. Below are a few standouts, but also try a Google search for "best fitness apps" to find various fitness and lifestyle magazines' recommendations.
Asana Rebel. Android and iOS. Free.
Yoga doesn't help you lose enough weight, but regular fitness training is too intense? Try Asana Rebel's low-intensity but effective fitness sessions.
Calm. Android and iOS. Free.
Mental health is key, and this app takes care of the relaxation side by providing guided meditations; a daily option offers a new "track" to prevent boredom. For an app that combines meditation with brain training, try Happify (Android and iOS. Free), which allows users to complete games and puzzles as well as meditate.
Fizz Up. Android and iOS. Free.
This combo app offers workouts, personalized meal plans, and nutrition tracking.
Flo Period Tracker Flo, Pregnancy & Ovulation Calendar. Android and iOS. Free.
Helping users predict menstruation and ovulation, Flo also uploads data from wearable fitness trackers so that women can monitor a greater picture of their health accounting for periods and fertility.
Fooducate. Android and iOS. Free
Track what you eat, get food recommendations, and grades ("Average food grade B+"). The online community encourages users and allows them to state their goals.
Phantom Run. iOS. Free.
With this app, runners can save their favorite routes and monitor their improvement over time.
Websites
Medisafe; medisafe.com
This handy site allows patients to keep better track of their medication regimen and family members and doctors to monitor patient compliance.
OpenHumans; www.openhumans.org
OpenHumans lets users input information from, say, a FitBit, and see how their performance stacks up against ­others'.
Henrietta Verma is the Customer Success Manager at Credo Reference. She enjoys reviewing, and her reviews can be found at mysteriesandmore.tumblr.com
This article was originally published in Library Journal's August 2018 issue.