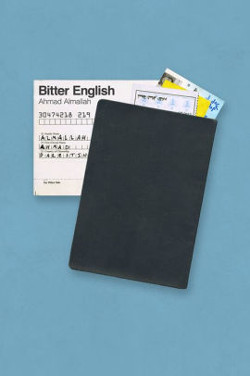 Almallah, Ahmad. Bitter English. Univ. of Chicago. Sept. 2019. 96p. ISBN 9780226642642. pap. $18; ebk. ISBN 9780226642789. POETRY
In the prefatory poem to this finely crafted debut collection, Palestinian American Almallah (Arabic & Arabic literature, Univ. of Pennsylvania) proclaims, "this english tongue cuts me/ through, because this english tongue owes me// a language," and his poetry shows him caught between not just languages but a past no longer his and a present not entirely comfortable. Returning to Palestine to see family, he is haunted by a feeling of not belonging ("you are not/ you, you are you, done with, over"), the uncertainty of memory ("forgetful/ and remembering/ and dusting/ off the winds"), and the confusion of identity as he decides which passport to use at border control. The political inevitably enters in flight ("From above/ we pass/ the places/ I couldn't visit on this return"), while back in Philadelphia Almallah tends the garden with tools he can't name and decries being "a deserter of my own language."
VERDICT From his citizenship interview to a final meditation on the past as he asks his daughter to repeat her sentences in Arabic, Almallah's poetry-cum-memoir doesn't shout but with pointed, persistent, limpid lines minimized to the very essence sums up loss and fractured identity as sharply as any jeremiad.
Balaban, John. Empires. Copper Canyon. Sept. 2019. 88p. ISBN 9781556595707. pap. $17. POETRY
"Our generation has gradually learned the great art of living without security," says Stefan Zweig in an epigraph to this generous and approachable new work from Balaban, a multi-award-winning poet (e.g., Path, Crooked Path), novelist, and translator of Vietnamese poetry. (He is also a founder and director of the Vietnamese Nôm Preservation Foundation.) It's an appropriate quote, for in the first part of the book, Balaban makes poetry of unsettled history, traveling from the Chang dynasty ("soon enough there would be only wind/ shushing its sad music"), ancient Greece ("My poetry recited along the Aegean/ when we heard the brass trumpets of the Asian tribes"), and Vietnam ("my taxi/ would turn a corner, stirring up a memory of some dis-/ tant encounter") to 9/11 ("refrigerated trucks/ filling with human debris") and a return trip from Barack Obama's inauguration, as his train passes near a North Carolina town where in 1970 "a black GI was shot to death." The book then moves on to portraits, including Taos art gallery owner Tally Richards and translator Elling Eide, and then a sort of ars poetica ("The Uses of Poetry," "Finishing up the Novel After Some Delay"), and other scenes and landscapes that make for a grand tour. VERDICT Written with a storyteller's verve, this collection entertains as it provokes and will appeal to many readers.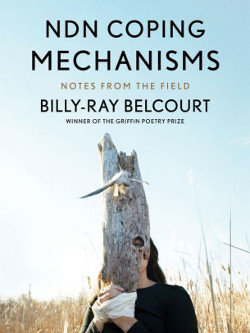 Belcourt, Billy-Ray. NDN Coping Mechanisms: Notes from the Field. House of Anansi. Sept. 2019. 96p. ISBN 9781487005771. pap. $19.95; ebk. ISBN 9781487005788. POETRY
"A village emptied of its children is a haunting." "Where the heterogeneity of grief/ meets the singularity of death is the NDN experience." "A boy in love with a boy/ becomes an open window." "I hurled myself at a prison/ so the moonlight could tiptoe inside." "Truth is, I want even less/ than this already puny life." "Drunk on hope,/ which is the most NDN of all NDN feelings,/ I make out with my imaginary NDN lover/ in the ashes of every Canadian pastoral poem ever written." In his second collection (after This Wound Is a World, winner of Griffin and Indigenous Voices honors), big-breaking Canadian poet Belcourt seems nearly to fling his startling and broken-glass-sharp phrases on the page. But for all the ferocious energy and one-two punch of language here, this is also a concentrated, beautifully managed work. He clarifies his topic by explaining in an author's note, "NDN is internet shorthand used by Indigenous peoples in North America to refer to ourselves." He also explains that it sometimes means "Not Dead Native," and the spiritedness contained in that bald phrase animates the book.
VERDICT Not just a poet to watch but one to read now, especially for readers interested in social justice issues—and for those who should know more.
Black, Ryan. The Tenant of Fire. Univ. of Pittsburgh. Sept. 2019. 85p. ISBN 9780822965909. pap. $17. POETRY
In this Agnes Lynch Starrett Poetry Prize winner, Black offers a personal perspective on Queens, New York, in wide-gauged, acutely observed, conversational poems that often feel like stories or essays. The result is not so much nostalgia as re-creation, affording us the particularities of the setting—Forest Park, the Dunkin' Donuts on Rockaway, Junior hustling near The Showboat, and the noise of jets from Kennedy International turning to music with "the arrival and departure of strangers." Then there's his own history, with Budweiser and Bailey's in the family refrigerator; the painful ironies of his grandmother's name, "Miriam,// from the Hebrew meaning 'bitter,' meaning a plight./ ...Walsh," meaning 'native,' from the Irish meaning// 'foreigner'"; and relationship blues ("I was in love/ with a woman I thought I could leave. In the end, of course, she left me"). In the end, Dunkin' Donuts, lost love, a grandmother's dementia, and a friend's tragic death are moments that touch us all.
VERDICT Black provides a deft accumulation of detail that might initially feel talky, but readers are advised to slow down and enjoy the atmosphere, the emotion, and the firm sense of time and place. Really, you don't have to be from Queens.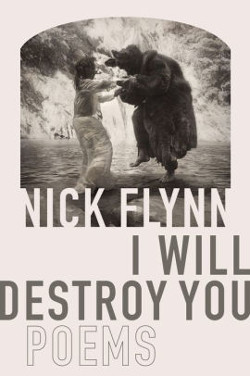 Flynn, Nick. I Will Destroy You. Graywolf. Sept. 2019. 80p. ISBN 9781644450024. pap. $16; ebk. ISBN 9781644451014. POETRY
Author of the PEN/Joyce Osterweil Award–winning Some Ether, Flynn here delivers an absorbing new collection of resonating sorrow and promises that must and will be kept. "The dark wind in-// side" blows hard throughout, acknowledged in a poem spoken to a sleeping child ("if you die// then I will be able to/ drink again &; no// one alive will even/ blame me"), but this book is not a bummer. In language that's honest, forthright, reflective, cleanly rendered, and blunt but neither self-pitying nor sensational, Flynn confirms how much life hurts and how much he's determined to stick around anyway, to honor commitments to those he loves: "The one promise I/ can make is that I'm staying/ even though what knocks on our/ door at night has at its heart only/ my getting lost." A poem about a house fire reminds us that the smoke of the past never really dissipates ("what you can't hear is the leaves caught inside each spark"), but in the end anticipating what comes next can pull you back from the abyss.
VERDICT Beautifully crafted poems from the (broken) heart; the masterly Flynn doesn't drag us into the depths but rises to meet us.
Giménez Smith, Carmen. Be Recorder. Graywolf. Aug. 2019. 96p. ISBN 9781555978488. pap. $16; ebk. ISBN 9781555978921. POETRY
In the eponymous middle section of her accomplished, vibrantly subversive new work, National Book Critics Circle finalist Giménez Smith (Milk and Filth) explains "though I was born in America/ I wasn't born American," adding "I became American/ when I…had sex with a white boy/ or when I thought my first/ racist thought." She's already clarified the rough rub of having people project an idea on her (and the "second sense" that she must develop in anticipation); of being a "puppet girl" defined by others who eventually decides she'll be "a poet, both brilliant and mean"; of sensing unshakeable constraints (not for nothing do the words serf and fiefdom surface here); of watching those sharing her constraints transformed into "new animals" by American money and power. And she's already declared "a more necessary revolution awaits us," an agenda that unfolds until the end: "insurrection against the wound and for// the animal."
VERDICT "Can I trust the ardor/ or is it just theatre/ …shall I ask permission/ do I beg for a license": Giménez Smith asks key questions in roiled times, and her greatest strength is nailing an outsider's raw uncertainty, assumptions never made, immunity never achieved.
Gloria, Eugene. Sightseer in This Killing City. Penguin. (Poets). Jun. 2019. 112p. ISBN 9780143133841. pap. $18; ebk. ISBN 9780525505648. POETRY
In this new collection from Anisfield-Wolf Award winner Gloria ( Hoodlum Birds), a felicitous poem that mostly reminds us what we should not be—that is, too rigidly defined—ends resoundingly by declaring "Be the sound in your locomotive soul." It's a great line summing up a book defined by movement, as seen explicitly in "Zones of Contact," whose supertramping speaker, infused with the melancholy longing entailed by the Portuguese word saudude, declares that "to inhabit the present is to revisit a work of art" and journeys toward a grand moment of arrival in Europe. But not for long; as a speaker elsewhere says, "Call me Mr. Gone," and propulsion defines these poems as much as it does the jazz Gloria references throughout. But this is not an argument for escape; Gloria firmly faces the political moment in the angry, thrumming "The War on Drugs," the unsettling and slightly surreal "Thirteen Dreams and One Duterte" ("Duterte is a verb as in 'to be Duterted' or/ to be body-bagged"), and the caustic "Implicit Body" ("Hand me your gun, America,/ and let my body be the soundtrack/ to the spectacle of our recent events.") VERDICT Filipino American poet Gloria ably articulates contemporary crisis on both sides of the Pacific, using fluid language to remind us that we must move forward.
Guez, Julia. In an Invisible Glass Case Which Is Also a Frame. Four Way. Sept. 2019. 84p. ISBN 9781945588372. pap. $15.95. poetry
In this intriguing first collection from Guez, a Discovery /Boston Review Poetry Prize winner, one poem declares in its entirety, "But I can be unhappy anywhere, George." These poems are not, however, soaked in complaint or throbbing grief but a certain contained restlessness, which makes it feel as if the title's invisible glass box were surrounding us and on the verge of breaking. Life is a complex jumble to be constantly negotiated, but even as we seek for "anything to still the mind," any "rite wherein/ the sadness may, if only// for a moment, forget its many reasons to be," there's ultimately no silver bullet ("patterns aren't predictive or enduring and they certainly aren't// magical"). Change is inevitable, departure always imminent, but how does the speaker end up? "Greenery, where before there was amnion,/ pearl, pollen and salt," as the whimsically titled "Unable To Find What I Was Formerly Sure Was There" avers. Guez's titles are routinely evocative, both teasing and contextualizing, and in contrast to the collection's theme, many are "Still Lifes," e.g., "with Vicodin" or "with Extreme Weather," as if the poet were trying to pin down the agitated flow she's revealed.
VERDICT At once moody and meditative, cheeky and bright, Guez's poems will satisfy many readers, matching their own sense of upheaval.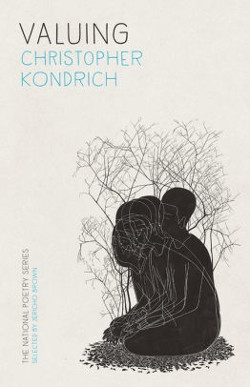 Kondrich, Christopher. Valuing. Univ. of Georgia. (National Poetry). Sept. 2019. 80p. ISBN 9780820355702. pap. $19.95. POETRY
"I am the conflagration/ of the never-at-home and the never-not-at home that makes you/ part of the history of people" says Kondrich near the beginning of this quietly penetrating, intellectually rewarding new work, a "National Poetry" series selection. Kondrich sees us not as isolate beings but as defined (and ever changed) by our interaction with the world and especially others: as he says in the title poem, "I dreamt I could tell you/ and you would know." Kondrich is particularly interested in how we arrive at our values and negotiate them—"I choose to love our auspices/ because they brought us here"—and he relentlessly explores our effort to connect, inevitably impeded by walls that can nevertheless be breached. His daring leads to some original observations. Obligation is defined in terms of lapping waves, "the back is the definite article of the body" as we always face outward, and our struggle not for weighty truth but simply to see something of the larger picture here rests on the image of a bell's founding, the bronze obscuring what we know as it's poured—but in the end the bell can be lifted. ­
VERDICT A stunning work with a one-of-a-kind feel, this reflection on the major issues of self and others demands time and thought, but it delivers. Highly recommended.
Lehmann, Rebecca. Ringer. Univ. of Pittsburgh. Sept. 2019. 96p. ISBN 9780822965954. pap. $17. POETRY
Winner of the Donald Hall Prize for Poetry, this new collection from Lehmann (Between the Crackups) is distinctive for turning out to the world and observing it concretely. ("Morning wandered into the middle of the road"; who would have said that?) Her subjects may be selfhood, womanhood, motherhood, and family, but her tools for understanding them are an accumulated, tactile sense of life lived and the things around us. Everyday routine means "There is rent. There are bills. There are groceries to buy./ There is my husband. There is the dour Northeast." Of herself she says, "Say the night is loneliness. It's not…./. Nor am I white-hearted Atropos." And time is "a form, an envelope fat/ with discarded grocery lists." Indeed, the lists abounding here pile up to create rich poetry that's exact, sculpted, and delivered in a calm, engaged voice. At one point, Lehmann might say, "Once, exploding stars shook/ the night's ruby soul/ from its gasping throat," but she adds tartly, "Not even I believe that," reaffirming her aesthetic. Her outreach sometimes comes via second person, as when she says to a river, "You wanted the violence of women against you."
VERDICT Highly recommended; Lehmann's talent for engaging outwardly will win her readers among poetry fans and newbies alike.
Mikhail, Dunya. In Her Feminine Sign. New Directions. Jul. 2019. 128p. ISBN 9780811228763. pap. $14.95; ebk. ISBN 9780811228770. POETRY
Baghdad-born, Griffin Poetry Prize short-listed Mikhail (The War Works Hard) explains in an author's note to this sparkling new collection, "I wrote these poems from right to left and from left to right, in Arabic and English. I didn't translate them; I only wrote them twice." That dual act of writing is mirrored in her very content, as she finds the present layered with the past, Detroit fireworks recalling Baghdad bombs, the war's dead children recalling the play fighting of her youth. Her poems aren't shudderingly dark, though, but lyrical, intimate, and openhearted, often reading like fables. The opening poem evokes the tied circle of Arabic orthography, a circle with two dots signifying the feminine, as townsfolk await a stranger bearing this sign. That the wishes she promises "come true only when forgotten/ or replaced by the wishes of others" suggests how much we hope for and how much we're disappointed or diverted in an ever-shifting world. Similarly, a 4,800-year old fossil "has the curve/ of mothers telling/ endless stories," including one about a bird remembering thirst and two poisoned, silent friends, "their circular embrace…/ a song inside a fossil,/ life in a cage." That shivery image recalls the layered duality throughout.
VERDICT Mikhail's deeply felt poems read flowingly but only look simple; there's real depth here for all readers.
Orr, Gregory. The Last Love Poem I Will Ever Write. Norton. Jun. 2019. 128p. ISBN 9781324002352. $26.95; ebk. ISBN 9781324002369. POETRY
Veteran poet Orr (River Inside the River) here revisits themes that have shaped his writing from the beginning, examining the transcendent and finding it wanting compared with the here-and-now and especially the affirmative beauties of poetry. In a poem on his accidentally killing his brother in a hunting accident, an event that figures hugely in his life and work, he says exasperatedly, "Who knows what He was up to,/ …I knew/ God and I were through," and he repeatedly throws down a challenge not just to some august deity but the very idea of one. The wise and witty word play–rife "Ode to Nothing" opens by pointing out that with atoms mostly empty "nothing holds/ The universe together," and of course he's talking not just physically but metaphysically. Elsewhere, he expresses impatience with the search for explanation or deep meaning, insisting that when "the world/ Suddenly turns ugly// …"Don't waste time trying/ To understand, just fight/ For your life." But poetry? That's different; as Orr says in "Reading Dickinson," "Roar of the Abyss?/ Yes, but above it,/ Her clear/ And human voice,/ Singing as she drowns." VERDICT Orr will appeal to a wide range of readers as he asks big questions in accessible language.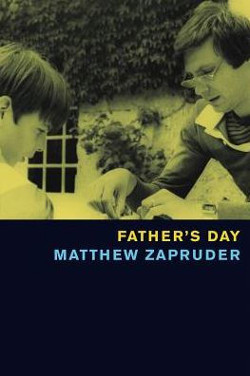 Zapruder, Matthew. Father's Day. Copper Canyon. Sept. 2019. 96p. ISBN 9781556595783. pap. $17. POETRY
In frank, unadorned language that pours stream of consciousness–like down the page, suggesting urgency and unbounded emotion, William Carlos Williams Award winner Zapruder (e.g., Sun Bear) offers a moving mediation on fatherhood. He addresses his relationship with his son, who is on the autism spectrum, while also discussing his own fraught relationship with his father and fathers in a brave new world ("we are the first/ new fathers /ours failed/ where we cannot"). As he states in an afterword, his son's diagnosis made him "painfully aware that despite my own superficial iconoclasm and rejection of typical paths for my social class, I was deeply invested in traditional markers of success and conformity." That assessment comes through forthrightly, as does his acute and repeatedly expressed concern for social justice issues in our chaotic world, only heightened by his son's experience: "the children sleeping/ alone in some/ detention center/ don't need/ our brilliant sincerity." Zapruder ably articulates his struggle—the feeling of being "forgotten in a dark/ closet where exhausted/ shadows argue/ what is sorrow/ cannot become joy,/ but I am here/ from the future/ to tell you/ you are not." And he also confirms the special beauty his son brings. VERDICT A profoundly heartfelt and thoughtful book for all readers.