Most readers (and librarians, I hope) know that romances are not all alike. To be sure, they each have the requisite focus on the main relationship and the happy, satisfactory ending for the pair (whether for now or forever), but beyond that, the varieties are endless.
Most readers (and librarians, I hope) know that romances are not all alike. To be sure, they each have the requisite focus on the main relationship and the happy, satisfactory ending for the pair (whether for now or forever), but beyond that, the varieties are endless. For years, romances have borrowed from the other fiction subgenres, creating romantic suspense (mystery/thriller/suspense), Western romance (classic Westerns), paranormal romance (horror/sf/fantasy/time travel), and historical romance (historical fiction), among many others. The genre is also working toward being more inclusive in terms of race, culture, and sexual identity, and while these are not discrete subgenres, diverse characters are fast becoming integral to most romance novels. (Still, more work needs to be done in this area, as evidenced by the inauguration of the Beverly Jenkins Diverse Voices Sponsorship mentioned below.) Given the inherent flexibility of the romance, there are probably more subgenres coming our way, but in the meantime, check out the excellent selections here.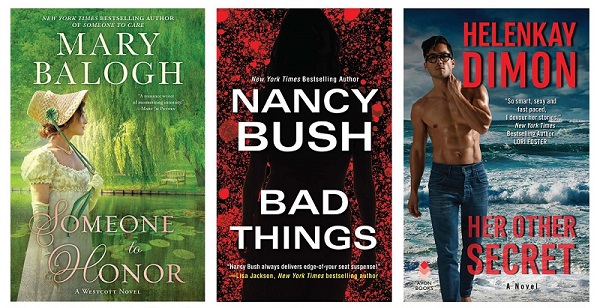 SOMETHING FOR EVERYONE
Albert, Annabeth. Arctic Wild. Carina: Harlequin. (Frozen Hearts, Bk. 2). Jul. 2019. 400p. ISBN 9781335006905. pap. $7.99; ebk. ISBN 9781488051272. LGBT ROMANCE
When his business partner ends up backing out of a planned Alaskan trip, attorney Reuben Graham reluctantly agrees to go alone. Roughing it and small planes are not his thing, but he can't deny that Tobias Kooly, his cheerful young bush pilot guide, is making the trip a lot more interesting. Then a plane crash leaves Toby badly injured, and Reuben convinces Toby to stay with him and his teenage daughter, Amelia, while he recovers—a situation that, while difficult at first, works out better than any of them imagines. A diverse group of relatives and complex family dynamics keep the plot flowing, and the developing relationship between Amelia and Toby is especially rewarding.
VERDICT Sexy, gentle, and graced with humor, this engaging romance is a strong addition to Albert's latest series. Albert (Arctic Sun) lives in the Pacific Northwest.
Balogh, Mary. Someone To Honor. Berkley Jove. (Westcott, Bk. 6). Jul. 2019. 400p. ISBN 9781984802378. pap. $7.99; ebk. ISBN 9781984802385. HISTORICAL ROMANCE
Overjoyed that her older brother, Harry, is returning from the Napoleonic Wars, Abigail Westcott joins the extensive Westcott clan in descending on the recovering hero at their childhood country home. Harry will hate being fussed over, so Abby doesn't plan to stay long. But when the peacefulness and familiarity lure her in (to say nothing of the promised refuge from the tedious London social whirl), Abby changes her mind, never thinking that her entire life is about to be upended, as Harry did not return alone. Lt. Col. Gilbert Bennington arrived from the continent with Harry, and while Gil and Abby clash from the start, Abby is appalled to find herself both annoyed and attracted by the dour, problematic man. Illegitimacy, child custody, social consequence, and self-perception are critical issues here, and assorted family members play key roles as the Westcotts rally as only they can.
VERDICT A strong, compassionate heroine and a hero who learns to appreciate his worth discover the true meaning of love in this tender, perceptive, and infinitely entertaining romance that delightfully continues the saga of the unconventional Westcotts. Balogh ( Someone To Trust) lives in Canada.
Bush, Nancy. Bad Things. Zebra: Kensington. Jul. 2019. 384p. ISBN 9781420142938. pap. $7.99; ebk. ISBN 9781420142945. ROMANTIC SUSPENSE
When Kerry Monaghan's stepbrother Nick returns home to Edwards Bay, WA, from his life in Palo Alto, CA, he ends up dead of a drug overdose—and he didn't do drugs—and Kerry knows it wasn't an accident. Also, there's no way Nick would have killed himself. Getting answers won't be easy, but Kerry isn't the only one with suspicions. Police Chief Cole Sheffield, her high school crush, has questions as well—questions that only mount as more of their schoolmates end up dead. A festering secret, a tragic suicide, and a vibrant assortment of characters—good, flawed, and totally rotten—keep the pot boiling in this guilt-ridden tale enhanced by a realistic Puget Sound setting. ­
VERDICT The high school past returns with a vengeance in this twisted tale that dangles false leads aplenty and keeps most of its mysteries until the very end. Bush (Jealousy) lives in Lake Oswego, OR.
Dimon, HelenKay. Her Other Secret. Avon. (Whitaker Island, Bk. 1). Jul. 2019. 384p. ISBN 9780062892782. pap. $7.99; ebk. ISBN 9780062892768. ROMANTIC SUSPENSE
Tessa Jenkins and handyman ­Hansen Rye see a stranger in a business suit calmly walk out of the ocean and disappear into the woods. They certainly think it's odd, but when the man ends up dead near Tessa's cottage and Hansen recognizes him as an old enemy, he knows his past has finally tracked him down. The question is, since Hansen and Tessa know Hansen didn't kill him, who did? ­Tessa's past threatens to churn the waters, as well, as rumors swirl and danger mounts. Then the killer strikes again, throwing the island into chaos as Tessa and Hansen race to find the perpetrator before it's too late. A vivid, isolated setting and a colorful supporting cast add to the intrigue. ­
VERDICT Lovers intent on putting their pasts behind them find fulfillment and danger on a secluded private island where everyone has something to hide. This riveting story with a sexy, edgy vibe moves at breakneck speed and splendidly launches a hot new series. Dimon (The Reluctant Heir) lives in San Diego.
Foster, Lori. Sisters of Summer's End. HQN: Harlequin. Jun. 2019. 368p. ISBN 9781335468321. pap. $15.95; ebk. ISBN 9781488085956. CONTEMPORARY ROMANCE
Fiercely self-sufficient and totally devoted to raising her five-year-old son, Jack, Joy Lee has no time for men. She loves her job as recreation director at Cooper's Charm RV Resort and with its eclectic mix of down-to-earth people, especially her best-friend-in-the-making camp store manager Maris Kennedy, the resort is the perfect place to raise a little boy. But Joy didn't count on Royce Nakirk, the town's new drive-in owner, turning her life upside down—and she definitely didn't plan to fall in love. Maris, as driven and as self-sufficient as Joy, didn't plan to find love either, but when she and Joy challenge each other to take a risk, the results are far more rewarding than either had expected.
VERDICT Two women with unsettling backgrounds bond as sisters-of-the-heart in a sexy, heartwarming, down-home tale that features two captivating love stories, along with some critical backstory issues. A funny and engaging addition to the series that skillfully walks the line between romance and women's fiction. Foster (Driven to Distraction ) lives in central Ohio.
Goodman, Jo. A Touch of Forever. Berkley Jove. (Cowboys of Colorado, Bk. 3). Jun. 2019. 416p. ISBN 9780440000648. pap. $7.99; ebk. ISBN 9780440000655. HISTORICAL ROMANCE
A changeling among the members of his creative, free-spirited New York family, Roen Shepard hasn't an artistic bone in his tall, rangy body. Instead, his talents lie in railroad engineering, a skill he intends to put to good use in Frost Falls, CO, as a surveyor for the upcoming railroad. New to town, Roen can't help but be attracted to young widow Lily Salt; and while she is not in the market for another husband, she can't help but notice Roen's kindness and awareness in dealing with her four young children. A wary friendship develops between the two, but neither thinks that a dangerous relationship from Roen's former life would result in a marriage of convenience for them—or that it would eventually become something more.
VERDICT Crisp descriptions, insightful character development, and four savvy kids bring depth to this romantic historical charmer that is pure gold. Goodman (A Touch of Flame) lives in West Virginia.
James, Eloisa. Say No to the Duke. Avon. (Wildes of Lindow Castle, Bk. 4). Jul. 2019. 367p. ISBN 9780062877826. pap. $7.99; ebk. ISBN 9780062877840. HISTORICAL ROMANCE
Elegant, self-contained, and every inch a lady, Lady Boadicea "Betsy" Wilde has rejected more suitors than she can count. From the time she was 14 and a spiteful classmate sneered that her mother's disgraceful behavior (she had run off with a Prussian) would keep her from getting proposals, Betsy has fiercely guarded her reputation with flawless propriety, never letting on that she is far more adventuresome than the polite world knows. Lord Jeremy Roden, however, knows. Although the two get off to a rocky start, when a rash billiards wager results in his escorting Betsy to a public auction disguised as a boy, the playing field shifts. Realistic, appealing protagonists with troublesome pasts to sort out finally choose love in this laughter-laced tale immeasurably enhanced by a charming but scandal-averse heir to a dukedom and two elderly ladies with devilish senses of adventure.
VERDICT With wicked repartee, sharp attention to detail, and a wonderful spirit of fun, James offers a beautifully written Georgian romp that builds another chapter on to this outstanding series. James (Born To Be Wilde) lives in New York.
Jenkins, Beverly. Rebel. Avon. (Women Who Dare). Jun. 2019. 384p. ISBN 9780062861689. pap. $7.99; ebk. ISBN 9780062861696. HISTORICAL ROMANCE
Teaching recently emancipated children and adults to read and write in the still-seething South is not for the faint of heart, but for New York–born freedwoman Valinda Lacy, it's a dream come true. Aside from the stifling heat, New Orleans is a flavor-laden, sensory paradise, and working with her students is pure joy. She is also out from under the thumb of her controlling, self-serving father. But not everyone is happy with the way the war ended, and when Val is threatened by bullies and her classroom vandalized, she fights for her life, just as Capt. Drake LeVeq rides up and lays down shots at the feet of her attackers. Part of an old powerful New Orleans family and a volunteer for the Freedmen's Bureau, Drake has no patience for the current unrest and the supremacists' threats, and coming to the aid of someone who needs help is just what he would do. Still, the fiery, outspoken woman he rescued fascinates him, and although she's currently promised to another, he's not about to give up so easily. A rebellious, independent heroine and a bold hero with pirate roots find each other despite major obstacles in a sensual romance graced with an appealing cast and remarkable historical detail.
VERDICT Post–Civil War New Orleans comes to violent life in the hands of a veteran writer and delivers a vibrant, instructive, totally romantic historical tale that will resonate with many readers today. Beautifully done. Jenkins (Second Time Sweeter) lives in southeastern Michigan.
Perry, Marta. Amish Outsider. HQN: Harlequin. (River Haven, Bk. 1). Jun. 2019. 384p. ISBN 9781335006783. pap. $7.99; ebk. ISBN 9781488038624. ROMANTIC SUSPENSE
Suspected of but not charged with the murder of his estranged Englischer wife, Diana, ­Michael Forster takes his young daughter, Allie, and leaves Harrisburg, PA, to return to the Amish community where he was born, hoping for a better life for both of them. For Michael, Allie's happiness is key, and when she bonds with kind, optimistic teacher Cathy Brandt, Michael can't help but be attracted to her, as well. But not everyone welcomes them back, including some of Diana's Englischer high school friends. Then a private investigator shows up, and the Harrisburg police take a renewed interest in the case. Michael knows he'll never be free of suspicion until the real killer is caught—a killer who might just be targeting everyone he loves in order to keep that secret safe.
VERDICT Caring, decency, and family solidarity underpin this frightening but ultimately heartwarming tale of hate, retribution, and evil that is made all the more chilling by the peaceful, nonviolent setting. Perry (Shattered Silence) divides her time between rural Pennsylvania and South Carolina.
Singh, Nalini. Wolf Rain. Berkley. (Psi-Changeling Trinity, Bk. 3). Jun. 2019. 400p. ISBN 9781984803597. $27; ebk. ISBN 9781984803603. PARANORMAL ROMANCE
Drawn by telepathic waves of crushing grief while out on patrol, Alexei of the SnowDancer wolf pack is shocked to find a fragile, badly abused, yet strangely fierce Psy Empath in a cleverly hidden subterranean prison, mourning the loss of her cat. Alexei rescues her, but Memory knows she is no ordinary empath; since childhood, she has been the source of a psychopathic killer's dark power. Though she is now free and protected by Alexei and his pack, she knows she's a danger to them all because it's only a matter of time before her captor hunts her down. Attraction flares between Memory and Alexei, and though he has no plans to mate, she is beginning to wear him down. A cast of well-developed characters and several subplots add layers to a story that is as deep as it is playful.
VERDICT Stratagems, insanity, and violence are here tempered by bright humor and the warmth and importance of family, pack, and belonging. Another hands-down winner that expands Singh's brilliantly conceived world. Singh (Ocean Light) lives in New Zealand. [See Prepub Alert, 12/6/18.]
SECOND TIME AROUND
Roberts, Nora. The Welcoming. Severn House. Jul. 2019. 224p. ISBN 9780727888808. $28.99. ROMANTIC SUSPENSE
On an undercover assignment to deal with a criminal gang operating out of an inn on Puget Sound's Orcas Island, FBI Agent Roman DeWinter is attracted to the inn's owner, Charity Ford, as his investigation puts them both in danger. This compelling, fast-paced romance was originally published in 1989 as a Silhouette Special Edition and more recently in 2012. It is slightly dated (wages, smoking, etc.), but the core holds up well. Note: Many of Roberts's older books have been rereleased, so to avoid confusion, her new original titles are marked with NR in a circle on the cover.
---
Kristin Ramsdell is Librarian Emerita, ­California State University, East Bay. She is the author of Romance ­Fiction: A Guide to the Genre. 2d ed. (­Libraries ­Unlimited, 2012) and editor of The ­Encyclopedia of Romance Fiction (Greenwood, ­Sept. 2018)
---
This article was orginally published in Library Journal's July 2019 issue.