While sex isn't a substitute for therapy, this month's picks see ­characters finding healing in intimacy.
SEXUAL HEALING While sex isn't a substitute for therapy, this month's picks see ­characters finding healing in intimacy. Star athlete Slade Rodriguez pushes everyone away with rage and blame when his father dies, including the woman he was with when he heard the news. But a twist of fate brings them together for a second chance in Rachel Van Dyken's Risky Play. In Sierra Simone's Misadventures of a Curvy Girl, Ireland Mills is growing ever more confident in her curvy body, despite years of fatphobia and an emotionally abusive ex. Luckily, a trek into picturesque farmland lands her in the home of not one but two gorgeous men who help her recenter. Another series addition, Victoria Blue's Misadventures with a Book Boyfriend, centers on model-turned-escort Oliver Connely, a Midwestern boy whose childhood trauma often mars his confidence in his growing Book Boyfriend business and burgeoning relationship. In erotica veteran ­Tiffany ­Reisz's The Rose, college graduate (and escort agency boss) Lia finds herself propelled into the arms of an alluring Greek stranger as she runs from a dangerous man in her past. Wandering soul Echo Logan finally finds the peace and grounding she's been seeking since her father's disappearance when a Dominatrix moves in next door in newcomer Saskia Vogel's Permission.

---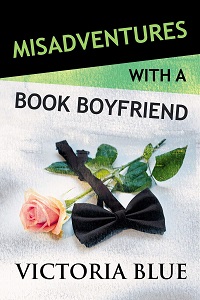 Blue, Victoria. Misadventures with a Book Boyfriend. Waterhouse. (Misadventures, Bk. 19). Mar. 2019. 232p. ISBN 9781642630794. pap. $12.99; ebk. ISBN 9781642630800. EROTICA
Struggling model Oliver Connely is trying to make the best of a less-than-ideal situation—namely, the lack of jobs coming down the pipeline. Inspiration strikes when he overhears a poolside clique of older women effuse about their "book boyfriends"—powerful, wealthy, sexy men whose eccentric behavior and irresistible allure could only be the work of fiction. Oliver dreams up a com­panionship service, Book Boyfriend, Inc., to fulfill these fantasies. His first session with enigmatic brunette Bailey, aka ­Melanie, blossoms into something more, and soon Oliver is even throwing around the "L" word—but drama ensues as details of ­Bailey's personal life are revealed to entwine with his best friend Skye's professional aspirations. Soon, Oliver finds himself stuck painfully in the middle of a political battle between girlfriend and best friend. Oliver is not presented as mature or likable at the novel's outset; however, Blue ( No Curtain Call) imbues him with a spare yet weighty backstory that clarifies some of the model's harsher qualities and builds sympathy with the audience. Readers will delight in cocky yet fretful Oliver experiencing growth as he dives headfirst into his creative challenge; the metanarrative of a romance character learning how to "play" the part (and falling in love with reading in the process) is delightful. Assumed negative perceptions of escorting may dampen the enjoyment of Oliver's steamy sex ­sessions for some readers.
VERDICT This latest entry in the "­Misadventures" series posits a gentle premise that veers quite sharply into political drama, while remaining consistently sexy throughout. ­Recommended.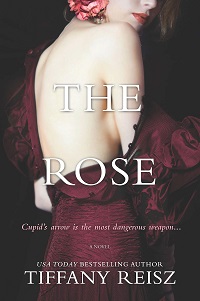 Reisz, Tiffany. The Rose. Mira: Harlequin. Apr. 2019. 400p. ISBN 9780778307921. pap. $15.99; ebk. ISBN 9781488088575. EROTICA
Lia is the head of an elite escort agency known as the Young Ladies' Gardening & Tennis Club of Wingthorn Hall. She is also the daughter of an earl in a long line of self-admitted "deviant" family members and a fervent devotee of Greek mythology. At her graduation party, sardonic Lia finds her usually steady demeanor thrown by the arrival of gorgeous Greek collector August Bowman—along with a 2,500-year-old ­kylix, an ornate ceremonial cup used in rituals honoring the goddess Aphrodite. But August comes bearing secrets and even more truth: the artifact is the original enchanted cup of the Cult of Eros, and drinking from it brings one's deepest sexual fantasies to life. Rising to that outlandish claim, Lia suddenly finds herself exploring new heights of pleasure through the kylix, with ­August by her side playing the lusty lover to her goddess personae. Readers will be drawn in by Lia's conspiratorial tone, and her banter with August crackles with the pleasing tension crafted by the wry, rhythmic writing that is characteristic of Reisz's work. Following the stylistic tradition of its predecessor, The Red, this novel beautifully blends high art and absorbing prose with the sensual rendezvous of famed pairs in Greek legend, including Andromeda and Perseus and Eros and Psyche.
VERDICT An otherworldly, titillating endeavor. Highly recommended for fans of the author and for readers seeking luscious erotica with more than a touch of magical realism.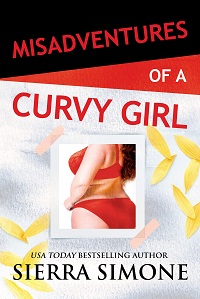 Simone, Sierra. Misadventures of a Curvy Girl. Waterhouse. (Misadventures, Bk. 18). Feb. 2019. 240p. ISBN 9781642630770. pap. $12.99; ebk. ISBN 9781642630787. EROTICA
Ireland Mills sets out on an ill-advised jaunt to the country in her Prius to take photos of a farm for her marketing job. Expecting an aging, affable farmer, she's instead met with a gorgeous country boy who suddenly can't keep his eyes (or hands) off the witty city girl. It's love at first sight when Ireland appears, but ­Caleb knows that if this is going to work, she must love someone else, too—his lifelong companion and somewhat taciturn army veteran Ben, with whom he shares all of his intimate relationships. Ben is the stoic shadow to Caleb's golden boy both in looks and personality, with his dark eyes and proclivity for light sadism. Yet he's also astute and sensitive, able to pinpoint ­Ireland's insecurities and reassure her without her even needing to ask. But as the trio develop a life together (marathon sex sessions included), ghosts of Ireland's past and ever-present fatphobia threaten to destroy the beautifully delicate nest they've built. Whether describing Ireland's wonderfully raunchy trysts with her new beaux, or the sodden yet breathtaking Kansas countryside, Simone (American Queen) uses language that is crisp and evocative. While it's established early on that Ireland is striving to embrace her body and know her worth, she is portrayed as a work in progress whose challenges with self-esteem and hateful external opinions are likely to resonate with many. Frank discussions of body positivity and fat stigma provide a refreshing change of pace with a message that is very much needed in erotic romance and beyond.
VERDICT A thoroughly enjoyable addition to the series that is bound to tantalize readers. Highly recommended for fans of m/m/f and ­deliciously effective dirty talk.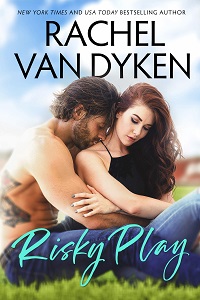 Van Dyken, Rachel. Risky Play. Skyscape: Amazon. (Red Card, Bk. 1). Mar. 2019. 288p. ISBN 9781542043724. pap. $9.99; ebk. ISBN 9781542043717. EROTICA
When Mackenzie DuPont is jilted at the altar by childhood best friend and romantic "foregone conclusion" Alton, she's convinced she's lost the only person who really understood her. Feeling adrift, she embarks on their honeymoon trip to Puerto Vallarta alone. Destiny seats her next to Slade Rodriguez, who is traveling solo for similarly grim reasons. He's running from his troubles, including an unfaithful partner, and leaving his cushy spot on the Chelsea football team in the UK for Seattle. An emergency landing brings the pair closer, physically and figuratively. Neither tells the whole truth about their identities, as they're too willing to let the thrill of this anonymous one-night stand take the helm. But tragedy strikes and separates the two, souring their tryst and rendering their ­reunion as boss and assistant entirely unwelcome on both sides. Eventually, Slade comes to terms with his destructive grief and unfounded blame, and Mackenzie learns to let in the best (and briefest) thing she's ever had. Van Dyken's (The Matchmaker's Playbook) prose is absorbing, and readers will find themselves rooting for Mackenzie and Slade individually and together. Side plots of Slade's community service with kids and his rivalry–turned–begrudging friendship with a teammate bring levity to realistic depictions of dealing with intense loss.
VERDICT An enjoyable romp that blends sex with soul-searching, as Mackenzie's and Slade's attempts to outrun their problems send them crashing into each other. Recommended for collections seeking erotica with a significant emotional arc.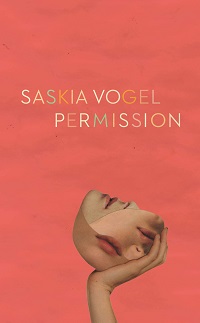 Vogel, Saskia. Permission. Coach House. May 2019. 180p. ISBN 9781552453803. pap. $17.95; ebk. ISBN 9781770565814. EROTICA
DEBUT As a young girl, Echo Logan would hear the call of the lovers in the sea. It terrified her as it rose from the cliffs, and her father coached her on toeing the edge so she would not be afraid. Ever since her father disappeared into the waves, Echo has been trapped in freefall, living with her dispassionate mother as she watches her nascent acting career crumble. She's brought back down to earth by Orly, an enigmatic neighbor who turns out to be a Dominatrix. Amid Echo's unfulfilling encounters with men who don't really know her or how intensely she's suffering, Orly opens the young woman up to owning what she's been taught to suppress—her fear, her anger, and her desire for women. As the women's relationship evolves, readers waft in and out of the life of Lonnie (aka Piggy), Orly's middle-aged houseboy who has been searching in the shadows for the perfect woman to worship. Chasing a rhythm of submission and humiliation with tenderness to match, Lonnie believe his deep attachment to Orly is threatened by the presence of a new playmate. Though light on overt sex scenes in the early half of the novel, this erotic debut drips with a sensuality that will enthrall readers while they follow both Echo's and Lonnie's very different quests for healing. Heady scenes of bondage, submission, and prolonged sexual tension complement an absorbing narrative on the inexplicable process of grief and Echo's musings on her absent father's imperfections.
VERDICT Highly recommended for fans of weighty, emotionally raw erotica reminiscent of Anaïs Nin.
---
Ashleigh Williams is Assistant Editor, School Library Journal