Design Institute Durham highlighted the need for ongoing communication among designers, architects, and libraries during all phases of a project
All successful library renovations have a little drama baked in, and the upgrade at the Durham County Library (DCL) Main Library, NC, is no exception. The striking $40.8 million, 100,000 square-foot renovation and addition was completed and ready to open in April 2020, but the COVID-19 shutdown put those plans on hold for more than a year. When the library did reopen its doors to the public—with its grand central staircase, outdoor seating, multisensory room, and new fourth story—it was a hit.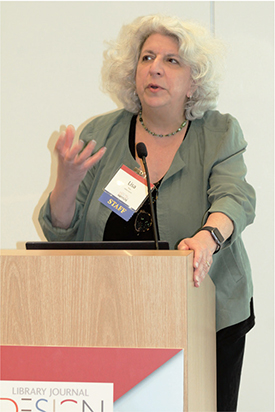 DESIGNED TO INFORM

LJ Executive Editor Lisa Peet welcomed attendees and guided the audience through the day. Photo by Kevin Henegan
On June 1 of this year, library representatives gathered with architects, designers, and vendors in the library's audito-rium for LJ's Design Institute Durham. They shared questions, answers, hits and misses, best practices, and ideas about all phases of construction and renovation projects. A range of themes emerged over the course of the day, above all the importance of architects and libraries listening together—to library users and those who aren't patrons yet, to the people who are hungry for change and those who don't want to see their library altered, and, most of all, to each other.
It's a natural partnership. As GBBN Associate and Project Architect Sean Cottengim pointed out, "We like working with librarians because [both of our fields involve] being curious about many things. We see eye to eye despite different skill sets."
DESIGNERS AS ADVOCATES
Even before plans are finalized and hands-on work begins—not to mention during the building process— architects and designers can be among a capital project's most effective promoters. DCL Director Tammy Baggett spoke with GBBN's Cottengim and Little Diversified Architectural Consulting Partner & Studio Principal Sharon Crawford about how they help advocate for funding and community buy-in.
As a key planner, said Cottengim, part of an architect's mission is to communicate ideas that inspire excitement around a project. Even if those ideas are the same ones the library started out with, noted Crawford, having an outside voice that's perceived as an expert opinion can help build enthusiasm. "Community support is so important right up front," she said. It's important to be explicit about how design concepts map to the needs of the community. Define how new spaces could attract local health initiatives or arts institutions. When DCL was rebuilding the Main Library, designers were clear as to how the proposed multisensory room tied into DEI concerns.
Surveys and listening sessions can also help rally the public around a project, Cottengim and Crawford suggested. Keep surveys short—no more than 15 questions. If in-person meetings don't draw enough participants, libraries might wish to consider adding virtual sessions. The sessions offer an opportunity for residents to weigh in, as well as for the architects to showcase past projects and demonstrate successes—helping community members envision a former strip-mall video store as a welcoming library branch, for example.
Designers and architects can also help clarify how money is being spent over the course of a project, particularly as supply-chain issues have made costs a moving target. The budget has usually been set anywhere from three to 10 years before ground is even broken, Crawford pointed out, and architects need to translate how that is playing out at different phases as the library continues to fundraise.
And the need for advocacy doesn't end when the work is complete. Libraries will need to educate boards and local officials on the project's impact, and architects can help as well—they understand the milestones that will help the library share knowledge going forward. "We know what the end goal is, because we've been there for the whole story," said Cottengim. "We know how to get to the finish line."
DESIGNING FOR NEW NEEDS
Enabling the innovative use of new spaces is a continuous process, as discussed in the panel on balancing established and contemporary program needs. DPL Adult Services Librarian Larkin Coffey, along with McMillan Pazdan Smith Architect Amanda Gascon and Liollio Architecture Associate Liz Corr, addressed ways to help anticipate different scenarios.
A common concern is the need for design that can combine in-person participation with the virtual models that proved successful during the height of the pandemic. Both architects emphasized that audiovisual (AV) technology should be up to par and flexible. Partitions can help change up the size of a space depending on needs, but AV must be able to scale as well, and power integration should facilitate various uses. The word of the day was flexibility: Make sure stations and equipment serve multiple purposes. Adequate storage capacity is an ongoing necessity.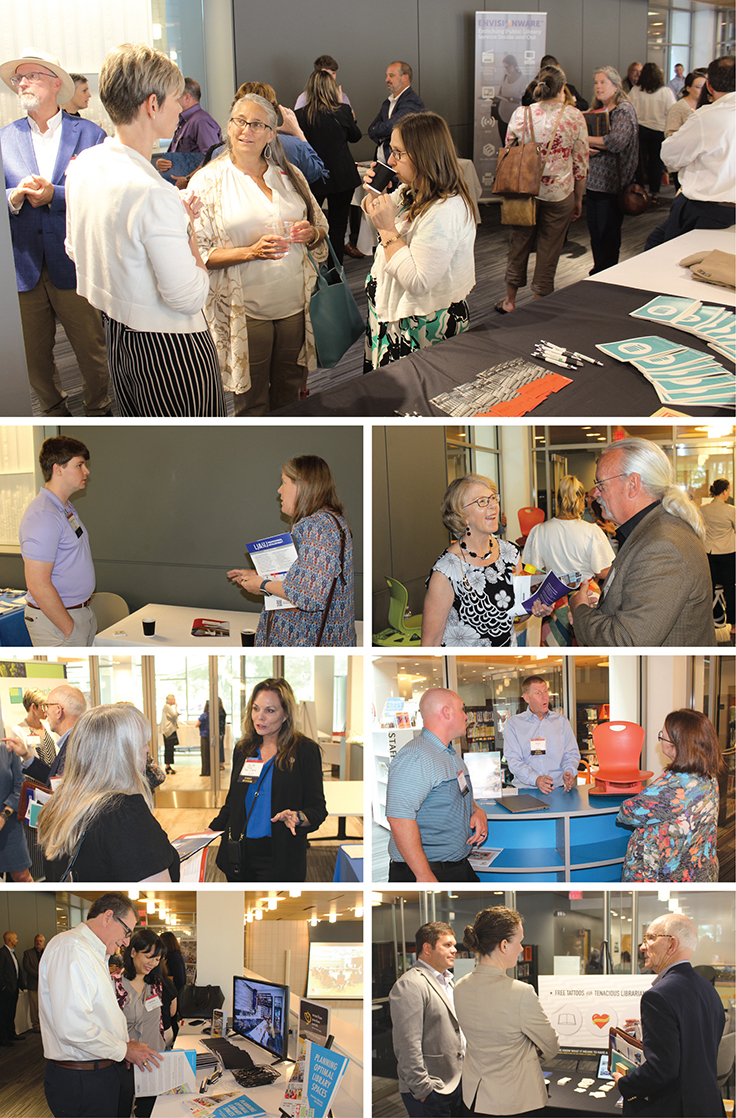 A DAY-LONG EXCHANGE

Attendees had plenty of opportunity to interact and learn from architect and vendor sponsors (top), including (2nd row, l.-r.) Cultural Surroundings and Envisonware; (3rd row, l.-r.) Tech Logic and Virco, and (3rd row, l.-r) architects McMillan Pazdan Smith and GBBN. Photos by Kevin Henegan
Open-use spaces are an obvious asset, but they come with their own issues. Coffey noted that DCL had to reconsider usage of some of its open areas, notably a space that was originally conceived as a second auditorium, but that is adjacent to a computer lab where people want to concentrate in silence. Corr recommends sound-mapping ahead of time, and possibly working with an acoustical engineer early in the design process to decide on spending priorities.
Flexible furniture options are also time and money savers. Consider cleanability, durability, and a color palette that integrates with the library's look, offered Gascon, as well as usage—computer stations shouldn't be so comfortable as to encourage camping out, whereas areas used as hangout spaces need to be cozy. Think of how fabrics are going to age, added Corr; those that are easy to change later will offer more flexibility down the line. Weight is another variable. While the interior furniture at DCL has lent itself well to improvisation, said Coffey, outside furnishings have proven to be sturdy but too heavy to move around easily.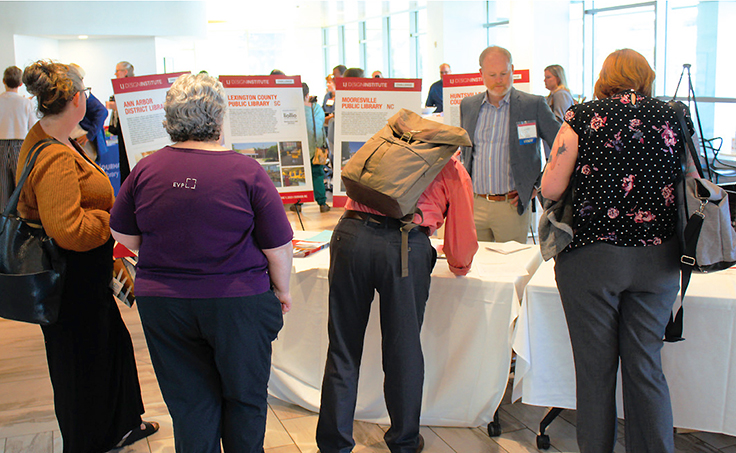 ALL IN TO BREAK OUT

Attendees signed up for one of four breakout library challenge sessions (see 4 Design Challenges from Durham), pictured in framed posters behind the table. Photo by Kevin Henegan
Designing for accessibility alone isn't enough—accommodations should be inviting, easy to use, and approachable. Make sure the accessible entrance isn't tucked away in the back, or reachable only by traversing a parking lot or long exterior walkways—these treks are a big ask in winter or summer weather for users with disabilities.
ASSEMBLING THE EVIDENCE
As mentioned earlier, the library-architect collaboration doesn't end when the building reopens, and assessment is a large part of the continuing process. Moderator Emily Petty Puckett, interim associate university librarian for operations at the University of Michigan Library, talked to GBBN Principal and Market Design Leader Amanda Markovic and McMillan Pazdan Smith Principal Joe Alcock—with input from audience members—about how all parties can contribute to good post-occupancy data gathering.
Some libraries track usage via heat maps (a two-dimensional data visualization technique), or—in academic libraries—looking at which personal devices students are using in various zones. Marcovic described making systematic observations by walking around each area every 15 minutes on different days of the week to see how activities match up with the floor plan. GBBN has tracked more than 700 different behaviors this way, down to data such as the fact that wider tables get more use than narrower ones. Puckett has been gathering her library's baseline usage data to help plan for remote, in-person, and hybrid work situations.
In the short term, gathering data is "taking a snapshot of now," said Alcock. "What we know is, it's going to change." But if libraries build in a program of regular tracking, they can spot and adapt to trends, make budget predictions, and know when it's time to take on a capital project—with the data to back that decision up to the board and the public. Such data will also be critical for advocacy further down the line. If directors can go to their city councilperson and show that the li-brary is getting as many visits as the zoo, for example, that will help drive funding, and that message will appeal to voters as well.
Patron surveys and in-house data are useful for expanding and building services, but getting out of the library to see how other community members feel is important as well, all agreed. "Online [survey] platforms work for patrons, but we also try to get out into alternate community spaces," said Alcock. Designers and libraries working together to gather data—along with other partners and adjacent organizations—offers the opportunity for everyone to learn together to inform their work going forward. "There's always a surprise use," said Marcovic.
RENOVATIONS AND REUSE
As dramatic as new construction can be, keeping and improving aspects of a library, whether architectural features or services, can be exciting as well. And given the financial constraints many libraries are currently under, renovating is a practical solution as well. After a lively series of breakout brainstorming sessions that tackled four libraries' renovation design challenges (see 4 Design Challenges from Durham), Baggett returned to the stage with Liollio Architecture Principal Jennifer Charzewski and Little Diversified Architectural Consulting Community Practice Leader & Partner Thomas Carlson-Reddig for "Renovations and Re-use: Managing Costs Now and in the Future." About 90 percent of the libraries Liollio is involved with are renovations, said Charzewski. But people are often attached to their libraries, and can be resistant to the idea of change. "How do you navigate that community agreement but stand up for what librarians want?" asked Baggett.
Even the most bunker-like building can be transformed into a beautiful and responsive library, said Carlson-Reddig. For starters, said Charzewski, as with a new build, you need to listen to voices and stories: staff, stakeholders, and the public. Bring maps of the library to meetings and invite community members to put stickers on their favorite parts. Taking people's temperature on potential changes is necessary—but, noted Carlson-Reddig, "I always love the outliers, something unexpected that could transform how you think about solving a problem." Engagement sessions require close listening, he added: "Looking for things that are surprising can lead to more powerful results."

LEADIN GOES HERE

Panels and speakers at DI Durham covered a wide range of design concerns. Top: DCPL's spacious Main Auditorium. 2nd row: "The Role of Designers as Library Advocates" panel, moderated by DCPL Director Tammy Baggett, featuring GBBN's Sean Cottengim and Little Diversified Architectural Consulting's Sharon Crawford. 3rd row: the "Balancing Established and Contemporary Program Needs" panel featured (l.-r.) Liollio's Liz Corr, Moderator Larkin Coffey from DCPL, and McMillan Pazdan Smith's Amanda Gascon. 4th row: Offering insights on gathering and evaluating demographics post-occupancy were (l.-r.) moderator Emily Petty Puckett from University of Michigan Library, GBBN's Amanda Markovic, and McMillan Pazdan Smith's Joe Alcock. 4th row: sharing ideas for managing renovation and reuse costs were (l.-r.) DCPL's Tammy Baggett, Thomas Carlson-Redding from Little Diversified Architectural Consulting, and Liollio's Jennifer Charzewski. Photos by Kevin Henegan
Staying open during renovations has pros and cons, but figuring out how to keep the library usable during the process can help keep the excitement level up in the community, and is often a lifeline for patrons in rural or suburban areas who can't easily get to another branch. It's difficult to occupy a building during construction, particularly in a smaller building, noted Carlson-Reddig. Minor renovations can limit construction to weekends or after hours, but large jobs pose more of a problem, and the key is to get the process done quickly.
Where possible, providing spaces outside the library—a pop-up building or portable classroom in the parking lot, or an unused store in a mall—can offer good interim solutions. (Carlson-Reddig tells of a temporary location one library set up in a shopping center that became so popular it was turned into its own branch.) During its Main Library renovation, nearby Duke University stored DCL's collection.
Just because a renovation doesn't involve a ground-up build doesn't make it simple, the architects cautioned. Jobs sourced and budgeted years ago should be re-evaluated closer to construction time, as many materials costs have increased and building codes—such as those governing heating, ventilation, and air conditioning (HVAC) systems or seismic requirements—have become more stringent.
As with school renovations, library safety is a major concern. "How do you make it safe, but still inviting to the community?" asked Carlson-Reddig, who is currently using a consultant who is working on the Sandy Hook Elementary School redesign. Charzewski described an academic library renovation in progress, where Liollio is working to balance needing to close off parts of the library in the event of an active shooter and ensuring visibility to prevent assaults. "It's a community-by-community discussion," she added.
Sustainability is always an ongoing consideration as well, and Charzewski offered a familiar statement: "The most sustainable building is the one that exists." Leadership in Energy and Environmental Design (LEED) certification is just a start-ing point, she added, and a way of shifting how we think about construction and materials. There are other environmental expertise credentials around; libraries should research what options will work best for them, taking into account ease of use and practicality—"There's a lot of progress being made finding things that are simplest, that aren't at odds with what's important to you," said Carlson-Reddig.
KEEP COLLABORATING
Although it's necessary to divide any building project into phases—for planning, fundraising, construction, and evaluation purposes—in application, those divisions are fluid. Libraries need to collaborate closely with architects and designers at every stage of the work, and many of those stages are ongoing long after the ribbon is cut and patrons settle into new routines.
In addition to offering opportunities for library planners, designers, architects, and vendors to share knowledge and brainstorm together, the stories shared at Design Institute Durham illustrated how critical it is that the flow of information should be porous. COVID-19, technological change, civic instability, and the spikes and dips in funding streams and material costs, among many other variables, have shown that best practices can never be set in stone. Close, ongoing listening—among library leaders, staff, architects, builders, and the community—is the key to a successful library project, and the discussions in Durham offered many useful models.
---
In addition to the architects, vendor sponsors Cultural Surroundings, Envisionware, Opening the Book North America, ReThinking Libraries, Tech Logic, and Virco shared information on workflow and service technologies, shelving and furniture solutions, and future-ready planning.