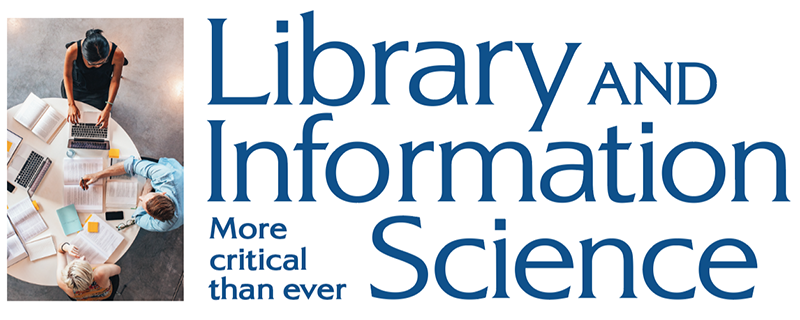 It's not an exaggeration to say that librarians and other information professionals are pivotal leaders in the fight for our democracy. In a world where social media gatekeepers are doing little to prevent the spread of false information online, this trend is doing serious harm to a well-informed citizenry.
"Today's society seems to get more and more divided, opinionated, and misinformed," says Wooseob Jeong, dean of Emporia State University's School of Library and Information Management. The role of librarians in helping people find and access credible information is more important than ever.
At the same time, the job of librarians is also becoming more complicated. As print circulation declines and facility usage changes, librarians must navigate increasingly complex digital rights management agreements, redesign physical spaces to meet users' need more effectively, and develop innovative programming to keep patrons engaged. Shrinking budgets also pose a challenge for public institutions, as does the need to satisfy highly diverse constituencies.
In some communities, school and public libraries "are in a fight for their very existence," says Anthony Chow, director of San José State University's School of Information. Skills such as advocacy and demonstrating value have become core competencies for today's librarians.
As the information landscape continues to evolve and the hurdles facing librarians only multiply, these circumstances require information professionals who are highly innovative and adaptive—and the programs that train them must share these characteristics.
Here are some of the leading library and information science (MLIS) masters degree programs that are stepping up to meet these challenges.

Emporia State University
As the first library science program west of the Mississippi River, Emporia State University's School of Library and Information Management (SLIM) has been preparing the next generation of librarians since 1902. But don't let the program's long history and tradition fool you: Emporia State is on the cutting edge of information science.
The program's mission is, "Educating successful library and information professionals with imagination, creativity, and innovation." Nowhere is this more apparent than in its innovative delivery model.
SLIM had been well known for its hybrid delivery mode," says Dean Wooseob Jeong. "Then, COVID hit. We waited for a while, switching our in-person weekend classes to virtual synchronous Zoom sessions. But COVID is still with us, making travel difficult, and the Zoom sessions proved not so effective for a long class session. So, we decided to turn our hybrid program into a completely online and asynchronous program."
SLIM, which offers a Master of Library Science, a Ph.D. in Library and Information Management, and several licensure and certificate options, currently serves about 350 students. Enrollees are both working adults and students who come directly from an undergraduate college or university.
Although it's a fully online program, SLIM offers a variety of enrichment activities where students can interact with faculty and other students. SCALA, the Student Chapter of the American Library Association, is very active—and many students participate in SCALA activities from all over the United States.
Emporia State prides itself on its affordability, and this is one of SLIM's distinguishing factors. The program has very generous endowments, which allows the university to offer significant scholarship assistance. Combined with the program's already affordable tuition and fees, these scholarships reduce students' financial burden significantly.
"We know well that librarians do not make huge money like business people," Jeong says. "Rather, librarians work from their passion. Our affordable tuition/fees and generous scholarships help our students graduate with minimal debt, if any."
Another key strength is the program's focus on job placement after graduation. "We have two tiers of advising," Jeong says. In addition to an academic advisor, each student is paired with a designated professional advisor who helps with job placement after graduation. SLIM also sends out weekly job announcements, including direct requests from employers.
"Because of our longevity, we have more than 5,500 living alumni, many of whom are still working as top or middle managers," Jeong says. "Our students are taking advantage of this vast network of professionals (when looking for jobs). This is another reason for students to consider our program."
Emporia State's library science programs focus on traditional library science, with an eye toward future needs. Faculty continuously review and update the curriculum to ensure timely and relevant offerings, along with experimental electives. Recently added programs include concentrations and certificates for health information professionals and courses in Empathetic Librarianship, Meaningful Innovation, Design Thinking, Dynamics of Rural and Small-Town Libraries, and Design and Marketing for Libraries.
People tend to focus on present requirements, Jeong says, but that's a shortsighted outlook. COVID shows why we need more resilience and adaptability for the future. "The world is changing rapidly," he observes, "so we have to be nimble to adjust ourselves."
Learn more at: https://www.emporia.edu/school-library-and-information-management/

IUPUI School of Informatics and Computing
The MLIS program at the Indiana University School of Informatics and Computing at IUPUI is an asynchronous online program that offers a wide range of specializations designed to prepare students to work in diverse roles and institutions.
"Our program helps students find their right place in a vast sea of possibilities," says Charles Sutton, acting assistant professor. "Do they want to work in a community-based physical space, or are they more interested in supporting what happens in that space through technology—or in learning spaces outside of libraries? Our program is designed to help them answer these questions."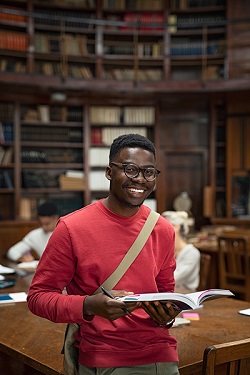 The program serves about 360 students who represent a mix of ages, geographic locations, and interests, including those fresh from undergraduate degree programs, adults looking to change careers, and those already working in an information profession. "Our students range in age from early 20s to their 60s, with about 20 percent starting directly after completing an undergraduate degree," Sutton says. "Approximately 60 percent of our students are already working or have worked in libraries or archives."
IU's School of Informatics and Computing offers eight specializations and a generalist degree. In this way, the curriculum is designed for both depth and breadth. "Our faculty are experts in best practices for teaching and learning online," says Sutton. Through connections with alumni, advisory boards, and library associations, the program remains responsive to evolving workplace demands. One example is its newest specialization, facilitated learning.
This newest program combines traditional aspects of librarianship with the ability to design and facilitate connected-learning experiences using emerging technologies such as games, simulations, artificial intelligence, and augmented or virtual reality.
The School of Informatics and Computing has a career services unit that hosts two career fairs each academic year and offers individual career advising to students and alumni. In addition, a career exploration and preparedness course—launched in fall 2020 in response to student feedback—is a one-credit course that helps small cohorts of LIS students explore and plan their careers.
"We are pleased that 95 percent of 2020-21 graduates were employed, self-employed, or interned within the LIS field when surveyed in February 2022," Sutton says. Data from 2018 through 2021 indicate that in-field employment for MLIS program graduates has held steady despite COVID—and salary averages have steadily increased.
Learn more at: https://soic.iupui.edu/lis/master-library-science/

San José State University
The largest MLIS degree provider in the world, San José State University's School of Information (iSchool) is completely online and asynchronous, averaging 2,200 active students per semester. Most are working adults, while a small percentage are full-time students.
"We are high-quality, high-touch, and high-tech," says Director Anthony Chow. "All classes are taught by full-time faculty or leaders in the field. We only employ the best of the best instructors to ensure that we are preparing our students with the skills and knowledge they need to not only find their next career but to flourish in it."
A point of pride for SJSU's iSchool is the diversity of both its faculty and student body. Twenty-five percent of its students are Latinx, and the program also has the highest percentage of Black and Asian American/Native Hawaiian/Pacific Islander students within any MLIS degree program.
"This is incredibly important, as we have instructors, librarians, and students from all across the country—giving us an extremely robust perspective in each course," Chow says. This helps prepare future librarians to meet the diverse needs of their communities, he notes.
Although the program is fully online, students aren't lacking in "high-touch" educational experiences. For instance, MLIS students have access to all faculty and adjunct instructors outside of their specific courses at any time. "We are also proud to offer synchronous chat on our website, which further increases access to our full-time advisors," Chow says.
In addition, the SJSU iSchool takes many steps to create community among students. It offers free memberships to the American Library Association and to students' state library association for the first two years. It also provides free services, symposiums, events, and student groups, as well as social media networks for current students and alumni.
A full-time career counselor works with students individually to review their resumes, discuss their career goals, and hold mock interviews. What's more, because of the program's 11,000-plus alumni, students have access to a large and geographically extensive network of library professionals.
"At the SJSU iSchool, students receive a world-class education across the board—in class, outside of class, and through connections—to prepare for their future career," Chow concludes.
Learn more at: https://ischool.sjsu.edu/programs

Drexel University
As an R1 research institution, Drexel has faculty and students who are revolutionizing the way information is organized and accessed, one information professional at a time.
"With the proliferation of digital resources and the need to archive and preserve new and ever-expanding forms of information, the horizons of librarianship are wider now than ever," says Kerry Boland, associate director of marketing and communications for the Drexel College of Computing and Informatics (CCI). "Librarians can now specialize in areas that didn't exist 10 or 20 years ago."
Interdisciplinary training is a key to taking full advantage of these opportunities, and Drexel's CCI offers this through LIS programs available both online and on-campus. Students can take courses focused on library, information, and/or data science. These programs serve about 200 students per semester, most of whom have some prior work experience before enrolling.
Drexel is one of the few places where library and information science lives under the same academic unit with data science, computer science, artificial intelligence, human-computer interaction, and information systems.
"This proximity of different domains in the computing and information science fields means our students have easy access to a wide array of electives and specialties that go beyond traditional LIS," Boland says. "It not only gives our students an unparalleled ability to get to know the technical disciplines that are transforming information access and production; it also means our students are often learning alongside students from these other programs in their electives and forging connections that they take with them."
The ever-changing information environment requires librarians to be creative, tech-savvy, and highly adaptive. Because LIS is an interdisciplinary field, librarians will need to collaborate with people from many different backgrounds and provide services to patrons across multiple domain areas.
Drexel's LIS program has revised its curriculum every few years to keep up with new advances in the field. Most recently, the program has added a core course on ethics to help students understand the evolving role of information professionals, and it encourages students to take elective courses in other majors to broaden their interdisciplinary perspectives.
"Drexel's program in library and information science is not only one of the earliest, but one of the most transformative programs in the country," Boland concludes. "We integrate multiple disciplines, access to technical training, and a concern for equity and justice that is world-changing."
Learn more at: https://drexel.edu/cci/academics/graduate-programs/library-information-science/

University of Illinois Urbana-Champaign
The School of Information Sciences at the University of Illinois Urbana-Champaign offers a highly flexible and customizable MLIS program that has been ranked No. 1 in the United States by U.S. News & World Report since 1996.
"Our mission is to lead the way in understanding the use of information in science, culture, society, commerce, and the diverse activities of our daily lives," says Associate Professor, MS/LIS and CAS Program Director Maria Bonn. "We offer a wide variety of electives that are both 'traditional' library science and technologically oriented, so students can design the program that supports their goals and interests."
The highly customizable nature of the program enables graduates to work in libraries of all kinds—research, academic, public, and corporate—as well as archives, museums, government agencies, and nonprofit organizations. "Many also pursue corporate careers and work in settings as varied as Netflix, eBay, and John Deere," Bonn says.
The program's flexibility extends not just to its curriculum but its modality of instruction. Students can earn their degree on campus, online, or through a combination of the two.
"We currently have 356 MLIS students in our online program and 202 enrolled in our on-campus program, for a total of 558," Bonn notes. About half of the school's on-campus students come directly from college, while fully online students trend a little older.
Community building is an important aspect of the program. This begins with activities during orientation and welcome weekends and continues throughout the year with activities such as tailgates, knitting circles, and more— as well as the active support of student organizations.
Because of the program's long history (nearly 130 years of LIS education) and premier ranking, "we have a network of alumni that covers the globe and the professional universe," Bonn says. "Our students benefit from mentoring and professional opportunities shared by those alumni."
She concludes: "Our program is highly interdisciplinary and committed to understanding both the social and technical aspects of information. Students can study usability, data curation, maker spaces in libraries, services for young adults, social work in libraries, and more—and many of our students put together programs that combine several of these kinds of courses. The professionals emerging from the School of Information Sciences are ready to work in many parts of the information world, and they are ready to shape that world."
Learn more at: ischool.illinois.edu/degrees-programs/graduate/ms-library-and-information-science



SPONSORED CONTENT