Jessica Fitzpatrick meets student athletes on their turf as she grows the next generation of book enthusiasts. "I became aware that our athletes weren't reading because of how many different responsibilities they handled," she explains. "At a Title 1 school, our students are not only busy being athletes, students, and just teenagers but they are also working to put food on the table and support their families."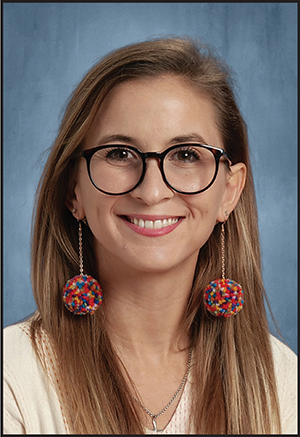 CURRENT POSITION
Librarian, Mayde Creek High School, Houston, TX
---
DEGREE
MLIS, University of North Texas, 2017
---
FOLLOW
Instagram @librarian_fitz; @librarianfitz
---
Photo by LifeTouch Inc.

Huddle Up!
Jessica Fitzpatrick meets student athletes on their turf as she grows the next generation of book enthusiasts. "I became aware that our athletes weren't reading because of how many different responsibilities they handled," she explains. "At a Title 1 school, our students are not only busy being athletes, students, and just teenagers but they are also working to put food on the table and support their families." 
Last spring Fitzpatrick launched the Librarian in the Huddle book club in collaboration with her school's athletic department. "I approached the idea that by using a sports leadership book, we would not only be encouraging reading with a book that would interest the students, but also building better leaders of our athletes on and off the field." She arranged to have the book club meet biweekly on the football field and basketball court, immediately following that day's practice.
Students in the club gave back to the community by making and donating dog toys and bracelets, writing letters, and cleaning up trash. Teachers reported improved test scores and grades. More students now use the library. "Our circulation went up 30 percent after starting the book club," she says. "Student-athletes also started visiting the library and our library events, causing our library visitor count to grow by 28 percent."
Fitzpatrick has never forgotten her own high school librarian: "She made a huge impact on my life by creating a safe space that I could always retreat to and always gave me the right book at the right time." Fitzpatrick is paying that forward to the next generation.