A bevy of new books, including an illuminating biography of the Speaker of the House, an investigation into the Paradise fires in California, and several breezy summer reads, come out this week.
A bevy of new books, including an illuminating biography of the Speaker of the House, an investigation into the Paradise fires in California, and several breezy summer reads, come out this week.
BIOGRAPHY & MEMOIR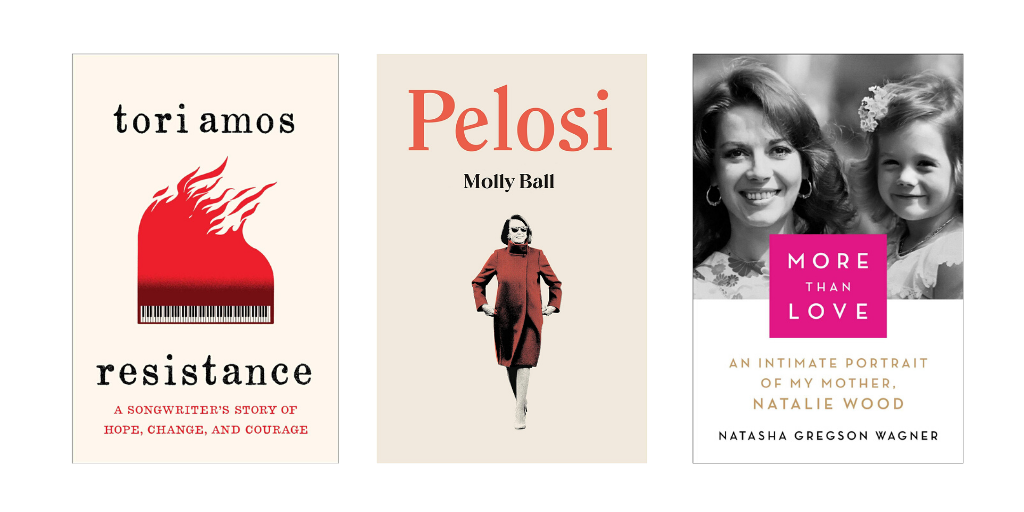 Resistance: A Songwriter's Story of Hope, Change, and Courage by Tori Amos
Fans of singer-songwriter Tori Amos will appreciate this deep dive into the artist's life, challenges, and creative process.
Pelosi by Molly Ball
An illuminating biography of one of the most powerful women in politics.
The Hour of Fate: Theodore Roosevelt, J.P. Morgan, and the Battle To Transform American Capitalism by Susan Berfield
Berfield chronicles the epic legal battle that raged between capitalist J.P. Morgan and unlikely trust-buster Teddy Roosevelt.
James Monroe: A Life by Tim McGrath
An exhaustively researched biography of America's fifth president, perfect for armchair historians.
More Than Love: An Intimate Portrait of My Mother, Natalie Wood by Natasha Gregson Wagner
Natalie Wood's daughter shares recollections of life with her famous mother, who tragically died when Gregson Wagner was only 11.
HISTORY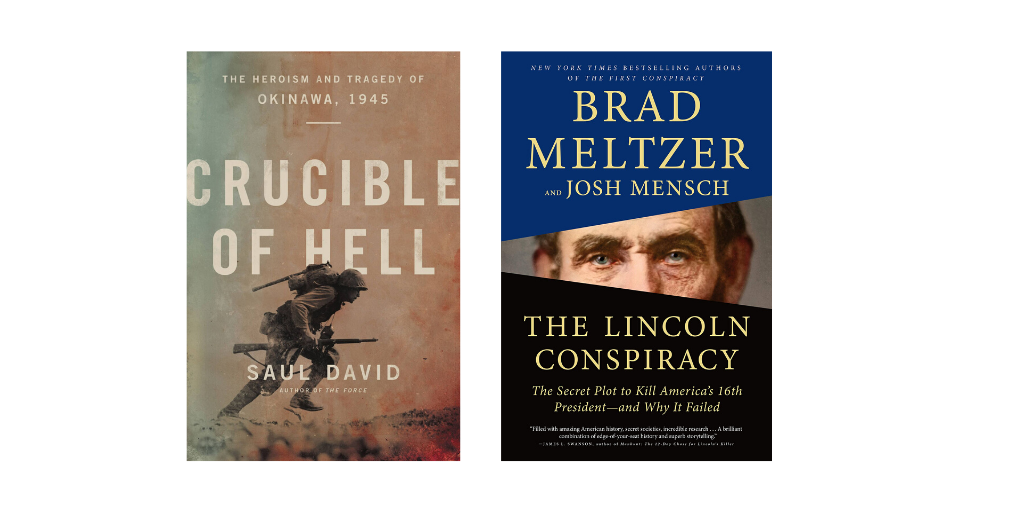 Crucible of Hell: The Heroism and Tragedy of Okinawa, 1945 by Saul David
A seering account of the experiences of soldiers and civilians at the Battle of Okinawa and the ultimate decision to drop the atomic bomb.
The Lincoln Conspiracy: The Secret Plot to Kill America's 16th President—and Why It Failed by Brad Meltzer & Josh Mensch
A real-life historical thriller recounting the plot to kill Lincoln, as traced through the extensive notes taken by Pinkerton agents.
MORE NONFICTION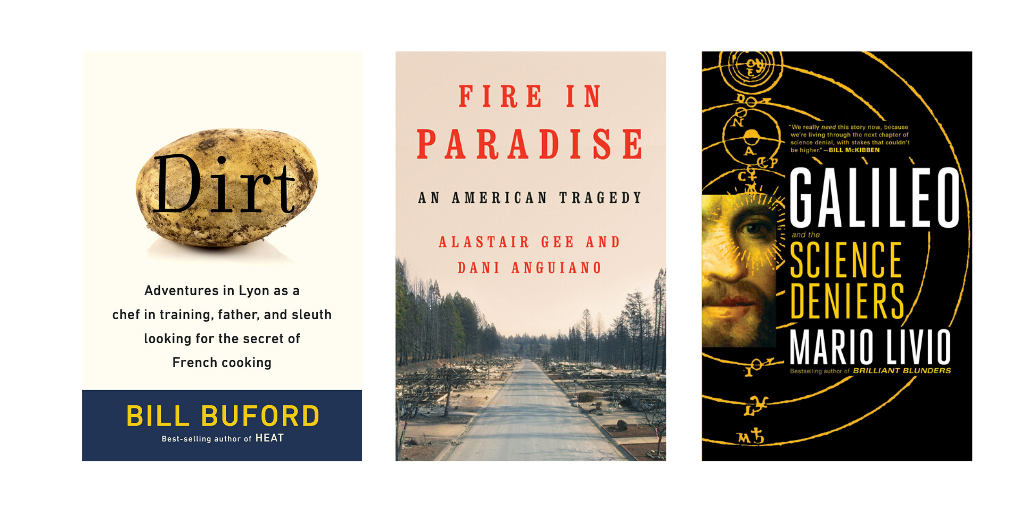 Dirt: Adventures in Lyon as a Chef in Training, Father, and Sleuth Looking for the Secret of French Cooking by Bill Buford
An expat chef pens a humorous memoir of haute cuisine, family, and France.
Golf's Holy War: The Battle for the Soul of a Game in an Age of Science by Brett Cyrgalis
A peek behind the curtain of Big Golf, ideal for readers who loved Moneyball.
The Louvre: The Many Lives of the World's Most Famous Museum by James Gardner
This history of the famed museum is also a history of France, architecture and design, and artistic movements over three centuries.
Fire in Paradise: An American Tragedy by Alastair Gee & Dani Anguiano
A gripping and heartbreaking account of the fires that destroyed the town of Paradise, CA, and an investigation into the culpability of Pacific Gas and Electric.
Galileo: And the Science Deniers by Mario Livio
A biography of the influential scientist and his battle with the Inquisition, with reverberations to today's climate science deniers.
One Step Ahead: Mastering the Art & Science of Negotiation by David Sally
A guide to when and how to negotiate in business and in one's personal life.
IMAGINE-YOU'RE-AT-THE-BEACH READS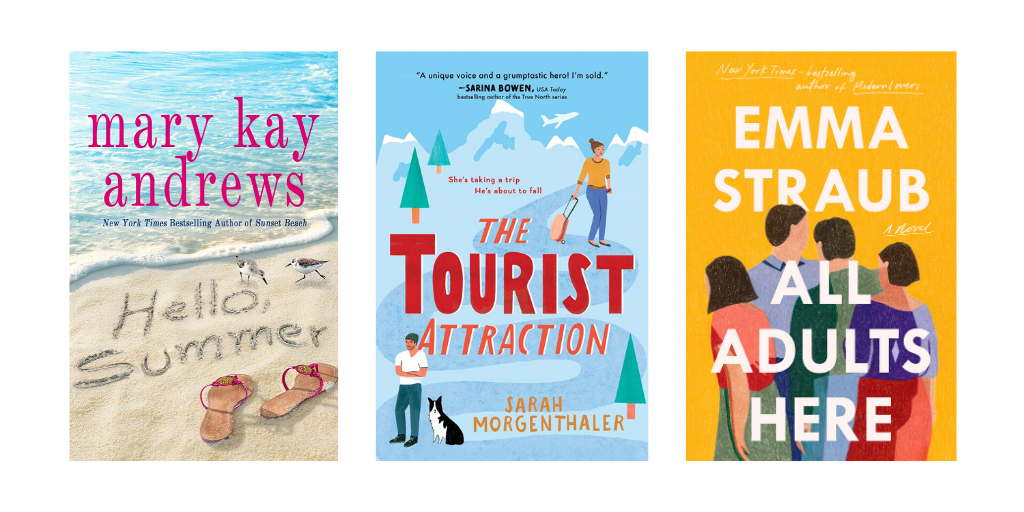 Hello, Summer by Mary Kay Andrews
A light mystery set in a small Floridian town.
Summer Darlings by Brooke Lea Foster
It's 1962 on Martha's Vineyard and social climber Heddy Winsome is ready to embrace all the glitz and glamour.
Goldilocks by Laura Lam
As the Earth slowly dies, an all-female crew embarks on a space mission to Cavendish, a planet in the "Goldilocks zone" that may support human life.
The Tourist Attraction by Sarah Morganthaler
Zoey, on a long-awaited vacation to Alaska, keeps meeting the handsome but grumpy proprietor of the local diner in this delightful romance debut.
Hard Cash Valley by Brian Panowich
A noir murder mystery set in rural Georgia.
Close Up by Amanda Quick
Vivian, an art photographer by day, crime scene photog by night, unknowingly catches the attention of a Hollywood murderer in this juicy historcal mystery set in the 1930s.
Ghosts of Harvard by Francesca Serritella
Harvard freshman Cady Archer is determined to find out what precipitated her brother's death by suicide in this starred debut by Lisa Scottoline's daughter.
All Adults Here by Emma Straub
A warm and funny multigenerational family drama by the author of Modern Lovers and Laura Lamont's Life in Pictures.
MORE FICTION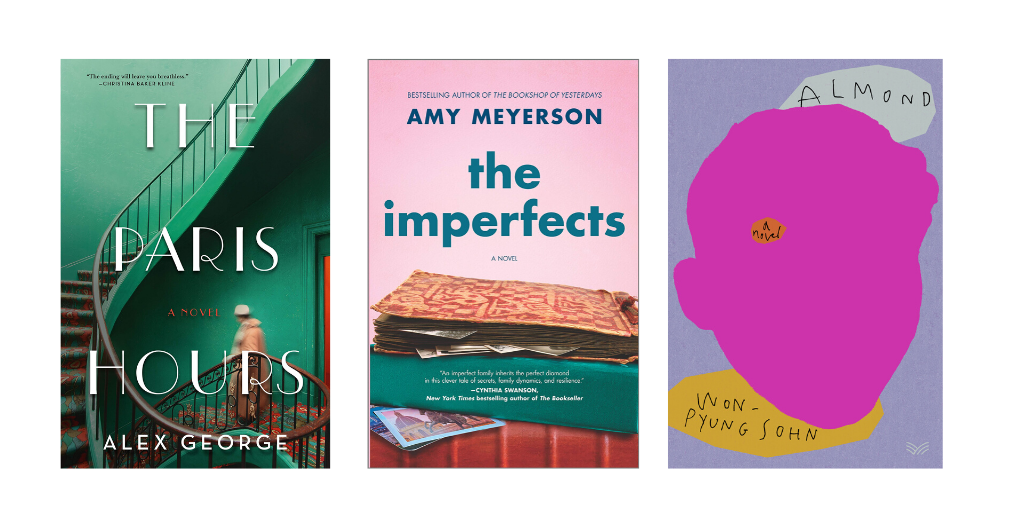 The Index of Self-Destructive Acts by Christopher Beha
A character-driven novel about post-9/11 New York.
The Paris Hours by Alex George
Gertrude Stein, Marcel Proust, and Maurice Ravel, along with a cast of fictional characters, pepper this gorgeously written drama set in 1927 Paris.
Someone Like You by Karen Kingsbury
The 30th entry in Kingsbury's beloved inspirational series. This one tackles issues of fertility and the legal status of frozen embryos.
Strange Hotel by Eimear McBride
An unnamed middle-aged woman travels the world, but spends the majority of her time in her hotel rooms, analyzing her emotions and sorting through memories.
The Imperfects by Amy Meyerson
When Helen Auerbach dies and leaves behind a brooch that may contain the famed and long-missing Florentine Diamond, her surviving relatives fall into old patterns of distrust and betrayal.
Little Eyes by Samanta Schweblin
Kentuki—imagine an AI-evolved Furby—interact and forge relationships with people all over the globe in connecting stories in this jittery work that illuminates the modern longing for human connection.
Almond by Sohn Won-pyung
Yunjae cannot experience or recognize emotion—a result of the underdevelopment of the almond-shaped organs in the brain that govern these feelings. A unique literary novel from an award-winning South Korean screenwriter/director.