It's never too soon to start planning for the holidays.
Andrews, Mary Kay. Bright Lights, Big Christmas. St. Martin's. Sept. 2023. 272p. ISBN 9781250285812. $24. CD/downloadable. HOLIDAY
Bayliss, Jenny. A December To Remember. Putnam. Sept. 2023. 432p. ISBN 9780593422243. pap. $18. HOLIDAY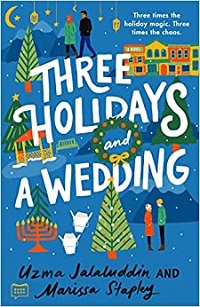 Jalaluddin, Uzma & Marissa Stapley. Three Holidays and a Wedding. Putnam. Sept. 2023. 368p. ISBN 9780593543917. pap. $17. HOLIDAY
Roberts, Sheila. The Twelve Months of Christmas. Mira: Harlequin. Sept. 2023. 304p. ISBN 9780778305316. $30. HOLIDAY
In Andrews's Bright Lights, Big Christmas, just unattached and unemployed Kerry Tolliver agrees to help her brother sell Christmas trees in New York (their family owns a tree farm in North Carolina) and meets handsome single dad Patrick after a kerfuffle over his parked Mercedes (250,000-copy first printing). Half-sisters Maggie, Simone, and Star have A December To Remember as they struggle to fulfill the requirements of their eccentric father's will in this latest from Twelve Dates of Christmas author Bayliss. After bonding during a turbulent flight to Toronto, seatmates Maryam Aziz and Anna Gibson wind up snowbound at the inn hosting the bridal party of Maryam's sister in a story celebrating Three Holidays and a Wedding, with Christmas, Eid, and Hanukkah all converging; from internationally best-selling author Jalaluddin (Ayesha at Last) and Reese's Book Club–honored Stapley (Lucky). Newly married Sunny, rejected by her stepchildren; newly divorced Ariana, whose daughter is spending the holiday with her dad; and post office veteran Molly, too frantic with work to spend time with her daughter and granddaughter—all hasten through The Twelve Months of Christmas in search of the perfect holiday; from On Strike for Christmas author Roberts.