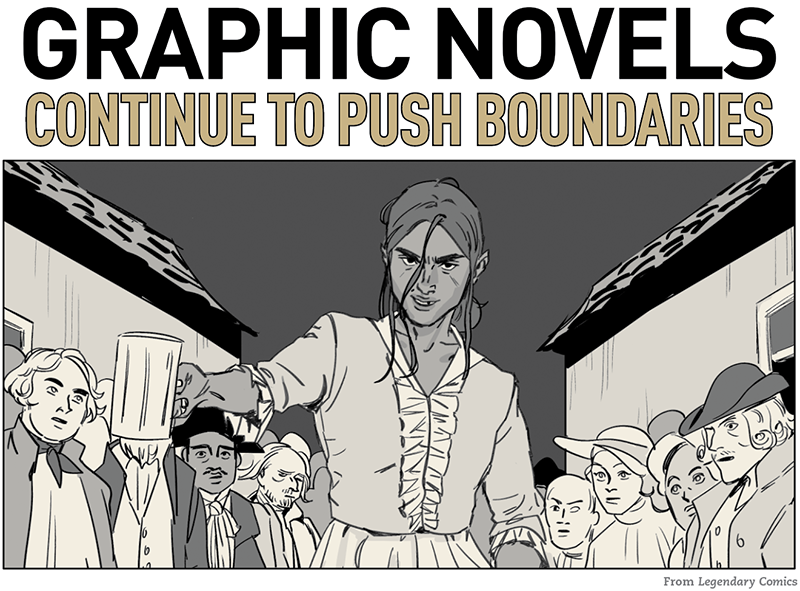 Graphic novels continue their remarkable ascent in market share in the United States and Canada, with graphic novel and comics sales estimated at $1.28 billion in 2020, an increase of 6 percent over 2019. Online sales skyrocketed during the pandemic lockdowns, and the trend has continued in 2021.
One of the areas fueling this growth is manga, which is "causing an explosion in graphic novels stateside," according to ComicBook.com. The ICv2-Comichron Comic Sales Report shows that young reader, teen, young adult, and manga segments continue to dominate the market. And manga is currently the most successful category at Barnes & Noble.
"There's been a slow build-up through the years," says Yen Press's Mark de Vera. "Manga has become a bigger part of mainstream pop culture; influencers, rappers, and athletes share their fondness for the genre. Manga covers a wider breadth of storytelling than Western comics and graphic novels. The West is just now catching up."
But manga isn't the only category of graphic novels that is on the upswing. Female-driven YA graphic novels are a newer phenomenon, showcasing strong, heroic young women who are robust characters with their own stories to tell. This trend reflects not only the recognition of girls as fans of the genre, but also that women creators have been able to break into the limelight finally.
The publishers featured here cover the best of what's new across the range of graphic novels.
Manga Classics
Toronto-based UDON Entertainment achieved success with its crossover comic series based on the popular video game Street Fighter. Then, UDON cofounder Erik Ko heard from his mother, an English teacher in Hong Kong. "My mom asked me if I could do something better than just show people beating each other up," Ko recalls.
Ko proceeded to create Manga Classics, to adapt works of classic literature to the manga style and make them more accessible to both time-crunched, disinclined adults and younger readers. "These books break the taboo for adults to learn about manga, and they are a great way to expose YA readers to the classics."
One popular title is Manga Classics Pride and Prejudice (New Edition) by Jane Austen, adapted by Stacy King, art by Po Tse, January 2021, ISBN 9781947808980. This faithful adaptation retains the original's charm while illuminating the story with gorgeous manga-style art. "My 75-year-old mother—who'd never read a manga before—said she could not put it down!" Ko says.
T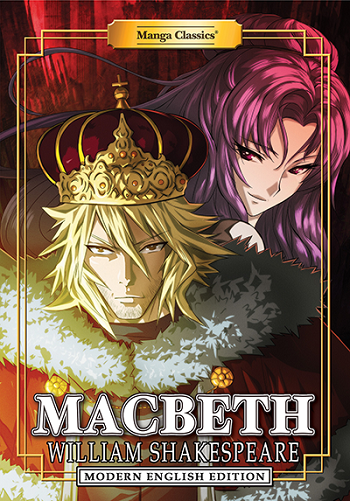 he team at Manga Classics also ensures that the settings are true to the originals. They traveled to Verona, Italy, to study the medieval architecture for Manga Classics Romeo and Juliet (Modern English Edition) by William Shakespeare, adapted by Crystal S. Chan, art by Julien Choy, March 2020, ISBN 9781947808041. The edition also includes the entire original text of the play, plus back matter on the characters' designs and teaching guides.
This summer, the publisher will releaseManga Classics Macbeth (Modern English Edition) by William Shakespeare, adapted by Crystal S. Chan, art by Julien Choy, September 2021, ISBN 9781947808218. Like the other Shakespeare adaptations, Macbeth will be given the same faithful treatment and lush visuals to help readers connect with the story in a meaningful way.
"I want to provide the next generation a better experience to learn about classic literature,"
says Ko.
Viz Media
Viz Media is a San Francisco–based manga publisher, anime distributor, and entertainment company. Early successes includedShonen Jump, "Pokémon," and " Inuyasha," which had 50 million copies in circulation as of September 2020. In 2017, Viz Media was the largest publisher of graphic novels in the United States, producing over 300 titles.
Animal Crossing: New Horizons , dubbed "the game of the pandemic," sold 22 million copies in six months during the COVID-19 lockdown. Players start out on a deserted island full of friendly animals, then build the perfect small town. Fans will see more of their favorite video game characters in all-new adventures in Animal Crossing: New Horizons, Vol. I: Deserted Island Diary by Kokonasu Rumba, September 2021, ISBN 9781974725922. Readers will get game playing tips in addition to goofy gags, silly stories, and a bonus Animal Guide.
As a companion to its best-selling manga series, Viz Media will soon release My Hero Academia: Ultra Analysis: The Official Character Guide by Kohei Horikoshi, November 2021, ISBN 9781974724475. The "My Hero" series follows the story of Izuku Midoriya, a boy with no superpowers in a world where almost everyone has them. This new publication includes everything a fan ever wanted to know about the series characters' secret origins, relationships, pet peeves, and motivations.
Deserter: Junji Ito Story Collection by Junji Ito, December 2021, ISBN 9781974719860, showcases Japanese horror masterpieces by the 2021 Eisner Award winner for Best Writer/Artist. A collection of Ito's earliest works, these 12 stories feature an ever-increasing sense of malice and terror. In one haunting tale set after World War II, an army deserter lives in a false reality where the war never ended. "Junji Ito creates gorgeous artwork of disturbing images. I'd call it 'beautifully grotesque,'" says Anderson.
Legendary Comics
"We're focused on geek-friendly material," says Robert Napton, senior vice president of publishing at Legendary Comics. Founded in 2010, Legendary Comics is a division of Legendary Entertainment, which owns television and film properties including Dune, Pacific Rim, and the re boot of Lost in Space.
In May, the company launched Legendary Comics YA, a new imprint dedicated to telling original, character-driven stories across a wide array of genres. "We see crossover with the adult market," says Nikita Kannekanti, senior editor. "The characters are in the teenage range, but the stories are appealing to everyone."



Championess by Kelly Zekas and Tarun Shanker, art by Amanda Perez Puentes, April 2021, ISBN 9781681160764, is based on the true story of Elizabeth Wilkinson, a female bare-knuckle boxer in 18th-century London. From the fierce expressions on Elizabeth's face and her tall, robust figure, to the black-and-white action-packed panels, Championess presents a powerful woman both of her time and ahead of it. "People didn't know Elizabeth existed. It's so nice to have her story come out," says Kannekanti
The Heart Hunter by Mickey George, art by V. Gagnon, August 2021, ISBN 978-1681160740, introduces readers to a cursed island where the immortal inhabitants wear their hearts outside their bodies until they meet their soulmates. To remain immortal, islanders hire assassins called heart hunters to kill off their soulmates. The colorful, otherworldly art adds another layer to this fantasy graphic novel.
Dana Mele, the Pushcart-nominated author of People Like Us, drew upon her theater background to write Tragic, art by Valentina Pinti, color by Chiara Di Francia, April 2022, ISBN 9781681160962. In this queer version of Shakespeare's Hamlet, protagonist Harper Hayes experiences hallucinations that help her solve the mystery of her father's death. Her father, a former star actor, appears to Harper as his 17-year-old self, who played Hamlet on Broadway.
The Witches of Silverlake by Simon Curtis, art by Stephanie Son, October 2022, ISBN 9781681160849 tells the story of Elliot, who enrolls at a prestigious private high school in Los Angeles after a cross-country move. The school outcasts welcome him into their world of crystal stores and occult shops. He soon discovers that his new friends are witches, then joins their coven. "All the coven members are queer, so it's about trying to fit in and find your place," says Kannekanti.
A wolf raises a girl after assassins murder her parents in Lupina Book One: Wax by James F. Wright, art by Li Buszka, September 2021, ISBN 9781681160665. Lupina eventually discovers her inner goddess, has visions of her past, and sets out to find the people who killed her family. "We discovered this creative team at Comic-Con," recalls Napton. "Meeting creators and finding a project is a cool moment that happens at a convention."
Yen Press
Founded in 2006, Yen Press quickly grew into the second largest publisher of Japanese manga in the United States. Now co-owned by Kadokawa Corporation and Hachette Book Group, Yen Press publishes approximately 300 manga and graphic novel titles each year. ""A successful manga debut today is five or six times higher than it used to be," says Mark de Vera, sales and marketing director. "Manga is probably doing the best that it's ever done."
Korean webcomic platforms also showed tremendous growth in recent years. Solo Leveling, Vol. 3 by Chugong and DUBU (Redice Studio), September 2021, ISBN 9781975336516, is based on a Korean web novel featuring superhuman hunters battling monsters and raiding dungeons for fortune and fame. "Solo Leveling started a major trend of turning Korean webcomics into print publications," says de Vera. "It's the biggest graphic novel series debut in 2021. In a year or two, Korean comics will be a big part of the conversation."
Never Open It: The Taboo Trilogy by Ken Niimura, October 2021, ISBN 9781975325831, is a collection of short stories inspired by Japanese folklore. Each tale explores the concept of the taboo, asking questions like "Who makes the rules?" and "Why do we have to follow them?" Niimura is best known for his graphic novel I Kill Giants, which was made into a Hollywood movie. In Never Open It, Niimura combines stories he heard as a child with his unique, minimalist artistic style.
Based on fan reaction, Yen Press anticipates big sales for Cheeky Brat, Vol. 1 by Miyuki Mitsubachi, November 2021, ISBN 9781975334352. Originally titled "Namaiki Zakari" in Japan, this series revolves around the story of a basketball manager's crush on the team captain. It's a romantic comedy featuring sports and love triangles. "Sports manga has grown quite a bit in its popularity, as has shojo (young girls) manga," notes de Vera.
Mad Cave Studios
Miami-based Mad Cave Studios' motto, "Driven by madness and committed to quality," captures its fresh take on genres from fantasy and action to sci-fi and horror. Founded in 2014, Mad Cave has attracted ardent fans, known as Cave Dwellers, who share the publisher's passion for underrepresented artists and geek culture. "We just launched our new YA imprint to offer engaging and authentic stories for people who think differently. If you don't fit into a certain bubble, these books will help you realize that you are not alone," says Allison Marie Pond, marketing director.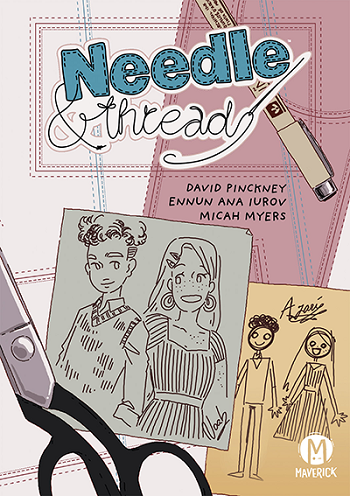 Maverick, Mad Cave's new YA imprint, will soon release Needle and Thread by David Pinckney, art by Ennun Ana Iurov, lettering by Micah Myers, September 2021, ISBN 9781952303234. Readers meet Noah and Azarie, two unlikely high school friends. Noah dreams of becoming a costume designer and attending fashion school. Azarie, the daughter of a stern politician, fantasizes about embracing her secret hobby. Noah and Azarie find common ground in the world of cosplay.
"Needle and Thread is about breaking boundaries and being who you are. It's very much for kids coming out of high school, discovering themselves, and overcoming personal struggles," says Pond. "This is also the artist's first graphic novel. Ennun's illustration is next level. She crushed it."
Nightmare in Savannah by Lela Gwenn, edited by Chris Sanchez, art by Rowan MacColl, November 2021, ISBN 9781952303265, is a Southern gothic fairytale set in Savannah, GA. After her parents get arrested, Alexa moves in with her grandparents and enrolls at a new school. She soon discovers that her new friends have superhuman powers. Alexa and her friends torment the town by using their powers to get back at the high school mean girls. Pond summarizes the book's message: "Whether you are the mean girl or the outcast, bullying is not the answer. If you have the power, you shouldn't be the nightmare."
Mad Cave Studies is currently running a talent search for four new writers and artists. The company hopes to give aspiring creators the chance to make their dream come true: working on a published comic.
SPONSORED CONTENT