More summer chills, with titles that blend genre tropes.
Click here for additional new Prepub Alert columns
Baker, Chandler. Cutting Teeth. Flatiron: Macmillan. Jul. 2023. ISBN 9781250839787. $27.99. CD. THRILLER/DOMESTIC
Darby, Mary Beth, and Rhea are worried that motherhood is subsuming them, body and soul, and at last they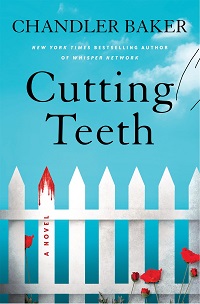 have a distraction: their four-year-olds' schoolteacher has been murdered. Unfortunately, both mothers and children are seen as suspects by the police, and it appears that the children aren't just sucking their mothers dry—they have become literally bloodthirsty. Both creepy thriller and motherhood manifesto; with a 250,000-copy first printing.
Burke, James Lee. Flags on the Bayou. Atlantic Monthly. Jul. 2023. 288p. ISBN 9780802161697. $28. CD. THRILLER/HISTORICAL
In 1863 Louisiana, with the Confederate army in disarray and the Union army occupying most of the state, a formerly enslaved woman named Hannah Laveau who works on the Lufkin plantation is accused of murder and goes on the run with an abolitionist schoolteacher. Meanwhile, Wade Lufkin, horrified by what he has seen as a battlefield surgeon, returns to his uncle's plantation and becomes entranced by Hannah.
Gibbs, Amiee. Carnivale of Curiosities. Grand Central. Jul. 2023. 448p. ISBN 9781538723937. $29. Downloadable. FANTASY/HISTORICAL
Victorian England is dazzled by shady Southwark-based Ashe and Pretorius Carnivale of Curiosities, whose proprietor, Aurelius Ashe, is said to have the ability to make any wish come true. Now odious Odilon Rose has approached Ashe with a proposition regarding his young charge that he can't refuse, lest members of the troupe come to harm. Bookstore sales manager Gibbs debuts with a 50,000-copy first printing.
Siddiqi, Ayesha Manazir. The Centre. Gillian Flynn: Zando. Jul. 2023. 288p. ISBN 9781638930549. $28. THRILLER/SPECULATIVE
Anisa Ellahi survives by subtitling Bollywood movies, but she wants to translate great literature. So she's thrilled to learn about an invitation-only school for translators in language that assures complete fluency in any language in just 10 days. She's able to wangle an invite—and discovers that there's a dangerous price to pay for her attendance. The second book in Gillian Flynn's imprint for Zando, and Flynn herself will be promoting; with a 150,000-copy first printing.
Winning, Josh. Burn the Negative . Putnam. Jul. 2023. 368p. ISBN 9780593544662. $28. HORROR
Journalist Lauren is in Hollywood visiting the set of new streaming horror series based on a cult classic that she appeared in as a child, playing a character who could tell people exactly how the Needle Man would kill them. It wrecked her life and spookily cost eight members of the cast and crew their own, and now Lauren and her aspiring actress sister must figure out how to break the curse. From a senior film writer at Radio Times whose The Shadow Glass has a following; in-house excitement.
Click here for additional new Prepub Alert columns