Tough investigators and woolly mammoths: all in a thriller writer's day.
Click here for additional new Prepub Alert columns
Child, Lee & Andrew Child. The Secret: A Jack Reacher Novel. Delacorte. (Jack Reacher, Bk. 28). Oct. 2023. 400p. ISBN 9781984818584. $28.99. lrg. prnt. CD. THRILLER
DeMille, Nelson & Alex DeMille. Blood Lines. Scribner. (Scott Brodie, Bk. 2). Oct. 2023. 432p.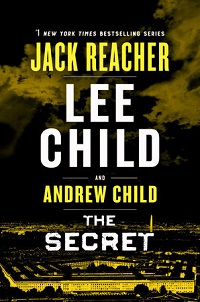 ISBN 9781501101816. $29.99. CD. THRILLER
McDermid, Val. Past Lying. Atlantic Monthly. (Karen Pirie Novel, Bk. 7). Sept. 2023. NAp. ISBN 9780802161499. $27. THRILLER
Preston, Douglas. Extinction. Forge. Oct. 2023. 384p. ISBN 9780765317704. $28.99. THRILLER
Sandford, John. Untitled. Putnam. (Prey, Bk. 33.). Oct. 2023. 416p. ISBN 9780593542811. $29.95. lrg. prnt. CD. THRILLER
Woods, Stuart & Brett Battles. Obsession. Putnam. (Teddy Faye Novel, Bk. 6). Oct. 2023. 320p. ISBN 9780593188484. $29. lrg. prnt. CD. THRILLER
In The Secret, the Child brothers' latest Jack Reacher adventure, Jack is part of an interagency task force created by the Secretary of Defense to discover what links the deaths of eight prominent individuals nationwide, and he must carefully eye the motives of some of his new colleagues. In Blood Lines, Nelson DeMille and his writer/director son Alex DeMille bring together Army Criminal Investigation agents Scott Brodie and Maggie Taylor to determine who killed a U.S. counterterrorism agent stationed in western Germany but inexplicably found dead in a park within Berlin's Arab neighborhood. From CWA Diamond Dagger winner McDermid, Past Lying gives Edinburgh's DCI Karen Pirie a cold case to crack in the midst of pandemic lockdown as mysterious documents surface in a recently deceased crime novelist's archives. In Preston's Extinction, a billionaire's son and his new wife are found murdered within the precincts of the Erebus Resort, a 100,000-acre expanse in the Colorado Rockies where resurrected woolly mammoths, Irish Elk, and giant ground sloths roam, and Colorado Bureau of Investigation Agent Frances Cash joins with county sheriff James Colcord to discover the culprits. Sandford's Untitled brings together investigative geniuses Lucas Davenport and Virgil Flowers in another feverish thriller. With Obsession, the USA Today best-selling and Barry Award–winning Battles picks up the late Woods's protagonist Teddy Fay, who's tasked with finding the kidnapped wife of a Croatian billionaire funding a movie studio expansion.