Andrews, Donna. Birder, She Wrote. Minotaur: St. Martin's. (Meg Langslow Mystery, Bk. 33). Aug. 2023. 304p. ISBN 9781250760241. $28. MYSTERY/COZY
Drafted by the mayor to run interference when rich newcomers complain about living next to working farms, Meg Langslow also finds herself drafted by her grandmother to help her and a Baptist church deacon find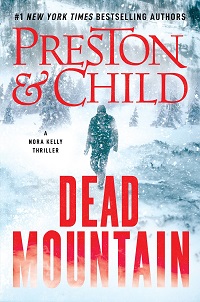 a Black cemetery. Instead, they stumble upon a fresh corpse. With a 40,000-copy first printing.
Childs, Laura. Honey Drop Dead. Berkley. (Tea Shop Mystery, Bk. 26). Aug. 2023. 320p. ISBN 9780593200957. $28. MYSTERY/COZY
Tea maven Theodosia Browning's Honey Bee Tea at Charleston's new Petigru Park is mightily disrupted when an impostor beekeeper sprays the guests with toxic fumes, the paintings on display are ripped to ruins, and a guest—Osgood Claxton III, who's running for state legislature–is shot dead. Now Theodosia has lots of cleanup to do, including finding a killer.
Finch, Charles. The Hidden City. Minotaur: St. Martin's. (Charles Lenox Mysteries, Bk. 15). Aug. 2023. 304p. ISBN 9781250767165. $28. MYSTERY/HISTORICAL
Recuperating from the trauma sustained during his investigations in Gilded Age New York and Newport (see An Extravagant Death), patrician sleuth Charles Lenox enjoys strolling around 1879 London. Along the way, he starts mapping odd markings on several buildings, which leads him to some nasty secrets. Meanwhile, his wife, Lady Jane, is secretly becoming interested in suffrage. With a 100,000-copy first printing.
Hirahara, Naomi. Evergreen. Soho Crime. (Japantown Mystery, Bk. 2). Aug. 2023. 312p. ISBN 9781641293594. $27.95. MYSTERY/HISTORICAL
Two years after their release from the Manzanar concentration camp, Aki Ito and her family can finally return to California, where they live in a low-income hotel that's soon shattered by a murder. In addition, Aki is working as a nurse's aide when an older Issei man is admitted to the hospital with suspicious injuries. Following the Mary Higgins Clark Award–winning Clark and Division.
Manning, Kirsty. The Paris Mystery. Vintage. Aug. 2023. 320p. ISBN 9780593685549. pap. $17. MYSTERY/HISTORICAL
Looking for her big break in 1938 Paris, reporter Charlotte "Charlie" James plans to network at Lady Ashworth's circus-themed costume ball, which everyone who is anyone will attend. Unfortunately, along with the jazz and champagne, there's a murder. Australian author Manning entered the U.S. market in 2019 with the nicely received The Song of the Jade Lily.
Nesbø, Jo. Killing Moon. Knopf. (Harry Hole, Bk. 13). Aug. 2023. 464p. tr. from Norwegian by Sean Kinsella. ISBN 9780593536964. $29. MYSTERY/INTERNATIONAL
When a serial killer strikes in Oslo, the legendary Harry Hole is in Los Angeles, fired from his job and slowly drowning in drink. Then he learns that a woman who once saved his life is seriously endangered by the case, and he returns home to head a ragtag team of former operatives intent on capturing the culprit.
Preston, Douglas & Lincoln Child. Dead Mountain. Grand Central. (Nora Kelly, Bk. 4). Aug. 2023. 368p. ISBN 9781538736821. $30. MYSTERY/POLICE PROCEDURAL
Years ago, nine winter backpackers perished in the New Mexico mountains, with the six bodies recovered suggesting that they were terrified by something—they ran barefoot into a blizzard. Now two more bodies have been found, one a suicide, and FBI Agent Corrie Swanson again joins with archaeologist Nora Kelly to discover what happened. Echoing a much-puzzled-over 1959 tragedy at Russia's Dyatlov Pass, which Preston reassessed recently in The New Yorker.
Pryor, Mark. The Dark Edge of Night. Minotaur: St. Martin's. (Henri Lefort Mystery, Bk. 2). Aug. 2023. 352p. ISBN 9781250825049. $28. MYSTERY/HISTORICAL
The Germans occupying Paris in winter 1940 have compelled Police Inspector Henri Lefort to investigate the disappearance of neurologist Viktor Brandt, though Lefort is putting more effort into pursuing the beating death of a Frenchman in a burglary gone wrong. Then he finds a link between the two cases. Series starter Die Around Sundown had a somewhat uneven critical reception but clearly had fans; the second book has a 50,000-copy first printing, along with the same intriguing setting.
Schaffhausen, Joanna. Dead and Gone. Minotaur: St. Martin's. Aug. 2023. 336. ISBN 9781250853370. $28. MYSTERY/POLICE PROCEDURAL
Chicago police detective Annalisa Vega is investigating the hanging death of former colleague Sam Tran when she learns that her own brother had recently asked Sam to track a stalker on his daughter's college campus. To protect her niece, Annalisa plunges into a search for the stalker while reassessing Sam's remaining cases. With a 40,000-copy first printing.