Big-name authors with (mostly) well-known characters.
Click here for additional new Prepub Alert columns
Baldacci, David. Long Shadows. Grand Central. (Memory Man, Bk. 7). Oct. 2022. 432p. ISBN 9781538719824. $29. lrg. prnt. CD/downloadable. THRILLER
There are no plot details to share on Baldacci's latest in the "Memory Man" series, but the million-copy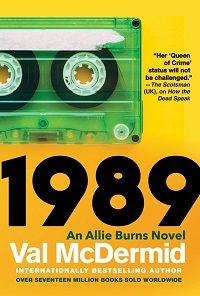 first printing bespeaks continuing faith in police detective Amos Decker, a man who can forget nothing, including the terrible murder of his family.
Child, Lee & Andrew Child. No Plan B: A Jack Reacher Novel. Delacorte. (Jack Reacher, Bk. 27). Oct. 2022. 336p. ISBN 9781984818546. $28.99. lrg. prnt. CD/downloadable. THRILLER
Though an eyewitness concurs that a woman leaped before a bus to her death, Jack Reacher knows she was pushed by a hooded purse snatcher, whom he follows into a major conspiracy. After two Child brothers collaborations, both No. 1 New York Times best sellers.
Cornwell, Patricia. Livid: A Scarpetta Novel. Grand Central. (Kay Scarpetta, Bk. 26). Oct. 2022. 400p. ISBN 9781538725160. $29. lrg. prnt. CRIME
Forensic pathologist Kay Scarpetta testifies in a case, fumbled by the initial pathologist, concerning a drowned beauty queen whose fiancé is charged with her death. Then the judge's sister is murdered. With a 400,000-copy first printing.
Ferraro, Nicolás. Cruz. Soho Crime. Oct. 2022. 312p. tr. from Spanish by Mallory N. Craig-Kuhn. ISBN 9781641293969. $27.95. CRIME
Tomás Cruz's abusive gangster father is imprisoned, followed by Tomás's older brother Seba, who was forced to assume his father's obligations. With a cartel boss holding his wife and child as collateral, Tomás himself must now join the business. A Dashiell Hammett finalist from a leading Argentine author.
French, Nicci. The Favor. Morrow. Oct. 2022. 448p. ISBN 9780063243668. $28.99; Morrow Paperbacks. pap. ISBN 9780063243620. $17.99. CD. THRILLER
Though Jude hasn't seen boyfriend Liam since a life-altering car crash years ago, she agrees to pick him up at the train station—without telling anyone, even her fiancé. The police show up instead. With a 50,000-copy paperback and 30,000-copy hardcover first printing.
Galbraith, Robert. The Ink Black Heart. Mulholland: Little, Brown. Aug. 2022. 1072p. ISBN 9780316413039. $30. lrg. prnt. CD. THRILLER
Last-minute news: Galbraith (the pseudonymous J.K. Rowling) returns on August 30 with the sixth book in the "Cormoran Strike" series. With a 500,000-copy first printing.
Gervais, Simon. Robert Ludlum's The Blackbriar Genesis. Putnam. (Blackbriar, Bk. 1). Oct. 2022. 384p. ISBN 9780593419977. $28. lrg. prnt. Downloadable.
Two Blackbriar counterintelligence operatives investigate when an undercover agent for the CIA black-ops initiative Treadstone is assassinated in Prague, a place he wasn't supposed to be. From the best-selling Gervais (The Last Protector), a former Royal Canadian Mounted Police officer, launching the publisher's third Ludlum series.
McDermid, Val. 1989. Atlantic Monthly. (Allie Burns Novel, Bk. 2). Oct. 2022. NAp. ISBN 9780802160102. $27. THRILLER
The CWA Gold– and Cartier Diamond Dagger–clad McDermid follows up 1979, the multi-starred opener in the "Allie Burns" series, with the idealistic investigative journalist running the northern news operation of the Sunday Globe and uncovering an urgent HIV/AIDS story. Is 1999 next?
Morris, Wanda. Anywhere You Run. Morrow. Oct. 2022. 384p. ISBN 9780063271821. $28.99; Morrow Paperbacks. ISBN 9780063082502. $17.99. lrg. prnt. CD. THRILLER
After debuting to uproarious acclaim with All Her Little Secrets, Morris offers a tale of two Black sisters fleeing 1964 Mississippi in different directions, Violet after she kills a white man who attacks her and Marigold because she is unmarried and pregnant. Alas, someone sinister is tracking them both. With a 100,000-copy paperback and a 30,000-copy hardcover first printing.
Patterson, James. Cross Over. Little, Brown. Oct. 2022. 416p. ISBN 9780316499187. $29. CD/downloadable. CRIME
A killer slaughtering multigenerational families wholesale in and around Washington, DC, looks to be seeking out Det. Alex Cross's family next. Cross is on the case, of course, with his efforts doubled by a flashy true-crime author. With a 500,000-copy first printing.
Rankin, Ian. Untitled: An Inspector Rebus Novel. Little, Brown. Oct. 2022. 336p. ISBN 9780316473637. $28. Downloadable. THRILLER
Four-time CWA dagger claimant Rankin returns with the next chiller starring tough-guy Edinburgh detective John Rebus. No plot details yet, but there's a 60,000-copy first printing.
Sandford, John. Righteous Prey. Putnam. Oct. 2022. 416p. ISBN 9780593422472. $29.95. lrg. prnt. CD/downloadable. CRIME
Sandford standby Virgil Flowers travels with Prey protagonist Lucas Davenport to the Twin Cities, where they are tasked with cornering the Five, a group of presumably rich, bored vigilantes who target rapists, murderers, and others they say deserve death, then donate untraceable bitcoin to charities and victims.
Woods, Stuart. Untitled. Putnam. (Stone Barrington Novel, Bk. 63). Oct. 2022. 320p. ISBN 9780593540039. $28. lrg. prnt. CD.
With five Stuart Woods thrillers publishing yearly, it's hard to keep track, but this one is the next in long-running Stone Barrington series, a top fan favorite.