The start of the fall chills.
Adler-Olsen, Jussi. The Shadow Murders: A Department Q Novel. Dutton. Sept. 2022. 464p. tr. from Danish by William Frost. ISBN 9781524742584. $28. lrg. prnt. MYSTERY/INTERNATIONAL
Why is Department Q, the cold cases division of the Copenhagen police, investigating a current suicide?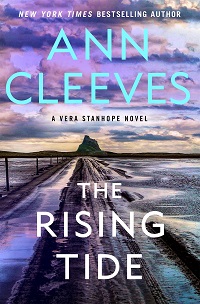 Because Det. Carl Mørck's superior is convinced that there's a connection to a mysterious death dating to 1988, and the initially skeptical Qers soon find echoes in a string of odd deaths since then. The penultimate title in the "Department Q" series from Barry and Glass Key winner Adler-Olsen.
Benn, James R. From the Shadows. Soho Crime. (Billy Boyle WWII Mystery, Bk.). Sept. 2022. NAp. ISBN 9781641292986. $27.95. MYSTERY/HISTORICAL
Tasked with serving as security for Royal Navy Commander Gordon Stewart, head of the Special Operations Executive's Section F in Algiers, Capt. Billy Boyle and buddies Kaz and Big Mike cooperate with Resistance leaders to flush out Vichy officials and other collaborators as the Germans sound the retreat. Stewart needs all the protection he can get; he's created enemies in both the SOE and the Resistance. From former librarian Benn, an IMPAC Dublin long-listee and Barry/Macavity finalist.
Box, C.J. Treasure State. Minotaur: St. Martin's. (Cody Hoyt/Cassie Dewell Novels, Bk. 6). Sept. 2022. 320p. ISBN 9781250766960. $28.99. CD. CRIME
The former partner of police investigator Cody Hoyt, Cassie Dewell has moved on to become a private investigator in Montana, where she's now sneaking along behind a con man she hopes to nab for a wealthy client who accuses him of stealing her entire fortune. Her search takes her to a former mining town called Anaconda, where people can easily disappear, and Cassie starts wondering whether she knows the whole truth of this case. Next in the series that inspired ABC-TV's Big Sky; with a 400,000-copy first printing.
Cleeves, Ann. The Rising Tide. Minotaur: St. Martin's. (Vera Stanhope, Bk. 10). Sept. 2022. 384p. ISBN 9781250204530. $27.99. CD. MYSTERY/POLICE PROCEDURAL
For a half-century, a group of friends reconvene annually on Holy Island off England's northeast coast to celebrate meeting there a half-century ago on a school trip and to commemorate a friend lost five years later to tides swamping the causeway. Now one of them is found hanged, and D.I. Vera Stanhope of the fictitious Northumberland and City Police must investigate. The latest in a series from CWA Diamond Dagger winner Cleeves that inspired a hit TV show; with a 150,000-copy printing.
Flower, Amanda. Because I Could Not Stop for Death. Berkley. Sept. 2022. 336p. ISBN 9780593336946. pap. $17. MYSTERY/HISTORICAL
As the title clearly indicates, Emily Dickinson is at the heart of this series starter from the USA TODAY best-selling, Agatha Award-winning Flower (also a former librarian). Hired as a housemaid by the Dickinson family, Willa Noble soon develops a warm relationship with the reclusive poet, and the two women together investigate the death of Willa's brother in what appears to be a stable accident but proves to be something more sinister.
Johnson, Craig. Hell and Back. Viking. (Walt Longmire Mysteries, Bk. 18). Sept. 2022. 336p. ISBN 9780593297285. $28. MYSTERY/WESTERN
White Wyoming sheriff Walt Longmire is back, but he doesn't know it. He's awakened blood-soaked and minus a bullet in a Montana town where a devastating boarding-school fire killed 30 Indigenous children over a century ago, and he has no memory of who he is. He does, however, have a pervasive sense of what the Northern Cheyenne call Éveohtsé-heómėse, the Wandering Without that steals souls, which should make for intense and unusual reading as he battles to save himself.
King, Laurie R. Back to the Garden. Bantam. Sept. 2022. 352p. ISBN 9780593496565. $28. MYSTERY
In a stand-alone departure from King's New York Times best-selling "Mary Russell and Sherlock Holmes" series, a decades-old skull has been found at Gardener Estate, a grand mansion on sweeping grounds long owned by an influential California family. Inspector Raquel Laing of the SFPD Cold Case Unit must look back to the Seventies, when young heir Rob Gardener re-created the mansion as a commune from which folks began disappearing. Were they victims of the serial killer known as the Highwayman?
McCall Smith, Alexander. A Song of Comfortable Chairs. Pantheon. (No. 1 Ladies' Detective Agency, Bk. 23). Sept. 2022. 240p. ISBN 9780593316979. $27. MYSTERY
Even as Grace Makutsi's husband faces cutthroat competition from an international firm seeking to price him out of the office furniture market with a sleezy campaign touting subpar products, he and Mma Makutsi agree to help a friend's troubled child. Mma Ramotswe and grande dame Mma Potokwani pitch in, and the No. 1 Ladies Detective Agency triumphs again.
Mayor, Archer. Fall Guy. Minotaur: St. Martin's. (Joe Gunther Series, Bk. 33). Sept. 2022. 304p. ISBN 9781250224187. $28.99. MYSTERY/POLICE PROCEDURAL
When he's not working as a Vermont state medical examiner and an investigator for the sheriff's department, Mayor is turning out mysteries in his New York Times best-selling series starring Vermont Bureau of Investigation agent Joe Gunther. Here, Joe's investigation of a corpse dumped in the trunk of a stolen car gets sticky when it appears that the victim was actually killed in New Hampshire and even stickier when stolen goods found in the car point to a long-ago child abduction case that was never solved. With a 35,000-copy first printing.
Miley, Mary. Seven Deadly Spirits. Severn House. Sept. NAp. ISBN 9781448306848. $28.99. MYSTERY
Following two LJ-starred reviews, The Mystic's Accomplice and Spirits and Smoke, this third in a series set in Prohibition-wracked, gang-ridden Chicago again features young widow Maddie Pastore. Here, Maddie contemplates a terrible thought: her younger sister might be a killer.
Perry, Anne. A Truth to Lie For. Ballantine. (Elena Standish, Bk. 4). Sept. 2022. 352p. ISBN 9780593359075. $28. MYSTERY/HISTORICAL
With Hitler striding toward power in 1934, photographer-turned-spy Elena Standish is sent to Germany to extricate a scientist who's made a significant breakthrough in germ warfare before he's forced to share his knowledge with the Nazis. Alas, the head of Germany's germ warfare division is making things difficult; he's an old enemy of Elena's grandfather Lucas, the former head of MI6, and is out for revenge. Following the LJ-starred A Darker Reality.
Robb, J.D. Desperation in Death. St. Martin's. (In Death, Bk. 55). Sept. 2022. 368p. ISBN 9781250278234. $28.99. CD. MYSTERY/POLICE PROCEDURAL
In 2061 New York, two abducted girls attempt to escape from the Pleasure Academy, where they are being trained for a life of sexual slavery. Mina is killed, but Lt. Eve Dallas encounters an injured Dorian stumbling desperately through the streets and is determined to put an end to the academy's operations. Billionaire husband Roarke can help (ultra-wealthy people run the place, and he's got connections), but he's concerned that Eve's boiling rage could do her harm. With a 750,000-copy first printing.
Trinchieri, Camilla. Murder on the Vine. Soho Crime. (A Tuscan Mystery, Bk. 3). Sept. 2022. 336p. ISBN 9781641293662. $27.95. MYSTERY/INTERNATIONAL
A widower living in his wife's hometown in Tuscany, former NYPD homicide detective Nico Doyle is dismayed by the disappearance of 80-year-old Cesare Costanzi, a beloved local bartender. Then he goes to rescue café co-owner Jimmy, who's runs out of gas, and his dog, OneWag, finds Cesare's dead body in Jimmy's trunk. How did he end up there? Third in a well-received new series.