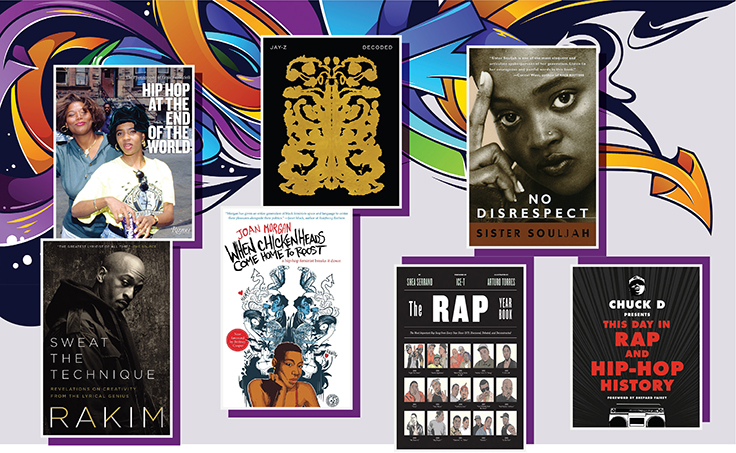 On August 11, 1973, the "breakbeat" debuted at a Back to School Jam—a community party held in the recreation room at 1520 Sedgwick Avenue, in the Bronx, NY. This technological innovation was the result of experimentation by Clive Campbell, better known as DJ Kool Herc, a Jamaican immigrant whose ingenuity inspired a phenomenon—a new sound created by transforming old rhythms etched in the grooves of vinyl. From the breakbeat, hip-hop was born—and so was a global cultural movement that echoed with the rhythms and realities of the local communities from which it was formed.
COLLECTING HIP-HOP MATERIALS
During the 1980s and 1990s, known as hip-hop's golden era, radio play, mixtapes, and music videos were necessary tools for artists to reach their listeners. Hip-hop's burgeoning presence on college radio stations and public access television shows such as Video Music Box, as well as on widely available cable networks such as BET, put faces to lyrics and beats and created a forum to discuss issues. The development of formats such as compact discs and DVDs led to increased representation of hip-hop on library shelves.
Collections, however, were not limited to music. For decades, libraries have collected published works in the form of criticisms, biographies, and novels by artists, historians, and hip-hop enthusiasts. Scholarly examinations of hip-hop culture can be found in academic and research collections as well as on the shelves of local public libraries. Issues of Vibe magazine, once considered essential to the discovery of new music and emerging styles in fashion, are now available digitally through Google Books.
Curating primary resources is also an important aspect of building and promoting hip-hop collections. Oral histories of artists and industry professionals are accessible through the HistoryMakers database, and research libraries such as the Schomburg Center for Research in Black Culture house the archive of hip-hop pioneer and pop culture icon Fred "Fab 5 Freddy" Brathwaite. Today, hip-hop artifacts can be viewed at the National Museum of African American History and Culture in Washington, DC, and the doors of the highly anticipated Universal Hip Hop Museum are slated to open in the Bronx in 2023.
CREATING HIP-HOP COLLECTIONS
Librarians looking to assess, fill in gaps, or collect hip-hop–themed materials across its many overlapping subject areas need not reinvent the wheel, as there are a wealth of resources, including LibGuides and listservs, to consult. A guiding question worth considering is: What is the rationale to collect in this area? Research libraries might want to supplement the curricula taught at that university across programs or disciplines. Public libraries may decide to collect hip-hop resources for the demographics they serve, including hip-hop fans, students, and lifelong learners, while some collections may be driven by demand.
This list focuses on nonfiction, criticism, and reference works, with an eye to representing a national and global perspective on hip-hop and an intergenerational group of authors. As hip-hop tends to be dominated by male figures, seeking balance by including works by or about women can benefit the collection and readers.
As much critical attention has been given to the beats and beat makers in hip-hop, the visual and iconographic aspects of the culture rightfully deserve to be spotlighted, too. Visual representations of hip-hop as documented by photographers such as Jamel Shabazz, Ernie Paniccioli, and Mel D. Cole transcend languages and sounds, so no collection would be complete without the work of these artists; and, in keeping with the theme of visual culture, this article also highlights documentary and narrative films.
SELECTION PROCESS
When selecting which works to collect, librarians should consider areas that might not seem obvious: poetry and theater. Hip-hop evolved from an oral culture, as evidenced by the role of the MC (master of ceremonies), and the craft of lyricism is the bedrock of this genre. This is exemplified by a title like Jay-Z's Decoded. The performative aspects of hip-hop and storytelling dovetailed with theater, and in the mid-1990s, a new genre called hip-hop theater emerged around the world; play anthologies chronicle this movement.
Publishing in this field runs the gamut, with self-published, indie, commercial, and university presses releasing relevant titles. Scholarship on hip-hop education/curricula, which infuses the elements of the genre into teaching subjects in K–12 education, was written about by practitioners independently as far back as the mid-2000s, and now traditional presses are releasing books on this subject.
CHALLENGES & OPPORTUNITIES
Hip-hop continues to inspire a new generation of artists, and the vanguards of the genre have embraced writing. The success of biographies and memoirs is indicative of this trend and has opened the door for the stories of the current generation of artists, such as Lecrae, Kendrick Lamar, and the late Nipsey Hussle, to be heard.
As hip-hop approaches its sixth decade, it is important to continue to provide opportunities for the work of local artists and hip-hop activists to be celebrated, documented, preserved, and discussed. Through this kind of type of community engagement, opportunities for cultural conversation are created. Remaining aware of the myriad resources available in an increasingly diverse hip-hop landscape can educate, inspire, and unite individuals and communities through hip-hop's persistent, persevering beat.
Starred (
) titles are considered essential for most libraries.
View the books in this list as a downloadable spreadsheet.
---

ART & PHOTOGRAPHY
Cole, Mel D. GREAT: Photographs of Hip Hop by Mel D. Cole, 2002–2019. Oro Editions & Haymaker. 2020. 144p. ISBN 9781939621689. $79.95.
Cole evolved from an amateur photographer and hip-hop fan to a renowned music photographer who captured the hip-hop scene during the first two decades of the 21st century. With a foreword by the Roots' Ahmir "Questlove" Thompson, Cole's book showcases images of Erykah Badu, A Tribe Called Quest, Wu-Tang Clan, and other rappers and R&B musicians whose music defined hip-hop in the 1990s and the new millennium.
Cross, Brian "B+". Ghostnotes: Music of the Unplayed. Univ. of Texas. 2017. 336p. ISBN 9781477313909. $45.
This compelling photo essay from photographer, filmmaker, and author Cross illustrates how hip-hop intertwines with poetry and musical genres such as jazz and reggae to tell a global story.
Marvel, the Hip Hop Covers. Marvel Worldwide.
Vol. 1: ISBN 9781302902339. 2016. 152p. $26.99.
Vol. 2: ISBN 9781302908430. 2017. 168p. $34.99.
This two-set volume contains dozens of comic book covers featuring characters from the Marvel universe reimagined in the style of classic and iconic hip-hop albums. Ta-Nehisi Coates (Between the World and Me), whose contributions to the "Black Panther" comic book series were published in 2017, wrote the introduction to Volume 1.
Paniccioli, Ernie. Hip-Hop at the End of the World: The Photography of Ernie Paniccioli. Universe. 2018. 304p. ISBN 9780789334411. $40.
In this follow-up to his first groundbreaking work, Who Shot Ya? Three Decades of Hip Hop Photography, Paniccioli presents 40 years of unpublished candid shots paired with personal anecdotes.
Paniccioli, Ernie. Who Shot Ya? Three Decades of Hip Hop Photography. ed. by Kevin Powell. Amistad. 2013. 224p. ISBN 9780062306913. $6.99.
Paniccioli, who did for hip-hop what photographer James VanDerZee did for the Harlem Renaissance, chronicles 30 years of the genre's history with more than 200 images of its most recognizable stars. Used and new print copies are available from third-party sellers; the work is also available as an ebook from the publisher.
Shabazz, Jamel. Back in the Days. 2001. 128p. powerHouse. ISBN 9781576871065. $35.
Shabazz, Jamel. Back in the Days: Remix. 2011. 132p. powerHouse. ISBN 9781576875674. $35.
From 1980 to 1989, the early days of hip-hop, photographer Shabazz captured everyday Black and Latinx young adults from across New York City's five boroughs. As depicted in Shabazz's images, the culture and style created by that generation would influence the rest of the country and the world. The 10th-anniversary edition of this title contains an interview with hip-hop scholar Jeff Chang and an essay by Carlton Usher, one of the first academics to write and teach on hip-hop.
Writing the Future: Basquiat and the Hip-Hop Generation. ed. by Liz Munsell & Greg Tate. MFA Publications. 2020. 200p. ISBN 9780878468713. $50.
Edited by Munsell, a curator at the Museum of Fine Arts in Boston, and writer and musician Tate, this exhibition catalogue contextualizes artist Jean-Michel Basquiat and his contemporaries within hip-hop's early years as they challenged the mainstream arts scene.
---

BIOGRAPHY & MEMOIR
Day, Daniel R. Dapper Dan: Made in Harlem; A Memoir. Random. 2019. 304p. ISBN 9780525510512. $28.
In this New York Times best seller, Dapper Dan details his experiences growing up in Harlem and chronicles his journey to become an in-demand haute couture designer whose clients have included Jay-Z, Salt-N-Pepa, and LL Cool J.
Jay-Z. Decoded. Spiegel & Grau. 2011. 335p. ISBN 9780812981155. $30.
Jay-Z employs lyrics from 36 of his songs, prose, and images to tell his remarkable story, from his formative years in the Marcy Avenue Projects in 1970s Brooklyn, to his involvement with crime, to his evolution into a hip-hop icon and entrepreneur.
Moore, Marcus J. The Butterfly Effect: How Kendrick Lamar Ignited the Soul of Black America. Atria. 2020. 288p. ISBN 9781982107581. $27.
Journalist Moore looks at the path of the Grammy Award– and Pulitzer Prize–winning hip-hop artist, from his youth in Compton, CA, to his success as a lauded force in the entertainment industry.
Morgan, Joan. When Chickenheads Come Home To Roost: A Hip-Hop Feminist Breaks It Down. S. & S. 2000. 240p. pap. ISBN 9780684868615. $17.
The publication of Morgan's book was a watershed moment for Black women involved in hip-hop. The author, who grew up when hip-hop was on the rise, reflects on her upbringing and employs a journalistic lens to examine issues faced by Black women at the intersection of race, gender, and sexuality. Morgan also considers the contradictions of being a hip-hop feminist and explores the negative aspects of the genre, including its treatment of women and its focus on materialism.
Rakim. Sweat the Technique: Revelations on Creativity from the Lyrical Genius. Amistad. 2019. 272p. ISBN 9780062850232. $24.99.
In this distinctive memoir, one of hip-hop's greatest legends provides rare insight into his life and career while offering inspiring words on creativity and craft.
Souljah, Sister. No Disrespect. Vintage. 1996. 384p. ISBN 9780679767084. $16.95.
Sister Souljah blazed a path for herself as an outspoken female hip-hop artist and activist who is unafraid to challenge systems of oppression. Her book, a candid memoir and blueprint for young Black women and Black Americans, still draws readers decades after publication. Souljah followed up this title with a series of best-selling novels, including The Coldest Winter Ever and its long-awaited sequel, Life After Death, released this March.
---

GENERAL NONFICTION
Bradley, Regina N. Chronicling Stankonia: The Rise of the Hip-Hop South. Univ. of North Carolina. 2021. 136p. ISBN 9781469661957. $95.
Southern hip-hop takes its historical place in scholar Bradley's contextualization of the award-winning duo Outkast.
Chuck D. Chuck D Presents This Day in Rap and Hip-Hop History. Black Dog & Leventhal. 2017. 352p. ISBN 9780316430975. $29.99.
Complete with striking illustrations, this work from rapper and commentator Chuck D documents significant dates and personalities from hip-hop's beginning, through its golden age in the 1980s–1990s, and into the present.
Dyson, Michael Eric. Know What I Mean? Reflections on Hip-Hop. Civitas. 2010. 171p. ISBN 9780465018079. $15.99.
Prolific author and scholar Dyson weighs in on controversial topics in hip-hop, with analysis that encapsulates the state of the genre in the early 21st century and the cultural, commercial, and political ripples this art form has created since its inception.
Hope, Clover (text) & Rachelle Baker (illus.). The Motherlode: 100+ Women Who Made Hip-Hop. Abrams Image. 2021. 240p. ISBN 9781419742965. $24.99.
Baker's bold and colorful illustrations are paired with journalist Hope's profiles of more than 100 women, from lesser-known contributors to pioneers and icons.
Rose, Tricia. Black Noise: Rap Music and Black Culture in Contemporary America. Wesleyan Univ. 1994. 257p. ISBN 9780819562753. $22.95.
Rose's book was one of the first scholarly explorations of hip-hop and its origins. The author examines the socioeconomic and historical forces that birthed this cultural expression, which gave voice to disenfranchised people of African descent in a post–civil rights era America. Rose (Africana studies, Brown Univ.) interviewed artists from the golden era of hip-hop while also examining critical issues in hip-hop culture and rap music.
Serrano, Shea (text) & Arturo Torres (illus.). The Rap Year Book: The Most Important Rap Song from Every Year Since 1979, Discussed, Debated, and Deconstructed. Abrams. 2015. ISBN 9781419718182. $19.95.
Selecting 36 influential rap songs released between 1979 and 2014, Ringer staff writer Serrano explores why each is important historically, provides facts about the artists, and, in some cases, offers a verse-by-verse analysis. Torres's color illustrations of the artists punctuate each entry. With a foreword from veteran rapper and actor Ice-T.
---

POETRY & THEATER
The BreakBeat Poets. Vol. 2. Black Girl Magic. ed. by Mahogany L. Browne & others. Haymarket. 2018. 264p. ISBN 9781608468577. $19.95.
Featuring the poetry of more than 60 women, this second installment of the "BreakBeat Poets" series offers a glimpse into the multilayered lives of Black women.
Goodwin, Idris. Can I Kick It? Haymarket. 2019. 100p. ISBN 9781642591767. $45.
Award-winning poet and playwright Goodwin contributes his unique take on hip-hop's past, present, and future to the high-volume "BreakBeat Poets" series. Written by and about the hip-hop generation (born between the years 1961 and 1999), the series centers on the varied experiences of authors of color through poetry, memoir, and instructive texts.
Say Word! Voices from Hip Hop Theater; An Anthology. ed. by Daniel Banks. 2011. Univ. of Michigan. ISBN 9780472051328. $41.95.
This anthology from Hip Hop Theatre Initiative creator Banks contains eight plays by contributors whose storytelling aesthetic combines elements of hip-hop with theater to address mental illness, police brutality, education, social justice, and other issues. Included here is Deep Azure, one of the only published full-length plays by the late actor Chadwick Boseman.
Shakur, Tupac. The Rose That Grew from Concrete. MTV Bks: Pocket: S. & S. 1999. 176p. ISBN 9780671028549. $16.
Rapper Shakur's death in 1996 at age 25 left a void in the hearts of fans. His posthumously published volume of poetry shows that behind one of the genre's must celebrated rappers lay the heart of a sensitive and thoughtful poet.
---
HIP-HOP CURRICULA/EDUCATION
#HipHopEd: The Compilation on Hip-Hop Education. Vol. 1. Hip-Hop as Education, Philosophy, and Practice. ed. by Christopher Emdin & Edmund S. Adjapong. Brill Sense. 2018. 180p. ISBN 9789004371859. $126.
Hip-Hop Education (and its hashtag #HipHopEd) is described as a sociopolitical movement that promotes "the utility of hip-hop as a theoretical framework and a practical approach for teaching and learning" and disrupts oppressive structures in education for marginalized youth. Coedited by education scholars Emdin and Adjapong, this volume contains more than a dozen essays by emerging and veteran educators who share their experience using hip-hop pedagogy in the classroom and as a method of exploring identity and addressing the mental health of students.
Kunjufu, Jawanza. Hip Hop Street Curriculum: Keeping It Real. 2005. 140p. African American Images. ISBN 9780974900056. $17.95.
In this guide, Kunjufu, who for decades has written extensively about educating youth of African descent, offers entries on pivotal figures in hip-hop and lessons tailored to Black students that address a variety of topics, including the justice system, socioeconomic issues, history of the African diaspora, and transitioning from childhood to young adulthood. Kunjufu also connects hip-hop to subjects taught in school. Accessible to both young adults and educators, this was one of the earliest resources that offered instruction on mining hip-hop for the creation of curricula as a means of reaching Black children who might otherwise feel disengaged from traditional learning models.
---
ENCYCLOPEDIAS & PERIODICALS
Goldsmith, Melissa Ursula Dawn & Anthony Fonseca. Hip Hop Around the World: An Encyclopedia. 2 vols. 2019. Greenwood. ISBN 9780313357589. $198.
This two-volume set from music scholars Goldsmith and Fonseca contains hundreds of entries about aspects of global hip-hop culture, including music, education, fashion, and literature.
The Journal of Hip Hop Studies. eISSN 2331-5563. scholarscompass.vcu.edu/jhhs
Consisting of essays, poems, short stories, and book reviews, this peer-reviewed journal, published quarterly, provides a platform for underrepresented voices to be published within the academic space.
---
DATABASES & ONLINE RESOURCES
The HistoryMakers. thehistorymakers.org
This video collection of oral histories documenting African American culture includes interviews with hip-hop artists Mohandas "Kool Moe Dee" DeWese and Darryl "DMC" McDaniels, and fashion designer Daymond John.
VIBE (Google Books)
Google offers access to back issues of one of hip-hop's most recognizable and important publications.
---

FILMS & DOCUMENTARIES
Beats, Rhymes & Life: The Travels of A Tribe Called Quest. 97 min. Michael Rapaport, Sony Pictures. 2011. $9.97. Available to stream.
Rapaport presents the highs and lows of one of the most innovative, recognizable, and influential groups in hip-hop history.
Estilo Hip Hop. 57 min. Virgilio Bravo, Loira Limbal, Indiepix. 2009. DVD UPC 845637001002. $21.99. Available to stream.
This enlightening documentary tells the stories of three politically conscious hip-hop artists as they attempt to mobilize disenfranchised communities in Brazil, Chile, and Cuba.
Hip-Hop: Beyond Beats and Rhymes. 60 min. Byron Hurt, Media Education Foundation. 2006. DVD UPC 897952001069$350. Available to stream.
This documentary takes a critical look at hip-hop and holds it accountable for its more problematic and destructive aspects, including hypermasculinity, gender violence, sexism, and homophobia. An abridged version (55 minutes long), edited to remove nudity and profanity, is also available.
Say My Name. 73 min. Nirit Peled, Women Make Movies. 2009. $19.95. Available to stream.
This candid documentary reveals the struggles and triumphs of female artists such as Remy Ma, Erykah Badu, and Jean Grae, who have worked to make their mark in a male-dominated hip-hop world.
Wild Style. 82 min. Charlie Ahearn, Music Box Films. 1983. DVD UPC 741360538146. $10.49. Available to stream.
This narrative film that has the sensibility of a documentary features appearances by the first wave of hip-hop artists—including Grandmaster Flash, the Rock Steady Crew, and the Cold Crush Brothers—who paved the way for future generations of artists and enthusiasts.
---
Tracy Crawford and A.J. Muhammad are librarians at the New York Public Library's Schomburg Center for Research in Black Culture, a cultural institution devoted to the research, preservation, and exhibition of materials focused on African American, African diaspora, and African experiences.