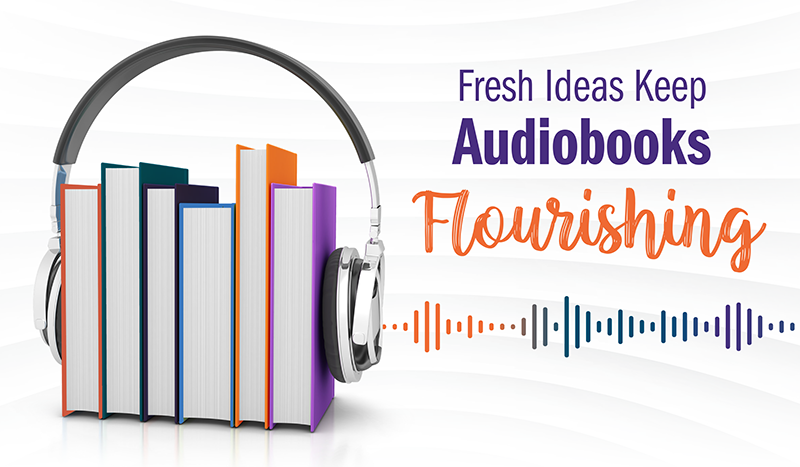 Best friends Barbara Holdridge and Marianne Roney wanted to work in the record business after finishing college in 1952. So, they attended a reading at New York's 92nd Street Y and sent the poet a note backstage. Not long after, Dylan Thomas arrived at their studio to record the first spoken-word album for Caedmon Records (now part of HarperCollins). According to National Public Radio, Holdridge and Roney's idea was the "catalyst for today's $2 billion audiobook industry."
Over the last five years, audiobook revenue in the U.S. has increased by an astonishing 113 percent, making it the fastest-growing book format in the U.S. The category is flourishing as publishers continue to innovate and grow their reach.
Library Ideas' VOX Books is expanding their line by increasing the number of foreign languages the company's titles already appear in and by moving into new reading levels. "Most [of VOX's] titles are picture books, but we are branching out into chapter books for middle-grade levels too," says Library Ideas CEO Brian Downing.
Fresh ideas, from new source materials to creative casting, are also driving the market. Known for their visually stunning graphic novels, Yen Press launched Yen Audio in 2021. This new venture features prose "light novels" and heretofore untapped literary fiction from Japan's most celebrated authors.
At Harper Audio, more audiobooks are featuring multi-cast recordings, following the trend in children's titles. And Dreamscape Media, which began as a distributor, now partners with self-published authors to produce audiobooks in genres like true crime and LitRPG.
Read on to discover some of Spring's best new titles and how publishers are ensuring that the audiobook format continues to shine.

Harper Audio
For over 50 years, Harper/Caedmon has been synonymous not only with distinguished poets and authors—including Gertrude Stein, Eudora Welty, W.H. Auden, and T.S. Eliot—reading their own works, but also with lauded current authors and readers performing classic and contemporary texts. Today, Harper Audio's list includes a wide range of works, from memoirs to thrillers to fantasies, featuring innovative sound effects, filters, and authentic narrators that enliven the audiobook experience.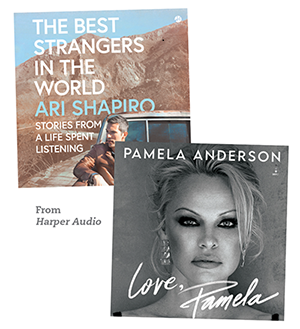 Hollywood superstar Pamela Anderson breaks the mold of the celebrity memoir in Love, Pamela, January 2023, ISBN 9780063226593. Narrated by the author, this candid, complex book alternates between Ms. Anderson's storytelling and her original poetry. "On first read of this book, I was struck by how brave the author is. She is an artist and a creator who makes a convincing case to be taken seriously as an intellectual," says Producer Suzanne Mitchell. "The book is filled with free verse, beautifully read by the author. Her narration is evidence of her deep commitment to the arts. It's stunning!"
The best-selling author of The City of Brass spins a new trilogy of magic and mayhem on the high seas in The Adventures of Amina al-Sirafi by Shannon Chakraborty, narrated by Lameece Issaq and Amin El Gamal, February 2023, ISBN 9780062963536. A determined woman seizes her final chance at glory in this tale of pirates, sorcerers, forbidden artifacts, and ancient mysteries. For this story about an Arabic female pirate captain, Producer Abigail Marks says, "We needed talented and funny narrators who could seamlessly switch between English and Arabic. Lameece and Amin are bilingual and experienced. We're lucky to have them."
The Best Strangers in the World: Stories from a Life Spent Listening written and narrated by Ari Shapiro, March 2023, ISBN 9780063221376, is a stirring memoir-in-essays that is also a love letter to journalism. Shapiro describes various assignments, including traveling on Air Force One with President Obama, following Syrian refugees fleeing war, and learning from those on the front line of the fight for social justice. Loyal National Public Radio listeners know and love Shapiro's voice from his weekday afternoon hosting duties. "Ari Shapiro charmingly narrates his memoir," says Producer Caitlin Garing. "It's a delightful listen for fans of All Things Considered."
In Double or Nothing by Kim Sherwood, narrated by Pippa Bennett Warner, April 2023, ISBN 9780063236547, readers meet MI6 agents who are licensed to kill. This first book in a brand-new trilogy blows wide open the world of James Bond. "Pippa Bennett Warner was our choice and hope to narrate this program from the outset," says Producer Suzanne Mitchell. "The author was keen to have as much diversity as possible for the project. Pippa fit the bill in every way. Our cohorts at HarperCollins UK smashed this one!"
Berna Anat (aka the Financial Hype Woman) shocks her immigrant parents by doing the unthinkable: talking loudly about money. She offers readers an illustrated, deeply unserious financial guide in Money Out Loud, April 2023, ISBN 9780063308664, which she narrates herself. "Berna's energy and enthusiasm for the project and subject matter has resulted in an interesting and informative book about money matters," says Producer Almeda Beynon. "I know I could have definitely used it when I was making the transition into adulthood."
Dreamscape Media
Twelve years ago, Dreamscape Media began as a library-focused distributor of audiobooks, eBooks, and videos to over 5.5 million library patrons through Hoopla Digital, a library digital platform.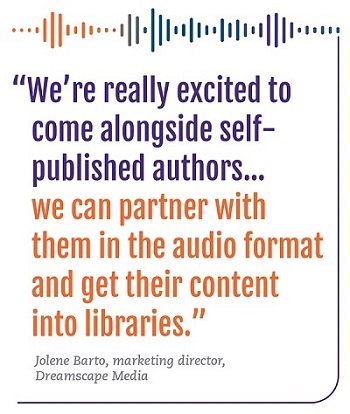 Today, Dreamscape produces over 1,000 titles per year and has established Dreamscape Select, an arm of the company to distribute audio editions of self-published books. "We're really excited to come alongside self-published authors who might not have the resources to produce an audiobook on their own," says Jolene Barto, marketing director. "We can partner with them in the audio format and provide a way to get their content into libraries."
When Trying to Return Home by Jennifer Maritza McCauley, narrated by Psalm Morant and Andréa Agosto, February 2023, ISBN 9781666628951, is a debut short story collection spanning a century of Black American and Afro-Latino life in Puerto Rico, Pittsburgh, Louisiana, Miami, and beyond. Fans of Angie Cruz and Naima Coster will enjoy these multigenerational stories full of love, tension, and incisive social commentary. "The top-notch writing shows different characters drawn together by what they are seeking," says Barto. "As we produce a wider range of stories, we work with the authors to find authentic, representative voice talent to record the audiobooks."
LitRPG (Literary Role-Playing Game) is a popular sci-fi subgenre that combines narrative plotlines with a digital role-playing game experience. Unblood by Robyn Wideman, narrated by Nick Mondelli, February 2023, ISBN 9781666626780, is the first book in the new LitRPG series, "Scribes of Sulterra." This adventure begins when a powerful artifact changes time and space, forever altering the young hero's life. "Video role-playing games are crossing over into movies, television shows, and literature," explains Barto. "We're now translating that into audio."
The Piano Tuner by Chiang-Sheng Kuo, translated by Howard Goldblatt and Sylvia Li-chun Lin, narrated by Fernando Chien, February 2023, ISBN 9781666631173, tells the story of a former musical prodigy who ends up as a piano tuner. This best-selling novel swept every major literary award in Taiwan, including the 2020 Taiwan Literature Golden Award. Chiang-Sheng Kuo's long-overdue English-language debut "is a compact novel that explores the life of a character on the margins," says Barto.
Dr. Sean Kell-Ludden uses a neurological interface to experience the world through a wolf's mind in Feed Them Silence by Lee Mandelo, narrated by Natalie Naudus, March 2023, ISBN 9781666626759. Sean can smell the forest, taste a fresh kill, and feel like a part of the wolf pack. However, her research methods threaten her mind, body, and relationship with her wife. "Natalie Naudus did such a great job with the narration," adds Barto. "She's narrated over 250 audiobooks and has over 200,000 social media followers."
Award-winning journalist Amit Katwala tells the incredible origin story of the polygraph in Tremors in the Blood, narrated by Paul Bellantoni, March 2023, ISBN 9781666629187. This true-crime thriller shows how San Francisco police used this new technology to solve a 1922 murder case. The polygraph's inventors hoped the lie detector would make the justice system fairer. Instead, this flawed device poisoned their lives and forever changed America's relationship with the truth. A senior writer at WIRED magazine, Katwala draws upon his Oxford University psychology training to reveal the dramatic true story of scientific lie detection.

Yen Press
Readers and librarians know Yen Press primarily for Japanese manga, Korean comics, and anime-oriented "light novels" for a young adult audience. Japanese light novels now make up a significant portion of Yen Press's book list under the publisher's imprint Yen On, which expanded in the late 2010s to also include general and literary fiction from celebrated Japanese authors.
"We take pride in publishing critically acclaimed, award-winning books," says Mark de Vera, sales and marketing director. "We're happy to say these titles are now included [along with audiobook adaptations of "light novels"] in our Yen Audio catalogue which launched in the summer of 2021." Two of these celebrated novels are included here.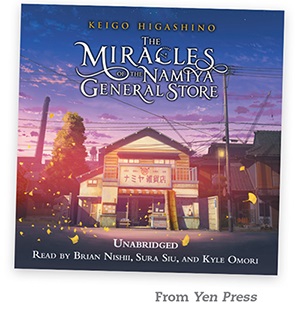 The Miracles of the Namiya General Store by Keigo Higashino, read by Brian Nishii, Sura Siu, and Kyle Omori, November 2022, ISBN 9781975338367, features three delinquents hiding out in an abandoned store after their latest robbery. When a letter slips through the mail slot requesting advice, the scofflaws take over for the departed shopkeeper, who devoted his last years to dispensing wisdom. "This extremely popular novel has been adapted into live action films in Japan and China," notes de Vera. "It's an uplifting, time-traveling work of magical realism by one of Japan's most successful authors."
A drug cartel leader and a human heart trafficker set up shop in Tezcatlipoca by Kiwamu Sato, April 2023, ISBN 9781975360276. After a brutal conflict with a rival cartel, a Mexican drug lord flees to Jakarta, where he meets a Japanese organ broker. The outlaws return to Japan, where they meet a young boy who unwittingly joins their organ-peddling enterprise. "Kiwamu Sato is already one of the most celebrated authors in the Japanese crime and mystery scene, so we are very happy to introduce him to the English-reading audience," says de Vera. "This audiobook will be available on OverDrive for the library market."

CamCat Books
CamCat Books was launched in 2019 by tech entrepreneur and bibliophile Sue Arroyo. The Tennessee-based publisher produces an audiobook for each print title it publishes, across multiple genres including fantasy, sci-fi, mystery, thriller, horror, and romance.
"Everyone on our team is an acquisitions editor. Everyone reads the books and we all have a say," explains Laura Wooffitt, sales and marketing director. "We look for books that readers will come back to again and again—those favorite books that end up tattered, dog-eared, and marked up."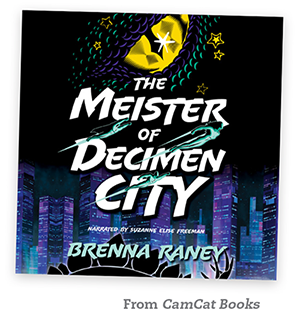 The Meister of Decimen City by Brenna Raney, narrated by Suzanne Elise Freeman, March 2023, ISBN 9780744307740, introduces readers to genius scientist Rex, whose genetically engineered dinosaurs have gotten loose and are on the rampage. At the same time, Rex is coping with family drama when her supervillain twin brother hatches a nefarious plot. "This is a hilarious, feel-good, escapist, superhero mashup," notes Wooffitt. "I read the book in one weekend and said, 'I want to see the movie. I want to read it again. I want the sequel. We need to buy this!'"
The Horoscope Writer by Ash Bishop, narrated by Mara Wilson, James Babson, and Ryan Burke, July 2023, ISBN 9780744309348, features an ex-Olympic athlete who takes a newspaper internship as a horoscope writer. On his first day, he receives an email with 12 gruesome horoscopes, along with an ultimatum: Print them and only one will come true or ignore them and all of them will happen. "A serial killer sending in horoscopes makes for a great read," says Wooffitt. "Ash Bishop writes funny dialogue and moments of levity to lighten the situation."
A celebrity talent manager appears on her clients' reality TV show in Managing the Matthews by Haleigh Wenger, narrated by Lisa Larsen and Alex Knox, August 2023, ISBN 9780744309140. Protagonist Kell Simmons manages the three hottest stars (all brothers) in Hollywood—and is hopelessly in love with one of them. Kell wonders how much fame she wants when her drama and heartache start to play out on television. "People really enjoy the friends-to-romance trope," notes Wooffitt. "And with reality TV thrown in, it's fun to see the main character go through the most embarrassing things!"

Library Ideas
Since 2015, teachers and librarians around the world have embraced VOX Books as a powerful tool for connecting kids to books. A VOX Reader, permanently affixed to the inside cover of a book, transforms it into an all-in-one read-along. There's no need for computers, tablets, or compact discs. To listen to the narration and read, kids just push a button. Library Ideas collaborates with a great variety of publishers, from the Big 5 to midsize and even small publishers around the U.S., to combine great books with this innovative technology.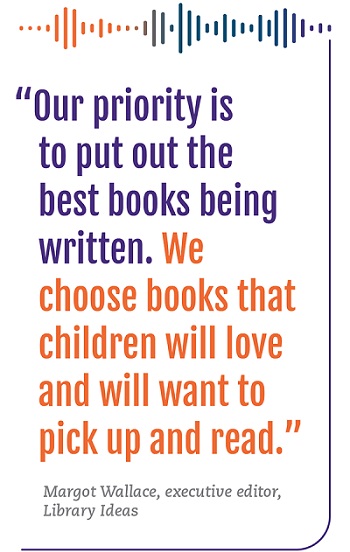 "Our priority is to put out the best books being written. We choose books that children will love and will want to pick up and read," says Executive Editor Margot Wallace. "Some of the best books being produced right now feature characters from a variety of backgrounds and cultures. We want to offer books that all children want to read and see themselves in."
A grudge-holding grape learns how to forgive in The Sour Grape by Jory John, illustrated by Pete Oswald, narrated by Joel Froomkin, March 2023, ISBN 9798885191487 (HarperCollins). Sour Grape stars in the sixth book of the New York Times best-selling Food Group series, which also includes Good Egg, Couch Potato, and Smart Cookie. In this picture book for ages 4–8, readers will see how life is more fun when it's filled with compassion and gratitude.
Rick the Rock of Room 214 by Julie Falatko, illustrated by Ruth Chan, narrated by Fleet Cooper, March 2023, ISBN 9798885192392 (Simon & Schuster), features Rick the Rock, who lives on a classroom shelf alongside an acorn, some moss, and a piece of bark. Rick plans his escape after the teacher lectures about rocks who live more interesting lives outside. "But he finds out that being on a shelf with friends is sometimes the best place to be," explains Wallace.
An Afro Indigenous girl longs for freedom in Magnolia Flower by Zora Neal Hurston and Ibram X. Kendi, illustrated by Loveis Wise, March 2023, ISBN 9798885191463 (HarperCollins). National Book Award–winning author Ibram Kendi retells this moving folktale by Hurston. Born to parents who fled slavery and the Trail of Tears, Magnolia connects with her ancestors and learns that nothing can stop the power of love. This VOX picture book for ages 4–8 features audio narration by Emmy and Tony winner Sheryl Lee Ralph.
Blue Bison Needs a Haircut by Scott Rothman, illustrated by Pete Oswald, narrated by Gary Tiedemann, March 2023, ISBN 9798885191852 (Penguin Random House), features a frustrated bison experiencing an urgent tonsorial crisis. When all the barbershops are closed, Blue Bison's friends teach him an important lesson about patience. "Waiting is really, really hard, but it's something we have to deal with in life," says Wallace.
Award-winning illustrator John Parra plumbs his childhood memories for Growing an Artist: The Story of a Landscaper and His Son, written and illustrated by Parra, narrated by Gabriel Bonilla, March 2023, ISBN 9798885190725 (Simon & Schuster). Juanito and his landscape architect father go house-to-house pruning, weeding, and transforming overgrown yards into beautiful spaces. Juanito admires his father's work ethic, passion, and patience with difficult people and decides to be an artist after drawing blueprints for his father. "John is one of the most sought-after illustrators in the business, so it's cool to see how he started," says Wallace.


SPONSORED CONTENT