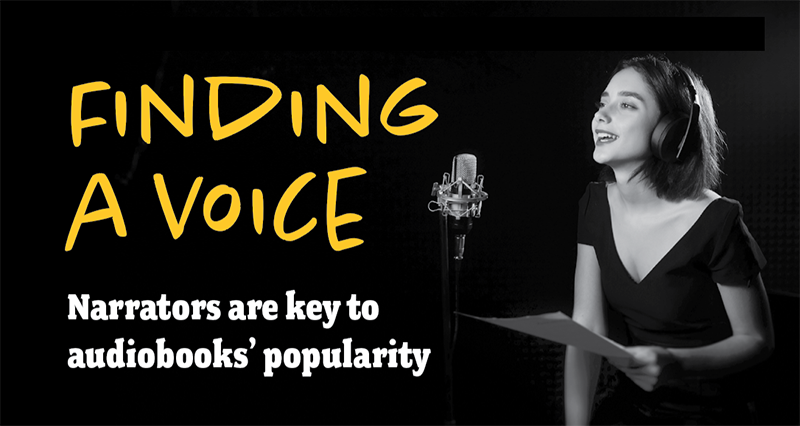 When Therese Plummer was a young girl, her father would read bedtime stories to Therese and her sister.
"There was magic in those moments," says Plummer, an actress who has narrated more than 500 audiobooks for various publishers. "This whole world would open up to me. He'd say, 'We'll do the next chapter tomorrow night,' and I couldn't wait for that next chapter."
A well-produced audiobook can cast a spell that is just as immersive—if not more so—than watching or streaming a TV show. More people are listening to audiobooks not just as a time filler while they commute or do chores, but simply to lose themselves in the experience of hearing a story. A survey by Edison Research found that 70 percent of consumers listen to audiobooks to relax.
And, audiobook revenue has continued to increase, growing by 25 percent in 2021 and marking the 10th straight year of double-digit growth.
Audiobooks have the power to immerse readers in their world, but a lot of work happens behind the scenes to create these experiences. The process begins with finding the right talent. "Casting the right narrator is the cornerstone for a great listening experience," says Senior Marketing Associate Andrew Kaberline of HarperAudio. The popularity of narrators, many of whom are now stars in their right on TikTok and other social media platforms, attests to their importance in creating great audiobooks.



For this feature, we spoke with publishers, producers, and—of course—narrators, to gain insight into this process and to highlight new audiobooks of interest to librarians.

Disney Publishing Audiobooks
Disney Publishing—the publishing arm of the Walt Disney Company—has had an in-house audio department for more than a decade, working on Disney Read-Along Storybooks and other audio-enhanced picture book titles. Recently, Disney Publishing began producing its own audiobooks instead of licensing the creation of them to other providers.
"We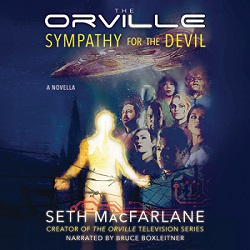 now produce about 90 books per year," says Director of Audio Nick Peck. "About a dozen are adult titles, and the rest are young adult and middle grade."
An example of a new title aimed at adults is The Orville: Sympathy for the Devil by Seth MacFarland, July 2022, ISBN 9781368092654. It's an original novella set in season three of the beloved sci-fi show The Orville, written by the show's creator and narrated by actor Bruce Boxleiner (Babylon 5), who has done guest appearances on The Orville.
The Catch Me If You Can, written and narrated by Jessica Nabongo, July 2022, ISBN 9781426222917, is an inspiring travelogue from the first Black woman on record to visit every country in the world. Nabongo documents her remarkable experiences in each country, including a harrowing scooter accident in Nauru, the world's least-visited country; dog sledding in Norway; and swimming with humpback whales in Tonga.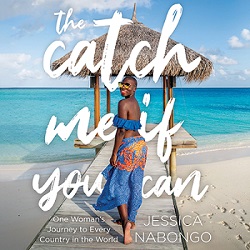 "Visiting all 194 countries could be a scary adventure for anyone, but Jessica met friendly, wonderful people everywhere and found beauty in every country," Peck says. "Her ultimate message to the reader hat the world is not a place to be feared and that you should get out there and explore it."
In Stories of Jedi and Sith, June 2022, ISBN 9781368082556, 10 acclaimed authors each imagine a new tale for some of the most iconic Star Wars characters ever, from Luke Skywalker and Obi-Wan Kenobi to Darth Vader and Darth Maul. These 10 stories are read by nine different narrators, including Meredith Salenger from the 1985 Disney film The Journey of Natty Gann.
"Star Wars fans are as diehard as they get, and a regular narration-only audiobook will not suffice," Peck says. "These books need to have music and sound effects throughout, tying the stories to the rest of the Star Wars universe and adding the color and emotional weight to the action that you would expect. There is just nothing like hearing the iconic sound of the lightsaber powering up after a passage that reads: 'Obi-Wan pulled his lightsaber from his belt and ignited it.'"
National Geographic Ocean: A Global Odyssey, written and narrated by Sylvia A. Earle, May 2022, ISBN 9781426223181, takes listeners on a journey through the world's oceans, from the creatures that live in them to their impact on our daily lives—whether we know it or not.
Through nearly 15 hours of narration, Earle—a world-renowned oceanographer and National Geographic Explorer in Residence—describes the ocean's evolution, beauty, and impact; the challenges it faces today, such as climate change, plastic pollution, and overfishing; and the many ways we can help protect it.
"This book is an absolute masterwork, combining science and the majesty of nature into a book that is accessible to a layperson but containing enough scientific detail to be of interest to an oceanographer as well," Peck says. "When I asked Sylvia how long it took to write this book, she said, 'My entire life.'"

HarperAudio
The audiobook publishing arm of HarperCollins, HarperAudio, traces its roots back to 1952, when the poet Dylan Thomas first recorded for its Caedmon label.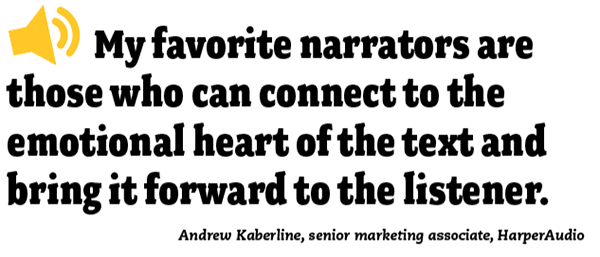 For Senior Marketing Associate Andrew Kaberline, the right narrator is key. "When we cast an audiobook, we're looking for someone we know can give voice to stories that authors often spend years working on and that are deeply personal. My favorite narrators to work with are those who can connect to the emotional heart of the text and bring it forward to the listener. In every audiobook, they're deftly navigating pacing, the emotional arc of the scene, and often multiple character voices."
Adjoa Andoh's narration in Someday, Maybe by Onyi Nwabineli, November 2022, ISBN 9781488215193, is the perfect example of how a skilled narrator can bring so much to the listening experience. "Adjoa Andoh brings an honesty in her narration as she tells the story of a woman's experience of waking up one day to find her husband dead," Kaberline says. "Adjoa is a master of audiobook narration, and her ability to create distinct character voices, often featuring a bouquet of accents, is second to none."
The iconic voice of actress, singer, comedian, and activist Jennifer Lewis is known by millions of fans—and she both reads and sings her second memoir, Walking in My Joy, August 2022, ISBN 9780063079663. In this book, she goes beyond the stories she told in Mother of Black Hollywood. There's an extra treat for listeners as well, as Lewis sings several songs that she's written.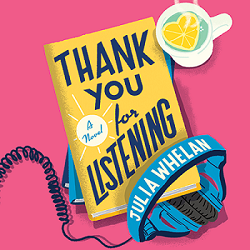 Library patrons looking for a good mystery to solve will find a dozen in Marple: Twelve New Mysteries, September 2022, ISBN 9780063136083. This collection of 12 original stories featuring Miss Marple, Agatha Christie's iconic amateur detective, is written by some of the best mystery authors writing today and boasts an incredible roster of narrators. For instance, British-Australian actress Miriam Margolyes, who played Professor Sprout in Harry Potter and the Chamber of Secrets, narrates a tale from Leigh Bardugo, author of the Shadow and Bone trilogy.
Thank You for Listening, written and narrated by Julia Whelan, August 2022, ISBN 9780063095588, is a charming, laugh-out-loud romance between two audiobook narrators. "Julia Whelan shines as the author and narrator of this book," Kaberline says. "All of her skill in storytelling is on full display in this delightful romance that you won't be able to hit pause."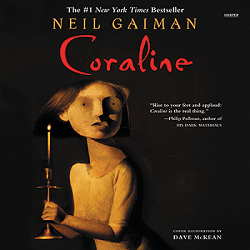 In celebration of its 20th anniversary, HarperAudio is coming out with a new full-cast audiobook edition of Coraline by Neil Gaiman, September 2022, ISBN 9780380977789. English actor Julian Rhind-Tutt narrates this dark children's fantasy story about a girl who finds a secret doorway in her new house and discovers an alternative version of her life on the other side. He's joined by a large cast of British stage and screen actors.
And for young children, HarperAudio offers Magnolia Flower by Zora Neale Hurston and adapted by Iram X. Kendi, narrated by Sheryl Lee Ralph, September 2022, ISBN 9780063267206. "In her debut as a children's book narrator, actress and singer Sheryl Lee Ralph wraps the listener in her beautiful voice," Kaberline says. "The audiobook is accompanied by original music and subtle sound effects that make it perfect for family listening."

Dreamscape Media
Ohio-based Dreamscape Media has been publishing and distributing audiobooks aimed at the library market since 2010. Dreamscape publishes about 1,000 audiobooks per year across a wide range of genres. Most are licensed audio releases of books from other publishers, but the company also occasionally produces original recordings.




"TikTok is changing the book publishing industry," says Marketing Executive Jolene Barto. She notes that TikTok, Instagram, and other social media platforms are spurring more demand for audiobooks, especially among younger library patrons who hear snippets of audiobooks on these platforms and then want to listen to the entire book.
Race is always a challenging topic to discuss, and author and educator Robin DiAngelo, an associate professor of education at the University of Washington, is known as an expert in educating white Americans about the hidden prejudices they might harbor. DiAngelo has co-written a new handbook along with racial equity trainer Amy Burtaine, called The Facilitator's Guide for White Affinity Groups, which aims to help mediators, workplace consultants, community organizers, and others lead white people in anti-racist practices.
Narrated by DiAngelo, the audiobook version from Dreamscape, August 2022, ISBN 9781666610796, is being released at the same time as the print edition from Beacon Press.
Dreamscape has partnered with Hallmark Publishing to produce audiobook versions of several cozy mysteries from Hallmark, including Murder Out of Character by Olivia Matthews, narrated by Janina Edwards, September 2022, ISBN 9781666610031. It's the second book in the "Peach Coast Library" series of mysteries involving a librarian named Marvey who draws upon the knowledge she has gleaned from novels to help solve crimes.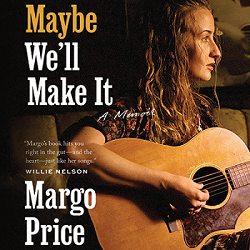 Maybe We'll Make It, written and narrated by country music singer Margo Price, October 2022, ISBN 9781666616989, tells the story of Price's struggle to succeed in the music business, from dropping out of college at age 19 and moving to Nashville, to busking on the streets and even throwing out her TV so that she would do nothing but write songs. After more than a decade of heartache, she finally broke through with a debut album that was nominated for a Grammy. "Margo's book hits you right in the gut—and the heart—just like her songs," says country music legend Willie Nelson.
Actor George Newbern from the Father of the Bride movies narrates Rough Country by T.J. Brearton, October 2022, ISBN 9781666615654, a crime thriller set in upstate New York. When a young girl is found murdered in the woods with a strange symbol carved into her stomach, investigator Reed Raleigh is tasked with finding the killer. Reed desperately needs to solve this case, as his own stepdaughter vanished when she was a teenager.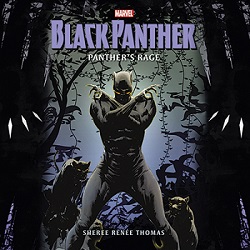 "It's exciting to do projects with George Newbern," Barto says. "He narrates a lot of thrillers for us. It's a talent to do the pacing well, to make it suspenseful and thrilling—and George does a remarkable job with that."
Dreamscape has also produced several audiobooks for Marvel Comics. For instance, Black Panther: Panther's Rage by Sheree Renée Thomas, narrated by J.D. Jackson, October 2022, ISBN 9781666583618, is a new story featuring Wakanda's superhero king.

Macmillan Audio
Macmillan Audio publishes about 500 audiobooks per year. Most of these are fiction and nonfiction titles from Macmillan imprints, although the company also records some titles from other publishers, as well as original productions.
"We use a wide variety of narrators, and we're always trying to discover new voices," says Vice President of Marketing Samantha Edelson. "Our production team works hard to match the narrative voice to each text. Authenticity is so important: finding the perfect voice is what makes the audiobook sing and become so special."
Often, authors are heavily involved in this process. "We want to make sure their vision is realized," Edelson explains. An example is I'm the Girl by Courtney Summers, narrated by Lori Prince, September 2022, ISBN 9781250837677. In this queer young adult thriller, 16-year-old Georgia discovers the dead body of a 13-year-old girl, and she teams up with the victim's older sister to bring the killer to justice.
"Courtney is a huge fan of audio, and she knows exactly what she wants," Edelson says. "She wanted a queer female voice that sounded young, but not too young—and authentic but vulnerable. We found that in Lori Prince, who is a beloved LGBTQ+ narrator in the audiobook world."
Sometimes, the author herself is the best choice as narrator, and that's particularly true for stories that are very personal. Uncultured, written and narrated by Daniella Mestyanek Young, September 2022, ISBN 9781250870728, relays how the author fled from a religious cult when she was a teenager and later joined the military—only to find that this new world looked remarkably like the one she escaped from.
"Not every author is the best at telling their own story," Edelson says. "But when it makes sense, a memoir in an author's own voice really brings the emotion out in the audiobook."
How Not to Drown in a Glass of Water by Angie Cruz, narrated by Rossmery Almonte and Kimberly M. Wetherell, September 2022, ISBN 9781250868817, is a novel about Dominican immigrant Cara who loses everything but the chance to tell her story. The novel is structurally inventive, interspersed with documents and memos, and so a second narrator reads those elements to distinguish them from Cara's narrative.
"This book required a very specific Dominican New York voice, plus a deep understanding of the protagonist," says Producer Guy Oldfield. "It reads like a one-person stage play, so we needed someone who understands that medium to drive and shape the narrative in audiobook form. I found that with stage actress Rossmery Almonte."
Hester by Laurie Lico Albanese, narrated by Saskia Maarleveld, October 2022, ISBN 9781250868794, reimagines the woman who inspired Hester Prynne, the tragic heroine of Hawthorne's The Scarlet Letter, as it examines the roots of female creative power and the men who try to shut it down.
Friends, Lovers, and the Big Terrible Thing, written and narrated by Matthew Perry, November 2022, ISBN 9781250867070, pulls the curtain back to reveal Perry's experience on the hit 90s sitcom Friends and his struggles with addiction. "This book is candid, funny, revelatory, and really powerful," Edelson says, adding that it's a must-listen for anyone who's a fan of the show.

Naxos Audiobooks
U.K. publisher Naxos has its roots in producing classical music. The Naxos music label was founded in 1987, and Naxos Audiobooks followed seven years later, with a goal of publishing narrations of classic English literature accompanied by classical music.
The company produces about 40 new recordings per year, says Managing Director Anthony Anderson, and its audiobook catalog numbers more than 1,000 works. These include European and American classics, as well as some nonfiction titles in philosophy, religion, and travel books.
Naxos Au
diobooks is known for producing high-quality recordings using well-known classical actors such as Kenneth Branagh, Juliet Stevenson, and Nicholas Boulton, an actor who appeared in the HBO series Game of Thrones. In fact, Boulton reads a new Naxos production of The White Guard by Mikhail Bulgakov that is coming out in September 2022, ISBN 9781781984260.
Set in the Ukrainian capital Kiev just after World War I, it focuses on a family caught in the middle of a postwar power struggle and features "echoes of Tolstoy," Anderson says.
Describing his experience in recording this audiobook, Boulton says, "In The White Guard, there are a host of different characters with different backgrounds. I differentiate between them using age, class, health, country, or city as a key and then decide on a tone and rhythm that fits the character. When it works, it works!"
Fairy Tales by 19th-century Scottish writer George MacDonald, narrated by Georgina Sutton and David Timson, October 2022, ISBN 9781781984123, features all 11 of MacDonald's fairy tales as read by two highly acclaimed audiobook narrators. "MacDonald was very much ahead of his time and is widely considered to be the father of modern fantasy," Anderson says.
Wieland by Charles Brockden Brown, narrated by Laurel Lefkow, November 2022, ISBN 9781781984246, is one of the first American gothic novels, and it influenced writers such as Poe and Shelley. Published in 1798 and set in 1760s Pennsylvania, this tale of horror is based on a real case of a New York farmer who murdered his family—and it involves spontaneous combustion and disembodied voices, among other plot devices. "A central theme is the novel's criticism of religious fanaticism," Anderson observes.

Hachette Audio
Hachette Audio publishes about 700 audiobook titles per year, most of which are simultaneous releases of books published by Hachette Book Group imprints.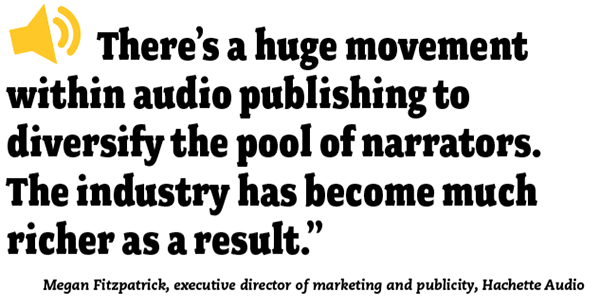 "There's a huge movement within audio publishing to diversify the pool of narrators," says Executive Director of Marketing and Publicity Megan Fitzpatrick. "There are so many stories where the narrator can bring authenticity because they have a shared experience with a character or the author's own background. The industry has become much richer as a result."
Audiobooks can have as powerful an effect on their narrators as on their listeners. "I get to be up close and personal with these beautiful and sometimes frightening and complex characters," says Mela Lee, who has narrated several audiobooks for Hachette. "You want to bring them [the characters] to life in a way that reaches people."
Didn't Nobody Give a Shit What Happened to Carlotta by James Hannaham, narrated by Hannaham and Flame Monroe, August 2022, ISBN 9781668605219, is the raucous yet harrowing story of a trans woman's reentry into life on the outside after more than 20 years in prison. Hannaham reads the bulk of the audiobook, but he's joined by trans performer Flame Monroe, who voices Carlotta's interruptions to the narrative.
The novel "delivers a fantastically entertaining read and a cast of unforgettable characters," Fitzpatrick says, "even as it challenges us to confront the glaring injustices of [our] prison system."
Ruination by Anthony Reynolds, narrated by a full cast, September 2022, ISBN 9781668616505, is an epic tale of magic, revenge, and an empire on the verge of ruin. It's also the first-ever novel set within the universe of the multiplayer online game League of Legends. With more than 100 million active users, LoL is one of the most widely played video games in the world. The game's voice actors narrate the audiobook, and it's sure to appeal to fans of general fantasy and LoL alike.
In Less Is Lost by Andrew Sean Greer, September 2022, ISBN 9781549157707, narrator Robert Petkoff returns to read the follow-up to the Pulitzer Prize–winning Less: A Novel, featuring the awkward but lovable protagonist Arthur Less. "Petkoff's performance of Less has received so much love," Fitzpatrick says, "and we're thrilled to be able to share his narration of Less Is Lost—which just won an Earphones Award from AudioFile Magazine."
Livid by Patricia Cornwell, narrated by January LaVoy, October 2022, ISBN 9781668611050, is the 26th book in Cornwell's best-selling thriller series featuring Chief Medical Examiner Kay Scarpetta. In this story, Scarpetta finds herself a reluctant star witness in a sensational televised murder trial. Livid is the first Scarpetta book for both Hachette Audio and narrator January LaVoy. Fitzpatrick notes that "LaVoy is a respected narrator who is totally knocking this new Scarpetta out of the park with her interpretation."
Fatty Fatty Boom Boom,written and narrated by Rabia Chaudry, November 2022, ISBN 9781649041241, is a memoir about food, body image, and growing up in a loving but sometimes oppressive Pakistani immigrant family. Attorney and podcast host Chaudry's memoir "offers readers a relatable and powerful voice on the topic of body image," Fitzpatrick says—one that "every woman who has ever struggled with weight will relate to."

Penguin Random House Audio
PRH Audio, the audiobook division of Penguin Random House, produces an astounding 2,400 audiobooks per year, says Dan Zitt, senior vice president of content production.
"PRH Audio production is all about collaboration," Zitt says. "I have 21 producers on staff. Their job is to read the book, understand the author's point of view, and then talk with the author and ask:
'What are you hearing inside your head?' Then, we try to find the right narrators who can not only manage all the voices in the book, but who are great storytellers."
He adds: "There is no cookie-cutter approach to casting; every book is unique, and our authors are as involved in the process as they want to be."
Narrator Therese Plummer says she loves having access to the author if possible: "This is their world, they created it. They spent a lot of time bringing it to life on the page, and I want to honor that as much as I can."
Plummer is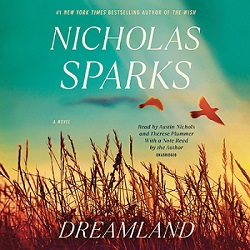 one of the narrators for Nicholas Sparks's latest novel, Dreamland, September 2022, ISBN 9780593633243. She voices the character of Beverly, who is fleeing an abusive husband with her six-year-old son. Beverly's story is interwoven with that of Colby Mills, an aspiring musician whose dreams have taken a back seat to family obligations. Colby's role is voiced by Austin Nichols; Sparks himself narrates parts of the novel.
"It was a total dream to be able to narrate one of Nicholas Sparks's books," Plummer says of the experience. "Beverly has gone through a lot in her life, and she's a really complex and interesting character. When I left each day from recording, I needed a minute to recover before getting in my car and driving home."
Carrie Soto Is Back by Taylor Jenkins Reid, August 2022, ISBN 9780593614174, is a powerful new novel that explores the cost of greatness. The main character is a legendary tennis pro who attempts a comeback when the world considers her past her prime. The audiobook is narrated by a cast of 12, led by Stacy Gonzalez and including renowned tennis sportscasters Mary Carillo and Patrick McEnroe.
SOLITO: A Memoir, written and narrated by Javier Zamora, September 2022, ISBN 9780593611142, is a moving, page-turning memoir in which a young poet tells the story of his harrowing migration from El Salvador to the United States at the age of nine.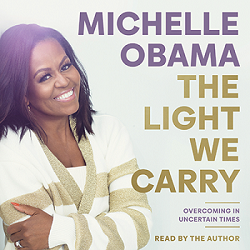 In November 2022, PRH Audio is releasing two audiobooks from luminary figures. The Light We Carry: Overcoming in Uncertain Times, written and narrated by Michelle Obama, ISBN 9780593677896, is an inspiring folw-up to her critically acclaimed, best-selling memoir Becoming. In The Light We Carry, the former First Lady shares her practical advice for staying hopeful and balanced.
Surrender: 40 Songs, One Story, written and narrated by Bono, ISBN 9781984841674, is an honest, irreverent memoir from the artist, activist, and lead singer of Irish rock band U2. Surrender is the story of the remarkable life he's lived, the challenges he's faced, and the friends and family who have shaped and sustained him.

Blackstone Publishing
Founded in 1987, Blackstone is a privately-owned company with a catalog of 17,000-plus audiobooks in contemporary fiction and nonfiction, as well as the world's great classics. In addition to producing more than 150 new audiobook titles each month, Blackstone has been publishing both print and ebook titles since 2015.
"We do all of our own manufacturing and printing in-house, and nothing ever goes out of print," says Director of Publicity Lauren Maturo. "We can manufacture even just one copy if that is what is ordered through a 'just-in-time' inventory model."
Because of the company's commitment to physical audiobooks, Blackstone also manufactures, sells, and distributes CD versions of audiobooks for HarperCollins, Hachette, Simon & Schuster, Marvel, Disney, and other major publishers.
Finding the right narrator for each text is a collaborative process between Blackstone's producers and the author. "The best narrators are great storytellers first and foremost," Maturo says. "It's their job to gain the trust of the listener whilst guiding them through the book from beginning to end. A vibrant auditory experience with proper pacing and rich character voices is something the text alone cannot deliver."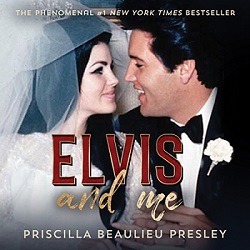 With the 2022 film Elvis gaining a lot of attention, Elvis and Me, written and narrated by Priscilla Beaulieu Presley, August 2022, ISBN 9798212227025, is a Blackstone title that is particularly timely. Available in audio format for the first time, the New York Times bestselling memoir tells the story of Elvis and Priscilla Presley's relationship in Priscilla's own words, revealing details of their first meeting, their marriage, their divorce, and the unbreakable bond that remained between them.
The Silent Woman by Minka Kent, narrated by Christine Lakin and Kate Rudd, September 2022, ISBN 9798212277365, is a thriller about newlyweds Jade and Wells Westmore, who have an unusual living arrangement: Wells' ex-wife, Sylvie, lives in the caretaker's cottage of their estate. Three years earlier, Sylvie suffered a nervous breakdown and hasn't uttered a sound since. One day, while Wells is away, Jade visits Sylvie bearing a peace offering: a bouquet of white lilies. Only she isn't expecting Sylvie to have something for her as well—a slip of torn notebook paper with a single word scrawled in shaky black ink: Run.
In God, Family, Country by Craig Morgan and Jim DeFelice, September 2022, ISBN 9781665042079, Morgan—a country music icon, Army veteran, father, and outdoorsman—narrates his own autobiography and reveals aspects of his life that even his most ardent fans don't know, such as his experience as an undercover agent who fought sex traffickers in Thailand.
For decades, astrophysicist Neil deGrasse Tyson has interpreted science with a combination of profound knowledge and homespun charm that has made the topic accessible to a wide range of fans. His new book StarTalk: Everything You Ever Need to Know About Space Travel, Sci-Fi, the Human Race, the Universe, and Beyond, which he narrates along with Lauren Fortgang, Kevin R. Free, Luzma Ortiz, and other narrators, September 2022, ISBN 9798200697922, brings together the best of StarTalk, Tyson's popular podcast and television show devoted to solving the most confounding mysteries of Earth, space, and what it means to be human. "Fun, smart, and laugh-out-loud funny, this book is the perfect guide to everything you ever wanted to know about the universe," Maturo says.


SPONSORED CONTENT