Handwritten ledgers from the Société d'Economie et d'Assistance Mutuelle in New Orleans serve as the basis of an intriguing new history embracing Black America.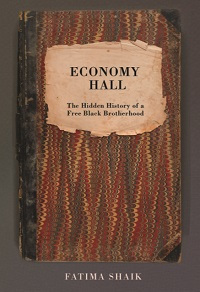 Shaik, Fatima. Economy Hall: The Hidden History of a Free Black Brotherhood. Historic New Orleans Collection, dist. by Univ. of Virginia. Feb. 2021. 544p. ISBN 9780917860805. $34.95. HISTORY
It's not every day that something truly valuable is found in the trash, but author Shaik's father did history a favor back in the Fifties when he pulled 24 handwritten ledgers belonging to the Société d'Economie et d'Assistance Mutuelle from a cluttered bin. Shaik, a novelist, PEN board member, expert in New Orleans Afro-Creole culture, and retired St. Peter's University professor of communications, later discovered the ledgers in her father's closet and used them as a jumping-off point for an extensively researched study to be published by the Historic New Orleans Collection in February 2021.
Founded in 1836 by 15 elite free men of color, the Société d'Economie et d'Assistance Mutuelle (the Economy Society of New Orleans) was a mutual aid society based in the Tremé neighborhood, and its elegantly presented ledgers—often two inches thick and boasting marbleized paper covers—were written in French. Over its century-long existence, the society expanded to include English-speaking men of African descent from other neighborhoods. Its members, who strove "to be real brothers," were veterans of the Battle of New Orleans and the Civil War, but in the postwar years they took on another significant fight: the effort to attain equal rights and the vote.
Shaik unfolds her story by following the family of one of the society's secretaries, who spoke at Louisiana's first equal rights convention and narrowly avoided death at another convention meant to secure the vote, thus bearing witness to early Black American activism. Even as Shaik offers an inside look at the society itself—and its major meeting place, the iconic Economy Hall, reverberant with political debate and jazz—her new work does something more. By presenting a thriving community of free Black Americans in a major Southern city pre–Civil War and the actions of society members through 1935, Shaik aims to deepen our sense of Black American history.