Six key nonfiction titles for May, dominated by memoirs that aren't just personal.
de Waal, Edmund. Letters to Camondo. Farrar. May 2021. 224p. ISBN 9780374603489. $28. HISTORY
While de Waal is a leading ceramicist, he is probably best known for The Hare with Amber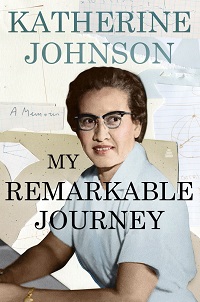 Eyes, winner of Costa and RSL Ondaatje honors. Here he uses imaginary letters to tell the story of the Camondos, a Jewish family from Constantinople, known as "the Rothschilds of the East," who became leading philanthropists and art collectors in high-society belle epoque Paris. They bequeathed their art-stuffed house to the French government after World War I and perished at the hands of the Nazis during World War II. With a 40,000-copy first printing.
Johnson, Katherine. My Remarkable Journey. Amistad: HarperCollins. May 2021. 288p. ISBN 9780062897664. $25.99. lrg. prnt. MEMOIR
Among the Black women featured in Margot Shetterly's blockbuster Hidden Figures whose work as "human computers" contributed to the success of America's fledgling space program, pioneering mathematician Johnson finally gets to tell her own story, though sadly she died in February 2020 at age 101 before publication of this book. Throughout, the 2015 recipient of the Presidential Medal of Freedom articulates her core beliefs: no one is better than you, education is paramount, and asking questions can break barriers.
Junger, Sebastian. Freedom. S. & S. May 2021. 208p. ISBN 9781982153410. $27. SOCIAL SCIENCE
What can freedom mean when we must inevitably depend on others for even the most basic needs? Junger decided to find out by spending a year trekking along East Coast railroad lines with three friends, skirting cops, cooking over the fire, and learning to depend on one another completely. Meanwhile, he discusses things like primatology, boxing, labor strikes, and women in resistance movements, as one might expect from the Peabody Award–winning journalist whose work ranges from The Perfect Storm to Tribes.
Montgomery, Sy. The Hummingbirds' Gift. Atria. May 2021. 96p. ISBN 9781982176082. $20. SCIENCE
Naturalist Montgomery, best known for the National Book Award finalist The Soul of an Octopus and the New York Times best-selling memoir The Good Good Pig, turns her attention to those little birds with the big numbers: they can dive at 61 miles per hour, and they flutter their wings more than 60 times a second. The story here includes Brenda Sherburn, who rescues abandoned baby hummingbirds and cares for them until they are ready to fly off on their own.
Salaam, Yusef. Better, Not Bitter: Living on Purpose in the Pursuit of Racial Justice. S. & S. May 2021. 352p. ISBN 9781538705001. $28. MEMOIR
In 1989, at age 14, Salaam was one of five teenage boys sentenced to prison for assaulting a Central Park jogger, serving out their sentences before another inmate confessed to the crime and they were exonerated. Here, he speaks of his upbringing, imprisonment, and exoneration in what became a case of national importance while highlighting his belief that we're all "born on purpose, with a purpose" and his work as a prison reform and racial justice activist. This first book from one of the five telling his own story should get attention.
Yovanovitch, Marie. Lessons from the Edge: A Memoir. Houghton Harcourt. May 2021. 256p. ISBN 9780358457541. $30. CD. MEMOIR
In 2019, while serving as the U.S. Ambassador to Ukraine, Yovanovitch was recalled following a smear campaign by Trump's personal lawyer Rudolph W. Giuliani. Her testimony during the impeachment proceedings redeemed her standing, and her pointed argument in this memoir is that corruption is a serious threat to democracy anywhere—and is growing in this country. With a 100,000-copy first printing.