We caught up with the author-illustrator to get some insight on the creative process and what's next.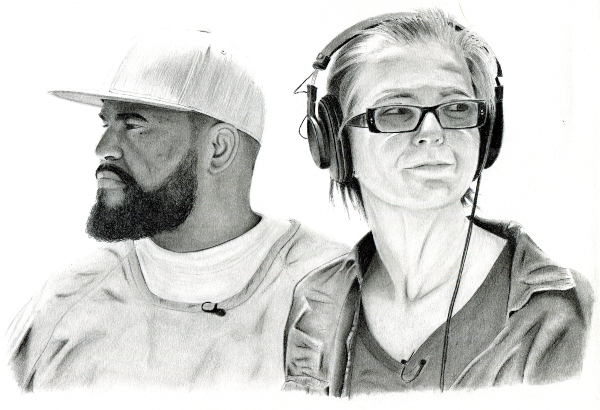 Ear Hustle co-founders Earlonne Woods and Nigel Poor
Image courtesy of Damien Linnane
Since its start in 2017, the Peabody- and Pulitzer-nominated podcast Ear Hustle, which offers a firsthand view of prison life from current and formerly incarcerated people, has gained a dedicated following and has made co-hosts Nigel Poor and Earlonne Woods stars in their own right. The podcast was adapted into a bestselling book, This Is Ear Hustle (Crown, Sept. 2021) illustrated by Damien Linnane. We caught up with the Australian author-illustrator to get some insight on the creative process and his path to librarianship.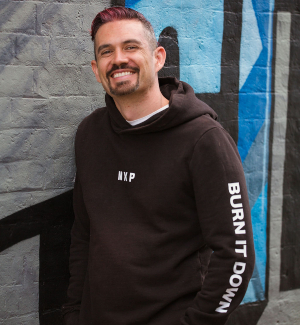 Image courtesy of Damien Linnane
What sparked your interest in writing and drawing?
I'd never really done either before I went to prison. In November 2015, I was sentenced a non-parole period of ten months for crimes the magistrate described as an act of vigilantism. It was my first conviction. I'd just gotten out of over five years in the military; with that experience under my belt, I can't say I was afraid of the prospect of prison. I started to panic once I was inside and realized there was nothing constructive to do with my time. I've always been the kind of person who is working on half a dozen projects at once, but I quickly discovered that there were no educational opportunities above basic literacy, and I wasn't elligible for any of the few rehabilitation programs.
Eventually I decided that if I couldn't turn my prison experience into something positive by myself, it was a wasted opportunity to grow. So, I decided to do something I'd always thought about but had never attempted—and that was write a novel. I've been a prolific reader most of my life and I'd thought about writing but had never tried it, partially as I'd never had the time. Time was the one thing I did have in prison, though. I finished the first draft after five months, but I didn't have any ideas for a second book, so I spent the second half of my sentence teaching myself to draw.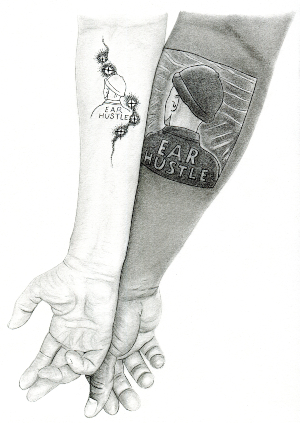 Fresh Ink
Image courtesy of Damien Linnane
How would you describe your art?
I didn't know where to start drawing, so eventually I just got pictures out of magazines and newspapers, mainly faces, and started to copy them. I don't consider myself an overly creative person, I was just extremely good at paying attention to detail and drawing exactly what I saw. Graphite pencils were the easiest art supplies to come by, so I mostly stuck to that medium. And I still mostly do photorealism with graphite.
What drew you to create illustrations for This Is Ear Hustle?
I stuck with art and writing after I left prison. My novel, Scarred, was released in late 2019, and I had my first art exhibition to coincide with the launch. I still have art exhibitions from time to time, and in 2021 I had my first one related to the prison system. It's on display both in Newcastle, Australia until February 2022, and also online. The title is Broken Chains, and my theme is people who used their time in prison constructively.
I've been a fan of the podcast for quite some time, so one of the subjects I chose to draw was Ear Hustle co-founder Earlonne Woods. I tagged him in the image when I shared it on Instagram, and it turned out to be great timing, because unbeknown to me they were looking for someone who specialized in photorealism in pencil to illustrate their then un-announced book. Earlonne sent me a message telling me someone would be in touch. I thought maybe a friend of his was going to order a custom portrait, but the next day I got an email from Penguin Random House offering me the contract to illustrate the book.
Nigel Poor and Earlonne Woods in the studio
Image courtesy of Damien Linnane
Were there any illustrations that you wish you could have included in the book?
Surprisingly enough, I still haven't seen the book yet. It hasn't been released in Australia, and the copy from the United States was lost during international shipping. (Another one is on the way, but this time of year postage is more delayed than usual.) The Ear Hustle team told me their ideas for drawings, and I came up with concepts. Some of those initial concepts were turned down. For example, I was told to draw a young girl (Nigel) staring at a mouse hole. I assumed they meant a mouse hole in a wall indoors, but after I submitted by concept, which I was really quite proud of, they clarified they wanted a girl staring at a mouse hole in the dirt outside. A few images needed two or three concepts before I got approval to finish the drawing, but everything was accepted in the end.
Could you describe your current work in libraries and archives?
I actually finished my undergraduate degree only a week or two before I went into prison. I was hoping to start a Masters, but prison didn't have the resources to let anyone study at that level. I was already leaning towards information studies, but I really discovered my passion for libraries and reading while I was inside. My first job in prison was as a library and education assistant, and I read 63 books during my ten-month sentence. The experience cemented the desire to work in libraries once I was released. One of the first things I did when I got out was enroll in the Masters; I finished it in mid 2020. I was lucky, and ended up transitioning straight from graduation into a role cataloging and digitizing books at an Indigenous language centre, where I've been for the last year and a half.
What advice do you have for aspiring writers and artists?
People ask me how I was able to write a book in five months. The trick I've found is to just be consistent. I wrote one or two hours each day, but after five months that consistency was more than enough to finish my draft. I've had similar findings with my art. As evidenced from my contract with Ear Hustle, sometimes an opportunity is mostly good timing, but you just have to keep putting your work out there and eventually something good will come your way.