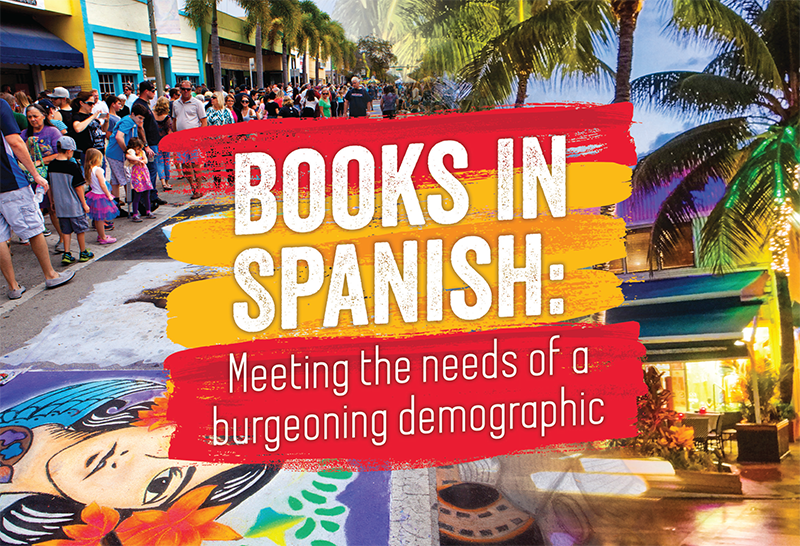 The Hispanic population is the fastest growing demographic segment in the United States today. According to the U.S. Census Bureau, the number of people identifying as Hispanic reached 64.1 million in 2020, an increase of nearly 1 million individuals over the previous year. Hispanics now account for 19% of the total U.S. population.
Libraries from coast to coast are making special efforts to accommodate their Spanish-reading patrons. "At the Los Angeles Public Library, it is our mission to serve our diverse communities, and that includes almost half of Los Angeles' four million people who are of Latino origin," notes Anna Avalos, multilingual collections manager at Los Angeles Public Library. In South Philadelphia, Spanish readers now have colorful community libraries through the Philibros initiative.
The Spanish Association of Publishers Guilds (FGEE) has taken note of the enormous potential of the U.S. market for Spanish language books. The FGEE's campaign, America Reads Spanish, was developed to promote Spanish language books in libraries, schools, and bookstores across the United States and to "enhance the communication between cultures."
Publishers have also welcomed this growing market with expanded resources and great enthusiasm. The "Big Five" have each created separate divisions for publishing Spanish language books and increased their offerings of inspirational, personal development, social justice, and children's titles. Their efforts are paying off: "We've seen an uptick of interest in the last few years, but we've never experienced anything like this," says Vanessa Fremming, senior marketing manager. "This has been our best year at Grupo Nelson."

Here are some of the new titles coming out this fall for Spanish language readers.

Penguin Random House Español
In January 2021, Vintage Español joined with Penguin Random House Grupo Editorial USA to create Penguin Random House Español, a Spanish-only division focused on the US Hispanic market. This new division offers the vast list published by its sister companies in Latin America and Spain, enhanced with a local publishing program tailored for U.S. Hispanic readers.
"The trends we are observing [in Spanish publishing] are deeply related to the conversations that society is having—anti-racism, empowerment for women and girls, and the pandemic," says president Silvia Matute, "Of course, we have a book for each one of them."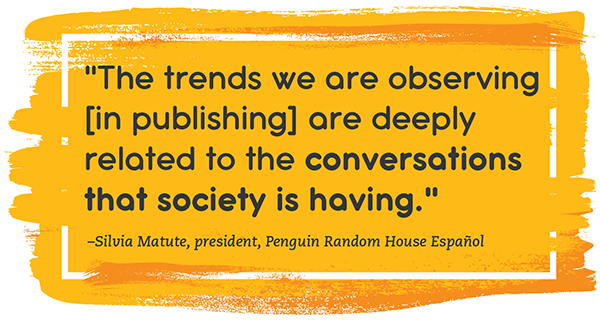 (Viruses and Vaccines. Science Explained to the Little Ones) , by Carlos Pazos, July 2021, ISBN 9788448857844. Through simple and fun illustrations, Carlos Pazos, a science communicator known for his blog "Mola saber," explains basic scientific concepts and answers questions about viruses and vaccines. From the "Future Geniuses" collection, this book is intended for readers from age 5 to 8 (plus any curious grownups).
Todo este tiempo (All This Time), by Rachael Lippincott and Mikki Daughtry, July 2021, ISBN 9781644734186. The creators of the #1 New York Times bestseller Five Feet Apart are back with a gripping romance novel about finding true love after nearly losing everything. After surviving a devastating car crash, Kyle meets Marley, who is suffering her own loss. As Kyle and Marley work to heal their own and each other's wounds, Kyle has a sense of foreboding that he's heading for another crash just as he's started to put his life back together.
National Book Award Winner Jacqueline Woodson tells the moving story of her childhood in Niña morena sueña (Brown Girl Dreaming), August 2021, ISBN 9781644733295. In vivid poems, Woodson shares what it was like to grow up as an African American in the 1960s and 1970s, living with the remnants of Jim Crow and her growing awareness of the Civil Rights movement. This book won the Coretta Scott King Award, made Time Magazine's list of the 100 Best YA Books of All Time, and is a President Obama "O" Book Club pick.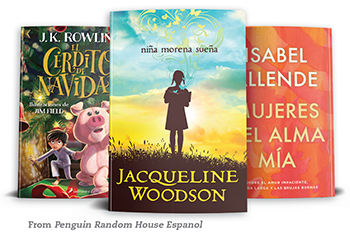 Lloro por la tierra (Roll of Thunder, Hear My Cry) , by Mildred D. Taylor, October 2021, ISBN 9780593313251, is a Newbery Medal Winner, National Book Award Nominee, and an ALA Notable Book. Set in Mississippi during the Great Depression, the story continues the saga of the Logan family, as they struggle to maintain their integrity, pride, and independence in the face of racism and social injustice. It's also the story of young Cassie Logan and the discoveries she makes during one turbulent year.
El cerdito de Navidad (The Christmas Pig) , by J.K. Rowling, illustrations by Jim Field, October 2021, ISBN 9781644734667. For ages 8 and up, one of the world's greatest storytellers delivers a page-turning adventure tale about one boy's love for his most precious toy, Dur Pig. DP has always been there until one Christmas Eve, something terrible happens—DP is lost. But Christmas Eve is a night for miracles and lost causes, a night when all things can come to life...even toys.


Grupo Nelson
Grupo Nelson, the Spanish-language division of Thomas Nelson (HarperCollins), is a leading provider of inspirational Christian content in Spanish. Grupo Nelson publishes best-selling books on topics like family, relationships, children, personal development, and professional growth. Grupo Nelson's catalogue includes leading authors such as John Eldridge, Billy Graham, Max Lucado, John Maxwell, John McArthur, Charles Stanley, Rick Warren, and Sarah Young.
Couples embroiled in finance-related conflict can find solutions in Un equipo ganador (A Winning Team), by Dr. Andrés Panasiuk, September 2021, ISBN 9781400277773. Counselor, economist, and best-selling author Panasiuk, empowers couples to leaves rivalry behind and achieve financial health and prosperity for the entire family. In the spirit of partnership, readers learn to develop an appropriate framework for successful money management.
With over 145 million books in print, Max Lucado is America's best-selling inspirational author. One in six Americans are familiar with Max Lucado and one in seven Americans have read a Lucado book. "His books are like sipping a warm cup of coffee on a cold morning," says Vanessa Fremming, senior marketing manager. He uses the Biblical story of Esther to help readers adapt to difficult times inFuiste creado para un momento como este (You Were Made for This Moment), September 2021, ISBN 9780829734508. In this new book, Lucado inspires readers to transform trouble into victory through faith and courage.
World-renowned Spanish-speaking motivational speaker Daniel Habif is the leader and creator of the global "Inquebrantables" (Unbreakable) movement, which inspires listeners to break old patterns and create the life they want. Prior to the pandemic, he held more than 320 conferences in 170 cities+, reaching millions of people with his rousing presentations.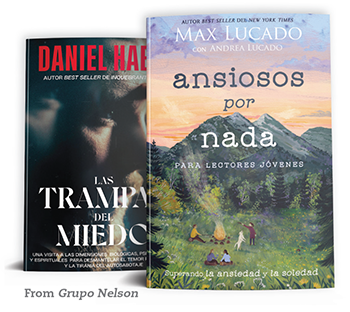 In his new book, Las trampas del miedo ( Fear Traps), October 2021, ISBN 9781400235926, Habif investigates the psychological, biological, and spiritual dimensions of fear. The book shines a light on certain behaviors that are linked to fear, such as addictions, pain, or the rejection of love. In his usual positive and energizing manner, Habif teaches readers how to dismantle paralyzing fears, make better decisions, navigate loneliness, and meditate and pray. "Daniel explains how fear operates and offers tools to overcome it," says Fremming. "It's like he's speaking at one of his conferences."
Available for the first time in one deluxe hardcover edition,Clásicos selectos de C.S. Lewis ( The C.S. Lewis Signature Classics), October 2021, ISBN 9780829771213, includes eight signature spiritual works from one of the most celebrated literary figures of the 20th Century. This essential anthology includes Mere Christianity,The Screwtape Letters, The Problem of Pain, and A Grief Observed among others. Readers will discover both the wisdom, humor, and deep faith of C.S. Lewis, whose Chronicles of Narnia series sole over 100 million copies.
Written for ages 8-12, Ansiosos por nada: edicion para lectores jovenes (Anxious for Nothing Young Reader's Edition), by Max Lucado, February 2022, ISBN 9781400232345, is a Bible-based book is designed to help kids manage the pressures and anxieties of today's world through a deeper understanding of God. This motivating book offers practical ways for young readers to work through their worries, take control of their feelings, and choose to focus on faith. This special edition also includes sidebars addressing technology-related stress plus age-appropriate application questions, journal prompts, and mindfulness activities.

DIGITALIA, INC.
"Public libraries are an ideal place to learn about diversity, which is at the heart of DIGITALIA's mission," says Xavier Claret, CEO of Digitalis Inc. "We keep adding new publishers and new content to make the collections more robust."
Libraries that subscribe to DIGITALIA PUBLIC LIBRARIES database have access to an electronic catalog of more than 28,000 ebooks, including content from all Spanish-speaking countries. Organized by genre, most of the content is in its original Spanish language, with 200 titles added to the database monthly. The database also has multimedia and language courses.
The changing demographics in the U.S. are driving demand for a diverse ecosystem of materials in various languages and from different sources. Notably, Hispanics now make up 18 percent of the total U.S. population, with percentages much higher in states like Arizona, California, Florida, New Mexico, and Texas.
"In some areas, online content in international languages is not a nice-to-have resource, it's a real necessity, and not only for those minorities. It's important for the community as a whole," Claret says.
The DIGITALIA PUBLIC LIBRARIES database encompasses 28,000 titles in many genres, from over 200 publishers. Readers can access important titles from Juan Rulfo, a giant of Latin American literature whose masterpiece, Pedro Páramo, was included in the list of 100 central works of the universal heritage of literature, derived from a 2002 Nobel Institute survey. The Digitalia database provides access to other Rulfo titles, includingEl gallo de oro y otros relatos (The Golden Cockerel and Other Tales) andEl llano en llamas ( The Burned Plain).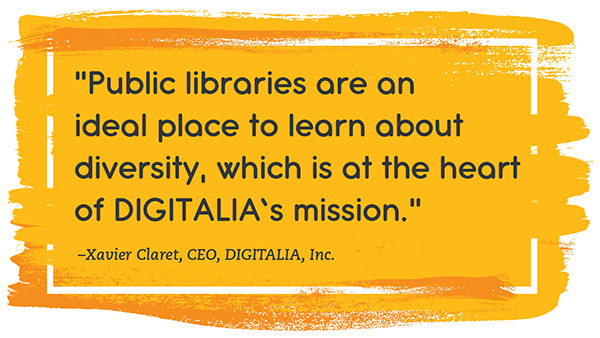 For kids, there is a great selection from acclaimed children's book publisher Lata de Sal like Soy Dibugato (I Am Dibugato), by Kat Patrick, illustrations by Lauren Marriot, plus Gato Pato ( Duck Cat) by Cucho Cuño, and many other titles.
DIGITALIA FILM LIBRARY is a subscription streaming service for public libraries, universities, and colleges that offers feature films and documentaries from more than 60 countries in 55 different languages. "Our 1,600-plus titles are carefully selected to ensure they have artistic, educational, and intellectual value," says Claret.
The Mexican Collection includes films likeDos Fridas (Two Fridas),Tierra Caliente (Hot Land), and Tequila. In the Latino America Collection, researchers and film buffs will find titles from the entire Spanish-speaking world: South America, Central America, Mexico, the Caribbean, and Spain. From Spain, the collection features classic films like Don Quixote, El maestro de esgrima (TheFencing Master), and Juana la Loca (Madness of Joan).
Libraries and educational institutions pay a flat fee for access to each database, typically with a one-year subscription that allows multiple users and unlimited use. The fee is based on the institution's volume. The content for public libraries is less academic and targeted more for the general public.
"DIGITALIA is an important part of the Los Angeles Public Library's digital services," says Anna Avalos, LAPL multilingual collections manager. "Our Spanish-speaking patrons are always looking for resources for lifelong learning, and we are happy to introduce them to the English-learning courses that DIGITALIA offers at all levels, as well as the service's variety of Spanish language ebooks for leisure reading. DIGITALIA's offerings always receive positive feedback from them."
SPONSORED CONTENT