When life gives you honeybees, make honey. That could be the motto of Amy Thatcher, manager of the Free Library of Philadelphia's Richmond Branch. "I believe pushing against boundaries yields opportunity," she says. "Be adventurous. Try implementing what appears to be impossible. Most of the time, it's possible."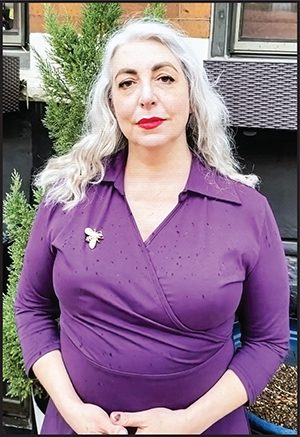 CURRENT POSITION
Library Branch Manager, Richmond Branch, Free Library of Philadelphia
---
DEGREE
MLIS, Queens College, City University of New York, 1997
---
Photo by Stephen Gosling

Building Community with Bees
When life gives you honeybees, make honey. That could be the motto of Amy Thatcher, manager of the Free Library of Philadelphia's Richmond Branch. "I believe pushing against boundaries yields opportunity," she says. "Be adventurous. Try implementing what appears to be impossible. Most of the time, it's possible."
Seemingly impossible came in the form of a bee nest Thatcher discovered above the library's doors. After consulting with a beekeeper, she learned that honeybees are gentle and rarely sting.
With a few modifications and the blessing of the library building's manager, Thatcher worked to create an observation hive. "One astonished woman exclaimed, 'Whose bright idea was this?' I told her all about our bees, how each bee has a designated job in the hive.... All these things were relatable to her. Thus began the unfolding of a neighborhood-wide fascination." Thatcher organized a concert featuring Anna Rubin compositions about the lives of bees. A patron, moved by the library's bee-protecting efforts, donated the piano.
Thatcher also managed efforts to build a garden in a side yard, install new furniture appropriate for toddlers and young parents, and adapt to outdoor programming during the pandemic, including shifting yoga classes and high-engagement story times outdoors.
Thatcher's next buzzworthy venture is also a reflection of her can-do spirit: "I'd like to put our baby grand piano to use and create a concert series partnering with students from my alma mater, the High School for Creative and Performing Arts," she says. "Who knows, maybe my old classmate Questlove will get involved. Why not try?"