When the St. Paul Public Library, MN, went fine-free, the marketing and communication team's successful campaign to get the word out helped earn it an Honorable Mention for LJ's 2019 Marketer of the Year Award.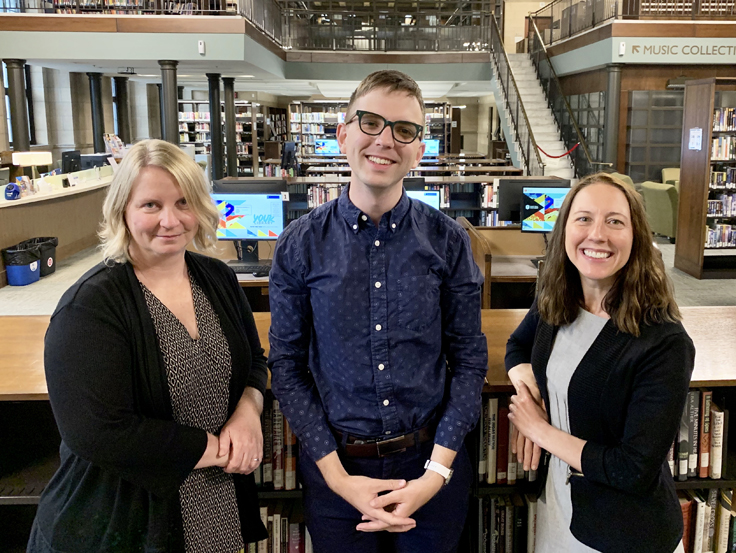 BRINGING THEM BACK

The St. Paul Public Library marketing team. From l.-r.: Communications and Design Specialists Therese Scherbel and Chase Maxwell; Marketing and Communications Director Phoebe Larson. Photo courtesy of St. Paul Public Library
Going fine-free is a trend that's gaining traction as library systems convince local governments that the benefits to education, equity, and access far outweigh the small lost income—and telling that story helped earn the St. Paul Public Library, MN, an Honorable Mention for LJ's 2019 Marketer of the Year Award.
ROLLING OUT THE WELCOME MAT
St. Paul Mayor Melvin Carter was "thrilled with the idea," recommended after months of research by library staff, under the leadership of Director Catherine Penkert. Carter included it in his 2019 budget proposal and the city council adopted it, including $215,000 in the final budget to replace lost revenue.
That left the library's marketing and communication team with a welcome but formidable task: getting the word out not just to active users, but to the more than 51,000 cardholders—about one in five of the library's nearly 270,000 total—who had been blocked due to fines. To reach those blocked cardholders, as well as to share information about what the new policy meant for all library users and energize people across the city about libraries, the team created a campaign called "Welcome to YOUR Library: Now fine free."
MULTIPLE MESSAGES

Marketing materials including a postcard (l.) and patron stories promoted the library's new fine-free policy. Photos courtesy of St. Paul Public Library
The team used the Mayor's annual budget address in fall 2018 to kick off the awareness campaign. They reached out directly to those most impacted, mailing postcards to 37,000 addresses of formerly blocked cardholders; the message was translated into four languages. They followed up with targeted advertising, placing ads on all city water bills—which reached 69,319 households and 3,132 businesses—and the summer community education catalog, which goes to more than 130,000 households.
At the 13 branches themselves, they displayed large colorful banners, placed background wallpaper on 272 public computers, and trained staff to communicate with the public about the initiative.
Online, the marketing staff created a web presence that not only explained the new policy but included the research findings that led to the decision, along with testimonials, national articles, and frequently asked questions. A social media strategy centered on a weekly #finefree Friday feature, plus videos bolstered by paid posts, ran between the announcement in fall 2018 and the implementation on January 1. Press coverage in the city's major papers and TV stations further spread the word.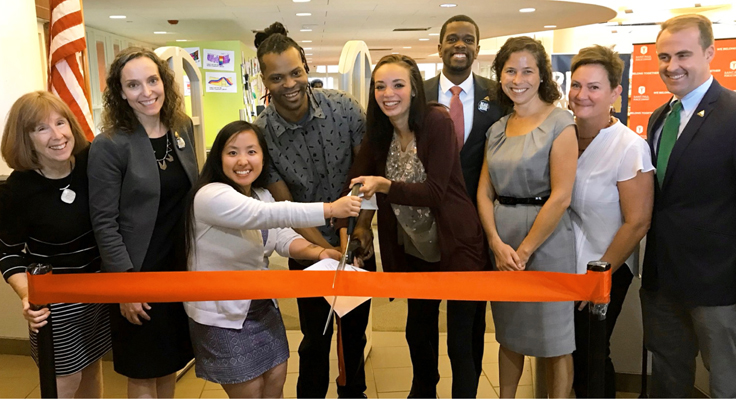 WELCOME TO FINE-FREE

Mayor Melvin Carter (center, in red tie), Library Director Catherine Penkert (second from l.), and several members of Saint Paul's City Council participate in a ribbon cutting at Rondo Community Library during the annual library budget address in August 2018. The Mayor's proposal was officially announced at this event. Photo courtesy of St. Paul Public Library
PROOF OF CONCEPT
Their success is clear: after years of declining circulation, active user numbers, and new card registration, all are up (1.8, 4.3, and 8.2 percent respectively). Even more important, circulation is up by double digits in the areas with the lowest median income. Some 43,272 items have been checked out on cards that had previously been blocked.