To pass an essential funding measure, Palatine Public Library District's marketing team made the case with transparency, community feedback, and streamlined messaging—earning it LJ's 2019 Marketer of the Year Award.
Do what you love, and the money will follow. As an aphorism it's more pat than accurate. In the case of Illinois's Palatine Public Library District, though, a variation on that theme is just plain fact. By masterminding the "More of What You Love" campaign, the library's communications and marketing team made a crucial contribution to passing a 2019 referendum needed to ensure an additional $1.4 million in essential funding. In so doing, Andrea Lublink, Kiel Cross, and Jean Bolliger have won LJ's 2019 Marketer of the Year award, sponsored by Library Ideas.
Compared to its well-heeled neighbors in the suburbs of Chicago, the Palatine Public Library District is significantly underfunded. The district hadn't asked for a single tax increase since it was established in 1974. Under state law, the library could increase taxes by an amount equal to or less than the consumer price index increase—typically one or two percent—without going back to voters. But "other expenses typically go up more than that," as executive director Jeannie Dilger, a 2006 LJ Mover & Shaker, says with wry understatement. The 26-year-old building is due for expensive roof and HVAC work.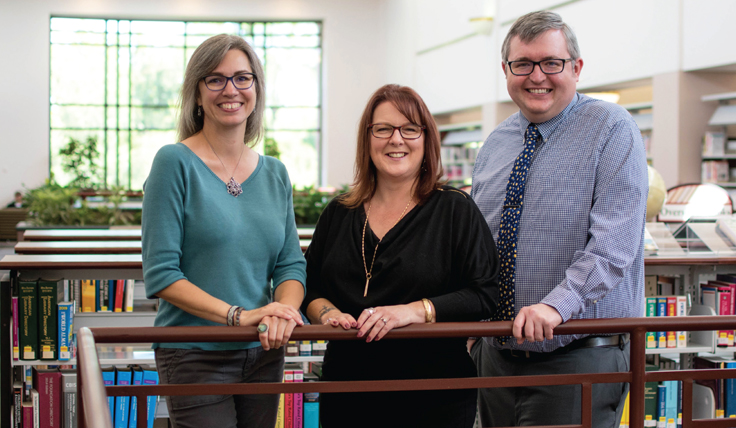 RISING TO THE CHALLENGE

The Palatine marketing team, l.-r. Jean Bolliger, Andrea Lublink, and Kiel Cross, were tasked with boiling down a complex funding situation to a few great graphics. Photo by Jessica Banko, Palatine PL District
The staff did an excellent job of becoming increasingly lean and efficient, but "that only goes so far," says Dilger. "We were stretched to the breaking point." Without more funding, the library would have to cut back on outreach, open hours, and staff hours by 2025, and then close its doors in approximately 2035.
To forestall those outcomes, the Library Board decided to put an operating increase on the ballot in April. Ultimately, the referendum passed with 64 percent of the vote. The newly approved rate will bring the library approximately $1,408,151 more than the current income of $6,660,807—a 21 percent increase in annual operating revenue. This will cover $5.8 million in capital repairs over the next six years, allowing the library to begin interior renovations to update technology, increase the number of study rooms, add a Maker space, and reconfigure desks for more efficient staffing. It will also be able to offer increased outreach services, keep up to date with technology, and increase open hours.
FULL TRANSPARENCY
The challenge to the marketing team was to practice radical transparency—sharing as much information as possible about the library's requirements and goals with the voting public in order to build trust in the library's vision and financial stewardship. At the same time, the team needed to hone a lot of complicated details into intuitive, easy to grasp messaging, and to present the library's needs in a positive emotional context.
Community members didn't understand how the library was financed. So communications and marketing manager Lublink and her team built infographics to demonstrate where the library's funding comes from (property taxes), how much of their tax dollars go to the library (2.68 cents of every dollar), and how Palatine's library revenues compared to neighboring libraries ($74.87 per capita, compared with a range of $114.40–$190.98). Those visuals, featured in the library's fall 2018 newsletter, were, Dilger tells LJ, "instrumental in starting the conversation with the community."
Lublink found that community members were surprised to see how the library compared to its neighbors. "Palatine as a community has high civic pride," she says. "People would say, 'we're not keeping up with everyone else; we need to do something about that.'"
Just as important as creating externally facing graphics was the internal timeline Lublink's team (the honorees, Marketing Associate Cheryl Baier in the beginning of the campaign and Baier's successor Rebecca Cohen later on) created: From December 12, 2018, when the board voted to proceed, activity was planned to begin the next day and continue as a steady drumbeat across channels until the election five months later. This was shared with staff, the board, and the Referendum Communications Team to keep everyone in the loop and on track.
Three print newsletters about the referendum were sent to more than 36,000 homes; five email newsletters were sent to more than 30,000 users. These had an average open rate of 32.4 percent—substantially above the average of 15-20 percent—and a slightly higher than average 2.8 percent click through rate.
To reach a broader base that included non-users, Lublink and her staff created a two-page flyer and made it available at public service desks and community presentations; a postcard with ballot language and voting information; a two-page mailer sent to district residents at the commencement of early voting; regular social media posts; six testimonial videos about how patrons use the library; and a website that went live the morning after the Board voted to put the referendum on the ballot, and garnered 2,955 unique page views.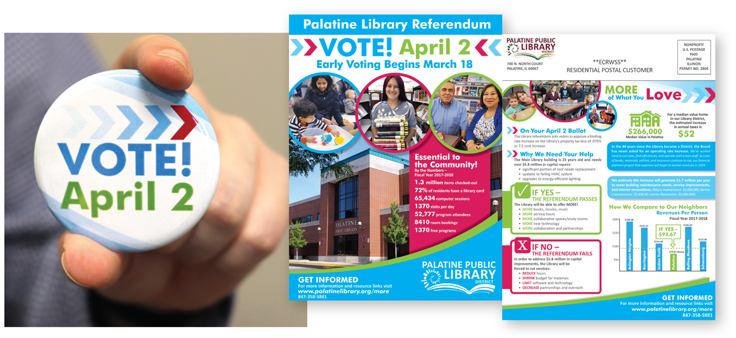 A THOUSAND WORDS

Print and digital materials made a compelling case for the library's need—and for the community to turn out and vote. Photos courtesy of the Palatine Library District
The marketing team took advantage of the interactivity of the website to include tax impact and return-on-investment calculators for residents to see how the tax hike would affect them. They also put the testimonial videos and a video of the community presentation online, and provided links to the library's capital replacement plan, space needs analysis, and financial plan.
"Over and over, residents commented on how transparent the library was and how well the information was presented," Dilger says. The marketing team didn't just implement that transparency; they helped drive it, suggesting that the master facilities plan be added to the website. Voters "knew we weren't trying to hide anything or make any numbers up; they could clearly see why we needed the money."
For example, community members who questioned why the district didn't close its two branches to save money could see those branches' usage statistics and how, as rentals, they lacked many of the overhead costs associated with ownership. "Showing that they are a really big bang for the buck is helping people understand our decisions and buy into it," says Dilger.
LIBRARY LOVE
"We knew one thing that we have going for us is that people love us," says Dilger. "They say it over and over, that we're the friendliest library" in the area. "What they love[d] about us was our staff; they are incredibly customer focused," Dilger emphasizes. This is an important competitive differentiator because, according to Dilger, in the Chicago suburbs, residents tend to move around and use lots of different libraries, so they're well aware of the "exciting, cutting edge things" Palatine's neighbors offer that it could not afford to match.
A 2016 community survey that garnered 6,000 responses, conducted just before Dilger joined the staff, told the library that "people loved us, they just wanted more"—not only books and movies in the collection, but also services such as interactive play spaces for kids and technology.
In a tagline brainstorming session among the members of the Referendum Communications Team, Lublink proposed simply "More." Another staff member expanded the idea to "more of what you love" and "it just seemed to resonate with all of us," says Lublink, as "a way to present everything with a more positive tone. That we need money to keep the building going was not a very sexy message."
Not only was all the collateral branded and coordinated under that theme, but the marketing team created an "I ❤ palatinelibrary.org" car window cling for patrons who provided email addresses. The resulting list of 230 recipients got messages with links to referendum information. The same graphic was made into a sticker and given out in goody bags at the local St. Patrick's Day parade.
The recipients were happy to help get the word out. "I was pleasantly surprised [at] how passionate supporters are about spreading the word," says Lublink.
The video testimonials by patrons were a tangible demonstration. The idea originated with a local indie author; he was an enthusiastic advocate and the team was able to use his first video (which the library's tech staff edited) as a model in recruiting other patrons to participate.
ON TARGET
To help evaluate the planned communications, the team checked them against five user personas developed the previous year to guide construction of the library's new website, Lublink tells LJ. They examined each piece of collateral through the lens of groups such as seniors, young parents, underserved patrons, students, and singles to make sure it worked for all of them.
RADICAL TRANSPARENCY

Easy to read infographics done helped educate the community on the library referendum and where their dollars would go. Photos courtesy of the Palatine Library District
This wasn't a one-and-done exercise. John Chrastka, executive director of library funding political action committee EveryLibrary, praises the Palatine marketing team for creating a communications campaign that "was responsive in an ongoing and adaptive way to the feedback that they heard from their stakeholders, peers, and other local leaders" and for digging "deeply into the results of community surveys to localize their messaging."
Lublink's watchwords for other library marketers trying to pass a referendum? "People don't really read long; what are the bullet points? What are the takeaways? Keep it simple, easy to digest, and something that people [can] remember," she says.
THE TAKEAWAYS
Palatine's marketing team is gearing up to communicate the changes the referendum will underwrite—and gather input that will help shape the library's choices. "It may be a challenge to show patrons what is going to be changing," says Lublink. "We want to open it up and give [them] the opportunity to give us feedback."
Dilger says that the team is also getting out into the community more, and engaging more deeply with the village's growing immigrant community.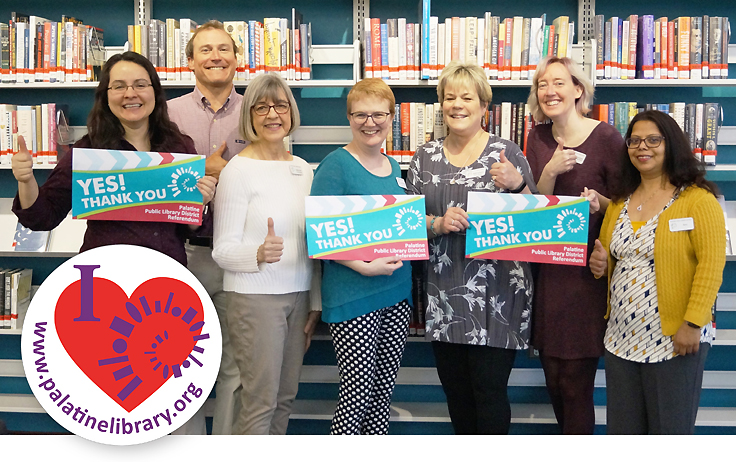 GETTING TO YES

Library staff show their appreciation for the marketing team's work. Inset: window cling sent to all patrons who provided an email address. Photos courtesy of Palatine Library District
The library as a whole is looking to apply the lessons of the successful campaign to its ongoing approach. "We got such great feedback from people about the transparency that we are looking at ways we can put more of our financial data and usage statistics on our website in real time," says Dilger, "so that people can always see at any point where the money is coming from and where it's going."