Illustration by Studio Sjoerd van Leeuwen
While helping users find employment and secure better jobs and promotions—as well as start, run, and grow businesses—has long been a part of the core work of public libraries, the impact of COVID-19 has made that mission even more urgent. It's also changed many users' employment needs and priorities, as well as the ways libraries provide workforce services. Not only are an unprecedented number of patrons seeking work after a stint on unemployment, but many are looking to keep or achieve remote working arrangements, or to change careers away from still-suffering sectors like hospitality or from stressful public-facing positions where they experienced burnout.
EQUAL FOOTING
Libraries across the country have seen a dramatic increase in the use of their virtual career and business resources during the pandemic, but that only serves those with internet access, so bridging the digital divide is still a high priority. Laptop and hotspot lending initiatives, like the Workforce Ready Program at Broward County Library (BCL), FL, seek to address the needs of patrons who lack the reliable internet access necessary to apply, interview, and train for new jobs.
Since February, library cardholders in six Broward County zip codes identified as communities hard-hit by COVID due to high unemployment and educational inequality have been eligible to borrow a 14" Google Chromebook and hotspot device for up to 60 days (including one renewal). As the library receives additional funding for more devices, eligibility will expand to patrons in additional zip codes.
Even as libraries begin to reopen and on-site computer access resumes, BCL community engagement coordinator Roslyn Dean hopes to continue to offer patrons, especially parents and other caregivers, the flexibility of accessing the internet outside of library hours.
"We want our customers to have the convenience of being able to take these devices home and still grow themselves, whether it's to do job searching or to take courses offered through some of our databases such as Universal Class," Dean says. "When COVID happened, we really put a lot of effort into becoming a full-on tech lending organization to make these resources available to as many of our customers as possible."
Beyond connecting patrons to devices, Broward County Library was one of 13 libraries selected to receive funding last July from Google.org and the American Library Association through the Libraries Build Business (LBB) program. The goal of LBB is to fund programming or services that serve entrepreneurs from low-income and underrepresented backgrounds.
In Broward County, this takes the form of a program called Built in Broward, which provides technical and business training for Black and Latinx entrepreneurs as well as those from lower-income backgrounds. Sheldon Burke, Built in Broward project coordinator and librarian supervisor at the South Regional/Broward College Library, says that the inspiration for this program came from the mayor of Fort Lauderdale's 2019 mandate to transform the local economy from being hospitality-based to technology-based.
"As a community anchor, we wanted to play our part and make sure that we could help people transition to this tech economy," Burke says. After offering a number of workshops, the library applied for the LBB grant to create a more focused program.
Through a partnership with General Assembly, a skills education company, the library offers fully subsidized workshops on topics including data analytics, marketing, and coding. The library also works with Black Valley Digital, a minority-owned educational and digital marketing agency, to sponsor quarterly incubators for cohorts of 20 freelancers and entrepreneurs. The cohorts meet virtually every week to discuss topics like pricing services, navigating taxes, finding leads, and forming contacts. Another key component of the program is instructor development, also provided by Black Valley Digital, through which BCL librarians learn new tech skills so that they can continue to offer similar workshops and training to the public after the LBB grant concludes.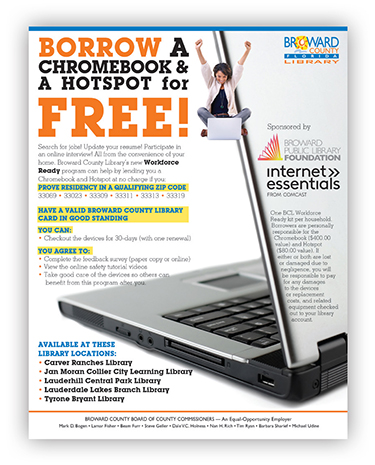 TECH AND TRAINING

Broward County Library publicizes Chromebook loans available through the Workforce Ready Program. Flyer courtesy of Broward County Library
By partnering with community groups like the Black Chamber of Commerce, Urban League, and Hispanic Unity to promote the program, Built in Broward has reached over 1,000 Broward County residents through workshops, events, and the incubator program since last August.
NO "SECOND SENTENCE"
Another innovative LBB initiative is the New Start Entrepreneurship Incubator (NSEI) at Gwinnett County Public Library (GCPL), GA, which provides a full six-month business course to a cohort of individuals who were formerly incarcerated and are now interested in starting their own business.
"It's often referred to as a second sentence when they're released from prison—all of the stigma and the employment barriers that they face, housing and transportation challenges, all these things that make it near impossible to succeed," Lawrenceville Branch Manager and NSEI Project Manager Adam Pitts says. "We really hope to level the playing field through this program."
In addition to monthly in-person classes where subject matter experts teach on topics like marketing, finance basics, and business licensing and laws, participants are paired with a mentor to learn firsthand about entrepreneurship and to receive one-on-one guidance on developing their business plan. In between meetings, participants complete an online curriculum developed by staff at GCPL that employs library databases such as LinkedIn Learning, as well as resources from StarterU and the Entrepreneurial Mindset Academy.
Based on attrition rates from the first cohort, which ran from January to June (and necessitated some virtual meetings due to COVID case counts), participants in the second cohort are being offered incentives for completing the course in good standing. These include free books on entrepreneurship topics and the opportunity to pitch their business for funding to a panel of donors at the end of the program.
In the first cohort, 23 applied and eight were accepted. A robust social media campaign and leveraging an existing partnership with the Greater Gwinnett Reentry Alliance led to increased interest in the second cohort, which began in July with a class of 23, selected from over 60 applicants.
A RECIPE FOR RÉSUMÉS
Some libraries are creating programs that target specific career paths with a close eye on the needs of the job market. At the Fayetteville Public Library (FPL), AR, a new program called "Burning through the Basics: Restaurant Kitchen Readiness Intensive and ServSafe Certification Course" will help prepare participants for the available restaurant and hospitality jobs currently available in the region. A new state-of-the-art kitchen, built as part of a large-scale expansion of the library, will serve not only to supply food for special events, volunteer efforts to provide meals for the food insecure, and a forthcoming on-site deli, but will also be used as a teaching site.
Prior to the pandemic, FPL Executive Director David Johnson was contacted by a group of local restaurateurs and chefs to address the critical shortage of prospective employees with basic kitchen skills like sanitation practices, using a commercial dishwasher, and knife safety and use. Considering the high cost of training coupled with the rate of turnover in the industry, restaurants hoped to partner with the library to develop a workforce that could fill this void, which has only grown since the pandemic. By engaging with Startup Junkie, a consulting firm that connects entrepreneurs to capital, and Chef Adam Simmons from nearby culinary institute Brightwater: A Center for the Study of Food, plans for the course began to come together.
Although preparation for the National Restaurant Association's ServSafe Food Handler certification can be completed online, the goal of the program is to not only prepare students for this industry credential but to provide hands-on experience in a commercial kitchen. The program will consist of six two-hour meetings over the course of two weeks. Volunteer chefs from the Fayetteville Restaurant Alliance will also work with the members of the cohort to develop their résumés and prepare them for interviews, and those who complete the program are guaranteed at least three interviews with local restaurants. A similar program, combining a library cafe with workforce development, is planned for Rhode Island's Providence Public Library.
THE BIGGER PICTURE
Offering hands-on experience is a useful way to redirect prospective applicants who find that a career is not the right fit for them, and to help job seekers gain the necessary exposure and confidence to move forward on a new trajectory. Both objectives are at the heart of a program originated by the Nevada State Library, Archives, and Public Records (NSLAPR) that uses virtual reality (VR) to help patrons literally see themselves in a new career.

STARTING FRESH

The New Start Entrepreneurship Incubator program offers a six-month business course to patrons who were formerly incarcerated at Gwinnett County Public Library (left), where graduate Kevin Moore (right) makes use of available resources. Photos courtesy of Gwinnett County Public Library
Taking advantage of an appropriation by the state legislature for emerging technologies in 2017, NSLAPR piloted a program using XR Libraries headsets in which public libraries partnered with high school science teachers to enhance STEM (science, technology, engineering, mathematics) instruction with virtual reality by helping students visualize abstract concepts in 3-D. Following the success of this pilot, the state library used funds allocated through the Library Services and Technology Act (LSTA) in 2019 to partner with instructors at the College of Southern Nevada, one of the state's 10 community colleges, to deploy VR technology to enhance learning resources for the Dialysis Patient Care Technician program. This stackable industry credential is attainable in 12 weeks and affords middle-income career opportunities for in-demand jobs in Nevada and other states. Tuition for the program is $7,900 for the fall semester.
Beyond using VR to strengthen enrolled students' understanding of the biological processes and tasks involved in administering dialysis, public libraries in Nevada can lend these headsets to patrons interested in exploring this career. After using the Nevada Career Explorer website, which includes self-assessments that help translate existing skills and experiences into new opportunities, users can take virtual field trips to shadow a day in the life of a dialysis technician and simulate job tasks in an immersive virtual environment.
Tammy Westergard, formerly deputy state librarian, is continuing to develop this program as the project coordinator for Project SANDI (Supporting and Advancing Nevada's Dislocated Individuals) in the Governor's Office of Economic Development. She emphasizes the importance of the partnership between community college academic libraries and public libraries in putting displaced workers on a path to new opportunities that align with the needs of local industries.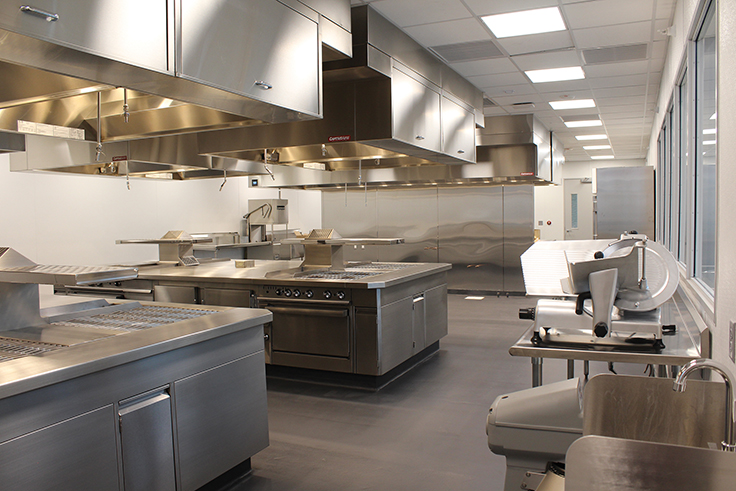 NEVER TOO MANY COOKS

Fayetteville Public Library's new state-of-the-art kitchen is ready to train future restaurant and hospitality workers in its Burning Through the Basics program. Photo courtesy of Fayetteville Public Library
"The virtual reality assets turn [career] exploration into precision navigation," Westergard says. "It can help somebody better understand what a job in STEM might look like, and it gives them confidence that they can actually learn it…. It is so powerful, and it has inspired people to believe that yes, they can take something like this on."
With Project SANDI grant funds, additional public library partnerships with community colleges throughout Nevada will continue to build career on-ramps within the healthcare field and into other fields such as manufacturing, skilled trades, and software development.
SKILL SETS
Partnerships are also central to workforce development efforts at the Cleveland Public Library (CPL). In addition to the library's traditional variety of resources for job seekers, such as guidance on writing résumés and cover letters, identifying grants and market analyses for entrepreneurs, and developing new skills through online certification courses, joining forces with the federally funded OhioMeansJobs (OMJ) initiative offers additional support, especially in the form of funded training opportunities for in-demand jobs in the fields of healthcare, manufacturing, and information technology, as well as financial assistance for other job needs such as drivers' licenses.
OMJ, in turn, relies on the library's community relationships and soft skills training, such as a recently developed certification in emotional intelligence. In addition to advising individual job seekers, CPL and OMJ have collaborated on job fairs and other outreach to local employers to help place Clevelanders looking for gainful employment.
"We weave our services together to really make it a good experience for the consumer," said Dr. Sadie Winlock, chief equity, education and engagement officer at CPL. "We are going to share resources, share expertise, and work together to benefit the community."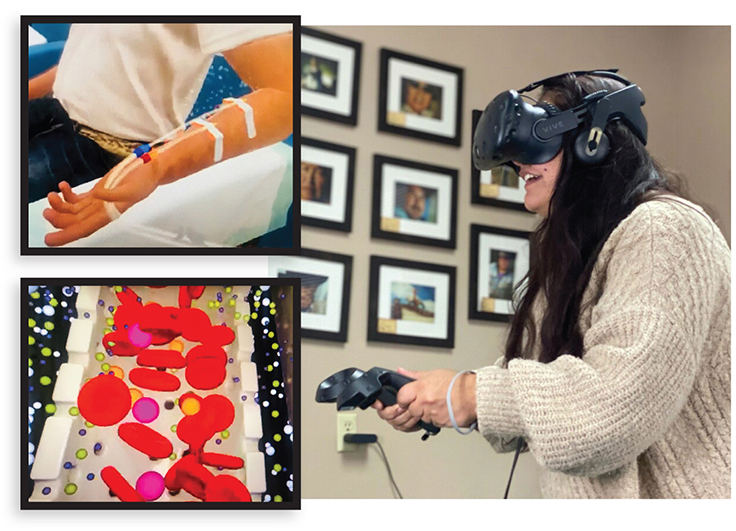 ENVISIONING OPPORTUNITIES

Student Natasha York looks at a possible careeer in the medical field via the Nevada State Library, Archives, and Public Records' program, which uses virtual reality to help patrons explore new options. Photos courtesy of Sandi Project, with permission from Lifeliqe
EXPLORATION FOR EMPLOYMENT
In addition to offering new programming and forging new partnerships, some libraries have also focused on restructuring the presentation of resources they offered prior to the pandemic, keeping in mind that users have new information needs. At the San Francisco Public Library (SFPL), the Business, Science, and Technology department created a new brand called Work It: Jobs, Business and Finance that encompasses the various job search and career exploration events and resources available.
Due to the deployment of many California library employees as Disaster Service Workers throughout the pandemic, Lia Hillman, fourth floor manager at SFPL, focused on setting up the infrastructure for virtual programs that her staff could take over once they returned to work. One example is a career exploration series called "Is This Right for Me?" in which experts in fields like project management and technical writing deliver presentations on the skills and interest areas needed to succeed. Other events focus on addressing timely job seeking concerns like interviewing on Zoom.
At King County Library System (KCLS), WA, the "Invest in Yourself" web page aggregates resources for recovering from financial loss, one-on-one job counseling, virtual events and workshops through the Your Next Job program, and recommended reading and databases. Curated information is also available to subscribers through the Invest in Yourself newsletter.
Users are linked from this page to information on the library's free certification programs, which allow users to develop and demonstrate their skills with computer programs like the Microsoft Office suite, Adobe InDesign and Photoshop, HTML and JavaScript, and Intuit QuickBooks. Patrons can also earn an Internet Core Competency Certification (IC3) or take a course on entrepreneurship and small business management. According to KCLS Public Relations Specialist Sarah Thomas, certifications have seen a 147 percent increase in enrollment since last spring, compared to the previous 14 months.
While KCLS certifications have been offered since 2015, moving completely online required cooperation from Certiport, the software vendor that administers the exams, which first enabled at-home testing in April 2020. Prior to the pandemic, certification courses were taught and tests administered in person. Though teaching may resume in-person or with a hybrid model, testing will remain available online at least through the end of this year.
As the specific employment needs of users evolve, from applying for unemployment and seeking CARES Act relief for small business to changing careers and building new skills, so too will the offerings from KCLS and other public libraries.
"We didn't have a fully equitable economy before the pandemic, and it's not likely to return to one right away," Thomas says. "But the library is always going to be here to offer assistance, support, and resources to people in need."
---
Elizabeth Kobert is a Processing Archivist at the Library of the Jewish Theological Seminary, New York.