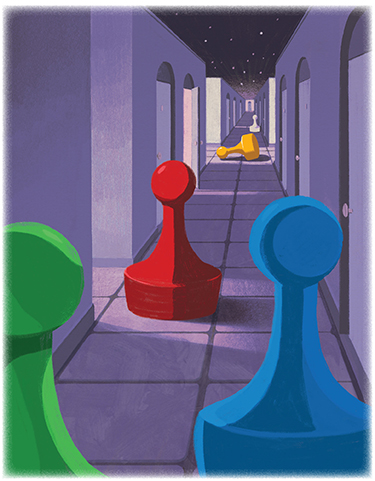 Illustration by Ryan Johnson
In our annual crime fiction preview, LJ explores trends and presents 74 forthcoming titles to add to the collection. Click here for a downloadable spreadsheet of titles.
---
The concept of crime fiction expands in 2023, embracing both hybrid blends and well-loved formulas. Cozies remain at the top of the suspect list, but paranormal titles are growing in popularity. Exemplifying the adage "write what you know," authors with professional experience in crime and justice are also on the case.
Last year's crime fiction preview singled out the types of mysteries that were the most popular and were seeing the greatest growth, while seeking what crime fiction readers were looking for—strong storytelling, deep characterization, and rich plots. In retrospect, it was a tidy list.
This year, readers are looking for similar experiences, but the breadth of crime fiction has expanded—or is that "exploded"?—with no end in sight. Looking for a Holmesian cozy, set on Jupiter and featuring a lesbian romance? That would be Malka Older's brilliant The Mimicking of Known Successes (Tor.com). How about a novel that's part historical, part psychological thriller, and part ghost story? Then check out The Ghost Illusion (Kensington) from Kat Martin.
There are cozies featuring older women who—gasp—jump into bed with strangers! Should we confiscate their cozy card? Then there are the traditional mysteries that have more than a dose of the paranormal (or paranormals with a dose of mystery, depending on where you're coming from). Other shifts in the genre include cases set in the near future and the locked-room concept expanding well beyond its traditional definition to include locked campuses, locked islands, locked pretty much anything.
It is not just this beloved scenario that is on the rise, according to Hector DeJean, Associate Director of Publicity at Minotaur: St. Martin's. "It's the golden-age mystery form—stories with clear protagonists and antagonists, a limited group of suspects, and a closed setting." He continues, "Movies like Glass Onion and books like those by Ruth Ware are spurring it on, but readers are hungrier for such stories because they offer comfort and reassurance in a time of disruption."
No doubt, but how will readers feel about an amateur murder investigation taking place on a weather station circling Jupiter? Or a protagonist who's able to solve crimes because of what they "see"?
Perhaps these mash-ups and genre blends are what many are looking for. It will be fascinating to see how the year unfolds, especially with new means of discovery for readers, such as TikTok, growing in popularity. Do crime fiction publishers see social media helping sales? Polis Publisher and Founder Jason Pinter says yes: "BookTok has spurred an absolutely massive—and massively influential—group of readers passionate about books and authors. Especially over the last few years, as people have been largely isolated, it's given readers a way to champion books and authors to [other] readers without the traditions or 'trappings' of book groups."
So pick up an extra-large coffee, silence your phone, and enjoy what authors and publishers have ahead from March to December. As Severn House's Senior Brand Manager Martin Brown puts it, "It seems like 2023 is the year for our authors to branch out and try new things."
"Q" for Quozy
Sometimes we wonder if the cozy—such a big subgenre with its own set of values—will eventually secede from the rest of the crime fiction world. Or maybe other mysteries will start incorporating coziness, with its focus on the human experience. That may already be happening. Traditionally, cozies were known for a litany of no's: no violence (at least onstage), no sex, no cursing. They offered instead small-town environments, lovable and funny protagonists with a great group of supporting characters, and a murder that's concerning but hardly trauma-inducing.
While this formula is not being upended, cozies are changing. With authors and readers increasingly tilting younger, that cute police sergeant may well end up staying overnight. LGBTQIA+ characters are popping up more frequently; sometimes they're the protagonists. On that note, "quozies" (queer + cozy reads, a term coined by novelist Rob Osler) are growing in popularity. Kensington has two books releasing under the quozy umbrella this year. Frank Anthony Polito's Rehearsed to Death features a couple in the Detroit suburbs who confront some deadly goings-on in their community theater, while Board to Death, a "Board Game Shop Mystery" by CJ Connor, features a gay older-millennial sleuth in Salt Lake City.

Other cozies highlight the seemingly endless range of settings and occupations for which the books are known. Fans could stay up all night discussing whether Colleen Cambridge's Mastering the Art of French Murder (Kensington) is a cozy or not. But it's a delight. Featuring Julia Child and her fictional best friend Tabitha, it tells a wonderful story lovingly set in post–World War II Paris. Other Kensington cozies include a debut launching a new series, Murder in an Italian Village by Michael Falco, set in a B&B in Positano, and another series launch, Murder Uncorked by Maddie Day, which takes place in California's wine country. One would expect some peace and quiet running a bookstore in North Carolina's Outer Banks. Not in Murder on Mustang Beach by Alicia Bessette (Berkley), where a killer is stirring up trouble.
In the latest investigation led by Queen Elizabeth II, S.J. Bennett's Murder Most Royal (Morrow), an aristocrat has gone missing near Sandringham House. This has been one of the very best of the newer series; it will be interesting to see what happens now that the real-life queen is dead.
Unusual for the 19th century, the two sisters in The Benevolent Society of Ill-Mannered Ladies by Alison Goodman (Berkley) have received sizable inheritances and live as women of independent means—and are thus able to protect women whose fates are not as fortunate. Valerie Wilson Wesley's A Shimmer of Red (Kensington) is a whole lot of cozy and a little bit paranormal. It features a multicultural cast starring Odessa Jones, a recent widow with a brand-new catering business, a full-time real-estate gig, and the gift of second sight. (See LJ's Q&A with Wesley on p. 17.)
Severn House has an armful of cozy series this year. T.C. LoTempio's Eat, Drink and Drop Dead features a food blogger; Michael Jecks's Portrait of a Murder has a young painter as amateur sleuth; and E.J. Copperman's Ukulele of Death is about a brother-sister duo who won't let a little thing like not being entirely human stop them from doing their jobs. For Sherlock Holmes fans, Jeri Westerson's The Isolated Séance stars two detectives mentored by the great man himself. Feeling a bit peckish? There's always Geri Krotow's The Kielbasa Killer, a culinary mystery set in the Polish community of Buffalo, NY.
Crooked Lane is launching a new series with A Cryptic Clue from veteran novelist Victoria Gilbert, featuring a retired 60-year-old librarian who takes up work as a private archivist. All goes well until a body shows up in the library, placing her boss under suspicion.

The Paranormal Expands
While the supportive elements of cozies please readers, so do the speculative elements of paranormal crime. Whether horror, ghosts, gothic, or paranormal—most publishers agree that these are hugely popular elements that readers look for.
"Some of our crime fiction writers have been reaching across genre lines and incorporating horror elements into their storytelling," says Soho's Associate Publisher and Soho Crime Editor Juliet Grames. "Readers are responding to [it] with excitement." One example Grames points to is Stuart Neville's Blood Like Mine, "a supernatural highway crime thriller about a mother and daughter on the run and the serial killers they leave in their wake."
"Most of the books we acquired this year…are either a paranormal mystery or at least suggestive of a paranormal mystery," says CamCat's Associate Editor and Acquisitions Manager Elana Gibson. "Beyond the paranormal, I think most of our mysteries and thrillers are genre-benders in some way." These include The Horoscope Writer by Ash Bishop, about a serial killer who uses astrology.
Kensington's Senior Communications Manager Michelle Addo sees "a huge uptick in the popularity of gothic fiction novels incorporating a thread of mystery…. The paranormal aspects of these novels often allow for the unencumbered exploration of much more serious issues." One such Kensington title is Shannon Morgan's Her Little Flowers, a modern ghost story set in England's Lake District where a solitary woman lives with a child's ghost—until their existence is dramatically interrupted.
"I think the horror/thriller subgenre is starting to explode," says Polis's Pinter. "There is a huge boom going on in horror, and I think some of the best ones do cross over into crime." Polis is publishing Killing It by Mike Bockoven, "a combination of horror/thriller/comedy [that's] perfect for fans of Shaun of the Dead," he says. After a night of killing it onstage, four comics find themselves in a desperate situation as the spirits of the past come out to play.
Other titles on the horizon include The Sight by Melanie Golding (Crooked Lane), with a woman who can predict anyone's death. What should she do when she has a vision of herself committing a murder? A woman is haunted by ghosts of the past—both literally and figuratively—in Karen White's The House on Prytania (Berkley), the second in the "Royal Street" series. In The Paleontologist by Luke Dumas (Atria), a scientist returns to the natural-history museum where his sister was abducted decades earlier and is faced with a murderous prehistoric spirit.

Leave It to the Professionals
The season ahead has many authors writing from their real-world experience. The big celebrity novel of the summer proves the point. In his crime fiction debut, Central Park West (Mysterious Pr.), former FBI Director James Comey's protagonist is an Assistant U.S. Attorney—a job Comey once held—who, faced with the murder of the governor of New York, turns his prosecutorial eye on the ex-wife. Michele Campbell has followed a similar trail. Also a former Assistant U.S. Attorney in New York, Campbell draws on her experience in The Intern (St. Martin's), featuring Maddy Rivera, a Harvard Law student (where Campbell went to school) who becomes enmeshed with a charismatic and dangerous professor.
Dwyer Murphy, author of last year's delicious Brooklyn noir An Honest Living, is back, and like Comey and Campbell, his protagonist is a lawyer. But Jack, the lead in The Stolen Coast (Viking), is not a government lawyer: he works for his father's business that fills the holiday homes of Onset, MA, with on-the-run fugitives. The publisher calls the title a "Casablanca-infused heist novel."
Also in the noir vein, this time crossed with wilderness survival, is Breakneck (Kensington), Marc Cameron's fifth Arliss Cutter title. Cameron was a Deputy U.S. Marshal for 30 years. That's the same job as his hero, who investigates a boat that's been abandoned off the Alaska coast with murdered bodies aboard. Paige Shelton and Emily Littlejohn fans, take note.
Former police officer Joe Kenda, whom readers may know from the TV series Homicide Hunter and American Detective and related nonfiction books, has penned his crime fiction debut, All Is Not Forgiven (Blackstone). It stars a detective, also called Joe Kenda, who works a murder case that draws the attention of the FBI, CIA, and Interpol.
Other examples of writing from professional experience include former police tip-line operator Vanessa Cuti's first novel, The Tip Line (Crooked Lane). The publisher calls it a "reimagining" of the Gilgo Beach murders, serial killings on New York's Long Island that were first reported in 2010. No Man's Ghost by Jason Powell (Agora) features two firsts: it's the New York City firefighter's first book, and it's the first week on the job for his main character, FDNY firefighter Charles Davids.

A.J. Chambers brings his time in the British Armed Forces to the character of Terry Nolan, an "off-the-books MI5 operative," in his debut novel, The Vicar (Blackstone). Nolan is in charge of "parishioners," agents who are investigating those funding the New Irish Republican Army.
Former CIA officer I.S. Berry's debut, The Peacock and the Sparrow (Atria), takes place in Bahrain during the Arab Spring and has jaded spy Shane Collins investigating a plot to overturn the Saudi monarchy while he pursues an unexpected romance. A CIA operative in her 50s takes the reins in former CIA undercover agent Cindy Dees's Second Shot (Kensington). Helen Warwick has targeted executions and black ops under her belt, but now she'd like to enjoy retirement and get to know the children she missed all those years. But a murderer dubbed the DaVinci Killer, as he turns murders into art, has other ideas.
Forensic scientists as detectives have long been popular, and Lisa Black's What Harms You (Kensington) capitalizes on that popularity as well as Black's expertise as a latent-print examiner who says she has "spent the happiest five years of [her] life in a morgue." Black's Dr. Ellie Carr and Dr. Rachel Davies pore over a case in which their colleague is found dead in a storage closet. The publisher is marketing this with a catchy question; "What happens when a serial killer goes to CSI school?"
Last in the "write what you know" category are journalists and booksellers with crime fiction titles coming out in 2023. In May, Severn House will publish Blow Up, the third in Ellen Crosby's Sophie Medina series. This time, Crosby, a former journalist for the Washington Post and other newspapers, has sleuthing photojournalist Medina on the case of a murdered Supreme Court justice.
Another journalist who's giving her expertise the fictional treatment is Sandie Jones, whose The Trade Off (Minotaur) takes readers into the seamy world of London tabloid journalism. Jones's The Other Woman was a Reese's Book Club pick, so this title can be book-talked to patrons who go by the Reese thumbs-up.
On the bookseller side is Alice Slater's debut, Death of a Bookseller (Scarlet), with a true crime–obsessed bookstore worker who gains a kindred spirit colleague and moves her obsession to that friendship. Mysterious Press's Publisher Charles Perry says the book "poses questions about the ethics of true crime and how we handle stories that don't belong to us."
A possibly more ethically minded crime fiction title is Charlie Donlea's Those Empty Eyes (Kensington). Each of Donlea's previous novels has touched on true crime, notes Kensington's Director of Communications Vida Engstrand, adding that his newest "illustrates far-reaching consequences of what happens when our fascination with true crime trumps the pursuit of justice, transforming victims into killers while allowing the real evil to slip away unnoticed."

Stepping Back in Time
Historical fiction mixed with crime is always popular. Among historical titles coming out in 2023, there's a trend toward 20th-century history, other than World Wars I and II, and books that take place early on in the century.
Nilima Rao's debut takes place in 1914, but not on the battlefield. In A Disappearance in Fiji (Soho Crime), Akal Singh has been banished to "this godforsaken island" because of a mistake. His promising policing career in India and Hong Kong seems to be over, but he hopes for a way back in if he can find a missing Indian indentured servant. Singh's been ordered not to take the case too seriously, his first hint of the reality of servants' lives and of British colonialism, which soon reveal themselves to be more brutal than he ever imagined.
Set after the Great War is Citizen Orlov (CamCat), Jonathan Payne's debut spy spoof that sees an unassuming fishmonger answer a call that's meant for a secret agent; next thing he knows, he's off to an unnamed Central European country to protect the king. Jazz-Age New York City is the setting for Broadway Butterfly (Thomas & Mercer), the fiction debut of memoirist Sara Divello (Where in the Om Am I), which depicts a world of debauchery that's disrupted when—to the scandal rags' delight—a rich flapper is found dead in her Manhattan apartment.
Joining the Big Apple's jazz scene is the goal of Clyde "the Viper" Morton when he leaves Alabama for Harlem in Jake Lamar's 1930s-set Viper's Dream (Crooked Lane). The reality is tough though—Viper becomes caught up in the area's drug trade, and his sad trajectory makes the book a likely recommendation for fans of Colson Whitehead's Harlem Shuffle.
Moving into mid-century, The Bell in the Fog (Forge), Lev AC Rosen's sequel to Lavender House, sees Andy Mills (who was fired from the San Francisco police after being caught in a gay-bar raid) investigating a missing-person case for a friend from his military days. It's on to the 1960s—civil rights–era rural South Carolina, to be exact—in Edgar Award nominee Caroline B. Cooney's The Wrong Good Deed (Poisoned Pen), starring a young wife who cannot run away from her past or the repercussions of her husband's and in-laws' racism.
Lauren Thoman's I'll Stop the World (Mindy's Book Studio) takes place in the 1980s and today, with the protagonist accidentally time-traveling from his 2020s teenage life to the same high school decades before—to solve a crime, of course. Back to the Future comes to mind, but this debut is more of a read-alike for T. Jefferson Parker's luminous A Thousand Steps. Speaking of Parker, he's back with something very different: The Rescue (Forge), in which a journalist covering a Tijuana animal shelter adopts Felix, a supposed street dog who turns out to be a former DEA drug sniffer with some interesting characters on his tail.

Near but Still the Future
On the other side of the time line are books set just a bit beyond our current age. "I'm seeing a lot of crime fiction submissions set in the very near future that take place over the backdrop of a world dealing with climate change, or partially set online in virtual reality," says Tor Editor Robert Davis. "I love the way near-future fiction explores the possible outcomes of our current decisions, while keeping the story grounded in the present and familiar to general readers of the genre." In Thomas Mullen's Blind Spots (Minotaur), everyone in the world went blind in a matter of months. Technology helped people adjust to the new normal, but what happens when someone finds a way to hack it and change what people see? In a near-future northern settlement, a handful of climate-change survivors find their fates intertwined in Camp Zero by Michelle Min Sterling (Atria). John Matherson must contend with new threats to the fragile civilization that he helped rebuild in William Forstchen's Five Years After (Forge). Not so far off (2030s) but very much the future is Mur Lafferty's Chaos Terminal (Berkley), speculative fiction with a solid dose of cozy. This follow-up to Station Eternity has reluctant amateur detective and space traveler Mallory trying to avert an intergalactic disaster.
Locked Room, Island, Campus
For decades, locked-room mysteries referred to plots where a corpse was discovered in a locked room, making it nearly impossible to determine the murderer. Today, locked-room thrillers often include any group of people brought together who become trapped in an environment—like a country estate in a winter storm—with a killer on the loose.
Forge's Executive Editor Kristin Sevick says, "I think the locked-room mystery has a wide appeal right now because first of all, the creators, the authors, just lived being in a locked room, and for readers, it's a very universal experience."
Darby Kane's The Engagement Party (Morrow) is a locked-island mystery that takes place over a weekend on an island off the coast of Maine. Sian Gilbert's debut, She Started It (Morrow), is a hot, twisty summer thriller about a group of young women whose Caribbean bachelorette party takes a sinister turn. Imagine waking up on a romantic cruise-ship vacation and discovering that you are completely alone—no passengers, no crew, nobody. That's what happens in The Last One by Will Dean (Atria/Emily Bestler). Carol Goodman's The Bones of the Story (Morrow) features a group of former classmates trapped on their college campus—with a murderer among them.
A trip to a luxurious French chateau by a group of women ends in murder and the revelation of decades-old secrets in The Chateau by Jaclyn Goldis (Atria/Emily Bestler), while in Alyssa Cole's One of Us Knows (Avon), a caretaker of a historic estate is trapped on an island with a murderer.
Justin Cronin, author of The Passage, has a new title, The Ferryman (Ballantine). It's about a group of survivors on a hidden island utopia where the truth isn't what it seems.
While it is true that students are free to walk to the mall, boarding schools are their own islands. The St. Ambrose School for Girls by Jessica Ward (S. & S.) brilliantly captures the repressive atmosphere of these institutions, overripe with secrets and lies that can turn deadly.

Crime in the Country
Also on the uptick are mysteries with rural settings. There Should Have Been Eight by Nalini Singh (Berkley) is set in the untamed wilderness of New Zealand's South Island, with its culturally diverse population and striking setting.
Peggy Townsend's The Beautiful and the Wild (Berkley) takes place amidst the thick forests and serrated mountains of Alaska, where Liv Russo is held hostage and will do anything to escape and save her child.
From Sara Flannery Murphy, author of Girl One, there's The Wonder State (MCD), where a group of friends are obsessed with finding a strange power that lurks in the Arkansas Ozarks.
The state of at least 10,000 lakes, Minnesota, is having a moment in rural noir. The River We Remember by William Kent Krueger (Atria) takes place in 1958 and recounts the suspicious death of a wealthy farmer, reshaping the lives of the town's sheriff and a sensitive young boy in heartbreaking, unexpected ways.
Amy Suiter Clarke's Lay Your Body Down (Morrow) features a young woman who returns to her rural Minnesota hometown, where a radical evangelical pastor has poisoned everyone's minds—and may be covering up a murder. In Where the Dead Sleep (Poisoned Pen), Joshua Moehling's encore to And There He Kept Her, Acting Deputy Sheriff Ben Packard, a gay man in rural Minnesota, tries to crack the murder of a man with more enemies than friends.
The Whole Truth?
True crime has had a lengthy moment, but its impact on crime fiction is rather nuanced. Grace Doyle, Associate Publisher at Amazon, notes, "The true-crime stories readers most gravitate to have the hallmarks of fantastic crime fiction…while often exploring universal themes via a deeply personal narrative." Mysterious Press's Perry says, "Mystery fans, especially those new to the genre, are looking for less realistic, less gritty books—perhaps because they know they can get the realism from true crime."
Making it even more real are several novels featuring true-life events and people. In The Siberia Job (Mysterious Pr.), Josh Haven tells the truth-is-stranger-than-fiction tale of John Kleinheinz, an American who risked all to buy into Russia's largest oil company. Katharine Beutner's Killingly (Soho Crime) is based on an unsolved, freezing-cold crime, the 1897 disappearance of Mount Holyoke student Bertha Mellish. Kat Martin is known for her romantic suspense novels, but The Ghost Illusion (Kensington) goes in a different direction and is another intriguing genre blend. Martin depicts a present-day English psychologist who becomes fascinated with the horrifying real-life Victoria Hall disaster of 1883, in which 183 children were crushed to death in a theater.

Thrillers Widen Their Range
Underscoring the point that the breadth of crime fiction has expanded is the range of thrillers that readers can look forward to this year. Just the highlights are dizzying. Ruth Ware is back with Zero Days (Gallery/Scout), a stand-alone in which Jack and her husband, Gabe, are "penetration specialists" hired by companies to try to break into their buildings and hack their security systems. Then a job goes wrong, Gabe is murdered, and No. 1 suspect (fans know it's always the spouse) Jack goes on the run while desperately hunting for the real killer.
Last year, Don Winslow's City on Fire stormed best-seller lists. City of Dreams (Morrow), the second in the author's New England mob trilogy, has protagonist Danny Ryan starting a new life in California, but the deadly pressures he faced in Providence aren't so easily cast aside.
Vanessa Walters's debut The Nigerwife (Atria) sees a young woman go missing in Lagos, Nigeria. Her estranged Auntie Claudine travels to Nigeria to find her, and there discovers that her niece's life wasn't all it was cracked up to be. Shadow Drive (Blackstone) is Nolan Cubero's debut, but with award-winning films under his belt, he's hardly new to storytelling. It promises to echo Andre Dubus III's House of Sand and Fog in its portrayal of a man being destroyed by the home he loves—and a fraudulent tenant.
Homeownership is also lethal on Alton Road, the setting of Jamie Day's debut, The Block Party (St. Martin's). The women of the suburban-Boston Fox family—former lawyer, now full-time drinker Alex, and her all-in-black, climate-obsessed daughter Lettie—get embroiled in local drama that turns to killing on the night of the annual block party. A book to get for anyone who's ever considered signing up for Nextdoor.
Neighborhood drama also seeps off the pages of Sally Hepworth's The Soulmate (St. Martin's), but this time it's in Gabe and Pippa Gerard's new cliffside cottage on the coast of Melbourne, Australia. Gabe quickly becomes a local hero, saving those attempting suicide at "the Spot," the cliffs where they're drawn to their sad plan. But when he fails to save one person and starts behaving strangely, Pippa must find out if everything she thought she knew about Gabe and their perfect life was a lie.
In B.A. Paris's The Guest (St. Martin's), a cyclist falls to his death in a quarry. Local man Gabriel hears the young man's last words, a bad enough episode, but things turn worse when Gabriel and his wife, Iris, welcome friends to their cottage for a holiday and then one of them won't leave. Clearly, the locked-room trend is creeping into all corners of crime fiction, including housing.

Blood Sisters by Vanessa Lillie (Berkley) features a Cherokee archaeologist for the Bureau of Indian Affairs who is called back to rural Oklahoma to investigate the disappearance of two women, one of them her sister. In Kiersten White's dark supernatural thriller Mister Magic (Del Rey), former child stars reunite to uncover the tragedy that ended their show—and discover the secret of its enigmatic host. In A Killer in the Family by Gytha Lodge (Random), a woman uploads her DNA online, searching for her father—but the person who contacts her is a detective. Why? Her DNA is a match for a serial killer.
A number of debuts are also widening the scope. Nick Medina's Sisters of the Lost Nation (Berkley) is a thriller set on a reservation in Louisiana that merges ancient tribal folklore and the real epidemic of missing and murdered Indigenous women and girls. In Disha Bose's Dirty Laundry (Ballantine), a clique of mothers shatters when one of their own is murdered, bringing chaos to their oh-so-curated lives. Lina Chern's Play the Fool (Bantam) is a clever whodunit about a cynical tarot-card reader who attempts to uncover the truth about her friend's mysterious death. With echoes of Jane Austen, Knives Out, Agatha Christie, and Bridgerton, Julia Seales's A Most Agreeable Murder (Random) features a young lady who assumes the role of detective to learn why a wealthy bachelor drops dead at a ball; it's action-packed.
Be it a story that charms more than it confounds; a case set in the past, present, or near future; or a puzzler that seems rather impossible to have occurred at all, crime fiction is proving it can more than survive an onslaught of changes. The genre continues to flourish—on faraway moons, in locked rooms, and down country roads. As 2023 unfolds, librarians have a wellspring of titles to add to the collection and share with a reader base that is ready and waiting to show up and sleuth out.
---
Brian Kenney and Henrietta Verma are cofounders and coauthors of firstCLUE (firstcluereviews.com), a free weekly newsletter that reviews mysteries and thrillers as far in advance of publication as possible. Librarian and editor Kenney has worked with publications including LJ, SLJ, and Publishers Weekly and is the director of the White Plains Public Library (NY). Verma, formerly LJ's Reviews Editor, is a librarian and the author of How To Get Your Book into Libraries and Reviews Are In.