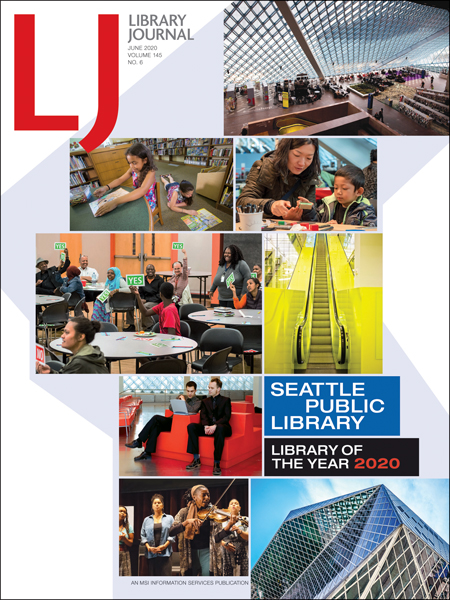 Top row photo by Frisk Photography; second row and third row left photos courtesy of The Seattle Public Library; all other photos by Getty Images. All photos are pre-pandemic
In the nearly 130 years since The Seattle Public Library (SPL) first opened as a reading room, the library has expanded to 26 locations, plus mobile services and its award-winning Central Library, with state-of-the-art programs—thanks largely to the support of Seattle's voters.
That support goes both ways. In recent years, SPL has turned its attention outward, actively listening to community needs and transforming its work to make equity a top priority, earning it the 2020 Gale/LJ Library of the Year award.
When Executive Director and Chief Librarian Marcellus Turner arrived in 2011, he inherited from previous director Susan Hildreth a well-run library with a strong reputation and, he says, "a fabulous public, in love with The Seattle Public Library." Along with those assets came some fallout from the 2008 financial downturn; Hildreth had steered SPL admirably through the most difficult years, but the system was operating with reduced collections, and fewer staff members and open hours than it had before the recession.
One of the first orders of the day was to pass a $123 million, seven-year levy on the 2012 ballot. The measure was already in the planning stages when Turner took the helm, and he added surveys and community conversations. The people came back with a clear message: They wanted increased collections, hours, and technology, plus well-maintained facilities. "We knew what mattered most to our public," says Turner, "and we built a program of service on that." The levy passed by nearly 62 percent.
As the library started to rebuild, Turner took his cue from the comments he'd heard and began to think about how he could move toward a more external focus—"being able to go out into the community and talk about this work that we were doing" and making those exchanges a priority. He instituted three Community Conversations each year at libraries across the city, often in cooperation with local organizations, where residents can discuss issues of youth and family learning, technology and access, Seattle culture and history, and paths the library might take going forward.
AN EQUITY LENS
Internal conversations also drove changes. Staff were coming to Turner with concerns about equity within the library. SPL had been part of Seattle's Race and Social Justice Initiative (RSJI) since it launched in 2004, but the library's active involvement had fallen off over the years. In 2013 Turner rebooted the RSJI in the library, initiating trainings for staff and the board of trustees. Two years later SPL explicitly identified "Race and Social Justice" as part of its strategic plan, and formed an in-house RSJI Change Team. With support from the Seattle Office of Civil Rights, the team provides staff members with the tools they need to advance projects that ensure more equitable programs and services.
The cross-departmental team has a rotating membership, appointed with an eye toward diversity—though, Turner says, "it's really paramount that [the work] can't be just on the backs of the minority staff." Instead, the team comprises a mix of races and ethnicities, sexual orientations, religions, and job classifications, including members of the marketing, facilities, and security departments, as well as high schoolers who shelve books after hours a couple of times a week.
For the first few years, library leadership helped the Change Team determine the work and trainings staff might need. In the past couple of years, however, Turner has shifted that approach around; he now asks the team to identify opportunities, and then support the department or committee that needs to implement those changes.
"If recruiting needs to be spruced up, they help us think about how to do our work," says Turner. "If there is something challenging about security, or some of our rules of conduct, they sit with us on those committees." The Change Team offers programs at SPL's All Staff Day, and has been instrumental in helping the board craft policy.
At the beginning of 2018, SPL formally adopted RSJI across the system. The board committed its support to the library in advancing RSJI goals, including calling out institutional racism, acknowledging barriers to equity that need to be eliminated, and ensuring equitable access to skills training and employment opportunities for staff and the public.
"Equity and inclusion is not a program or a policy," says Board President Jay Reich. "It's got to be embedded in the DNA of the organization, and be part of the culture. That includes everybody from security to online librarians and staff." That commitment is reinforced by the SPL foundation, Reich adds, "a major contributor to our budget and part of our culture."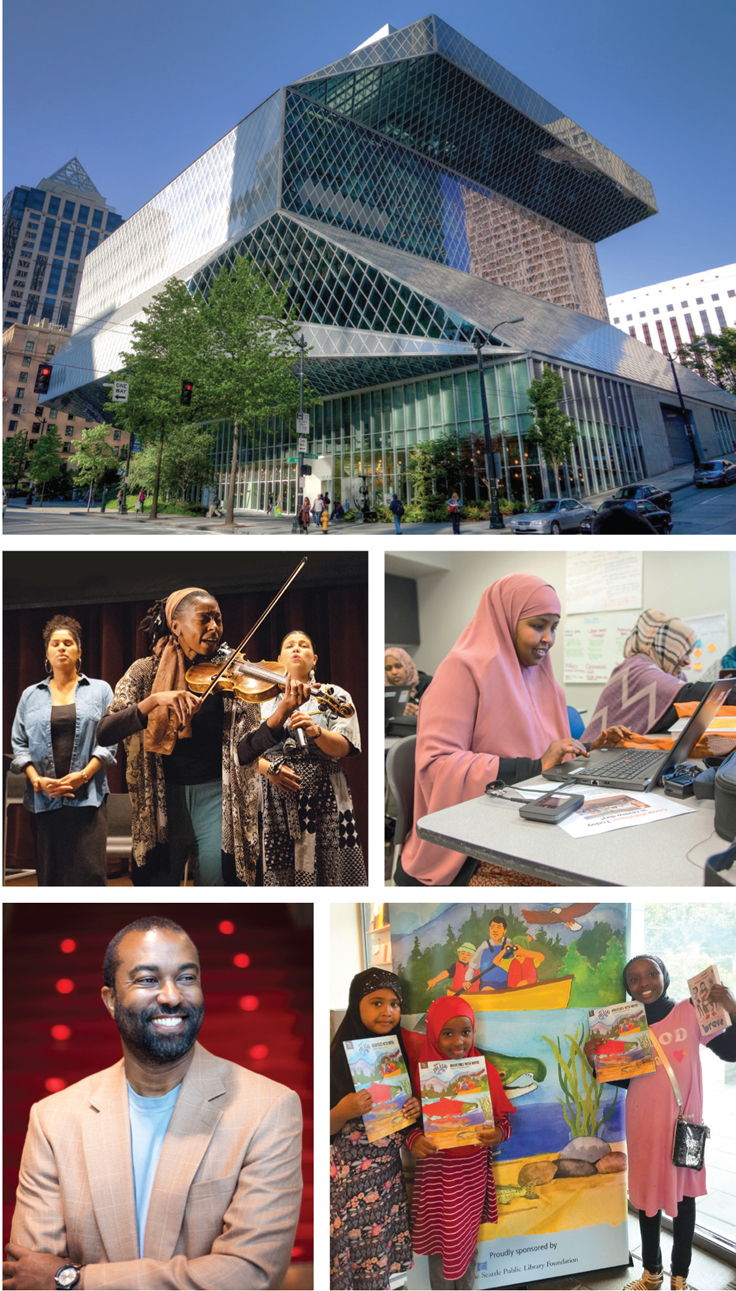 EVERYONE'S INCLUDED Top: Seattle's eye-catching Rem Koolhaas–designed Central Library; Middle, l.-r.: musicians performing in the Central Library's Microsoft Auditorium; Digital literacy classes co-created with Seattle's Somali community; Bottom row, l.-r.: Executive Director and Chief Librarian Marcellus Turner; Showing off the Summer of Learning activity booklets local youth helped design. Top photo by Frisk Photography; all other photos courtesy of The Seattle Public Library. All photos are pre-pandemic
TOOLS FOR CHANGE
The library uses the RSJI Racial Equity Toolkit—a simple, step-by-step worksheet designed to help guide city agencies through development, implementation, and evaluation of policies, initiatives, programs, and budget plans through a racial equity lens. "The toolkit helps you identify areas that you need to investigate, weaknesses, things that you need to think about," explains Turner.
The library has used it to refine recruitment policies, program development, internal staff communication practices, community engagement—even website design. One of SPL's first applications of the toolkit was for its Summer of Learning programming.
In 2012 SPL rebranded its summer reading program "Summer of Learning" to reflect its new STEAM (science, technology, engineering, arts, and mathematics) focus. But while the program evolved, the population served remained static. As staff began gathering data on the program's equity impacts, they discovered that most of the book prizes were being given out in high-income neighborhoods.
With the help of the toolkit, program managers were able to make small tweaks that greatly enlarged Summer of Learning's reach. At least half of prize books are now given to prioritized audiences in underserved neighborhoods—in 2018 that number rose to 78 percent—and Summer of Learning staff can be found in farmers markets, family shelters, summer meal sites, and malls. Cumulatively, even small changes, such as bringing in local artists to design activity books with input from neighborhood children, have made a big difference.
Whether it's a new project that the library wants to test, or an established service such as SPL's bookmobile, which was rerouted to serve preschools in lower-income neighborhoods, "the toolkit helps you think through," says Turner. "Did you engage with this community, did you think about this, did you reach out through this avenue?"
ASKING THE COMMUNITY TO LEAD
The library has also begun asking its community to take the lead. Community engagement was one service priority Turner identified when he first joined the library, and he wanted it to be different from the ways libraries often worked with their constituents.
"We were going out and showing people what we could do, as opposed to asking them what they could do," says Turner. "One of the things that we chose to do is to flip that, and go out and identify communities to help us do this work. It meant looking at our programming to make sure that we were including more women and minority business owners. We really wanted to listen to the community and build a program or service based off of the need expressed."
SPL's Community Engagement Services division completed a multiyear strategy for improving the library's connection with the people it serves. "The Seattle Public Library listens, reflects, and makes changes every year by authentically engaging communities," says Seattle Housing Authority Executive Director Andrew Lofton. Sometimes these needs are complex; in other instances they can be as simple as making meeting rooms available.
In 2015–16, library staff conducted a series of conversations, focus groups, and surveys with people experiencing homelessness, those the library calls "daily readers." Based on their feedback, the staff made temporary "new borrower" cards available for patrons who can't provide proof of residence. SPL partnered with the Downtown Emergency Service Center to bring an in-house social worker to the Central Library and two branches, taking the pressure off of library staff, says Turner. Whether connecting patrons with a city mission bed, meal, or medical services, "they can do so much more than we're able to, and that has been really helpful." In 2019, the social workers engaged with more than 750 people, and made more than 900 referrals.
SPL's Public Engagement Manager, C. Davida Ingram, brings deep community connections to the role—an artist, she'd also worked for the Seattle Art Museum and the Bill & Melinda Gates Foundation. She has strengthened relations with many sectors of the city's arts community, particularly Seattle Arts and Culture. Ingram is also one of the staff members behind Legendary Children, an annual celebration of art, dance, music, and performance by queer and transgender artists based on ballroom culture, put on at the Seattle Art Museum and aimed at LGBTQ communities of color.
In 2019, the library worked with the Clear Sky Native Youth Council, a group of young people making a case for the designation of a Native landmark in Seattle's Licton Springs. With help from staff and partners such as the Urban Native Education Alliance, youth leaders learned how to conduct interviews, do primary research, create community portraits, and draft a social media campaign that reached 40,000 people. The resulting video, "Saving Licton Springs," was screened in an October 2019 event, and that month Seattle approved the official landmark.
"I am incredibly proud of The Seattle Public Library's role in helping level the playing field for underserved populations," says Seattle City Councilmember Debora Juarez—"giving everyone the opportunity to learn and excel."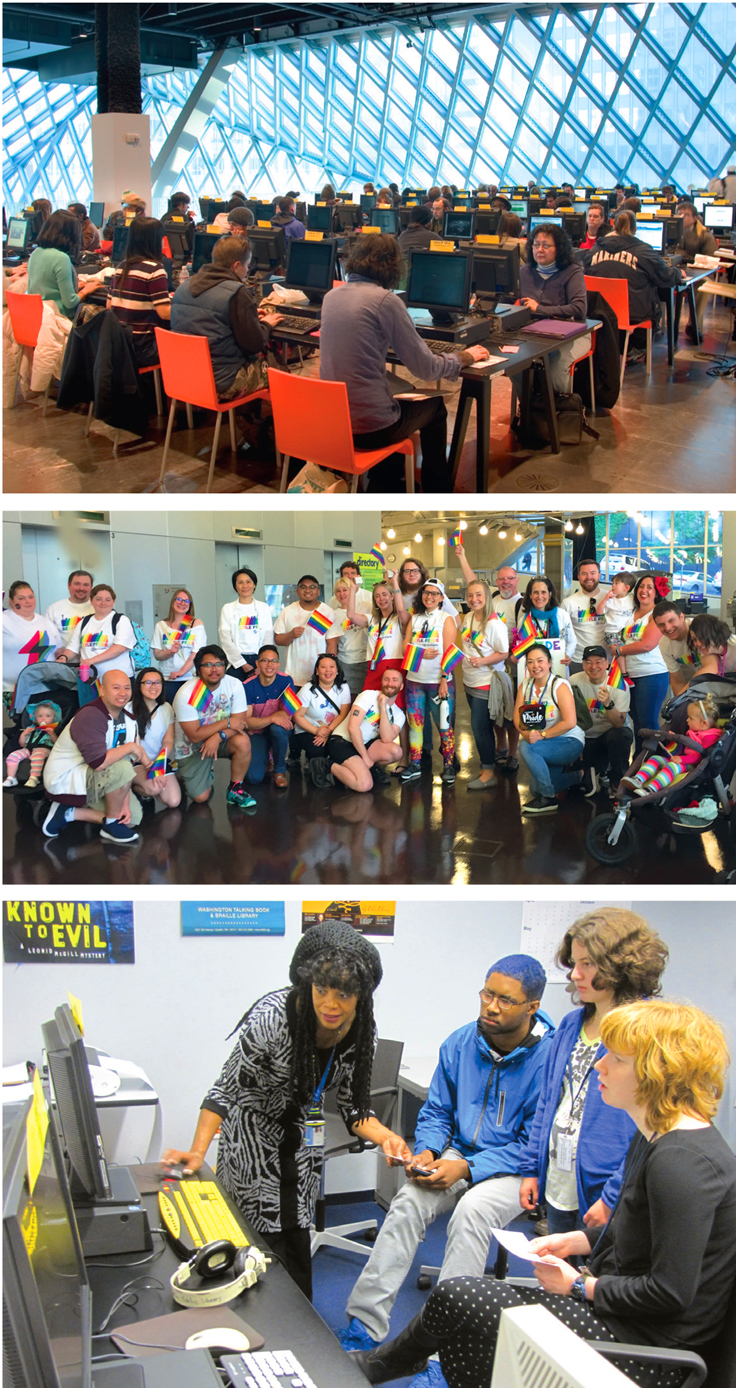 ALL TOGETHER NOW

Top: Public computers in the Central Library's Mixing Chamber. Middle: Staff members gathering to march in Seattle's annual Pride parade.Bottom: SPL's Library Equal Access Program (LEAP) Lab coordinates accessible programs, services, and assistive resources. Photos courtesy of The Seattle Public Library. All photos are pre-pandemic
COMPUTER SKILLS AND COUNTING BOOKS
SPL's involvement with Seattle's Somali community began with a suggestion from Ayan Adem, a Somali American librarian. While investigating how to bring more Somali women to library programs, she discovered that many of them lacked computer skills but weren't attending the classes SPL offered.
In 2014, in partnership with a local university, Seattle's Somali Family Safety Task Force, and the Seattle Housing Authority, Adem developed a 10-week digital literacy series for Somali women that could take place where they lived. With Somali-speaking instructors and laptops provided by SPL, the women learned basic computer and internet skills, as well as how to navigate the Seattle Public Schools' website and parent portal.
But the library's outreach didn't stop there. When residents expressed dismay at the gap between the size of their community and the number of Somali-language children's books available, Informal Learning Program Manager Amy Twito worked with the task force, Seattle Public Schools, and local Somali families to create new ones—an alphabet book and a counting book—with funding from the SPL Foundation, Gates Foundation, Seattle Housing Authority, and the Seattle Office of Arts and Culture.
HARD CONVERSATIONS
SPL's work to engage deeply with a diverse constituency has been rewarding, but not always simple. "We have made a few missteps," notes Turner, "and in some instances they have been conduits to help us bridge or reconnect with these communities."
In 2017, a transgender patron was denied access to a family restroom in the Central Library's Children's Center because library policy forbade its use by adults without children. The patron filed a complaint with the city's Office of Civil Rights and took their criticism public on social media, and the incident was covered in the local press.
"This issue became a public concern for the trans community, and for the LGBTQ community," recalls Turner. "We had some staff members, members of our LGBTQ community, who were able to identify people and agencies that we needed to speak with. They helped broker some of the conversations that we needed to have."
Led by the RSJI Change Team, SPL reached out to the transgender community. Turner apologized publicly, and the library reworked its policy to designate multiuser family restrooms as single-occupant facilities, accessible to all. An area of the Central Library was also remodeled to provide an additional gender-neutral restroom.
The Seattle community took SPL to task again in 2018, when a journalist for a local blog alleged that people of color, particularly youth, were disproportionately being given "exclusion" notices for disruptive behavior, eating at computer terminals, or other policy infringements. The blog post, and the conversations that followed—inside the library and in the community—propelled the library to examine and revise its Rules of Conduct, which had not been updated for 10 years.
VOTE OF CONFIDENCE
In 2019, SPL took another hard look at where it could break down barriers for those who needed library access most. Demographic maps showed what many other libraries across the country were also realizing: Areas incurring the most overdue fines overlapped with the most economically challenged. Library leadership and the board of trustees agreed, it was time to eliminate fines. But that decision came with a price tag—the loss of $1 million in revenue per year.
At the same time, the library was ramping up advocacy for its upcoming levy renewal. The 2012 levy helped SPL rebound after the recession. During the next nine years, however, the Seattle population grew by 100,000, technology became more sophisticated, and the community's needs changed—as did the library's funding needs. While the city's General Fund provided much of the library's budget, the levy accounted for one-quarter of its annual budget, and in 2019 the library needed to convince voters to renew it.
In its "Libraries for All" levy renewal proposal, SPL was able to align its values and commitment to equity—as well as data supporting the need to get rid of fines—with a proposed $219.1 million tax levy over the next seven years, clearly demonstrating its value. In August 2019, the levy was approved by an unprecedented 76 percent of voters. The library eliminated fines this January, and 51,000 patrons were free to check out materials again.
"The people of Seattle care about equity, and they support it with their tax dollars," notes Reich. "The 76 percent vote was a vote of confidence in Marcellus and the library." That confidence was earned, he adds. "If we hadn't delivered on the last levy promises, they wouldn't have voted for it."
Turner gives much credit to his board, Friends of the Library, and the SPL foundation, which supports library programming through an annual $4 million grant.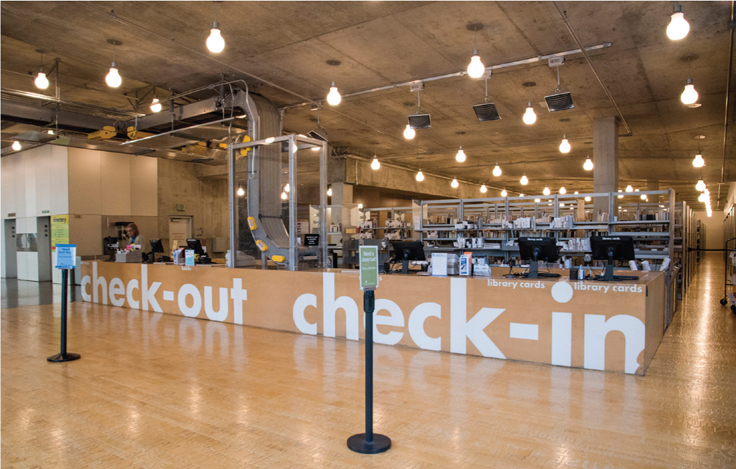 WALKING ON WORDS

The Literacy/ESL/World Languages Collection's wood floor, designed by artist Ann Hamilton, features typeset first lines from 1,543 books. Photo courtesy of The Seattle Public Library
TAKING IT ON THE ROAD
Turner has brought what he and the SPL have learned to a wider audience. At the 2018 Public Library Association (PLA) conference in Philadelphia, SPL copartnered on two programs about its Summer of Learning and Somali Task Force. Both had large turnouts and engendered so many questions that Turner decided to broaden the conversation.
When the American Library Association (ALA) Midwinter conference came to Seattle in 2019, Turner set up an Equity at the Library workshop for directors at the Main Library before the conference started; 70 leaders attended.
The workshop highlighted a range of SPL's community programs, "but we also talked about the work we do to get to this approach," says Turner. "Some people who were in attendance asked us to come visit." He took Equity at the Library to Kent District Library in Michigan, and to Gale Cengage headquarters. At the 2020 Public Library Association conference in Nashville, the library brought representatives from its foundation to spotlight their roles communicating with stakeholders about how the library's work was changing. That presentation was one of SPL's best, says Turner, "because it wasn't just the library doing what it does. We moved through how the foundation works with us, how we train staff on community engagement, and...how we budget for it."
FUTURE READY?
Turner has also spoken extensively about what he calls"FUTURE-READYing Your Library"—looking at trends, innovations, consumer expectations, and social forces that will impact the library over the next decade. But for all those well-thought-out projections, he admits that COVID-19 is one future that no one saw coming.
When the pandemic hit Washington State in March, "We had 36 hours to shut the system down, with the thought that staff would be able to come back in and work in the subsequent weeks," recalls Turner. When that turned out to be untrue, staff scrambled to get the system set up for all-remote and all-digital work, looking at programs and services to see which could transition to an online environment. Due dates were extended, and Wi-Fi hot spots were not turned off when their borrowing period expired, notes Turner. The library continues to lend e-resources, and its chat and book recommendation services are going strong.
As he thinks about eventually reopening the library, the first step is to get rid of preconceived ideas about what "returning to normal" will look like, says Turner. Many services may continue to be offered online—both for functional reasons and because many will have become accustomed to digital services, and enjoy the convenience. And many members of the public and staff will not feel good about walking into a public building for months to come. "We can plan all we want to," he says, "but people are going to come back when they feel comfortable—and we've got to do a lot to make them comfortable."
But as LJ's Library of the Year award confirms, SPL is good at figuring out what to do. Summing up the library's philosophy, Turner says: "Tell us about you. Tell us what you want. Tell us what you need." —Lisa Peet
---
LIBRARY OF THE YEAR 2020 SPECIAL MENTIONS

ANYTHINK
PAM SANDLIAN-SMITH
l
DIRECTOR
Anythink, Adams County, CO, has been famous in the field for its innovative, customer-centric approach since it rebranded in 2009. Now it's taken that to the next level. A 2017 listening journey of roundtables of residents, entrepreneurs, service providers, families, and community groups led to a strategic focus on Anythink as Town Square, in which the library convenes community members.
Interaction-focused initiatives include This Is Who We Are, partnering community members with local artists to represent the fabric of the community; Community Voices: Breaking Bread, bonding over literal bread from various cultures; and the Kitchen Table, a space designed by Anythink staff to inspire conversations about personal narratives, recorded and released as a podcast. Civic participation focus includes Civic Saturdays, exploring topics through music, readings, and small group discussions; What Every American Should Know and Better Arguments, bridging divides to counter polarization; and more.
While the Town Square 2020 initiative, planning civic programming at all seven branches, has been delayed due to the pandemic, Anythink rolled with the punches, launching Anythink Everywhere. The remote service hub features weekly live story times; videos for preschoolers, teens, and adults; the Anythink Connect Line, a dial-in live line for patrons to speak with staff about books, music, movies, library resources, etc.; outbound check-in calls to elders; and more. In any forum, Anythink leads in connecting its community. As judge Skye Patrick sums up, "Many of us look to Pam and Anythink for library innovation. Just an exceptional transformation this library has made." —Meredith Schwartz
Left photo by Jermaine Amado; right photoby Kent Meireis
---

SAN ANTONIO PUBLIC LIBRARY
RAMIRO SALAZAR

l

DIRECTOR

San Antonio Public Library (SAPL) uses data to tailor and deliver its offerings to those who need them most. That permeates every initiative the library launches, from staffing the city's Migrant Resource Center to going fine-free for youth materials to measuring the local digital divide. One example is Learn at SAPL, a self-paced, instructional program for adult basic education. Individuals study four areas: computer basics, social media, finding and applying for jobs, and professional skills. So far, 95 individuals have participated and 45 received their completion certificate. Another, at the Children's Hospital of San Antonio, provides a kiosk with access to SAPL's entire Digital Collection to patients and their family members, who are often not locals, through a special card that doesn't require residency or personal information that would compromise HIPAA protection. It's served more than 150 so far.

The library is assessing its own staffing as well as the community's needs, using the OrangeBoy customer insight service to better understand its patron base, and created an Idea Incubator to share ideas within the organization, implement system-wide change, and empower employees to develop and implement their inspirations. So far, 20 ideas have been submitted; all are in varying stages of implementation, including a gaming and eSports initiative, palm cards in restrooms for patrons in abusive relationships, and adding comic books to the digital collection. The Operation Transformation process improvement tool and Re-visionaries workgroup—headed by LJ 2020 Mover & Shaker Haley K. Holmes—also levels up the organizational culture, including an all-staff conference, increased face time with library leaders, and more.

While COVID-19 put a temporary damper on the library's many programs and signature events such as the Lowbrary Lowrider Show, during closure SAPL offers free Wi-Fi outside 28 of its locations, free online tutoring, job opportunities and job-hunting tips, and a 90-day digital library card. —Meredith Schwartz
Left photo by Fred Gonzales; right photo courtesy of the City of San Antonio
---
LIBRARY OF THE YEAR 2020 JUDGES
LJ thanks the following individuals who volunteered their valuable time to help select the 2020 Library of the Year:
LAUREN COMITO l Neighborhood Library Supervisor, Leonard Library, Brooklyn Public Library; Cofounder, Urban Librarians Unite; LJ 2020 Librarian of the Year
LOIDA GARCIA-FEBO l Library Consultant; Immediate Past President, American Library Association
SKYE PATRICK l Director, LA County Library, 2019 Gale/LJ Library of the Year; 2019 LJ Librarian of the Year
BRIAN RISSE l VP–Public Library, Wholesale, & Large Print Sales, Gale Cengage Learning
CHRISTIAN ZABRISKIE l Executive Director, Onondaga County Public Libraries, NY; Cofounder, Urban Librarians Unite; LJ 2020 Librarian of the Year
MONIQUE LECONGE ZIESENHENNE l Assistant City Manager, Palo Alto, CA; Immediate Past President, Public Library Association
The panel also includes LJ's MATT ENIS, LISA PEET, and MEREDITH SCHWARTZ
LJ editor panelists select up to six finalists from among the total pool of entries and invite external judges to participate, including one representative from Gale Cengage Learning, the award's sponsor; the judges each choose their first-, second-, and third-place candidates from that field and convey their vote to the coordinating LJ editor. Each vote is assigned a corresponding point value, and each vote is given equal weight. The cumulative totals determine each year's award winner and honorable mentions; any ties are broken by LJ editors.