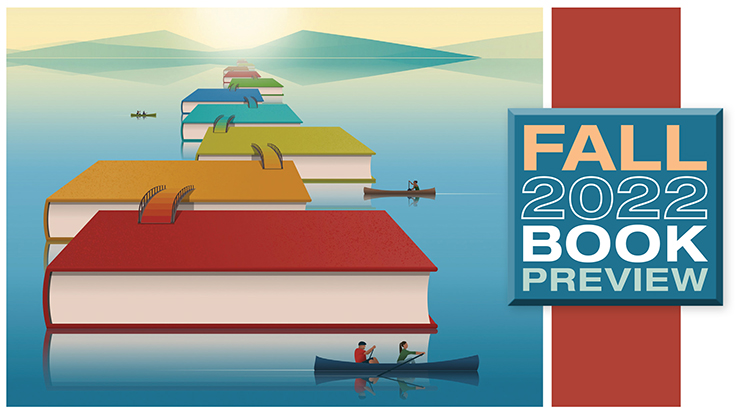 The fall book season reflects the times—war, climate change, disease, social upheaval—lending a decidedly wistful tinge to the offerings. The last few years have seen people looking inward in a deeper, more personal way, while they also look outward, striving to change the social landscape. To this end, readers can anticipate a new crop of great novels for curling up with and cookbooks to tempt them back into the warmth of the kitchen, but there are also books that make readers question notions of home and where they fit in the world. Conversations about race, past injustices, and a better future continue to be explored in this season's titles, pushing ever onward for better understanding and vital change. Reflecting the need for a different approach, but also the desire for the comfort of familiarity, retold stories take center stage, offering new insight to help readers look at themselves with fresh eyes and at the stories with a deeper understanding. Lastly, offering both solace and challenge, there are volumes of poetry and songs to sustain readers as they navigate the future. A downloadable listing of these books, and many more books for fall, is available here.
Illustration by Simon Marchner, represented by Meiklejohn.co.uk
---

CONVERSATIONS CONTINUE
In The Third Reconstruction: America's Struggle for Racial Justice in the Twenty-First Century (Basic, Sept.), historian Peniel E. Joseph makes the argument that recent events are as important to the struggle for equal treatment as the first Reconstruction after the Civil War and the Civil Rights movement. The author defines this period as beginning with the presidential election of Barack Obama, continuing with the Black Lives Matter movement, and going through the U.S. Capitol insurrection on January 6, 2021. Joseph maintains that this time, however, there is true hope for equality and dignity for Black people. One cannot look forward without looking back, and in By Hands Now Known: Jim Crow's Legal Executioners (Norton, Sept.) author and historian Margaret Burnham takes a hard look at the period from 1920 to 1960, when the legal system normalized a racial hierarchy and furthered the political and social agenda of racial inequality. Burnham's meticulous research shows the long history of state-sanctioned racial violence.
Bastian Berbner has spent the last few years examining how people can overcome systemic prejudice and become better versions of themselves; the result is In Search of Common Ground: Inspiring True Stories of Overcoming Hate in a Divided World (The Experiment, Oct.). Citing specific stories of unlikely bedfellows, the author takes a global look at the power of empathy and how it can help people heal and move forward. Change is disruptive, and disruption can be exhausting. Rest Is Resistance: A Manifesto (Little, Brown Spark, Oct.) by Tricia Hersey discusses how rest, naps, and daydreaming help readers strengthen their fight against white supremacy. She contends that by not being a part of grind culture but making rest a divine human right, people can secure a foundation for equality and peace. Exemplifying the power of thinking and seeing anew, in Black Hollywood: Reimagining Iconic Movie Moments (Ebony Magazine Publishing, Oct.) photographer Carell Augustus asks readers to reimagine a Hollywood where Black actors were as valued as their white counterparts. Augustus also shows what that could have looked like. Sumptuous photos of today's most popular Black entertainers posing in iconic Hollywood scenarios provide clues and inspiration for pondering the past and hoping for the future.

NEW WORLD, NEW YOU
The last couple of years have made many stop, take a deep breath, and reprioritize what they want from their time on the planet. The books of fall indicate that some are shifting their priorities and redefining what they want their lives to be. In The Future Is Analog: How To Create a More Human World (PublicAffairs, Nov.) author David Sax probes what the past two years have shown about digital lives. He maintains that perhaps being digitally advanced has not been in people's best interest, nor the answer to all pressing needs. Sax contends that the most important lessons learned from the recent past are the need for community and face-to-face human interaction. Social media also poses multiple privacy issues. MacArthur Fellow Danielle Keats Citron reflects on personal privacy and the lack of it in The Fight for Privacy: Protecting Dignity, Identity, and Love in the Digital Age (Norton, Oct.). Citron posits that the broader system has already failed people, and they must advocate for the reassessment of privacy as a basic human right. Not just a manifesto for the need of protection for personal lives, her book also provides practical steps for guarding all aspects of online existence, as well as resources for advocacy.
Two other key concerns are how one feels connected to the world and in private space. In Belonging: The Science of Creating Connection and Bridging Divides (Norton, Sept.), Stanford University professor Geoffrey L. Cohen considers today's fractured society and, citing years of research, offers suggestions for bridging cultural divides and creating a more empathetic world. In A Place in the World: Finding the Meaning of Home (Crown, Aug.) author Frances Mayes, known for her wanderlust, stops and takes into consideration a place key in people's lives. In her essays, Mayes examines the concept of home and how people gravitate to the places and people that mean the most, even in a foreign landscape.

OLD STORIES REIMAGINED
The idea of seeing new possibilities and also finding a place in the familiar come together in one of the trends librarians have been noticing across genres: retold stories. There are many this fall. Ancient and classic stories continue to inspire modern-day authors, as seen in Claire North's Ithaca (Redhook, Sept.), which also illustrates the trend of telling male-dominated tales from a woman's perspective. Penelope, wife of Odysseus, has been waiting 17 years for his return, but rumors of his death are circulating, and suitors have started circling, hoping for a chance at her husband's throne. It is up to her to keep it secure and avoid civil war. Another example is Lore Olympus: Volume Three by Rachel Smythe (Random Worlds, Oct.), which continues the graphic novel "Lore Olympus" series, this time taking on the story of Hades and Persephone and giving it a fresh, modern, and sexy vibe.
Fairy tales are also being retold from a feminist perspective. Fall titles particularly focus on the Baba Yaga, the forest-dwelling witch of Slavic folklore. In Olesya Salnikova Gilmore's The Witch and the Tsar (Ace, Sept.), she is turned from malevolent hag into a benevolent sorceress intent on saving Russia from the clutches of Ivan the Terrible. Into the Forest: Tales of the Baba Yaga, edited by Christina Henry and Lindy Ryan (Black Spot, Nov.), brings together some of today's leading voices of women in horror as they pay tribute to the Baba Yaga. Illustrating the universal nature of a tale, GennaRose Nethercott puts the story in a contemporary setting in Thistlefoot (Anchor, Sept.), in which the estranged Yaga siblings reunite upon learning of a mysterious inheritance, embarking on a road trip across the United States while being pursued by a malevolent force.
Additional retellings also offer new stories and slants for famous novels. Hester (St. Martin's, Oct.) by Laurie Lico Albanese reimagines the life of Isobel Gamble, who may have inspired Nathaniel Hawthorne to write The Scarlet Letter. Isobel has been abandoned by her husband after arriving in the United States from Scotland, when she meets Hawthorne, who is grappling with his family's past and its role in the Salem witch trials. Demon Copperhead (Harper, Oct.) is Barbara Kingsolver's take on David Copperfield, set in modern-day Appalachia. All the Dickensian elements are there, but, most important, the belief that good can come from bad. And on that note, Victor Frankenstein wasn't the only creative family member. In Angelika Frankenstein Makes Her Match (Avon, Sept.) by Sally Thorne, the author showcases the shy, younger sister of the mad scientist. Angelika has run out of suitors and decides that creating her very own perfect man is just the thing.

Jane Austen is always invited to the party, with Netflix's adaptation of Persuasion already out and a modern retelling of Pride and Prejudice by debut author Nikki Payne, titled Pride and Protest, coming in November (Berkley).
A modern-day Decameron unfolds in Fourteen Days: An Unauthorized Gathering (Harper, Nov.). A Lower East Side tenement rooftop is the setting for neighbors, who gather to trade stories in the early days of the COVID lockdown. Contributors include Margaret Atwood, Douglas Preston, Celeste Ng, Emma Donoghue, and many others.
Two works expand not just beyond their story borders but leave Earth's atmosphere. The story of Joan of Arc is given the space opera treatment in The Genesis of Misery (Tor, Sept.) by Neon Yang. They place Misery in the middle of royal intrigue with a host of gifts that may mean the protagonist is the next Messiah. The chorus of this particular opera is filled with diverse and queer voices. Don't miss The Spare Man (Tor, Oct.) by Mary Robinette Kowal, which retells Dashiell Hammett's The Thin Man and sets it in space.
Taking the retelling idea sideways by offering fresh illustrations and new notes, there is a new look for Robert Louis Stevenson's classic horror story. The New Annotated Strange Case of Dr. Jekyll and Mr. Hyde (Mysterious, Oct.) features an introduction by Joe Hill, editing by Leslie S. Klinger, and more than 100 illustrations that illuminate the classic tale of murder and depravity.

LITERARY ALL STARS
This fall features a myriad of literary riches. National Book Award finalist Lydia Millet's Dinosaurs (Norton, Oct.) tells the tale of a man's relationship with his next-door neighbors, who have a wall made entirely of glass. Andrea Barrett presents six intertwined stories in Natural History (Norton, Sept.). Set in a community in central New York state and spanning the time between the Civil War and modern day, there is a strong emphasis on the natural world. In Celeste Ng's latest novel, Our Missing Hearts (Penguin Pr., Oct.), an underground network of librarians helps with a young boy's quest to find his mother, an exiled Chinese American poet, in an America with rigid rules about how best to preserve American culture.
A.M. Homes hasn't offered anything new in a decade but is remedying that with The Unfolding (Viking, Sept.), which probes the recent American political landscape through the prism of one family. What happens when definitions of truth and liberty mean different things to different people living under the same roof? Kate Atkinson is stepping away from detective stories and revisiting historical fiction with Shrines of Gaiety (Doubleday, Sept.). It's based on the life of Kate Meyrick, who was forced to make her way in the world, while supporting eight children by operating nightclubs in London between World Wars I and II.

Maggie O'Farrell is still mining the 16th century for rich fictional inspiration. This time, she's in Italy writing about the Medici family with The Marriage Portrait (Knopf, Sept.). Forced into marriage by her father after her sister, the intended bride, dies, Lucrezia quickly realizes that her future security—indeed, her very life—depends on providing a male heir. Pulitzer winner Andrew Sean Greer is revisiting the character that won him that coveted prize, Arthur Less, in Less Is Lost (Little, Brown, Sept.). Arthur is still trying to outrun his problems, but this time, he's on this side of the Atlantic. After a series of losses, he begins a cross-country road trip, during which he encounters a cast of characters and lessons on living and loving. Fredrik Backman finishes the "Beartown" series with The Winners (Atria, Sept.). The rivalry between Beartown and Hed is still strong and being fought on the ice between their respective hockey teams. But not everyone is willing to settle scores on the ice. In John Irving's The Last Chairlift (S. & S., Oct.), fatherless Adam returns to the place of his conception, Aspen, CO, to learn the answers to the questions that his mother has evaded his entire life.

LET'S EAT!
This fall, expect big books by well-respected and beloved authors. Also look for books that are particuarlly cognizant that people are living through extraordinary times and for works that address different cultures and foodways.
Ghetto Gastro Presents Black Power Kitchen (Artisan, Oct.) celebrates Black culture through food. With mostly plant-based offerings, the Bronx culinary collective members Jon Gray, Pierre Serrao, and Lester Walker, with Osayi Endolyn, hope to inspire big conversations about race and how food is more than fuel for the body. More than a cookbook, it is a celebration of creativity in the Black community. Esteban Castillo's Chicano Bakes: Recipes for Mexican Pan Dulce, Tamales, and My Favorite Desserts (Harper Design, Nov.) looks at the wonderful world of Hispanic baking, urging all to learn about the many facets of these sweet treats, then get in the kitchen and start baking.
Company: The Radically Casual Art of Cooking for Others (Norton, April 2023) by Amy Thielen asks readers to throw away stifling formality and lean into enjoying taking care of friends and family, and themselves too. Recognizing the current economic climate, Thielen offers cost-cutting tips, maintaining that this need not be an expensive exercise. Eat & Flourish: How Food Supports Emotional Well-Being (Countryman, Nov.) by Mary Beth Albright examines the food/mood connection and offers a 30-day plan, featuring whole foods that will nourish and soothe. Cheers!: Cocktails & Toasts To Celebrate Every Day of the Year (Union Square & Co., Dec.) by Philip Greene goes beyond the holidays in offering some unusual reasons to raise a glass. Here's hoping that celebration becomes the new normal this season.

The King Arthur Baking Company harnesses the wisdom of its famous cooking school in The King Arthur Baking School: Lessons and Recipes for Every Baker (Countryman, Oct.). This book, which promises to be a master class for home bakers, covers every aspect of baked goods. It also includes color photographs and clear instruction. Sheet pans are kitchen workhorses for bringing a main course to the table, and now they can help with dessert too. In Sheet Pan Sweets: Simple, Streamlined Dessert Recipes: A Baking Book (Union Square & Co., Oct.) author Molly Gilbert presents 75 different recipes for sheet-pan baking that are sure to become favorites.
Lastly, Deb Perelman has been busy in her tiny New York kitchen, allowing readers to reap the rewards with Smitten Kitchen Keepers: New Classics for Your Forever File: A Cookbook (Knopf, Nov.). Filled with 100 recipes for the home cook, it feels more like a conversation with a dear friend than a cookbook.

POETIC DIVERSIONS
Pádraig Ó Tuama, host of the podcast Poetry Unbound, asks people to consider the quiet power of poetry as a balm against the unrelenting noise of everyday life in Poetry Unbound: 50 Poems To Open Your World (Norton, Dec.). Tuama focuses on contemporary poets and helps readers apply the meaning of each poem to their lives. This is perfect for the poetry novice who wants a deeper understanding of the craft. Looking back on 50 years of writing poetry, U.S. Poet Laureate Joy Harjo selects 50 of her best in Weaving Sundown in a Scarlet Light: Fifty Poems for Fifty Years (Norton, Nov.). Harjo includes her own notes, inspirations, and insights with each poem, making this a must for all poetry collections. Other volumes of note, each arriving in September, include Saeed Jones's Alive at the End of the World (Coffee House), Joshua Bennett's The Study of Human Life (Penguin), and Sandra Cisneros's Woman Without Shame: Poems (Knopf).
What are song lyrics but poetry set to music? And who better than Nobel Prize for Literature winner Bob Dylan to dissect them all? In The Philosophy of Modern Song (S. & S., Nov.) Dylan contributes 60 essays about the lyrics of songwriters such as Stephen Foster, Nina Simone, and Elvis Costello. He also offers his unique take on what makes them work. Wading in Waist-High Water: The Lyrics of Fleet Foxes by Robin Pecknold (Tin House, Nov.) contains 56 lyrics from the indie rock band, long known for its quiet and calming vibe and the literate references in its lyrics. Included are notes from Pecknold detailing his inspirations and intent.
From books that challenge to those that soothe, from titles that transport to those that center readers in the here and now, the fall season is full of richness of thought, language, character, and setting. Dig in and consult our online list (posted with the web version of this article) to explore even more books of the fall season.
More Fall Books
For even more books, see our fall Review Editors' Reading List and consult our downloadable listing of all the books listed above, and many more out this fall.
---
Jennifer Dayton was the Collection Development Coordinator for Darien Library in Connecticut for six years. Currently, she can be found occasionally working the Reference Desk at Fairfield Public Library in Fairfield, CT.