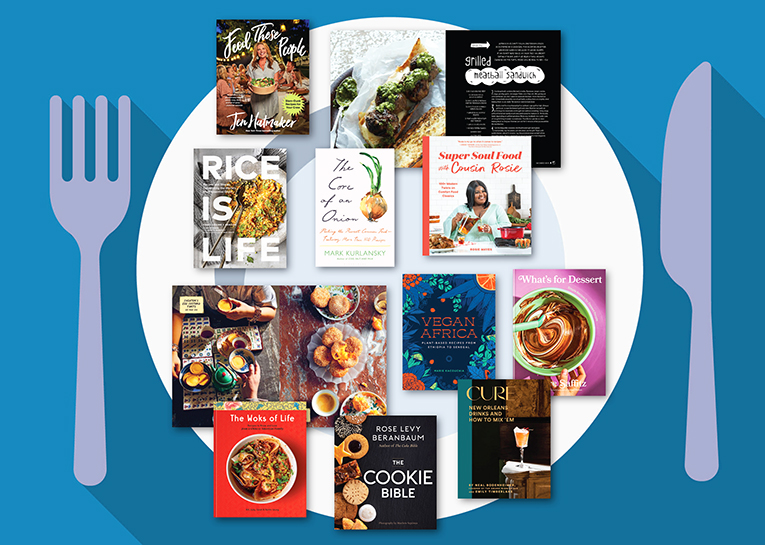 Cookbooks continue to fly off the shelves. Our inaugural look at this high-circulating subject reveals that baking titles remain the strongest subset, only increasing in popularity. Books that combine cooking and stories are also on the rise, as are those providing vegetable-forward recipes. There are plenty of books from big names, as well as debuts to note, particularly by food stylists and photographers, who have previously worked behind the scenes in the culinary world. Also among the authors of the season are those who rose to fame through blogs, YouTube shows, and TikTok. Liz Hermann, director of publicity for Octopus, notes, room is being made for "a younger breed of authors who want to make cooking fun, simple, and accessible."
Comfort and entertaining are surging this fall too, as, despite rising infection rates, there is excitement about seeing friends and family and breaking bread together. Sarah Billingsley, executive editor at Chronicle, says, "In the time readers perceive as 'coming out of COVID,' we have seen success with books that are in the entertaining genre, primarily those that draw people back to the table in ways that feel intimate and casual." It is not just the gathering that offers comfort. A number of books are focused on delivering that emotion through food.
We have also found publisher difficulties. Usually, our previews look months outward, but COVID and supply chain issues continue to change how cookbooks are released and publicized. Publishers are focusing on the immediate and staying flexible. The low number of release dates for winter and into the spring isn't the norm, but may be the situation well into 2023. As Keely Thomas-Menter, publicist at Chronicle, states, "The ongoing global supply-chain issues definitely add a layer of complexity to our planning processes. We have to keep a close eye on estimated deliveries, regularly check in with our warehouse, and keep our ops team abreast as plans formulate. This means carefully reserving stock for planned promotions, updating media contacts if pub dates shift, staying nimble, and having a plan B at the ready."
---

COOK WHERE YOU COME FROM
Strong personal stories are prominent this fall, which will be fantastic news for those who enjoy reading cookbooks as much as cooking from them. Interlink's Editorial Director of Cookbooks & Lifestyle, Leyla Moushabeck, tells LJ "Our Fall books reflect a diverse range of experiences and cuisines, but each of the writers roots their cooking in cultural history, childhood memories, home, and land. Their dishes are ever more meaningful because their food is an expression of who they are, and they write to honor their homelands and its peoples, remember family members, share their cultures with strangers, or preserve traditions for future generations."
In The Woks of Life (Clarkson Potter, Nov.), two generations of storytellers and cooks from the Leung family take readers from the traditional to the modern with their tales and recipes. Being torn between cultures is the thread that weaves the story and builds the unique blend of recipes that bridge that divide in Chinese-ish (Interlink, Nov.) by Rosheen Kaul and Joanna Hu. Frankie Gaw also straddles cultures as he shares his family's stories and recipes from Taiwan in First Generation (Ten Speed, Oct.). Parsi (Bloomsbury Absolute, Dec.) is a celebration of the food of Farokh Talati's Mumbai heritage that melds with his fine-dining background. This cookbook delivers a wide range of dishes designed to wow the table. Diasporican (Ten Speed, Oct.) by Illyanna Maisonet is a deeply personal portrait of the island and foodways of Puerto Rico. It delivers humor and bright and vibrant recipes. Andrea Pons celebrates her family's journey to the United States and her Mexican heritage with delicious recipes in Mamacita (Princeton Architectural, Oct. See our interview ).
---

GLOBAL CUISINE
Seeking to attract a wider audience with simpler preparations, a variety of authors offer a range of dishes from around the world. While there are books on Italian and French cuisine, the focus this season is, as Hermann points out, on food from "east of the Mediterranean, Africa, and the Far East," and there is a "renewed interest in regional cookbooks from authentic voices." In Enebla (Torchwood, Oct.), Luladey Moges seeks to make Ethiopian cooking more accessible to home cooks with speedier techniques that don't compromise taste. In 6 Spices, 60 Dishes (Chronicle, Jan. 2023), Ruta Kahate shows how to make authentic, but quick enough for weeknights—including Instant Pot adaptations— Indian dishes with bountiful flavor. Readers can join blogger Meliz Berg in Meliz's Kitchen (Interlink, Feb. 2023), as she offers comfort food recipes for busy families that are full of flavor reflecting her Turkish Cypriot roots. YouTube personality Aaron Huh simplifies traditional Korean cooking techniques and ingredients in Simply Korean (Alpha, Dec.). A fusion of Javanese, Malay, Indian, Arab, Portuguese, Dutch, and British flavors come together with striking photos and descriptions to create truly modern Sri Lankan fare in Cynthia Shanmugalingam's Rambutan (Bloomsbury, Oct.). Journey the world for recipes that utilize one of the most important grains, while learning about the agriculture and other wonders, in Rice Is Life (Chronicle, Oct.) by Caryl Levin and Ken Lee et al. And don't pass on a trip to Italy with TikTok star Nadia Munno's The Pasta Queen (Gallery, Nov.).
---

PUTTING THE SOUL IN FOOD
Soul food is gaining a wide readership outside the South with books covering everything from Amish and Northern soul food (Homage: Recipes and Stories from an Amish Soul Food Kitchen by Chris Scott; Northern Soul: Southern-Inspired Home Cooking from a Northern Kitchen by Justin Sutherland, both of which came out in Sept.) to offerings this fall highlighting the West Coast with Tanya Holland's California Soul (Ten Speed, Oct.), in which Holland provides fresh ingredient– forward recipes unique to the Golden State. There are also two modern twists on classics to watch for: Rosie Mayes's Super Soul Food with Cousin Rosie (Sasquatch, Oct.) and Jernard Wells's Southern Inspired (BenBella, Nov.).
---

VEG 2.0
Veggie-forward books continue to be in demand. Enjoy plant-based dishes ripe with flavor as Emani Corcran shares her journey as a Black woman and a vegan in Blk and Vegan (Page Street, Mar. 2023). Marie Kacouchia's Vegan Africa (The Experiment, Nov.) features many powerful superfoods—cacao, ginger, garlic, and sweet potato, to name a few—and introduces cuisines from across Africa. Love To Eat (Ten Speed, Oct.) features the personal eating disorder and recovery story of Nicole Keshishian Modic of Instagram's Kale Junkie fame. Two more cookbooks concentrate on healthy, everyday eating. Nutritionist Brittany Mullins's Mostly Veggies (Voracious, Apr.) prioritizes fruits and vegetables, whole grains, and lean proteins.

The Don't Panic Pantry Cookbook (Knopf, Jan. 2023) by James Beard Award–nominated chef and YouTuber Noah Galuten encourages convenient, mainly vegetarian comfort food. Noor Murad, Yotam Ottolenghi, and the lauded test kitchen team has assembled Ottolenghi Test Kitchen: Extra Good Things (Clarkson Potter, Oct.), which has recipes that utilize vegetables for sauces, dips, condiments, pickles, marinades, and just about any "extras" on the table. The largely vegetarian Ghetto Gastro Presents Black Power Kitchen (Artisan, Oct.) by Jon Gray, Pierre Serrao, and Lester Walker represents the Bronx in a mix of cookbook and cultural touchstone. Pinky Cole's Eat Plants, B*tch (Gallery/13A, Nov.) conveys that vegan food can be accessible and delicious.
---

LIFE OF THE PARTY
Entertaining is back on the menu, with a number of books on drinks arriving in autumn. Cure (Abrams, Oct.), by Neal Bodenheimer and Emily Timberlake, is a combo of mixology, snacks, and interviews that will bring iconic New Orleans drinks to home bars. J.M. Hirsch's Pour Me Another (Voracious, Oct.) will help determine what to drink next and expand palates with the aid of an expert mixologist. Trap Kitchen: The Art of Street Cocktails (Kingston Imperial, Nov.) by Malachi et al. focuses on fun mixology that is big on flavor and perfect for tailgating or wherever people take to-go cups.
Jen Hatmaker's fans will love the humor of her latest, Feed These People (Harvest, Oct.). Entertaining focused on hosts having as much fun as their guests is the theme of Amy Thielen's Company (Norton, Apr. 2023), while Skye McAlpine's A Table Full of Love (Bloomsbury, Feb. 2023) offers food to nourish friends and family.
---

NOT QUITE (JUST) COOKBOOKS
There are a host of books on the way that feature food but are not traditional cookbooks. In Flavor Lab Creations (Yellow Pear, Feb. 2023), Logan Richardson includes detailed recipes, facts, and science-related explanations about beverages from strawberry milk to fermented cocoa bean tea. Heston Blumenthal's Is This a Cookbook? (Bloomsbury, Nov.) includes hacks, lore, and recipes. René Redzepi, Mette Søberg, and Junichi Takahasi's NOMA 2.0 (Artisan, Nov.) features incredible photography and platings that accompany more than 100 recipes that are as much an homage to the restaurant as they are to Redzepi the chef. History fans are not left out with Mark Kulansky's The Core of an Onion (Bloomsbury, Feb. 2023) and Naomi Duguid's Miracle of Salt (Artisan, Oct.).
---

TRIED AND TRUE
Food personalities are resurging this fall, and there are a number of highly anticipated titles from favorites. Ina Garten of Barefoot Contessa fame is back with Go-To Dinners (Clarkson Potter, Oct.). The pandemic-inspired work from America's most trusted home cook creates easy, delicious, and beloved meals with recipes, tips, and reassurance that great meals are within reach. The highly anticipated Smitten Kitchen Keepers (Knopf, Nov.) continues Deb Perelman's pursuit of finding just the right recipes that will strike the perfect balance of ease and incredible deliciousness (See our interview). More comfort is delivered with Sundays with Sophie (Clarkson Potter, Oct.) in which Bobby Flay and his daughter Sophie share their love of the Sunday dinner while conveying how cooks can adapt this approach to everyday cooking. Two favorites from The Great British Bake Off go beyond the bakes with Bliss on Toast (Bloomsbury, Nov.) by Prue Leith and Cook as You Are (Knopf, Nov.) by Ruby Tandoh.

In the follow-up to her global best-seller, Persiana: Recipes from the Middle East & Beyond, Sabrina Ghayour focuses on recipes designed to ensure maximum flavor with the greatest of ease. Her Persiana Everyday (Aster, Oct.) is full of generous, inviting, and delicious recipes to cook again and again for family and friends. Jamie Oliver, another favorite of home chefs, provides simplicity in the kitchen with One: Simple One-Pan Wonders (Flatiron, Jan. 2023) using eight or fewer ingredients to delicious and satisfying results. The Complete Modern Pantry (America's Test Kitchen, Nov.) demonstrates a flexible approach to cooking from the home pantry. It includes basic, blueprint recipes that can be embellished based on tastes and available ingredients. Similarly excellent for adventurous cooks, Christopher Kimball's Milk Street: Cook What You Have (Voracious, Oct.) encourages cooks to shop their own pantries and choose their own culinary adventure.
---

COOKIES AND CAKES, OH MY
Clearly the world of cooking is expanding in welcome and delicious ways, but baking remains the star, with so many titles coming out this fall it can feel overwhelming. But who can turn away from a cookie? In the lineup there is the highly anticipated The Cookie Bible (Harvest, Oct.) by Rose Levy Beranbaum, who offers a collection of recipes for nearly every cookie imaginable. In addition, Milk Bar owner and James Beard Award–winning Christina Tosi is back with All About Cookies (Clarkson Potter, Nov.). Tosi brings her talent and unusual creativity to this not-so-basic collection. Beautiful pictures and precise instructions will give bakers cookies with a wow factor.
For cakes, Heidi Holmon's The Art of Modern Cake (Yellow Pear, Oct.) and Whitney DePaoli's Anyone Can Cake (Page Street, Feb. 2023) place the art of making a cake delicious and beautiful at the forefront. Ever the scientist, The Great British Bake Off winner Rahul Mandal presents Showstopping Cakes (Kyle, Nov.), which concentrates on techniques and scientific explanations.
For the baking generalist, there are plenty of offerings for a wide range of palates and abilities. The King Arthur Baking School (Countryman, Oct.) guides bakers in creating more than 100 foundation recipes for cakes, pies, cookies, and breads with color photos and step-by-step instructions. An additional 100 recipes can be found in Claire Saffitz's What's for Dessert (Clarkson Potter, Nov.), a highly anticipated follow- up to Dessert Person. Both books include easy instructions and easygoing guidance.
A wide variety of bakes and techniques are honed for the small home kitchen in Delectable (Random, Oct.) by Claudia Fleming and Catherine Young. Edd Kimber's Small Batch Bakes (Kyle, Oct.) is a novel concept that provides recipes that feed one to six people. It keeps baking manageable but delicious. Those without a sweet tooth will cheer for Savory Baking (Harvest, Oct.). In it, Erin Jeanne McDowell covers a variety of treats from pizza and breakfasts to appetizers.
---

MORE BREAD, PLEASE
COVID brought out the bread maker in many. This November, the following titles will bring kitchen joy to those who have yeast in the pantry and starter on the go. The Bread Book (Phaidon, Nov.) by Éric Kayser presents the basics and the complex, including the use of nontraditional flours. Recipes for stuffed and sweet loaves, plus breads from a variety of cultures, come with beautiful instructive illustrations. Blogger Maurizio Leo has written The Perfect Loaf (Clarkson Potter, Nov.) for beginners in sourdough. For families who bake together, Baking Bread with Kids (Ten Speed, Nov.) by Jennifer Latham provides recipes that are intended to inspire children in the art of baking. Not only standard loaves but also tortillas, pitas, and the like are presented with wonderful pictures.
READ, LEARN, COMFORT
From dishes that warm the soul, to stories that stir the heart, to drinks, party plans, and cakes to brighten a rainy day, the cookbooks of the season provide more than food. They offer nourishment, comfort, an expanded worldview, and understanding, and most of all, the promise that time in the kitchen can make many things better.
---
The authors are members of the Essential Cookbooks Committee of the Collection Development and Evaluation Section (CODES) of the Reference and User Services Association (RUSA), a division of the American Library Association. They are charged with reading, cooking from, evaluating, and selecting the 12 best cookbooks of the year.