In the United States, 2.3 million people are imprisoned inside of jails, prisons, or detention facilities with little to no internet access. Even in facilities with libraries, access to resources and time to research is limited. Many individuals also lack outside connections with people who could look up information on their behalf. Some public libraries meet this need through Reference by Mail.
Questions can range from simple trivia, such as celebrity net worth or lists of video games, to more complex questions, such as how to start a business or find scholarships for people with convictions. There are highly specific requests like "a single-sided picture of the Hulk half-wrapped in chains with a scowl on his face and a black background." They can also be vague and challenging to answer, for instance, "How much space does a headbutt to the forehead create?" or "Are cellular memories transferred to organ transplant recipients?" Every letter has the potential to send a library worker on a research adventure and teach them new things. It is the objective of Reference by Mail to answer each request with respect and as courteously and thoroughly as possible.
New York Public Library (NYPL) receives letters from jails and prisons all over the country and has been answering them for more than 40 years. Emily Jacobson of NYPL Jail & Prison Services (JPS) developed procedures and rules to help streamline the process of answering over 1,000 letters every year. In addition to partnering with a nearby library graduate program, JPS developed a relationship with a network of libraries in other states offering similar services. This serves as a referral system, allowing NYPL to redirect incarcerated letter writers to a library in their state if possible. So far, 14 libraries in nine states participate.
The network has led to fortuitous connections among library systems. Jeanie Austin at San Francisco Public Library discovered that St. Louis County Library (SLCL) also offered Reference by Mail. She introduced Jacobson to then-Manager of Reference Jennifer Gibson (the current Assistant Director of Strategic Initiatives) and to Megan Phifer-Davis, who was the Assistant Manager of Reference at the time but is now Manager of Reference. Gibson and Phifer-Davis were already on a mission to grow SLCL's Reference by Mail services. They enthusiastically joined the network and began receiving letters from Missouri residents who had been writing to NYPL. Between connecting with NYPL and finding a library champion within the Missouri Department of Corrections, SLCL's Reference by Mail service grew 453 percent in three years.
This article explores the two library systems' approaches and the successful strategies employed by both to streamline and expand the service.
---
New York Public Library: Distributed, Yet Centralized
The majority of letters NYPL receives get funneled to JPS. Letters are answered by staff, volunteers, and library school students. Creating a system and scaffolding for the letter process sets clear guidelines for the researchers, as well as incarcerated people writing to the library. They can expect more unified, high-quality responses.
To facilitate this process, JPS has a centralized but distributed service model. Incoming letters are sent to one location and are then distributed to researchers via scans over email. All the writers' names are redacted and sent with the researchers' initials and a number. The researcher compiles a letter and sends it back to JPS as a Word document. After Jacobson mails the research back to the writer, she deletes all digital documents with their name and shreds their original letter. The aim of this process is to protect the writer's privacy.
Since 2013, JPS has worked with Pratt Institute's School of Information. Students in the Reference and Instruction class are assigned letters over the course of the semester. This partnership offers students real-world reference experience, an increased understanding of core values of librarianship, including access and social responsibility, and a better awareness of the information needs of incarcerated users.
To further streamline the letter-answering process, JPS created a list of rules for what questions it could and could not answer, establishing primarily that they cannot provide advice or do things on the writer's behalf, such as reach out to lawyers or organizations, sign them up for catalogs, or check their social media. This list of rules is sent in every response to a letter and also used to guide researchers. The list of rules continually grows—after every gray area is resolved, another one pops up. Although it is a challenge to keep up with, fine-tuning the guidelines is one of the most interesting parts of this work.
Also included are stipulations on how often people can write to the library and how long responses may be. For example, writers can send letters to JPS only twice a month. These were added both to remain in compliance with New York State's Department of Correction and Community Supervision (DOCCS) rules about letter size and bulk and to allow researchers to answer at a reasonable speed. If someone asks, "What is the history of Arkansas statehood," an engaged researcher could give a detailed answer that takes forever to write. Putting a limit on the response length lets library staff know how to craft a thorough answer in a concise way and sets realistic expectations for letter writers.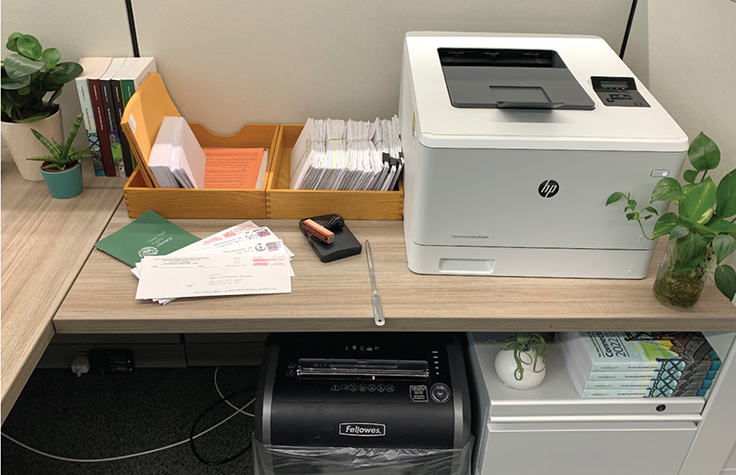 READY FOR REFERENCE

A week's worth of NYPL's inquiries from people in prison (about 30 letters) are organized by date and facility, together with supplies for responders and copies of the program guidelines. Photo courtesy of New York Public Library
Owing to DOCCS regulations, the length of responses is limited to nine sheets of paper (front and back) plus a copy of the rules, for a total of 10 per envelope. In terms of providing information, 18 pages is not actually that much, and twice a month is not a lot, either. Most people reading this article have probably looked up information more than twice already today. Although the limitations around length and frequency of response make sense within the constraints of staffing and response time, they still fall very short of what they should be to provide equitable access.
Another consideration when compiling research is that people in prison do not have access to the internet. Any information sent must be analog. If a text has lots of hyperlinks, readability is improved by removing them so that all the text is the same color and font. If a document says, "Click here for more," the researcher will have to open that link and provide its information. Each letter should answer the questions that were asked and leave writers with a jumping-off place where they can take the next step on their own, such as reaching out to another organization.
Additionally, JPS created a Google site that has letterheads, templates, and information on frequently requested topics. This back-end resource helps researchers make their responses look uniform, and it is especially useful due to the distributed process of answering letters. The JPS team goes through the website once a year to ensure it is up to date and still serving as an effective and relevant resource for researchers.
Reference by Mail is adjacent to JPS's other programming, primarily maintaining libraries on Rikers Island to provide books to people in New York City Department of Corrections' carceral institutions. Reference by Mail is a way to provide direct service without the logistical challenges posed by in-person services or the privacy and proprietary hurdles posed by third-party companies offering tablet-based programming. During the first phase of the pandemic, JPS was unable to go to New York City jails to see patrons in person but could continue Reference by Mail.
A priority for JPS has been to connect with other libraries that offer this program or are interested in starting a similar service. Creating a network of libraries means librarians can talk about best practices, troubleshoot difficult questions, and provide accurate referral information to people who write from other states. Service guidelines are available at every library, which allows JPS to send a letter writer accurate information about how another location's offerings will work.
---
St. Louis County Library—All together now

At SLCL, letters with information requests from jails and prisons all over Missouri had trickled into the library's 20 branches for decades.
In 2017, SLCL began to direct all mail from jails and prisons to one place: the Reference Department. Centralizing the service allowed the Reference Department to streamline the process of answering letters and develop a set of guidelines that accommodated the Missouri Department of Corrections (MODOC) rules for incoming mail. For instance, MODOC allows only five pages of attachments to letters and will not permit images and text to be sent in the same envelope. Addresses or contact information for individuals, maps, directions, or information about incarcerated people cannot be sent.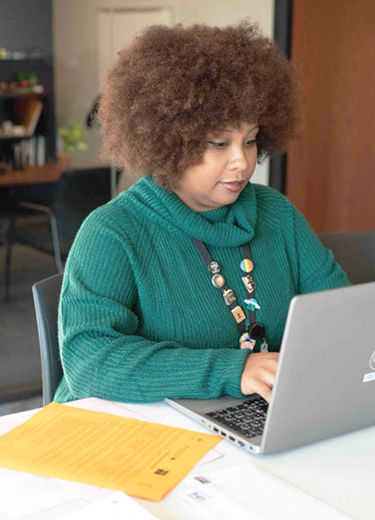 RESEARCH IN ACTION

Nikole Brown, SLCL assistant manager of reference, as she researches and compiles responses to a stack of letters from various Missouri correctional facilities. SLCL received over 3,600 such letters in 2021. Photo by Lucas Peterson, St. Louis County Library
Reference has its limits even within the library. For example, researchers will not provide legal, medical, or tax advice. Responses do not include images of people under 18, a common restriction at libraries in the referral network. SLCL currently places no limit on the number of times people can write to the library, but advises writers that responses may take longer in times of higher volume. SLCL's Reference Department developed guidelines for the service and includes a copy in every envelope. Letters from librarians are retained for a month before being shredded so that, if a facility returns the library's letter, citing a violation of MODOC rules for incoming mail, the staff can use the original letter to determine what information violated the rule and resend the information without whatever caused the violation. Original letters from inmates are kept for three months for the same reason.
Letters are not distributed electronically to researchers. Eleven reference librarians and specialists in a shared office space research the questions asked, compile responses, and mail them. Letters are consolidated in the Reference Department, and staff grab a small stack to work on throughout their shifts. Between answering information requests via phone, email, and chat, reference staff answer letters. Some letters have one question; others have many. For example, celebrity net worth is a very common request. Frequently, one letter might ask for the net worth of 100 or more celebrities. For these frequently asked questions, reference staff compile the information in a shared document so colleagues can save time.
With one group of people answering letters, the quality and speed of answers increased, which in turn created more demand. Knowing they would get a thorough, respectful, and usually timely response, people began writing more frequently. Reference staff often begin the letter by addressing the user by name, thanking them for writing to the library, expressing hope that the answers are satisfactory, and stating that the library looks forward to hearing from them again. While only five pages of information are allowed in each envelope, there is no restriction on the number of envelopes, and reference staff will send as many as needed to answer the questions, within reason. Tracking statistics became much easier within one department. That made trends in usage more apparent and allowed managers to identify the MODOC facilities using the service the most. After just one year of answering letters from a single department, the number of letters jumped from 80 in 2017 to 352 in 2018.
Encouraged by this growth and recognizing the need it revealed, Phifer-Davis contacted staff and departments within the MODOC and ultimately reached Kimberly Bresnahan, Library Services Coordinator for the MODOC. Bresnahan is a passionate, dedicated librarian who serves incarcerated people and manages several prison librarians. She was an instant supporter of SLCL's Reference by Mail and promoted the service to all MODOC librarians, making sure the flyer describing the service was posted in each library in that system. This connection also helped the reference team learn more about what work looked like for Bresnahan's staff, the restrictions and special considerations of librarianship in jails and prisons, and how SLCL's Reference by Mail helped meet needs. Phifer-Davis now updates Bresnahan quarterly on which facilities use the service the most. Thanks to these connections with NYPL, MODOC, and the tireless work of the reference staff, SLCL answered 3,616 letters from 18 Missouri jails and prisons in 2021, which is 927 percent more than in 2018!
In late 2021, Gibson and Phifer-Davis took another step to expand the Reference by Mail service regionally. Along with reference specialist Van Le, they delivered a presentation about the program at the Missouri Library Association Annual Conference. Their goal was to recruit other libraries to engage in the service, and they were successful: three other St. Louis area library districts joined—Brentwood Public Library, Maplewood Public Library, and St. Louis Public Library. These districts adopted the guidelines set by SLCL, and their addresses were added to the flyer sent to Missouri writers. Each month they all submit statistics to SLCL to track overall regional activity.
Room to Grow
The libraries that are members of the NYPL JPS Reference by Mail network serve people who are incarcerated in Arizona, California, Delaware, Florida, Missouri, Nevada, New York, Texas, and Washington. New libraries are often added, which increases the program's power and reach. It is likely other libraries in the remaining states and territories are answering letters from prisons. Those already providing this service should consider becoming part of the JPS Reference by Mail network. They are encouraged to do so by sending information to Jacobson at emilyjacobson@nypl.org.
If your library does not yet provide Reference by Mail, please consider offering this low-cost and highly rewarding service. Reference by Mail is not meaningfully different from the reference services every library already offers to nonincarcerated patrons at the reference desk, or via chat, email, or phone. JPS has a toolkit with more information at tinyurl.com/nyplletterstoolkit that can help a library get started. It is easy to start and scale. Its essential requirements are to provide excellent, high-quality reference service and to treat every patron request as important and valid.
---
Emily Jacobson is the Supervising Librarian of the New York Public Library's Jail & Prison Services. Her writing is included in Reference Librarianship & Justice: History, Practice & Praxis (2018), as well as Exploring the Roles and Practices of Libraries in Prisons: International Perspectives (2021). Jennifer Gibson, The assistant director of strategic initiatives, and Megan Phifer-Davis, The Manager of Reference, work at the St. Louis County Library in Missouri.