After a two-year virtual-only hiatus, the American Library Association's annual conference returns to in-person in Washington, DC
The American Library Association's (ALA) annual conference returns to a live event after a two year run of virtual-only conventions owing to COVID. The in-person event will be held June 23–28 at the Walter E. Washington Convention Center in Washington, DC.
For those who can't attend in person, for reasons including the ongoing pandemic as well as budget constraints, a virtual version called The Digital Experience will feature access to a subset of the in-person offerings, including four of the Main Stage sessions, 42 education sessions, and 14 News You Can Use sessions. The on-demand content will remain available through August 31. You can see the full digital offerings here.
To reduce the risk of COVID spread, those attending in person must provide proof of vaccination or a negative official (not home) test within 48 hours. Masks are required in all conference venues, including meetings in hotels and on shuttle buses as well as in the conference center.
Tiffany Haddish
The ALA President's Program, Advancing the Asian American Story: A Conversation with Publishers, Literacy Advocates, and Storytellers, will be moderated by ALA president Patty Wong and feature Malinda Lo, Jane Park, Linda Sue Park, Philip Lee, and Christina Soontornvat. Other Main Stage speakers will include Federal Communications Commission Chairwoman Jessica Rosenworcel, journalist Maria Hinojosa, actor John Cho, comedian Tiffany Haddish, author R.L. Stine, author Celeste Ng, comics artist Kevin Eastman, and actor Channing Tatum. Tatum will also be available through the Digital Experience. The Carnegie Medals ceremony will feature Rep. Jamie Raskin, most recently known for hosting hearings in Congress on book banning.
Below is a curated selection of sessions that appealed to the LJ editors who are attending the conference. For more, see the full schedule. —Meredith Schwartz
---
Matt Enis
Senior Technology Editor
Artificial Intelligence (AI) in Libraries: From Training to Innovation
Sat., Jun. 25, 4–5 p.m. (WCC 147A)
This panel will cover the current state of artificial intelligence (AI) in libraries, along with projects by team leaders and Fellows engaged in the Institute of Museum and Library Services–funded IDEA Institute on AI, and will conclude with a discussion on ethical questions in AI implementation and additional opportunities to learn about AI in libraries. Project areas include "enhancing existing collections, AI in learning and discovery, chatbots in libraries, and enhancing library management and planning."
2022 Emerging Technology Showcase Sun., Jun. 26, 11 a.m.–noon (WCC 146A)
The 2022 Reference & User Services Association (RUSA) Emerging Technologies Showcase will include overviews of Florida Southern College's Find@Roux open-source Library Digital Mapping Tool, Brooklyn Public Library's Techmobile accessible mobile technology lab and maker space, University of Texas at Arlington Library's drone and robotics program, and the Fashion Institute of Technology's augmented reality filters used on the library's social media channels with digitized archival materials from its special collections department.
The First Statewide Library-Led Telehealth Initiative in the First State
Sun., Jun. 26, 2022, 1–2 p.m. (WCC 143A)
Delaware Libraries have begun setting up telehealth booths statewide and partnering with healthcare systems such as ChristianaCare to offer patrons equitable access to health and social services. Equipped with HEPA filtration, UV sanitization, an iPad, and a staff Navigator to help patrons schedule appointments and assist with technology, the fully soundproof booths are currently available in three rural libraries, and are expected to be in nine more by the end of 2022. Presenters Nick Martin from Delaware Libraries, Vishal R. Patel from ChristianaCare, and Denée Crumrine from Highmark Blue Cross Blue Shield Delaware will discuss the new program and the potential for telehealth in public libraries.
Privacy Policies: From Blank Page to Usable Document
Mon., Jun. 27, 9–10 a.m. (WCC 140A)
In this program, John Mack Freeman, head public services librarian for the Georgia Institute of Technology; Alison Macrina, executive director of the Library Freedom Project (LFP); and LFP member Marisol Moreno Ortiz will walk attendees through the process of determining the privacy needs of their users, how to write a policy reflecting those needs in plain language, and how to get the policy approved and used by their institution. They'll also discuss common roadblocks and answer audience questions.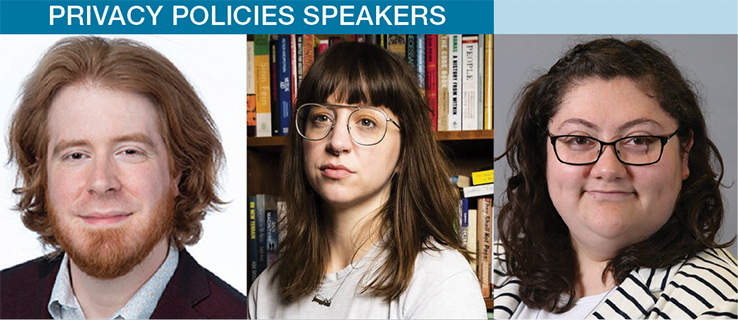 John Mack Freeman, Alison Macrina, Marisol Moreno Ortiz
Barbara Hoffert
Editor, Prepub Alert
From Censorship to Digitization: Bringing Sensitive Collections to Light
Sat., Jun. 25, 9–10 a.m. (WCC 143A)
This panel explores several historical collections to address the complications that arise when cataloging, describing, and digitizing culturally sensitive collections.
Conducting a Large-Scale Diversity Audit for Urban Public Library Systems
Sat., Jun. 25, 1–2 p.m. (WCC 149A-B)
The St. Louis Public Library saw a need to not only conduct a full diversity audit of its collections but to create a sustainable plan of continued assessment and future growth, rather than a one-and-done approach. Attendees will learn how the library developed, and how other public libraries can use, this large-scale method.
Beyond Booklists: Family Engagement Through Race & Culture Education at the Library
Sun., Jun. 26, 11 a.m.–noon (WCC 150A)
In 2021–22, this program's speakers created and presented a race and culture curriculum for families of various racial and cultural backgrounds while being sensitive to issues such as curricular trauma.
First Author, First Book
Sat., Jun. 25, 11 a.m.–noon (WCC 145A)
Preview the season's most anticipated debut novels during this conference favorite. A book signing will follow.
In Real Life: Must-Read Memoirs
Sat., Jun. 25, 2:30–3:30 p.m. (WCC 154A-B)
Memoirists will discuss their forthcoming titles. A book signing will follow.
Reads Like Fiction: Nonfiction You Can't Put Down
Sun., Jun. 26, 9–10 a.m. (WCC 152B)
Preview the most compelling forthcoming nonfiction titles. Book signings will follow.
Immersive Historical Fiction
Sunday, Jun. 26, 1–2 p.m. (WCC 202A)
Check out the latest historical fiction by a panel of bestselling authors. Book signings will follow.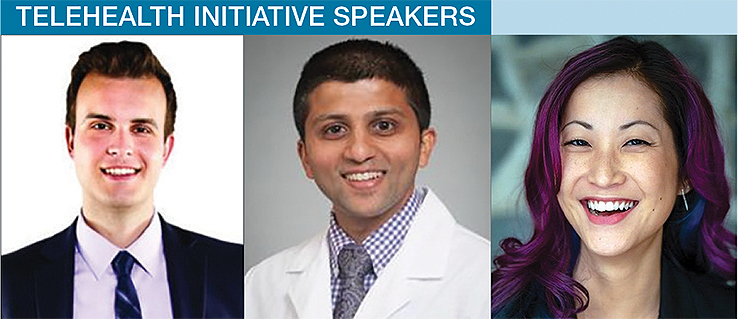 Nick Martin, Vishal R. Patel, Denée Crumrine
Lisa Peet
Senior Editor, News
ALA Opening General Session—In Conversation: ALA President Patricia "Patty" Wong and FCC Chairwoman Jessica Rosenworcel
Fri., Jun. 24, 4–5:30 p.m. (WCC Ballroom ABC)
It's always good to see policymakers speaking at ALA conferences. Rosenworcel, chair of the FCC, has been a strong supporter of the federal E-rate program, among other initiatives; she will share useful intel about topics including net neutrality and the digital divide with Wong.
If You Feed Them, They Will Learn: The Evolution of Culinary Literacy
Sat., Jun. 25, 9–10 a.m. (WCC 143B)
Panelists from Gwinnett County Public Library, GA, offer background and advice on culinary literacy programs. Scalable ideas for in-person demonstrations, pre-recorded instruction, hybrid in-person and online programs, and EDI-conscious themes include programming that encourages active participation, such as knife skills, reading and understanding recipes, and dealing with food allergies.
Everyone is Welcome: Designing for Diversity, Equity, Inclusion & Accessibility in Library Buildings
Sat., Jun. 25, 11 a.m.–noon (WCC 144B-C)
Space design that centers Diversity, Equity, Inclusion, and Accessibility (DEIA) is more than Americans with Disabilities Act compliance. A panel of library leaders, consultants, and architects will explore library design through a DEIA lens. Real life examples and case studies will spotlight design that promotes an inclusive culture and access to spaces, services, and materials, and design elements that include sensory areas, prayer/meditation spaces, and cultural and social amenities.
Intellectual Freedom, Media Literacy, and Access to Information: A conversation with the New York Times
Sat., Jun. 25, 11 a.m.–noon (WCC 151B)
New York Times Director of Strategy Madeline Felix will lead a discussion of the topic: In an era of misinformation and increasing censorship, how can journalists and librarians of all kinds steward intellectual freedom for their communities? As someone with a foot in both roles, I'm interested to hear what attendees have to say.
Communities in Crisis: Legal Reference Skills to the Rescue
Sun., Jun. 26, 4 p.m.–5 p.m. (WCC 154A-B)
Patrons often turn to the library for assistance navigating the legal system, health, housing insecurity, economic well-being, and other challenges, all of which have civic legal aspects. Library staff are well positioned to connect patrons with the help they need, but getting started can feel overwhelming, and staff may worry about overstepping their role. Speakers will discuss the fundamentals of building civic legal collections (including on specific issues such as eviction), understanding the boundary between information versus advice, forging partnerships, and knowing when and where to refer patrons to free or affordable legal aid.
Meredith Schwartz
Editor-in-Chief
Building Leadership and Equity with Staff Mentorship
Sat., Jun. 25, 11 a.m.–noon (WCC 149A-B)
Staff morale is the single topic we hear most demand for help with this year, from frontline staff, middle managers, and top leadership alike. Staff mentorship programs can help supplement training and onboarding, build staff capacity, enhance competence and connection, empower professional growth, instill a culture of learning, and increase and improve equity, inclusion, and diversity. Representatives from three public library jurisdictions have designed successful, impactful staff mentorship programs that use different models, from traditional one-on-one mentoring to mentoring circles, and will share tools to initiate or improve your own program.
Addressing Critical Race Theory Challenges in Your Library
Sat., Jun. 25, 2:30–3:30 p.m. (WCC 146A)
Libraries, especially school and public libraries, have recently seen an unprecedented increase in the number of challenges to materials, programs, displays, and more that deal with racial injustice, Black history, and diversity. Many such challenges cite Critical Race Theory in their objections. This session will explain what Critical Race Theory is and how it is being co-opted to prevent libraries from addressing the history of systemic racism. Experts will discuss ongoing challenges and legislation and how library workers can respond.
Building Organizational Capacity for Community-Led Programs in Public Libraries
Sun., Jun. 26, 11 a.m.–noon (WCC 147B)
For libraries looking to deepen their commitment to equity work, community-led planning is a method for returning institutional power to communities that have experienced oppression. This session will cover the results of a new study on how to build organizational capacity for community-led programming, plus firsthand accounts from a librarian and community member about a real-world community-led program.
Leading with Care: Lessons on Organizational Culture from Library Freedom Project
Sun., Jun. 26, 4–5 p.m. (WCC 147A)
Since March 2020, library workers have been sharing stories of unsupportive workplaces, burnout, and trauma. Low morale and thoughts of leaving not just individual libraries but the profession are widespread. To inspire those looking to revamp their workplaces into a more sustainable model, in this session, members of the Library Freedom Project will share their experiences in an organization that bases its work in an ethic of care.