The New Canaan Library, CT, is leading the way to address human rights in the building product supply chain.
The New Canaan Library, CT, is leading the way to address human rights in the building product supply chain.
Forced labor is defined by the Department of Homeland Security as "individuals who are compelled against their will to provide work or service through the use of force, fraud, or coercion." According to the International Labour Organization (ILO), as many as 25 million victims are coerced to work through the use of violence or intimidation, or by means such as manipulated debt, retention of identity papers, or threats of turning a person in to immigration authorities. This crime happens in the United States and overseas. Victims struggle to seek help for various reasons—from language barriers to fear of physical violence against themselves or their families.
Many of the victims in forced labor conditions have been identified by the ILO as working in the building and construction industry. According to KnowtheChain.org, forced labor accounts for $150 billion in profits. Today, when you look at a piece of drywall it is impossible to tell how much human suffering may have gone into its creation. But just as the "green building" movement eventually influenced the market to produce more sustainable building materials, we are witnessing the dawn of a new movement to boycott materials created with forced labor.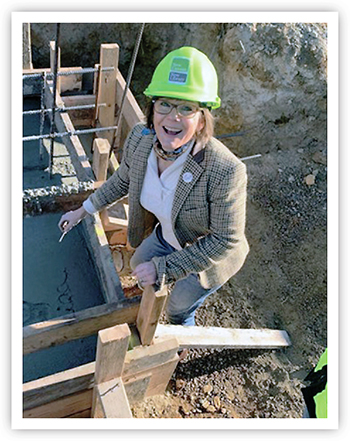 New Canaan Library's Executive Director Lisa Oldham.
Photo courtesy of New Canaan Library
BUILDING A TEACHING TOOL
The New Canaan Library, led by Executive Director Lisa Oldham, has prioritized contributing to that movement to eliminate forced labor in building materials supply chains.
The library is in the midst of a $36 million project to build a new 42,641 square foot facility which will double the size of the current children's room and introduce a teaching kitchen, 355-seat auditorium, outdoor terrace, café, and "library green" for neighbors to come together.
The library's leadership wanted to be sure that the library's core values were embedded into this project, particularly the triple bottom line definition of sustainability to balance environmental stewardship, economic feasibility, and social equity. New Canaan's Oldham wants to "shine a light" on the issue, and for the new facility to be an educational tool. She sees the project as a way to contribute to the methodologies around sourcing materials as well as to draw attention to the issue of modern slavery.
PARTNERS FOR JUSTICE
This library is taking things to a new level, breaking new ground by partnering with Design for Freedom, an initiative of the New Canaan–based Grace Farms Foundation to "create a radical paradigm shift and remove slavery from the built environment," partially by bringing more transparency to where building materials and supplies are sourced from and the ethics of the companies that produce these materials. More than 80 experts and leaders from sectors that influence the built environment are consulting on this project to disrupt forced labor in the building supply chain. In 2020 Grace Farms partnered with the U.S. Green Building Council to add three new social equity credits within the Leadership in Energy & Environmental Design (LEED) standard, including "Social Equity within the Supply Chain."
"The next step in equitable design is examining our building materials supply chain and elevating social sustainability," said Sharon Prince, CEO and founder of Grace Farms Foundation. "After learning that the construction industry has for too long gotten a labor transparency pass, New Canaan Library quickly signed on as the first Design for Freedom building pilot project…libraries bring communities together and disseminate knowledge/resources and stimulate conversation. Our collective commitment and shared work will provide key data and research that advances the movement and serves as a replicable and scalable example of what is possible when transparency is brought to the global building materials supply chain."
Design for Freedom's website provides sample language for libraries to use to specify ethical design requirements in their construction and renovation projects, as well as a template Excel spreadsheet to input and track selected materials on a project.
"We are a force for good," said Micaela Porta, the Environmental, Social, and Governance (ESG) Coordinator for the New Canaan Library, "We want this building to embody our core values as a library, to be a space where core values come alive."
The library's construction team is fully on board. The construction management company, Turning Construction, uses Procore construction project management software to track the source of building materials across all subcontractors. The documentation generated through the New Canaan Library's project will add to a growing database that will help other construction projects across the world more ethically source materials in the future.
"We are building something from the ground up, inviting contractors to be our partners to be a part of something special, said Oldham. "This is an idea whose time has come."
---
Rebekkah Smith Aldrich is Executive Director, Mid-Hudson Library System, Poughkeepsie, NY; a judge for LJ's 2015 New Landmark Libraries; and a 2010 LJ Mover & Shaker.