Bam! and Pow! might be iconic terms associated with graphic novels, but readers apply words such as dynamic, engaging, and riveting to these works. This season the Wow! of the format is showcased especially in horror (continuing the trend LJ highlighted in 2022) and genre blends that incorporate horror elements. Patrick Godfrey, co-owner of Velocity Comics in Richmond, VA, describes his customers as possessing "insatiable appetites for tales of the spooky, creepy, or supernaturally weird variety—without regard for any other factor."
So dominant are mixes this year, that even fiction and nonfiction blur at the edges. But why should a medium that relies on juxtaposing distinct elements be confined by genre? Chloe Ramos, Book Market and Library Sales Manager for Image Comics, notes her excitement at "the increase in experimentation and genre-blending…from creators across the spectrum." Indeed, a number of upcoming releases eschew the tropes of any single genre in favor of new mixes.
Science fiction and fantasy will be well represented in the second half of 2023 too, and the crime genre seems poised for a banner year, with several exciting releases from established creators and new voices on the horizon. Many of the most exciting upcoming releases are from creators representing marginalized communities. This suggests an especially bright future for the graphic novel form, filled with increasingly vital content sure to enrich the lives of existing fans and attract new readers.
Chills That Thrill
Horror titles and related works offering a frisson of fear fill the shelves, stalk the highways, and haunt hidden hideaways this season. Just consider Haunthology (Image), a collection of 28 original short stories in which sinister creatures and supernatural threats abound, by fan-favorite creator Jeremy Haun. In Richard Rivera's Stabbity Bunny (Scout Comics), a plush bunny toy handed down through three generations of women serves as a protective totem against spirits representing the seven deadly sins. Ennun Ana Iurov writes a horror tale rooted in Romanian folklore in Whisper of the Woods (Mad Cave), while an encounter with a malevolent force of cosmic terror leaves a pair of young women struggling to discern fantasy from reality in the second installment set of Jeff Lemire and Andrea Sorrentino's "Bone Orchard Mythos," Ten Thousand Black Feathers (Image). Phantom Road, Vol. 1 (Image) has the prolific Lemire collaborating with artist Gabriel H. Walta for a frantically paced, spectacularly gory thrill ride about a long-haul trucker beset by nightmarish monsters. For a more atmospheric tale of life on the road, join the embodiment of death and a human woman named Emilia on a mysterious road trip in Genevieve Valentine and Ming Doyle's Two Graves, Vol. 1 (Image).
Tillie Walden continues to explore new territory within the world of Robert Kirkman's The Walking Dead in Clementine, Book Two (Image). The second installment of Walden's planned trilogy has Clementine and her companions investigating the dark secret at the heart of a seemingly idyllic island sanctuary. For another title featuring a seemingly idyllic environment that evokes creeping dread, check out the first collected volume of Mike Birchall's award-winning webcomic Everything Is Fine (Webtoon Unscrolled). Here, a married couple is driven to the edge of breaking by the strain of day-to-day life in a tranquil suburban neighborhood controlled by an oppressive surveillance state.
Christopher Sebela and artists Hayden Sherman and Nick Filardi offer found-footage horror as a woman uncovers her past and a horrifying social experiment in Blink (Oni). A trans woman attends a college friend's bachelor party at a hedonistic resort that just so happens to also be hosting the members of a bloodthirsty cult in Ignatz Award–winning cartoonist Mattie Lubchansky's cutting satire, Boys Weekend (Pantheon).
The horror and crime fiction genres tend to overlap thematically, so it's no wonder the genres are frequently mashed up with much success. Case in point: veteran writer Peter J. Tomasi and illustrator Maxim Šimic´ offer a provocative meditation on generational trauma and personal responsibility as a pair of hardboiled detectives match wits with a particularly unnerving, messianic serial killer in Blood Tree (Image). A group of bloodthirsty furries embark upon a quest to silence a man who accidentally witnessed their crimes in Doug Wagner and Daniel Hillyard's gorefest Plush (Image).
With less blood, but no diminution in unsettlement, noir uses morally ambiguous characters and labyrinthine plotting to explore the gritty side of humanity and society. Ed Brubaker and Sean Phillips once again prove themselves masters of the style in Night Fever (Image), a psychologically and emotionally complex thriller about a U.S. businessman who sets out to explore the nightlife in an unnamed European city, only to confront the shadows in his own soul. Noir also proves well-suited for examinations of marginalized individuals and class-consciousness in a pair of upcoming titles. A Filipino migrant worker roams the lavish nightclubs and seedy speakeasies of Depression-era San Francisco in search of his estranged wife in Rina Ayuyang's The Man in the McIntosh Suit (Drawn & Quarterly). A Chinese American detective tracks a vicious killer who preys upon members of high society and the criminal underworld alike in The Good Asian Deluxe Edition, Vol. 1: 1936 (Image) by Pornsak Pichetshote and Alexandre Tefenkgi.
Fantasy & Science Fiction
In the fantasy realm, works include Salome's Last Dance: Dance of the Seven Veils (Fantagraphics) in which creator Daria Tessler combines collage with pen-and-ink work to create phantasmagoric illustrations as she unfolds the story of a jaded nightclub performer's attempt at reviving his joie de vivre, which results in an interdimensional catastrophe. Calamity also ensues when every single person on Earth is suddenly offered one chance to wish for whatever they desire in Eight Billion Genies Deluxe Edition, Vol. 1 (Image). Cocreators Charles Soule and Ryan Browne deliver absurd humor and spectacular action sequences balanced by thoughtful commentary on the personal and political forces that create or divide communities. A young girl, raised inside a tower within the walls of a city ruled by ritual, escapes and sets out to become the master of her own destiny in Lorenzo De Felici's Kroma (Image). Hubert and Vincent Mallié's Darkly, She Goes (NBM; tr. from French by L. Benson) follows a knight whose search for redemption puts him at odds with a princess who believes it is her responsibility to pay for her parents' crimes. A hit man takes one last job but finds himself in the middle of a war between the fairy realms in Dahlia in the Dark (Mad Cave) from Joe Corallo, illustrated by Andrea Milana.
On the SF front, fans will delight in a pair of titles set in Alejandro Jodorowsky's The Incal universe, coming out from Humanoids. Author Dan Watters and illustrator Jon Davis-Hunt offer a tale of doomed romance between a space pirate and nun from the far future in The Incal: The Dying Star. Writer Brandon Thomas and illustrator Pete Woods place the titular intergalactic Lothario at the mercy of the children he has sired and abandoned over the course of his travels across the galaxy in The Incal: Kill Wolfhead.
Other upcoming SF titles feature stories of totalitarianism, robots, and various inimical locales. Joan Urgell combines digital graphics and lush watercolor painting to illustrate Romain Benassaya's Project ARKA: Into the Dark Unknown (Humanoids; tr. from French by Mark Bence), in which the crew of a ship fleeing a dying Earth gets lost in a starless void seemingly outside time and space. Stefano Cardoselli also writes of an inhospitable Earth in Don't Spit in the Wind (Mad Cave), in which humanity has escaped to a space station while a crew of garbagemen return to clean up the toxic waste left behind, but then one of them goes missing. In creator Juni Ba's Mobilis (TKO), Captain Nemo and the crew of the Nautilus fight to survive in a futuristic world where humanity has fallen prey to climate disaster and the rise of ferocious monsters. Billionaires escaping a dying Earth aboard a luxury ship are served by children and teenagers with a promise that they too will retire in luxury, but one teen begins to think this may be a lie in Arca (IDW) from Van Jensen with illustrations by Jesse Lonergan.
Author Mike Johnson teams with artist Andres Guinaldo to detail the Tyrell Corporation's ongoing attempts to create and control synthetic humans in Blade Runner 2039 (Titan). Chantal Montellier's Social Fiction (New York Review Comics; tr. from French by Geoffrey Brock) presents three stirring visions of totalitarianism run rampant in a collection of novellas never before available in English. A disaffected college student invents a groundbreaking virtual-reality game only to have it stolen by a mysterious corporation in K. Wroten's ambitious satire of modern culture, Eden II (Fantagraphics; see Q&A with Wroten on p. 28). The creator of a long-running newspaper comic strip about a robot soldier serving in the Vietnam War shocks the world by announcing his retirement, but his dreams of rest and relaxation are dashed when his protagonist shows up at his doorstep desperate for help escaping a mysterious enemy in Junkyard Joe (Image), from writer Geoff Johns, with illustrations by Gary Frank.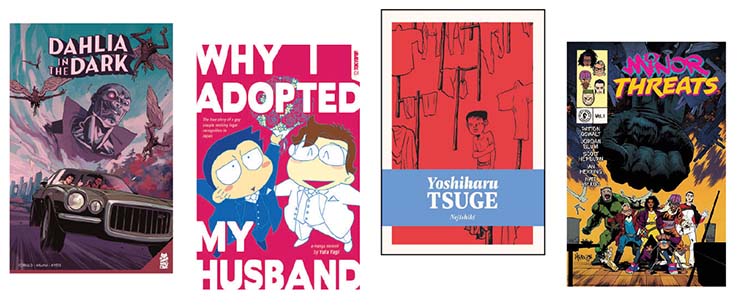 Action/Adventure
Heroes and villains of all sorts storm through panels this season. A young Bruce Wayne travels the world seeking the knowledge and skills necessary to wage a war on crime in Batman: The Knight (DC Comics). Writer Chip Zdarsky and illustrator Carmine Di Giandomenico redefine the Dark Knight's early years in this action-packed coming-of-age adventure. Batman will also team up with the Flash to save Central City in The Flash: The Fastest Man Alive (DC Comics), a prequel from Kenny Porter that will be a lead-in to the feature film out in June. From Ms. Marvel cocreator G. Willow Wilson and artist Marcio Takara comes Poison Ivy, Vol. 1 (DC Comics), starring the Batman villain herself in a miniseries that has been so popular it's been extended, and fans can look forward to a second volume in the future. Creators Mark Russell and Mike Allred follow the Man of Steel on a decade-spanning quest to save mankind from falling prey to their worst impulses in Superman: Space Age (DC Comics), which works well as a stand-alone and will help celebrate Superman's 85th anniversary this year.
Milestone Comics, which features Black creators and characters, has relaunched through DC Comics and celebrates the 30th anniversary of its founding this year. Co-founder Denys Cowan says, "When we created Milestone Media, we knew that it would be a game changer, and it has been exciting to see it endure, expand, and evolve over the past 30 years. With our core characters renewed for a new generation of fans…we're looking forward to a future of more great stories featuring diverse characters from some exciting and talented new storytellers." In the months ahead, readers can look for a hardcover edition of Blood Syndicate: Season One, which finds Wise Son and Tech-9 returning to Dakota City after their military tours in Afghanistan and encountering a war for the streets of Paris Island, from Geoffrey Thorne and artist CHRISSCROSS. Following last year's hardcover release, the paperback edition of Icon & Rocket: Season One will be available this summer. This reimagining by Reginald Hudlin and artist Doug Braithwaite of the original series finds a teenager discovering an alien being stranded on Earth and recruiting him to use his powers for the good of humanity.
Author Rick Remender teams with a variety of artists for The Scumbag, Complete Edition (Image). This twisted spy comedy follows the catastrophic misadventures of a biker with drug problems who accidentally becomes the most powerful person on Earth, and the spy tasked with convincing him to use his powers for good. Moon Knight artist Declan Shalvey offers up a spy-fi comic featuring a former CIA operative, with the six-story collection Old Dog, Redact One (Image), which he wrote, illustrated, and colored himself. Comedian Patton Oswalt joins cowriter Jordan Blum and illustrator Scott Hepburn for the story of a band of D-list villains who set out to collect the bounty on a world-class super criminal in Minor Threats, Vol. 1: A Quick End to a Long Beginning (Dark Horse).
Debuts To Note
First works showcase the trends of the comic year, with SFF, horror, and genre mixes at the forefront. Best-selling horror author Stephen Graham Jones makes his comics debut with Earthdivers, Vol. 1 (IDW), which finds Indigenous outcasts from an apocalyptic far-future trying to change the fate of the world after discovering a time-travel portal. Screen legend Jamie Lee Curtis teams with cowriter Russell Goldman and illustrator Karl Stevens for Mother Nature (Titan), in which a rebellious young woman's campaign of sabotage against the oil corporation she blames for her father's death leads her to discover a long-dormant force of absolute evil. It is an adaptation of Curtis's screenplay for the forthcoming Comet Pictures/Blumhouse film. A ruthless dominatrix gains a massive following on the dark web, only to find herself threatened by entitled fans and jealous rivals alike in Luana Vecchio's Lovesick (Image). Librarians will want to note that Vecchio was awarded the 2022 Russ Manning Promising Newcomer Award.
On the SFF debut front, Spanish cartoonist Núria Tamarit presents a feminist perspective on swashbuckling adventures while delivering a powerful message about the importance of ecological preservation in Daughters of Snow and Cinders (Fantagraphics; tr. from Spanish by Jenna Allen). In Ype Driessen's The Last Gay Man on Earth (Street Noise; tr. from Dutch by Lenny Kouwenberg), Driessen forgoes illustration in favor of sequentially arranged photographs to tell the story of a man on a quest to overcome his anxiety, and the sentient vacuum cleaner which becomes his confidant. John Bruno, visual-effects artist for movies such as Titanic, Avatar, and The Abyss, releases his first graphic novel, Navigator (Dark Horse), about an alien navigator seeking sanctuary on Earth in exchange for his advanced technology, with art from Jordi Armengol. A custodian at a mysterious corporation accidentally opens a portal to the universe in Tyrell Waiters's Vern, Custodian of the Universe (Nobrow).
Two additional debuts to note: Ollie Hicks's Grand Slam Romance (Abrams ComicArts–Surely), illustrated by Emma Oosterhous, features hotshot softball pitcher Mickey Monsoon and magical softball superstar Astra Maxima; cartoonist Kyle Vingoe-Cram's Kettle Harbour (Conundrum) is a queer drama set in rural Nova Scotia that Ducks author Kate Beaton calls a "stunning debut" in her blurb for the book.

Personal Fictions
In the months ahead, graphic novels also showcase stories that ruminate on the personal. Leading the way are best-selling creators Jillian Tamaki and Mariko Tamaki, who reunite with Roaming (Drawn & Quarterly), an exuberant and tender coming-of-age story about three college students exploring 2009 New York City during spring break. Girl Juice (Drawn & Quarterly) collects cartoonist Benji Nate's hit webcomic comedy about the romantic misadventures of four millennial housemates. Editors Michele Abounader and Brent Fisher collect a bevy of short fiction highlighting romance across a broad range of queer identity in the anthology The Color of Always (A Wave Blue World). A retired Muay Thai champion mentors a troubled teenage runaway in author Stephanie Phillips and illustrator Giulia Lalli's Eight Limbs (Humanoids). An Iraqi-born immigrant desperate to conquer 1970s Hollywood finds his artistic ambitions at odds with his responsibilities as a husband and father in Sammy Harkham's kaleidoscopic masterpiece Blood of a Virgin (Pantheon). A nurse attempts to extricate her teenage daughter from a dangerous gang in Marcelo Quintanilha's Listen, Beautiful Márcia (Fantagraphics; tr. from Portuguese by Andrea Rosenberg). Quintanilha's English-language debut arrives having already been awarded "Fauve d'Or" at the Angouleme International Comics Festival in 2022. Juliette (Drawn & Quarterly; tr. from French by Aleshia Jensen) by Camille Jourdy offers a look at small-town French life as a woman returns home from Paris for a low-key visit with family and friends, which turns into one unexpectedly full of drama, with the story rendered in beautiful watercolor.
Two historical-fiction stories round out these offerings. Adapting a novel of the same name, Keum Suk Gendry-Kim captures a coming-of-age story against the backdrop of the Korean War in The Naked Tree (Drawn & Quarterly; tr. from Korean by Janet Hong). Lizzy Stewart also tells and illustrates a coming-of-age story in Alison (Fantagraphics), about a fictional young woman who becomes a painter in bohemian 1970s London.
Fiction/Nonfiction
"Graphic novels" are not, of course, limited to fiction. Emphasizing the importance of hybrid creations, the space between fiction and nonfiction is up for grabs as well. Eddie Campbell returns with The Second Fake Death of Eddie Campbell & The Fate of the Artist (Top Shelf). The acclaimed creator's latest hybrid of memoir and metafiction concerns the increasingly chaotic chain of events set in motion when his wife begins to suspect he's been replaced by an impostor while in lockdown during the COVID pandemic. A young queer cartoonist living in Lebanon navigates relationships, artistic communities, and political activism in Joseph Kai's pseudo-autobiographical Restless (Street Noise).
Memoir & Biography
Nonfiction is strong this season, as the format continues to prove a popular and effective means of exploring personal and broader histories. Peter Dunlap-Shohl writes and illustrates an autobiographical account of growing up in Alaska during the Cold War in Nuking Alaska: Notes of an Atomic Fugitive (Graphic Mundi). Emilia McKenzie explores friendship, mental illness, and grief with incredible poignancy in But You Have Friends (Top Shelf). Rachael Smith meditates on the intersection of her family history, mental health, and alcohol dependency with sharp wit and raw honesty in Glass Half Empty (Icon). Framed as illustrated letters to a long-lost friend, creator Natalie Norris's Dear Mini: A Graphic Memoir, Book One (Fantagraphics) reveals the life-changing events Norris experienced while living abroad in France as a teen. A second volume is scheduled for release in 2025.
Creator Sivan Piatigorsky-Roth addresses the life and legacy of Diana, Princess of Wales, through "a particular autistic and transmasculine lens" in Diana: My Graphic Obsession (Street Noise). In Feeding Dangerously (TKO), chef José Andrés, with assistance from author Steve Orlando and artist Alberto Ponticelli, reveals the story behind how he founded World Central Kitchen, an organization that has served millions of meals to those affected by natural disasters.
On a much lighter note, cartoonist Paco Roca is Spain's answer to Seinfeld as he satirizes modern life through his relatable vignettes in Memoirs of a Man in Pajamas (Fantagraphics; tr. from Spanish by Andrea Rosenberg).
Biography is big this season as well, as the lives of significant world figures are revealed in a number of upcoming releases, especially in the arts. Quentin by Tarantino (Titan) is Amazing Améziane's account of the life of one of cinema's most influential and widely celebrated auteurs. Author Francesco Matteuzzi and cartoonist Luca Debus provide insight into how the life of the man behind Charlie Brown and Snoopy informed the creation of his internationally beloved comic strip with Funny Things: A Comic Strip Biography of Charles M. Schulz (Top Shelf).
Music dominates the season with a playlist of titles. Author and illustrator Koren Shadmi tracks the turbulent relationships within one of the most iconic rock and roll bands of all time in All Tomorrow's Parties: The Velvet Underground Story (Humanoids). Thomas Mauceri and Seb Piquet interweave Mauceri's quest to track down and interview the massively influential poet, singer, and political activist some consider to be "the Godfather of Rap" with an exploration of their subject's life and legacy in In Search of Gil Scott-Heron (Titan).
Publisher NBM Productions will release three noteworthy biographies of famous musicians in the coming months: Queen in Comics! (tr. from French by Christopher Pope) from cocreators Emmanuel Marie and Sophie Blitman, reveals the stories behind the creation of "Bohemian Rhapsody," "We Are the Champions," and more enduring rock anthems; jazz legend Charles Mingus's lifelong struggle to live and create music on his own terms is explored in Mingus (tr. from Italian by Nanette McGuiness) from writer Flavio Massaruto and illustrator Squaz; and Tony Lourenco and Nicolas Finet offer their take on one of rock and roll's geniuses with Prince in Comics! (tr. from French by Montana Kane).
Additional works of nonfiction to watch for include creator Tracy White's Unaccompanied: Stories of Brave Teenagers Seeking Asylum (Street Noise), which draws on extensive interviews with political refugees, lawyers, and activists to reveal the true stories of teenagers who fled Guatemala, El Salvador, Honduras, and Guinea on their own in hopes of finding asylum in the United States. Blue Book (Dark Horse) concerns Betty and Barney Hill, a couple from New Hampshire who, in 1961, gained international notoriety after claiming to have been abducted by extraterrestrials. Best-selling author James Tynion IV teams with artist Michael Avon Oeming to reveal what they claim happened and the price they paid for telling their story. Finally, readers interested in history, physics, or international relations should take note of The Bomb: The Weapon That Changed the World (Abrams ComicArts; tr. from French by Ivanka Hahnenberger). Here, coauthors Didier Alcante and Laurent-Frédéric Bollée and illustrator Denis Rodier offer an exhaustive account of the creation and initial deployment of the world's first weapon of mass destruction.

Manga
Comics from Japan are expanding their readership, with data from NPD BookScan showing that manga makes up 53 percent of comic and graphic novel sales. Five years ago it made up just 25 percent of sales. Readers can look forward to Nejishiki (Drawn & Quarterly; tr. from Japanese by Ryan Holmberg), which collects the nightmarishly surreal short fiction responsible for securing Yoshiharu Tsuge's reputation as a revered and influential figure in the history of manga. Tsuge's wife, Fujiwara Maki, documents her struggle to maintain her own artistic identity in My Picture Diary (Drawn & Quarterly; tr. from Japanese by Ryan Holmberg).
A teenage romance becomes enormously complicated when one of the young lovers shrinks down to six inches tall in Shungiku Uchida's Minami's Lover (Fantagraphics; tr. from Japanese by H. Paige).
In Goodbye, Eri (Viz; tr. from Japanese by Amanda Haley), Tatsuki Fujimoto, creator of the runaway hit series "Chainsaw Man," explores the explosive dynamic between a depressed filmmaker and a mysterious young woman who enlists his aid in creating a strange masterpiece.
Yumi Tamura's Don't Call It Mystery (Seven Seas; tr. from Japanese by Patrick Honnoré & Yukari Maeda) is a quirky mystery about a young man who becomes a detective in order to clear his name after being falsely accused of murder. A dangerous gangster becomes an obsessive K-pop superfan in Teki Yatsuda's dark comedy, The Yakuza's Bias 1 (Kodansha; tr. from Japanese by Max Greenway). Kyoko Okazaki's River's Edge (Vertical; tr. from Japanese by Alexa Frank) explores the relationships and drama among six high school friends who discover a corpse. The story has been adapted as a live-action film streaming on Netflix.
A soldier unjustly accused of crimes is forced to venture across a futuristic wasteland ruled by mutant monsters in the postapocalyptic thriller Tsugumi Project 1 (Kodansha; tr. from Japanese by Ko Ransom with additional French translation by Madison Salters), from creator ippatu. Gonbe Shinkawa's manga adaptation of Yuba Isukari's novel about a self-replicating train station that is taking over Japan offers another far-future dystopia, Yokohama Station SF, Vol. 1 (Yen; tr. from Japanese by Stephen Paul).
Nonfiction examples of manga include memoirs and history titles. Creator Yuta Yagi reveals how he and his partner exploited a unique loophole to circumvent Japanese laws against same-sex marriage in Why I Adopted My Husband: The True Story of a Gay Couple Seeking Legal Recognition in Japan (Tokyopop; tr. from Japanese by Katie Kimura). Intersex transgender creator Shou Arai explores the obstacles that LGBTQIA+ people face in modern Japanese society in At 30, I Realized I Had No Gender: Life Lessons From a 50-Year-Old After Two Decades of Self-Discovery (Tokyopop; tr. from Japanese by Massiel Gutierrez). In Okinawa (Fantagraphics; tr. from Japanese by Jocelyne Allen), award-winning Susumu Higa examines the history of Okinawa and its military occupation.
From high-octane superhero stories and dystopian worlds to literary fiction and biographical accounts, image and text combine in a wide range of stunning graphic novels and nonfiction in the months ahead. Readers will find much to marvel over, learn from, and delight in as they pore over panels and page design. Wow! indeed.
---
Tom Batten has written for the New Yorker, the Guardian, and McSweeney's Internet Tendency. He lives in Virginia, where he teaches creative writing at the College of William & Mary.