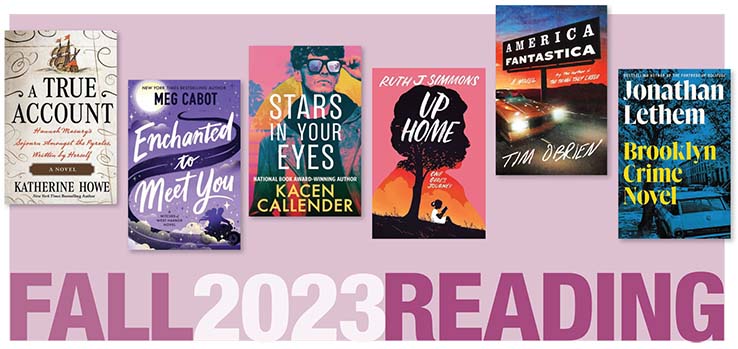 This fall highlights themes that have remained at the forefront of the book world in response to the pandemic—a continued focus on introspection, mindfulness, and mental health—whether in literary fiction, design titles, or creative memoirs. The fall season also speaks to front-page library news, as national conversations and concerns play out. Titles give voice to individuals who have been long othered, recenter the narrative, and celebrate differences—almost directly in opposition to the continued library collection challenges across the country. Also on offer are titles that continue recent trends and buzzy titles that will race up the best-seller lists. Get ready for an autumn aglow with big reads. To ease ordering and suggesting, we also offer a downloadable spreadsheet of all the books listed below.
WELCOME RETURNS
Whether a visit to a previous setting, character, or the first new title in years, there are several surprising and delightful returns this season. The Exchange (Doubleday) revisits Mitch McDeere, the hero of John Grisham's first best seller The Firm, in an international legal thriller. America Fantastica (Mariner) is the first novel by Tim O'Brien in decades, featuring a bank robbery and a cross-country chase. Jonathan Lethem features Brooklyn for the first time since The Fortress of Solitude, with Brooklyn Crime Novel (Ecco). Day (Random House), Michael Cunningham's return to novels after a 10-year break, explores the life of a family on three years of April 5ths—before, at the start of, and a year out from the beginning of the pandemic.
SOPHOMORE OUTINGS
Fall also brings the release of eagerly anticipated second titles from best-selling debut authors. Angie Kim follows her 2019 debut, Miracle Creek, with the portrait of a family in crisis in Happiness Falls (Hogarth). In Land of Milk and Honey (Riverhead), C Pam Zhang (How Much of These Hills Is Gold) trades California for a mountain retreat in Italy during an environmental collapse. Etaf Rum is back after A Woman Is No Man with Evil Eye (Harper), exploring the expectations placed on Palestinian American women as one rethinks her life and choices when faced with the prospect of a family curse. Wellness (Knopf) by Nathan Hill (The Nix) looks at modern marriage in a tech- and wellness-obsessed world. Bryan Washington follows up Memorial with Family Meal (Riverhead), which traces the relationship of two young men reconnecting after one suffers a deep loss. Ayana Mathis delivers her second novel, The Unsettled (Knopf), after The Twelve Tribes of Hattie. It is the story of a deeply entwined mother and daughter separated by the hundreds of miles between Philadelphia and Bonaparte, AL.
FAMILY STORIES
Familia (Kensington) by Lauren E. Rico sees a young woman's life turned upside down by a DNA test. Alicia Elliott, author of the memoir A Mind Spread Out on the Ground, makes her fiction debut with the disturbing and surreal And Then She Fell (Dutton), which explores motherhood and mental health through the story of an isolated contemporary Indigenous mother. In The Museum of Failures (Algonquin), a novel of secrets and forgiveness by Thrity Umrigar, the main character returns to India to complete an adoption and see the elderly mother he has resented for years. Debut novelist John Manuel Arias explores how a deadly secret is still affecting a Costa Rican family nearly 30 years later in Where There Was Fire (Flatiron). In Fran Littlewood's debut, Amazing Grace Adams (Holt), a wife and mother hits her breaking point and, when stalled in traffic, gets out of her car, and walks away.
CRIME FICTION
Readers will be thrilled to see the return of detective Evander "Andy" Mills in The Bell in the Fog (Forge) by Lev AC Rosen. Dann McDorman's highly anticipated debut West Heart Kill (Knopf) finds a private detective joining an old friend and a group of unhappy strangers at a hunting lodge where three bodies turn up over the course of four days. Mother-Daughter Murder Night (Morrow) by Nina Simon is a debut featuring a quirky family of amateur sleuths. In Blood Sisters (Berkley) by Vanessa Lillie, a Cherokee archaeologist is called home to investigate the disappearance of her sister. Plus, Stephen King is bringing back Holly Gibney in Holly (Scribner).
HISTORICAL FICTION
National Book Award winner Jesmyn Ward reimagines the life of an enslaved woman in the Deep South before the American Civil War in Let Us Descend (Scribner). In Absolution (Farrar), Alice McDermott, also a National Book Award winner, follows the lives of two American wives in Saigon during the Vietnam War and the lasting effects of their actions 60 years later. The House of Doors (Bloomsbury) by Tan Twan Eng imagines W. Somerset Maugham's real trip to the Malay Peninsula, after World War I. Katherine Howe's A True Account: Hannah Masury's Sojourn Amongst the Pyrates, Written by Herself (Holt) tells the story of two women—the 18th-century Masury and a 1930s professor trying to piece together her story. In the wake of the U.S. Civil War, a wounded Union soldier vows to avenge the murder of his family in Chenneville: A Novel of Murder, Loss, and Vengeance (Morrow) by Paulette Jiles. Lauren Groff's The Vaster Wilds (Riverhead) becomes a story of survival after a girl escapes a colonial settlement, fleeing into the American wilderness. Zadie Smith writes The Fraud (Penguin Pr.), a novel exploring the melodramatic Victorian Tichborne case. Actress Millie Bobby Brown makes her debut with a family-inspired story about the Bethnal Green tube disaster in 1943 in Nineteen Steps (Morrow).
ROMANCE
Award-winning author Kacen Callender makes their adult romance debut with Stars in Your Eyes (Forever), featuring a grumpy/sunshine fake-dating queer couple. James Beard Award–nominated food writer Ali Rosen turns to culinary romance in Recipe for Second Chances (Montlake). Loving the World Cup? Soccer fans have two novels to look forward to once the games end: Meryl Wilsner offers a sapphic sports romance involving members of the U.S. women's national soccer team in Cleat Cute (St. Martin's), while The Long Game (Atria) by Elena Armas has slow-burn charms. And witches are still casting their spell, as shown by Meg Cabot's new rom-com series starter, Enchanted To Meet You (Avon) featuring a witch and a handsome stranger who must team up to save her village.

REMIXES AND RETELLINGS
From fairy tales and the Bible to Zorro and The Nutcracker, retellings remain a trend across genres. Feeding into the continued focus on witches, Melinda Taub pairs them with Jane Austen in The Scandalous Confessions of Lydia Bennet, Witch (Grand Central). Sun of Blood and Ruin (Harper Voyager) by Mariely Lares features a reimagining of Zorro, pulling from Mesoamerican mythology and Mexican history. After the Forest (Tor) by Kell Woods finds Greta and Hans 20 years after escaping the gingerbread house. Lilith (Alcove) by Nikki Marmery is a feminist retelling of the Hebrew creation story of Adam's first wife. Fantasy novelist Erika Johansen moves from the Kingdom of Tearling to The Kingdom of Sweets (Dutton) in a magical new vision of The Nutcracker.
SPECULATIVE FICTION
Following the trend of haunted and haunting houses, Carissa Orlando's debut The September House (Berkley) features a homeowner who refuses to be forced out of her haunted house. A Haunting on the Hill (Mulholland) by Elizabeth Hand is the first authorized novel to return to the world of Shirley Jackson's The Haunting of Hill House. Another horror debut of note is Adriana Chartrand's An Ordinary Violence (Spiderline), which confronts generational trauma and the legacy of colonization. Don't miss The Reformatory (Gallery) by Tananarive Due, set in the Jim Crow South, where humans are the scariest monsters.
Fan-favorite Murderbot is back in Martha Wells's System Collapse (Tor.com), a second full-length novel and a direct follow-up to Network Effect. Samit Basu mixes elements of the story of Aladdin with the political machinations on a corrupt spaceport in his novel The Jinn-Bot of Shantiport (Tor.com).
Fantasy highlights include recent breakthroughs and perennial favorites. V.E. Schwab launches a new series set in the "Shades of Magic" world with The Fragile Threads of Power (Tor). Travis Baldree's highly anticipated second novel, Bookshops & Bonedust (Tor), features a younger Viv in another heartwarming low-stakes fantasy.
Adult debuts from noted YA authors are another trend among fall releases. Ariel Kaplan makes hers with the Spanish Inquisition–set historical fantasy The Pomegranate Gate (Erewhon), which draws upon Jewish folklore. Cassandra Clare will release an epic-fantasy series starter featuring a magic-user and an heir's body-double in Sword Catcher (Del Rey). Throne of the Fallen (Little, Brown) by Kerri Maniscalco is a fantasy romance stand-alone set in the world of her "Kingdom of the Wicked" series.
SOCIAL JUSTICE
Several titles tackling racism, bodily autonomy, class, and gender are important acquisitions this season. Among fiction titles, Christine Platt and Catherine Wigginton Greene's satirical Rebecca, Not Becky (Amistad) explores the differences and similarities between a pair of upper-class stay-at-home mothers—one Black and one white—living in a "perfect" neighborhood amid a rise in racial tensions. In debut novelist Anise Vance's Hush Harbor (Hanover Square), righteous fury pushes a New Jersey community to rebel after the loss of another Black teenager to police violence.
In nonfiction, Bettina L. Love writes Punished for Dreaming: How School Reform Harms Black Children and How We Heal (St. Martin's); Ibram X. Kendi describes it as a "landmark book." To Free the Captives: A Plea for the American Soul (Knopf) by Pulitzer Prize–winning poet Tracy K. Smith offers a heartfelt and hopeful meditation on the past and present in the wake of unending racist violence. Pockets: An Intimate History of How We Keep Things Close (Algonquin) by Hannah Carlson is a micro-history touching on gender politics and privilege. Caught at the center of discourse on gender and bodily autonomy in sports, world-champion runner Caster Semenya details her career, including the International Association of Athletics Federations' devastating reactions to her naturally elevated testosterone levels, in The Race To Be Myself (Norton).

SHORT TAKES: SHORT STORIES AND ESSAYS
Kate Atkinson's latest, Normal Rules Don't Apply (Doubleday), is an interconnected short-story collection where nothing is quite as it seems. We Have Always Been Who We Are (Blackstone) by Sofia T. Romero is a debut collection of magically imbued interlinked stories. Ghassan Zeineddine's debut Dearborn (Tin House) explores the complexities of the Arab American community of Dearborn, MI. The characters in Vauhini Vara's This Is Salvaged (Norton) are looking for meaning at turbulent points in their lives. Jewel Box: Stories (Erewhon) by E. Lily Yu offers 22 tales rich in worldbuilding and observation.
Opinions (Harper) by Roxane Gay is a collection of her best nonfiction essays from the past 10 years. Wild Girls: How the Outdoors Shaped the Women Who Challenged a Nation (Norton) by Tiya Miles is part of the new "Norton Shorts" series. In Creep: Accusations and Confessions (Avid Reader), Myriam Gurba delivers cultural criticism through personal essays, tracing the creep of toxic traditions into every part of society. The Comfort of Crows: A Backyard Year (Spiegel & Grau) by Margaret Renkl is a collection of essays following the changes in her garden and her life over a year.
AT HOME
Whether it's interior design or working in the kitchen, there is a focus on comfort, introspection, and intention in the season's releases. A handful of celebrity projects will get lots of media tie-in attention, but there are several standouts in the crowded field.
Queer Eye cohost Bobby Berk releases his Right at Home: How Good Design Is Good for the Mind (Clarkson Potter), emphasizing design that promotes self-care and mental wellness. HGTV designer Jeremiah Brent delves into the feelings that make a space special in his first book, The Space That Keeps You: When Home Becomes a Love Story (Harvest). And HGTV star Jenny Marrs offers her take on design (with special appearances from Dave Marrs) in House + Love = Home: Creating Warm, Intentional Spaces for a Beautiful Life (Convergent).
There are cookbooks of note from previous nominees and winners of James Beard Awards, including Simply West African: Easy, Joyful Recipes for Every Kitchen (Clarkson Potter), Pierre Thiam's array of dishes from West Africa. The Simple Art of Rice: Recipes from Around the World for the Heart of Your Table (Flatiron) by JJ Johnson and Danica Novgorodoff celebrates the history and variety of rice. Mark Kurlansky's latest micro-history is The Core of an Onion: Peeling the Rarest Common Food—Featuring More Than 100 Historical Recipes (Bloomsbury).
ENTERTAINERS IN THEIR OWN WORDS
Nostalgia runs deep and across generations with memoirs from notable fan-favorites of television, including Being Henry: The Fonz…and Beyond (Celadon) by Henry Winkler, If You Would Have Told Me (Holt) by John Stamos of Full House fame, Thicker Than Water (Little, Brown) by Scandal star Kerry Washington, and Making It So (Gallery) by Patrick Stewart, star of stage, screen, and Star Trek.
Music memoirs are led by Scattershot (Hachette) from Elton John's longtime lyricist and writing partner Bernie Taupin. There is also Thank You (Falettinme Be Mice Elf Agin) (AUWA: MCD) by Sly Stone, the inaugural title of Questlove's publishing imprint. Other notables include I Want To Be Where the Song Is (Little, Brown) by the queen of hip-hop soul, Mary J. Blige; My Effin' Life (Harper) by Geddy Lee, of the rock band Rush; and Talking to My Angels (Harper Wave) by rock singer-songwriter Melissa Etheridge.
Three more titles not to miss: Worthy (Dey Street) by actress/singer-songwriter Jada Pinkett Smith; Leslie F*cking Jones (Grand Central) by comedian and SNL alumna Leslie Jones; and Behind the Seams: My Life in Rhinestones (Ten Speed) by Dolly Parton, with Holly George-Warren and Rebecca Seaver, which explores Parton's distinct fashion style.
MEDITATING ON MEMOIR
In A Man of Two Faces: A Memoir, A History, A Memorial (Grove), Viet Thanh Nguyen dives deep into his family's story but also explores the bigger picture of what it's like to be a refugee, the impact of colonization, and the often-broken promises of America. In Class: A Memoir of Motherhood, Hunger, and Higher Education (Atria/One Signal), Stephanie Land continues the story she began in Maid. Jami Nakamura Lin's The Night Parade: A Speculative Memoir (Mariner) explores issues of mental health and pervading grief, using traditional Japanese legends and narrative structure. Poet and essayist Athena Dixon looks at the search for connection, in a vulnerable memoir in essays, The Loneliness Files (Tin House). In Everything I Learned, I Learned in a Chinese Restaurant (Little, Brown), filmmaker and activist Curtis Chin describes growing up gay and Chinese American in '80s Detroit. Up Home: One Girl's Journey (Random House) by Ruth J. Simmons follows her journey to becoming the first Black president of an Ivy League university.
READERS + LIBRARIES
The fall season, bright with the energy of new books, arrives with the promise of great reads and big stories, of insight and challenge. As these works find their way to their readers, via lengthy holds lists, browsing the collection, and lucky finds on the new-book shelf, they underscore the vital role that reading plays in shaping a life—and the world. On that note, a last title to know: the heartwarming novel What You Are Looking For Is in the Library (Hanover Square) by Michiko Aoyama, which is about libraries, librarians, and the power of books.
---
Jessica Trotter is a Collection Development Specialist and Reader's Advisory trainer for Capital Area District Libraries based in Lansing, Michigan and serves on the Board for LibraryReads. Her reading tastes are all over the place—hockey romance to space opera to nature writing, and everything in between.