Readers' Advisory + Reader Engagement = Reader Services for Our Times
Autumn Friedli felt she could be getting more out of her interactions with readers but couldn't quite put her finger on what was missing. Megan Johnson's older reader (whom she had worked with for 14 years!) had favorite authors who weren't writing fast enough, and the reader wasn't willing to try anything new. Miranda Ericsson wanted to find a way to connect with and get feedback from readers so she could make even better reading suggestions. In addition to their individual challenges, all three of these Topeka & Shawnee County Public Library, KS, staff members were trying to figure out how they could create the "community of engaged readers" that was a major focus of their library's new strategic plan.
Then COVID hit.
The recent past has given our profession an opportunity to expand the "commonplace reading" pillar of public library service that Wayne Wiegand identifies as one of the three enduring foundations of public library service in his book Part of Our Lives: A People's History of the American Public Library. Both librarians and our readers have an opportunity to consider how we might evolve aspects of readers' advisory (RA) services into reader engagement (RE) by focusing some of our attention on readers' experiences of the books they read and how reading itself enriches their lives.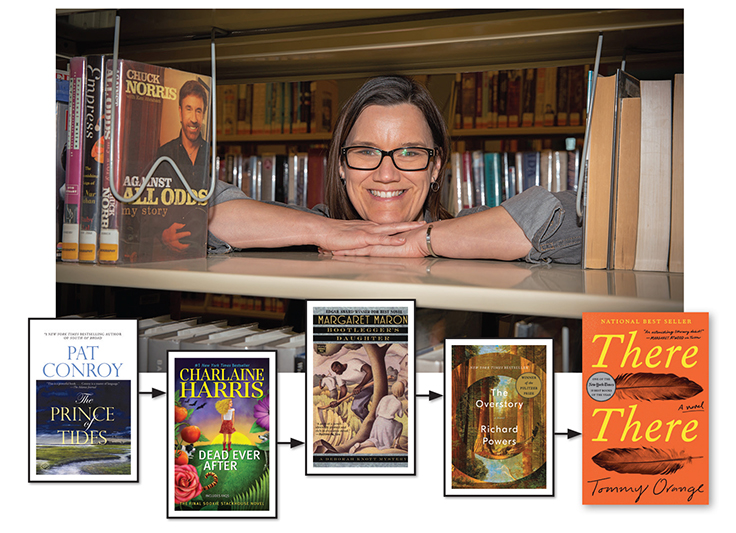 READER LEADER

Autumn Friedli heads the Reader Engagement training and initiatives for Topeka & Shawnee County Public Library. She suggests There There to readers who enjoy Richard Powers, Pat Conroy, Charlaine Harris, and more. Photo courtesy of Topeka & Shawnee County Library
READING RELATIONSHIPS
Reader ecology—the relationship among readers, books, and book selection—has three basic components: discovery, discernment, and delivery. Readers want to discover new titles, they want to figure out whether a title is right for them, and then they want to obtain it. Library collections, staff, and readers interact to maximize the use of library materials. Beyond finding books, the result of this engagement also creates satisfying experiences for readers.
The elements of this system have remained constant, but the interactions and relationships have morphed in significant ways. When New York Public Library launched readers' advisory services a century ago, readers had limited knowledge about what titles were available. The goal was to support adult learning, in part to address inequities in the accessibility of higher education. The service was conceived and implemented with book-savvy library staff having one-on-one, in-depth, and ongoing meetings with users. Library staff would work with readers to identify their learning goals and present level of knowledge, then develop an individualized reading plan. Readers were encouraged to return to the same staff member, report on their experience, and then rework the plan.
More recently, RA has become a corollary of reference/information services. Reader requests are often treated as another ready reference or research question. While many readers have a favorite staff member whom they trust, the vast majority of these interactions are episodic and transactional. What is frequently missing today is the opportunity for a reader to be connected with the staff member whose reading and knowledge is the best fit for the reader's needs. Also often lost is the opportunity for the reader and the staff member to develop an ongoing and supportive relationship through time.
The pandemic not only gives us a chance to reaffirm our commitment to our core mission in reader services—getting books into people's hands—but also provides an opportunity to grow that mission and add RE to RA by focusing as much on readers and their experience as we do on the book.
FINDING WITHOUT SEEKING
In the reader ecology outlined here, we know that many readers are comfortable turning to their library to obtain the books they are interested in reading. We also know that a subset of those readers enjoy turning to library staff for reading suggestions when the book they want is on hold or their personal book discovery strategies have come up empty.
In her article "Finding Without Seeking," Catherine Sheldrick Ross discusses the impacts that reading has on the lives of 194 avid readers. This article points out that readers frequently obtain new information, beliefs, and insights through pleasure reading even though this was not their reason for selecting a title. As Ross states, "Readers choose books for the anticipated pleasure in reading itself but then, apparently serendipitously, they encounter material that helps them in the context of their lives. In effect these avid readers reported finding without seeking."
The readers described in Ross's article were passionate about how particular books had led them to new insights about themselves and their world. Reading their descriptions of the impact of some of their favorite titles, one gets the sense that these readers were not just sharing thoughts they already had, but were discovering connections and values as they responded to prompts Ross used in her study, like the ones below:
What factors fostered or hindered your reading in childhood?
How do you choose or reject a book?
How has a particular book made a difference for you?
What books do you reread?
What does the perfect book look like to you?
In the same way that a book yields benefits that the reader was not seeking, participation in Ross's study may have led the readers to new insights and appreciations for the ways that reading itself enriches their lives. Offering readers the opportunity to appreciate and value not only the books they read but the benefits books bring is the essence of reader engagement. Not all readers may want this approach, but offering it provides them with an option to enter into a deeper relationship with reading, even when they may not have been aware that they were seeking one.
DEEP LISTENING
An analysis of one of Friedli's interactions with a reader provides a case study of how reader engagement can be integrated into RA. A component of the reader engagement training provided to Topeka & Shawnee County Public Library by NoveList involved Topeka staff viewing videos of a reader named Joanne (we are using only her first name to respect her privacy) discussing books she had read and enjoyed. Staff were encouraged to suggest titles to this reader via email, and the reader responded to these recommendations.
Friedli viewed the videos of this reader describing her experience of reading Pat Conroy's The Prince of Tides, Charlaine Harris's Dead Ever After, Margaret Maron's Bootlegger's Daughter, and Richard Powers's The Overstory. While the titles vary in genre, they have similar appeals in terms of characterization and the evocation of setting and also overlap in several themes, including a focus on strong women characters and the environment.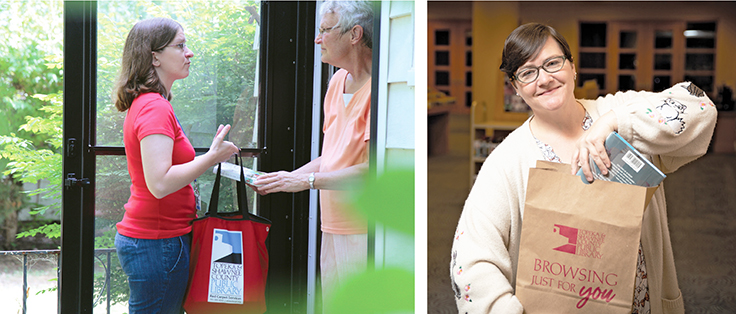 DELIVERING THE LIBRARY

Megan Johnson, left, brings books to homebound seniors as part of Topeka & Shawnee's Red Carpet service. Miranda Ericsson, right, choosing personalized books for the library's Browsing Just for You service. Photos courtesy of Topeka & Shawnee County Library
After viewing these videos, Friedli used elements mentioned by the reader to connect Tommy Orange's There, There to the books the reader had enjoyed in the past. Here is the text Friedli sent to Joanne:
"I think you might like Tommy Orange's There, There. The story focuses on 12 characters from Native communities living in Oakland, California. Their stories collide one fateful day at the Big Oakland Powwow. I chose this based on some of the things you mentioned in your book talks. You like a story rich in characters—There, There follows 12 characters. You also mentioned that you enjoy reading about racial injustice or the racial divide—There, There discusses the trials and tribulations of Native people living in an urban setting. You also talked about enjoying books with humor—while this book tackles difficult themes, the author adds humor to this powerful book."
Here is Joanne's response:
"Yes, this looks like a book I'd enjoy. The evaluation of why I would is good. I'm adding it to my list! Am happy to say the library has the ebook!"
The reader's response to Friedli's description indicates that this reader feels heard. Because Friedli couldn't ask Joanne follow-up questions, Friedli had to rely on what Joanne said and how she said it. She had to listen to the words and the inflection. Friedli had to be fully present and listen to understand.
All too often, Friedli realized that she listened to respond. She wasn't fully listening to hear, and readers want to feel truly heard. Like Friedli, public service librarians often listen to give advice but might not always listen to engage with the reader when RA is cast as an informational transaction. Reader engagement moves the needle from transactional listening to relational listening—turning the conversation about a book into an experience about reading.
In 1996, Kenneth Shearer published research that validated the importance of providing a reader with an opportunity to discuss their reading experiences. This study conducted in North Carolina public libraries involved patron surrogates asking library staff for another book like Harper Lee's To Kill a Mockingbird. Participants were asked to rate the quality of the service they received and whether they would go back to the same staff member with a similar request. Staff members who sought to learn something about the reader's experience of Lee's book got high marks for quality of service. Surprisingly, participants also indicated that they would come back to these staff members with a similar request even in cases where the staff member could not suggest another title.
This research points out that readers are seeking connections—to the book, to the author, to the characters, and to other readers. In RE, the focus shifts from just suggesting a book to providing opportunities for connection, reflection, and further discovery. It's not the transaction that's important; it's the relationship. That relationship might be with the librarian who puts the book in the reader's hand, the author, or the characters. Ideally, it's all those things and more. To move this interaction more fully into RE, Friedli noted some steps she could have taken to deepen this reading relationship. Her reading tastes were not similar at all to Joanne's, so instead of suggesting a book she knew little about, Friedli used a title a coworker with tastes similar to Joanne's had recently enjoyed and shared. If this had not been an exercise, Friedli could have facilitated an introduction between the reader and her coworker—connecting two like-minded readers. She might have walked Joanne through NoveList to find other books that align with her reading tastes. Finally, at the end of the conversation, Friedli could have handed Joanne a business card and asked her to follow up after she read the book with her thoughts, allowing the conversation to continue beyond this initial interaction.
TELL ME ABOUT A BOOK VS. TELL ME ABOUT YOUR READING
As the coinventor of the concept of appeal in RA, Joyce Saricks not only gave advisors a way to talk about the elements of a book that contribute to a desired reading experience. She also gave us a question to use with readers that enabled RA to take a quantum leap forward. Saricks's "Tell me about a book you've read and enjoyed" invitation shifts readers' attention from a title's characters or genre to how they felt when they read the book and what they enjoyed about that experience. Enabling the leap from RA to RE requires us to consider a further expansion of the RA conversation, one that organically moves from book to reading life.
Johnson, as part of her RA training, was thinking about offering a new service to her community. She wanted to do precisely this—not just ask people what they wanted to read next, but reenvision the conversation itself as a service and exercise in deepening her relationship with her readers. Johnson takes part in Topeka's signature Red Carpet service, which provides individualized service to older adults in congregate facilities. Because staff members visit the same places on a regular basis, they have the opportunity to develop long-standing relationships.
In working with one of her clients, Betsy (we are using only her first name to respect her privacy), Johnson wanted to be sure that she was providing her with as wide a range of potential titles as possible. To do this, Johnson shifted the focus of her questions from books to reading.
Instead of "What kind of books would you like me to bring?" or "What author would you like to read?" Johnson introduced questions modeled on the ones used in Ross's study:
What is the first book you remember reading?
Was there one person who was a big influence on your reading habits?
Do you reread books? If so, which ones?
What book genres do you love?
Do you ever read a book based solely on its cover?
Are there any "book deal breakers" for you?
The question that evoked the most reflective response from Betsy regarded individuals who have influenced her reading habits. She recalled that both of her parents were avid readers and that her father ran the local movie theater in her hometown. Because of this, books and magazines about Hollywood, movies, and movie stars were always present in her home. This recollection prompted Betsy to ask Johnson for books about the history of Hollywood and some movie star biographies. In 14 years of working with this reader, Betsy had never asked for titles like these.
Saricks's question asks a reader to recover the experience of reading a book they enjoyed. When the reader shares this experience, it is as though the reader is rereading the book right in front of us. Johnson's series of questions invites readers to reconnect with their reading lives. This transforms the task of finding another book into a reflection on what reading means to them.
BUT WHAT DOES IT MEAN
Over the past three-plus years, Topeka & Shawnee County Public Library set a mission to make Topeka & Shawnee County an engaged community of readers and then worked to align current and new services and initiatives with that statement.
Each of the initiatives (chart at right) require a level of staff understanding and knowledge to build and mold the relationship with Topeka's community of readers. Several of these services were created during the pandemic at a time when people had time to read but opportunities to share were limited.
Creating these services gave readers a chance to find other readers in their community experiencing similar things. New initiatives created an opportunity for readers to find new authors and titles, increased their ability to understand what they like, expanded strategies for finding more titles, deepened their appreciation for reading, and supported readers in sharing their reading with others.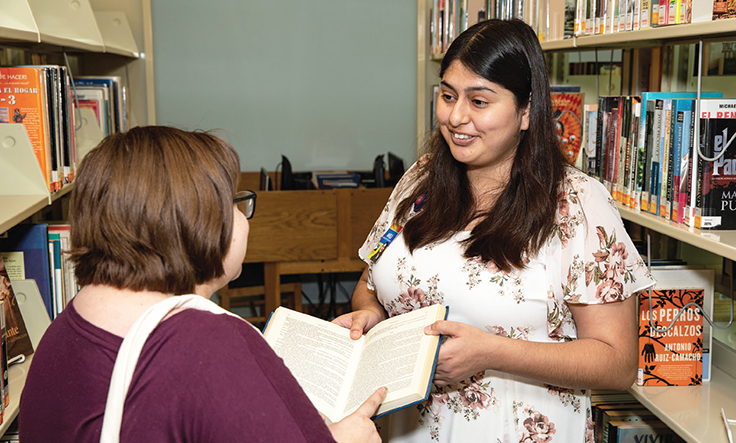 READER ENGAGEMENT IN ACTION

Areli Bermudez-Villarreal and a patron talk about books. Photo courtesy of Topeka & Shawnee County Library
With the Personalized Browsing Service, customers used an online form-based questionnaire to tell librarians what they were in the mood to read next. Librarians took that information, selected books that met the reader's mood, and bundled them with a personalized card that explained why the books were chosen. This service was successful right from the beginning. It quickly morphed into a subscription service where librarians pulled books for customers each month (rather than requiring customers to contact the library each time they wanted more books). The same librarian would gather materials each month for the reader, thus allowing relationships to form.
Through this service, Ericsson built meaningful relationships with readers by writing them these cards and by asking them for feedback. Ericsson frequently received cards referring to her as a "lifeline" and a "saving grace" during the pandemic. She also received homemade, heartfelt thank-you gifts from customers. When Ericsson's book picks missed the mark with a reader, the reader took great care to let Ericsson know they appreciated the time and attention she took to find them, but for one reason or another the books just did not suit. That information is sometimes more useful than gushing praise when looking for the next books to offer a reader.
Notice what is measured to validate this as successful service. It is not the number of books that Ericsson's readers check out. It is not the number of transactions. It is the rich exchange between Ericsson and the readers she is serving. Those cards and emails, those "lifeline" and "saving grace" comments, tell us much more about the impact of this service on the lives of its users than check-outs ever could. They tell us that when it comes to reading, the library and its staff, as represented by Ericsson, are in an engaged, valued, and meaningful relationship with these readers. One that is as important as the books themselves.
DISCOVERY, DISCERNMENT, ENGAGEMENT
COVID taught us that for our users, the library is more than a physical space where books are organized for use by many. It is a network of relationships and experiences that lead to more examined and insightful lives. As we continue our struggle with the pandemic and its implications, reader engagement is a way for us to leverage our rich past, a challenging present, and our yet undetermined future to encourage readers to interact more fully with their libraries and thrive as members of an engaged community of readers.
---
READER SERVICES AT TOPEKA
Red Carpet Delivery
---
Personalized browsing service*
---
The Bookmark podcast
---
Grab and Go bundles*
---
Community book discussions
---
Book of the Week segment with local TV*
---
Author visits
---
Facebook Book Chat Live*
---
Reading challenges through the year
---
I Love This Book segments on social media*
---
Book displays
---
Top City Reads Facebook group*
---
Writing events
---
Top City Reads Together book discussions*
*started during the pandemic
---
Duncan Smith, a founder of NoveList, is EBSCO Information Service's Chief Strategist for Public Libraries. Victoria Fredrick is Director of Book Discovery at EBSCO Information Service's NoveList. Autumn Friedli is the Readers Services Supervisor at the Topeka & Shawnee County Public Library.