The Martin Luther King Jr. Memorial Library, Washington, DC, nears completion; Chicago Public Library's new West Loop branch opens; the Pinson Library, AL, reopens; and more new construction and renovation news from the March 2019 issue of Library Journal.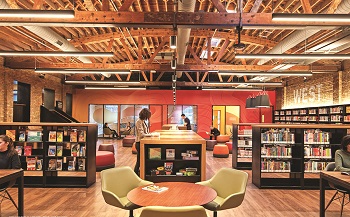 West Loop branch
The renovation and addition to the Martin Luther King Jr. Memorial Library, Washington, DC, will enter its third, and final, year as the $211 million project heads to a 2020 completion. The refurbished facility will add 100,000 square feet to the 440,000 square foot main branch of the District of Columbia Public Library. The work, designed by Netherlands-based firm Mecanoo Architecten and OTJ Architects, with Smoot|Gilbane as construction manager at risk, will include an auditorium, a rooftop event space and terrace, display areas, and a café. The 56' x 7' mural depicting Dr. King's life will be cleaned and rehung in the great hall.
The Chicago Public Library (CPL) opened its 81st branch on January 17. The new West Loop branch (pictured), at 16,500 square feet, represents the adaptive reuse of a two-story structure and is the community's first library. Led by Skidmore, ­Owings & Merrill, with Blinderman Construction, amenities include age-appropriate reading areas, a YOUmedia teen learning space, storytelling rooms, and a younger patron "Tinkering Lab" Maker space. The second floor encompasses meeting and study areas, along with two conference rooms. The $2.3 million project was supported through contributions and $976,000 from Chicago's Neighborhood Opportunity Bonus program.
The Pinson Library, AL, a member of the Jefferson County Library Cooperative, reopened on January 13 in the town's old school building following a $1.5 million remodel. Designed by Hendon & Huckstein, with Seay Construction, the project doubled the footprint of the former library. The city purchased the property with the hopes of preserving much of the historic detail.