For the second year, the American Library Association (ALA) takes to the web to host its annual conference safely during the COVID-19 pandemic, taking place June 23-29 on a monitor near you. Exhibits will be open June 23–26 and, much like their analog counterparts, will feature activities to keep things fun and lively, including yoga, a magic show, and a bunny break.
For the second year, the American Library Association (ALA) takes to the web to host its annual conference safely during the COVID-19 pandemic, taking place June 23-29 on a monitor near you. Exhibits will be open June 23–26 and, much like their analog counterparts, will feature activities to keep things fun and lively, including yoga, a magic show, and a bunny break.
As at past virtual annual conferences and Midwinter Meetings, ALA members who have been recently furloughed, laid off, or are experiencing a reduction of paid work hours can attend for free. Sessions are scheduled in the central time zone; for those who can't make it live, many are available on demand for one year. Featured speakers include Savala Nolan, Stanley Tucci, and many more.
Below, you'll find LJ editors' personal picks from the more than 200 sessions on offer.
Once again, Library Journal will be offering a guide to the top galleys featured at the virtual booths of major publishers at ALA. The guide will be available on June 9 at libraryjournal.com/ala2021.
---
Mahnaz Dar
Reference & Professional Reading Senior Editor
Libraries Are for Everyone: In-Person and Virtual Programming for Adults with Disabilities
Fri., Jun. 25, 2:15–3:15 p.m.
Disabled patrons often encounter obstacles when accessing the library. JJ Pionke, health sciences librarian at the University of Illinois at Urbana-Champaign Library, will discuss how to make sure patrons who have sensory and developmental disabilities or mental illnesses can access both in-person and virtual programming.
Celebrating Welcoming Week: Libraries Fostering Immigrant Integration and Inclusion
Sat., Jun. 26, 2:45–3:45 p.m.
Ana V. Ndumu, assistant professor at the University of Maryland College Park, and Clara M. Chu, professor at University of Illinois, Urbana-Champaign, discuss ways that libraries can observe Welcoming Week, an event hosted by the nonprofit Welcoming America dedicated to bringing together immigrants and non-immigrants.
Diversity Audits and You: How To Address Hot Topics and Problematic Titles
Sat., Jun. 26, 2:45–3:45 p.m.
It's crucial to ensure that collections are inclusive, and diversity audits are one way to do so. But how should librarians handle problematic titles? Jennifer E. Steele, assistant professor of library and information science at the University of Southern Mississippi, offers guidance.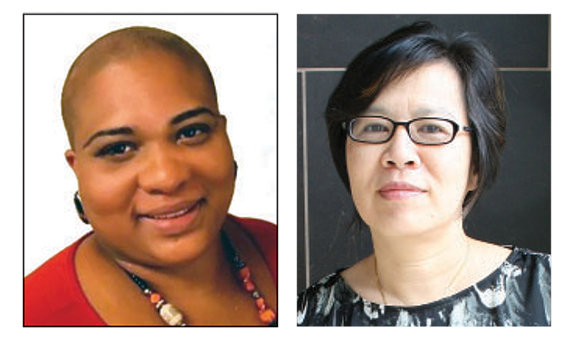 HEADLINERS Ana V. Ndumu, Clara M. Chu
---
Matt Enis
Senior Editor, Technology
Social Media for Small and Rural Libraries
Fri., Jun. 25, 10–11 a.m.
Social media can be an inexpensive way for libraries to promote resources and programs, but most small libraries don't have dedicated marketing and outreach staff. Suzanne Macaulay (Pioneer Library System, NY) discusses how to decide which social media platforms to focus on and how to use them consistently, along with tools, tips, and shortcuts for smaller libraries facing staff and budget constraints.
Community Voices: Libraries Involved in the Multimedia Gathering, Sharing or Preservation of Stories Lived in their own Neighborhoods, Towns, Cities, and Counties
Fri., Jun. 25, 1–2 p.m.
This panel moderated by Laine Thielstrom (Colby College, ME), Meral Agish (Queens Library), Julie Lynch (Chicago Public Library), and Siobhan Hagan (DC Public Library) will discuss multimedia projects and digital archiving services—such as the Queens Memory project and DCPL's Memory Lab network—dedicated to preserving the memories and personal histories of local communities.
GameRT President's Program: From Alphie to Zelda: Preserving the History of Video Games at The Strong National Museum of Play
Fri., Jun. 25, 2:15–3:15 p.m.
Video games pose multiple challenges for digital preservation. In this panel moderated by Rebecca Strang (GameRT programming committee chair), staff from The Strong museum in Rochester, NY, home to the International Center for the History of Electronic Games and the Brian Sutton-Smith Library & Archives of Play, discuss their collections, preservation projects, and other initiatives.
What Will Campus Re-Population Look Like?
Sat., Jun. 26, 1:30–2:30 p.m.
This session will focus on challenges that the COVID-19 pandemic has posed to library services to first-year students and their instructors. Although the circumstances were terrible, remote learning accelerated a shift to digital resources and showcased a lot of new possibilities for hybrid learning models. How can the experiences of the past year inform academic libraries as campuses fully reopen in the fall?
---
Lisa Peet
News Editor
ACRL 2021 President's Program: Making Change: Organizing for Action While Caring for Each Other
Thurs., Jun. 24, 2:15–3:15 p.m.
As libraries continue with equity, diversity, and inclusion work, they can take a chapter from the playbooks of community organizers, who have experience effecting change through collective action. Moderators Jon Cawthorne and Emily Drabinski talk to two experienced organizers about how library workers can use community action and mutual aid to help dismantle white supremacy and growing inequities in their organizations.
Billie Jean King: Featured Speaker
Fri., Jun. 25, 3:30–4 p.m.
Billie Jean King is the first female athlete to receive the Presidential Medal of Freedom and the founder of the Billie Jean King Leadership Initiative, the Women's Tennis Association, and the Women's Sports Foundation. As a lifelong feminist, I remember wildly cheering on King in her "Battle of the Sexes" tennis match agains Bobby Riggs. I would not miss the chance to see one of my earliest fierce heroines speak.
Community Driven Justice in Our Work: Library and Archival Workers of Color Advocating for Self-Preservation, Solidarity, Change, and Justice in Communities, Workplace, and in the Profession at Large
Sat., Jun. 26, 2:45–3:45 p.m.
This year's APALA (Asian Pacific American Librarians Association) Presidential theme is Activism and Advocacy. This panel will look at what library workers and archivists are doing to foster community advocacy and antiracism, partner with organizations to combat racial injustice and xenophobia, document this work, and advocate for themselves in challenging times.
Equitable Staffing Models in the Current and Post-Pandemic Landscape
On Demand
In this recorded panel discussion, library leaders Elaine L. Westbrooks (UNC Chapel Hill), Chris Bourg (MIT), Terry Snyder (Haverford College, PA), and Theresa S. Byrd (University of San Diego) look at how to implement safe, equitable service and staffing models as students and faculty gradually return to campus. With many institutions opting for fully remote work or hybrid staffing, academic libraries will need to examine how to best achieve high-quality service delivery while considering the co-location of students—even in commuter institutions—and the library workforce.
Confronting the Myth of Neutrality: Academic Libraries, Advocacy, and Free Speech
On Demand
As campus conversations increasingly address change, dissent, and empowering the voices of marginalized groups, libraries need to be prepared for challenges and a range of free speech issues, as well as looking at their roles as spaces of advocacy. Having a strategy for conversations with campus administrators and other partners in place beforehand, preparing talking points for practical action, and understanding the issues in play will be key to contributing to the larger conversations on campus—not to mention balancing issues of advocacy with ideas about library neutrality, First Amendment challenges, and the role and responsibilities of the library in facilitating debates on free speech.

LEADERS Elaine L. Westbrooks, Chris Bourg, Terry Snyder, Theresa S. Byrd
---
Meredith Schwartz
Editor-in-Chief
COVID's Uneven Impact on Communities
Thurs., Jun. 24, 12:15–1:15 p.m.
In this session, the Government Documents Roundtable will share information about documenting COVID-19 experiences through the Census Bureau's Household Pulse Survey, and tribal and local governments will share the impact on their residents and communities, with a focus on the impacts on communities of color and how libraries can support them.
Intellectual Freedom is Meaningless Without Social Justice
Thurs., Jun. 24, 3:30–4:30 p.m.
Alison Macrina of the Library Freedom Project and others will discuss whose speech is being suppressed, how to reframe conversations about intellectual freedom to include justice and power, and what steps librarians can take.
Cultural Proficiencies for Racial Equity Framework: An Update
Sun., Jun. 27, 10:30–11:30 a.m.
A joint taskforce of the Association of College and Research Libraries; the Association of Research Libraries; ALA's Office for Diversity, Literacy, and Outreach Services; and the Public Library Association will report on its progress in developing a framework for cultural proficiencies in racial equity, delayed by the pandemic.
---
Neal Wyatt
Reviews Editor
PR Forum 2021: Social Media Masterclass with Oprah's Book Club
Thurs., Jun. 24, 3:30–4:30 p.m.
The creative director and the director of content development for Oprah's Book Club offer insight on reaching and connecting with readers. Librarians seeking to build on the demand for virtual book events and book clubs should find much on offer, as will those who want to enhance their PR and social media skills.
Black Caucus of the American Library Association President's Program: Racial Justice in Librarianship
RUSA President's Program—Access for All: Perspectives on Accessibility
Sat., Jun. 26, 10:30–11:30 a.m.
Held at the same time, these two president's programs host important conversations. The BCALA program is a panel discussion on racial justice in the field, while the RUSA program examines accessibility in libraries and for library users.
What's in a Name?: LGBTQ+ and Latinx Perspectives on Access Terminology—Challenges and Solutions
Sat., Jun. 26, 4–5 p.m.
This vital program is about the need to update the various controlled vocabularies used in librarianship. Catalogers and public service librarians are required to navigate these terms daily, readers must search by them, and they heavily impact the work of collection diversity audits. The panel discussion highlights current efforts to change terminology and offers strategies for improvement.
Navigating Patron Privacy Concerns in the Digital Age
On Demand
Watch this on-demand program that considers public libraries' duty to protect patron privacy, and examines libraries' use of the many systems and digital resources that collect user information. The speakers approach data privacy from various perspectives; they are Stephanie Ratko, IT manager, Pierce County Library System, Tacoma, WA; Stacy Tomaszewski, electronic resources librarian, Alameda County Library, CA; and Hilary Prisbylla, director of CLEVNET, Cleveland Public Library.