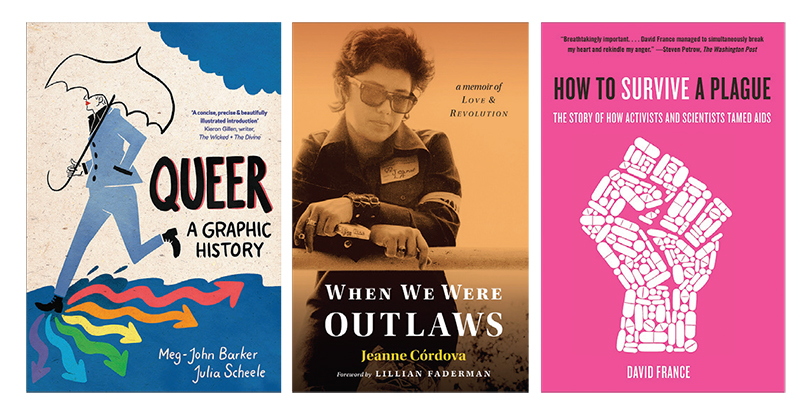 In 1971, graduate student Gayle ­Rubin headed to the University of Michigan library in pursuit of texts that would help her understand gay liberation and her own recently acknowledged lesbian identity. "After a disappointing traipse through the card catalog at the graduate library," she remembers, "I decided to compile a bibliography on lesbianism. This turned out to be superfluous." Although their work was not easily accessible, other queer scholars had come before. Among the works Rubin eventually consulted was librarian Jeannette Foster's groundbreaking Sex Variant Women in Literature (1956), the culmination of two decades' of exhaustive research. Foster, like Rubin, had once gone to her college library in search of information about same-sex desire between women; Sex Variant Women was borne of her frustration at the invisibility of women like herself in library collections.
A trip to the library in search of themselves is a recurring rite of passage in stories queer people tell about their lives. Fifty years after the now-celebrated rebellion outside of the Stonewall Inn in New York City—where gay and trans­gender youth, many of them people of color, resisted arrest during a police raid—fewer queer patrons experience the same "disappointing traipse through the card catalog" endured by Rubin and Foster; we have lived through major transitions in the lives of queer Americans during the past half century. From the heady days of gay liberation through the trauma of the AIDS epidemic, into the fight for recognition of queer families and queer identities—and throughout it all the formation, fracture, and reformation of queer coalitions—queer lives are not quite as difficult to locate and describe as they have been in the past. But there is still work to be done.

Queer History Is Everywhere
Library staff must be intentional about their collections related to LGBTQ+ issues and identities. Fortunately, we live at a moment that offers an explosion of resources to help broaden and deepen these holdings. What began with a few difficult-to-find texts during the early 20th century has developed into an exciting subfield in historical research: the history of sexuality. Winnowing even the short list down to the resources included here was a challenge. This feature deliberately focuses on U.S. history, with heavy emphasis on the 20th century. It tilts toward the generalist reader rather than the scholar and strives not to overrepresent cis male stories or lesbian and gay stories (at the expense of BTQIA+ identities) or tell only the experiences of white, urban queer folk. While predominantly history-focused, the list also includes activist voices calling for queer(er) futures.
These selections cannot represent every facet of the queer past and should be understood as a starting point for a richly inclusive collection. One hopes the list will inspire staff to explore this ever-growing literature further. The Sexing History podcast and the online journal NOTCHES , both included below, regularly draw attention to new scholars, conversations, and publications. Reach out, too, to local queer community archives or activist groups to find out what local stories and resources you might highlight during this anniversary year.
Starred titles (
) are considered essential purchases for most collections.
---
Anna J. Clutterbuck-Cook is a historian and writer with an interest in the relationship among sexuality, gender, and Christianity in the United States during the 20th century. She serves as reference librarian at the Massachusetts Historical Society, Boston
---
THE BIG PICTURE

Angelides, Stephen. A History of Bisexuality. Univ. of Chicago. 2001. 296p. ISBN 9780226020891. $87; pap. ISBN 9780226020907. $37.
Often overlooked, bisexuality troubles our contemporary understanding of identity and desire. This title places bisexuality in historical and theoretical context.
Barker, Meg-John (text) & Julia Scheele (illus.). Queer: A Graphic History. Icon. 2016. 176p. ISBN 9781785780714. pap. $17.95.
This lively introduction to the development of queer theory breaks down complex ideas in a way that reduces the intimidation factor of names such as Michel Foucault.
Blank, Hanne. Straight: The Surprisingly Short History of Heterosexuality. Beacon. 2012. 264p. ISBN 9780807044599. pap. $22.
Queer people are not the only ones with a sexual identity; Blank introduces readers to the understudied history of the heterosexual.
Bronski, Michael. A Queer History of the United States. Beacon. 2011. 312p. ISBN 9780807044650. pap. $20.
Beginning with encounters between indigenous people and early colonizers and ending in the early 21st century, Bronski centers LGBTQ+ people in a national narrative.
Faderman, Lillian. The Gay Revolution: The Story of the Struggle. S. & S. 2015. 832p. ISBN 9781451694123. pap. $20.
A key scholar in the field, Faderman provides a rich narrative history of queer activism from the mid-20th century to the present.

BEFORE STONEWALL

Canaday, Margot. The Straight State: Sexuality and Citizenship in Twentieth-Century America. Princeton Univ. 2011. 296p. ISBN 9780691149936. pap. $23.95.
Historian Canaday persuasively argues that during the first half of the 20th century, U.S. immigration, military, civil service, and social welfare policies assumed and helped construct the citizen as heterosexual.
Gallo, Marcia M. Different Daughters: A History of the Daughters of Bilitis and the Rise of the Lesbian Rights Movement. Seal Pr. 2007. 336p. ISBN 9781580052528. pap. $17.99.
Before Stonewall, homophile organizations such as the Daughters of Bilitis (founded in 1955) advocated for civil rights. Gallo tells their story.
Meyerowitz, Joanne. How Sex Changed: A History of Transsexuality in the United States. Harvard Univ. 2004. 400p. ISBN 9780674013797. pap. $29.50.
From the late 19th to the mid-20th century, Meyerowitz charts the historical development of a modern trans identity through cultural and medical discourse.
Rosenberg, Rosalind. Jane Crow: The Life of Pauli Murray. Oxford Univ. 2017. 512p. ISBN 9780190656454. $29.95.
This award-winning biography thoughtfully traces the life and work of Pauli Murray, a midcentury civil rights, labor, and feminist activist whose life and work were deeply shaped by her black and queer identities.
White, Heather R. Reforming Sodom: Protestants and the Rise of Gay Rights. Univ. of North Carolina. 2015. 260p. ISBN 9781469624112. pap. $34.95.
White historicizes mid-20th-century mainline Protestant engagement on questions of queer sexual identities and practices, arguing that Christian perspectives were more nuanced than many
assume.

GAY LIBERATION

Córdova, Jeanne. When We Were Outlaws: A Memoir of Love and Revolution. Spinsters Ink. 2011. 456p. ISBN 9781935226512. pap. $14.95.
Community organizer and journalist Córdova paints a vivid picture of lesbian life and gay liberation in 1970s Los ­Angeles.
Frank, Miriam. Out in the Union: A Labor History of Queer America. Temple Univ. 2014. 240p. ISBN 9781439911396. $55.50; pap. ISBN 9781439911402. $30.95.
Through oral history interviews and archival research, Frank considers queer involvement in organized labor from the 1960s to the early 21st century.
Hogan, Kristen. The Feminist Bookstore Movement: Lesbian Antiracism and Feminist Accountability. Duke Univ. 2016. 328p. ISBN 9780822361299. pap. $24.95.
Hogan uses the story of feminist bookstores in the latter half of the 20th century, a critical site of lesbian community, to think deeply about antiracist practice.
Jones, Cleve. When We Rise: My Life in the Movement. Hachette. 2016. 304p. ISBN 9780316315432. $27.
This powerful memoir by Jones evokes both the heady days of gay liberation in 1970s San Francisco and the ravages of the AIDS epidemic.
Stryker, Susan. Transgender History: The Roots of Today's Revolution. 2d ed. Seal Pr. 2017. 320p. ISBN 9781580056892. pap. $17.99.
Transgender people have been centrally involved but often overlooked in the history of queer activism. Stryker documents trans lives and activism since the mid-20th century.

IN SICKNESS & IN HEALTH

France, David. How To Survive a Plague: The Inside Story of How Citizens and Science Tamed AIDS. Vintage. 2017. 656p. ISBN 9780307745439. pap. $18.95.
This masterly blend of personal memoir and historical narrative by journalist France paints an intimate portrait of life and death in the midst of the AIDS epidemic. (LJ 9/1/16)
Murray, Heather. Not in This Family: Gays and the Meaning of Kinship in Postwar North America. Univ. of Pennsylvania. 2012. 312p. ISBN 9780812222241. pap. $24.95.
A nuanced ethnographic history of the relationships queer people forged with their families of origin in the latter half of the 20th century.
Petro, Anthony M. After the Wrath of God: AIDS, Sexuality, and American Religion. Oxford Univ. 2015. 312p. ISBN 9780199391288. $31.95.
Petro's account of AIDS through the lens of religious response helps us look beyond the Christian right in understanding a theology of sex. ( LJ 7/15)
Rivers, Daniel Winunwe. Radical Relations: Lesbian Mothers, Gay Fathers, and Their Children in the United States Since World War II. Univ. of North Carolina. 2015. 312p. ISBN 9781469626451. pap. $27.95.
Lesbians and gay men have fought long and hard for the right to parent their children. This book places that struggle in historical context.

DVDs
Brother Outsider: The Life of Bayard Rustin. color & b/w. 84 min. Bennett Singer & Nancy Kates, dist. by Passion River. 2010. DVD UPC 094922901767. $24.98.
This award-winning documentary explores the life of Bayard Rustin, a peace, labor, and civil rights activist and gay man who was the organizational mastermind behind the March on Washington for Jobs and Freedom (1963).
The State of Marriage. 88 min. Jeff Kaufman, dist. by Passion River. 2017. DVD UPC 888608665018. $24.95.
Vermont was the first state to pass legislation recognizing same-sex unions. This documentary tells the story of the women-led grassroots activism that ­secured that 2000 victory.
Stonewall Uprising. 90 min. Kate Davis & David Heilbroner, dist. by American Experience c/o PBS. 2011. DVD ISBN 9781608834006. $24.99.
An engaging documentary that tells the story of the protests at the Stonewall Inn through the voices of participants and places the now-famous event in historical perspective.

DIGITAL RESOURCES

Asexuality Visibility & Education Network (AVEN); www.asexuality.org
Asexuality (a lack of sexual attraction to others) and aromanticism (little or no romantic attraction to others) represent the "A" in LGBTQIA. AVEN is a key network for people who identify as ace and aro.
Digital Transgender Archive (DTA); digitaltransgenderarchive.net
Transgender histories are often difficult to locate in archival repositories. DTA offers unified access to digitized materials related to trans lives from around the globe.
Making Gay History: The Podcast; makinggayhistory.com
Eric Marcus's collection of oral history interviews offers a collection of moving, intimate portraits of queer life from the mid-20th century to the present.
NOTCHES: (re)marks on the history of sexuality; notchesblog.com
Launched in 2014, this peer-reviewed online publication showcases global ­scholarship.
Sexing History Podcast; sexinghistory.com
Cohosts Gillian Frank and Lauren Gutter­man provide thematic episodes on a wide variety of topics. Their "Under the Covers" blog series is a valuable roundup of news and reviews.
---
This article was originally published in Library Journal's April 2019 issue.