Week ending January 25, 2019
Anderson, April. Gourmet Cooking for One or Two: Incredible Meals That Are Small in Size but Big on Flavor. Page Street. 2018. 176p. photos. index. ISBN 9781624146190. pap. $21.99; ebk. ISBN 9781624146206. COOKING
Cooking for one does not have to mean cooking for four to six and eating the same thing all week. Nor does it have to mean eating a bowl of cereal over the kitchen sink. This beautifully photographed book by Anderson, blogger at Girl Gone Gourmet, takes cooking for one to a new level. Among the highlights are Potato, Bacon, and Brie Frittata, BBQ Turkey Meatloaf with Zucchini Fries, and Sweet Potato Soup with Shrimp and Corn Garnish. Recipes such as Parmesan-crusted Chicken Cutlet with Avocado Tomato Salad include several dishes in one recipe to form a complete meal. The table of contents lists every recipe; the index lists recipe titles and main ingredients.
VERDICT Readers looking to have an elegant cooking-for-one experience will appreciate this book. The single cook looking to broaden their repertoire will also want to take a look.—Dawn Lowe-Wincentsen, Oregon Inst. of Technology, Portland
Battles That Changed History. DK. 2018. 256p. illus. maps. index. ISBN 9781465473844. $30. REF
Conflict alters history, from border relocations to languages that flourish or perish to cultural changes when a new weapon develops, new leaders take power, or politicians and the population don't see eye to eye. DK has chosen to cover approximately 90 battles, arranged chronologically, from 490 BCE to 1991. Ancient mosaics, artworks, sculptures, and photographs, along with battle maps and boxed information on key figures, cover most of the pages.
VERDICT While there may be room to quibble over why one battle was included and not another, the striking layouts and tightly written text make this a smart addition to libraries in need of broad military history.—Maggie Knapp, Trinity Valley Sch., Fort Worth, TX
Carter, Louis. In Great Company: How To Spark Peak Performance by Creating an Emotionally Connected Workplace. McGraw-Hill Education. Feb. 2019. 256p. illus. notes. index. ISBN 9781260143164. $28. BUS
Following works such as Abraham H. Maslow'sA Theory of Human Motivation and Peter Drucker'sManaging Oneself comes Carter's ( Best Practices in Talent Management) latest title on the concept of emotional connection as the key link to organizational success. While Carter presents a compelling case for engagement, along with what to do and what to avoid, a number of the examples (most notably GE) have floundered. As competition grows and marketplaces change, the mission of the organization is often revamped and employee engagement is sometimes lost or redefined. While Carter's presentation implies a syllogistic outcome (e.g., do this and this will result), his suggestions come with no guarantees, especially as the evaluation criteria (mission, culture, people-focused, transparency) on the best places to work is often found elsewhere. Similarly, the criteria for the Malcolm Baldrige National Quality Award present a more detailed checklist. While much of information here is anecdotal, Carter has done additional research to bolster his views.
VERDICT A contemporary take on the human element of business.—Steven Silkunas, Fernandina Beach, FL
Cook It in Your Dutch Oven: 150 Foolproof Recipes Tailor-Made for Your Kitchen's Most Versatile Pot. America's Test Kitchen. 2018. 328p. photos. ISBN 9781945256561. pap. $29.99; ebk. ISBN 9781945256578. COOKING
Urging readers to maximize their use of the surprisingly multipurpose Dutch oven, this book divulges valuable tips for buying, maintaining, and using one throughout the day to simmer, stew, braise, roast, fry, steam, bake bread, and even prepare dessert. As in popular America's Test Kitchen titles, easy, vetted recipes are clear, with enumerated instructions and scientific explanations aiding understanding. Comforting classics and international flavors are represented in recipes featuring a variety of meats (often inexpensive cuts). There are vegetarian offerings, too, but they are not highlighted as in The Modern Dutch Oven Cookbook, in which symbols denote vegan, vegetarian, and gluten-free. This book's layout and photos are practical and attractive, though its cover art is unappealing compared with the stylish The Staub Cookbook, which is similar in scope. Those cooking over an open fire, with coals or in a pit, might supplement it with J. Wayne Fear's The Lodge Book of Dutch Oven Cooking or Colleen Sloan's Dutch Oven Cast Iron Cooking. Her cookbook's foreword touches on historical use of the pot, while John G. Ragsdale's Dutch Ovens Chronicled documents America's legacy but offers few recipes.
VERDICT Recommended for anyone interested in foolproof recipes to unlock this pot's potential.—Bonnie Poquette, Milwaukee
Grossberg, Blythe. Autism and Your Teen: Tips and Strategies for the Journey to Adulthood. American Psychological Assn. Jan. 2019. 160p. bibliog. index. ISBN 9781433830150. pap. $19.99. PSYCH/PARENTING
Learning specialist Grossberg (Asperger's Rules, Asperger's Teens; Asperger's and Adulthood) has written a little gem of a book for parents of adolescents and young adults (11–21) on the autism spectrum that should be in every collection. Packed with information in spite of its small size, it offers a wealth of knowledge on everything from braces and hygiene to mindfulness and a website for young people who want to learn to cook. Individualized Education Programs (IEPs), social stories, and Applied Behavior Analysis (ABA) therapy are (briefly) explained, with each chapter concluding with a list of helpful parenting strategies. The author's hopeful, nonjudgmental voice urges readers to trust their own instincts and emphasizes the importance of self-care, a topic usually neglected but vital owing to the stressful parenting demands. Grossman also recognizes how different cultures and types of family units may influence the ways parents feel about the diagnosis and the treatment they receive. A useful section touches on autism in the African American community and resources. Includes additional websites, books, and video.
VERDICT Highly recommended.—Elizabeth Safford, Boxford Town Lib., MA
Indigenous Peoples Atlas of Canada. 3 vols. Royal Canadian Geographical Society c/o Canadian Geographic. 2018. 322p. photos. maps. ISBN 9780986751622. $99.99. REF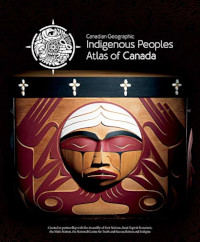 Collaborating with five national Indigenous organizations, the Royal Canadian Geographical Society has produced a remarkable record of the culture of the Native peoples of Canada. The work covers the truth and reconciliation process, especially focusing on treaties and residential schools, from the 17th century to the publication of the Truth and Reconciliation report in 2015. There is a lengthy glossary and frequently asked questions (indexes and bibliographies would have been welcome additions to each volume). Each of the three large-format volumes is devoted to a single group: First Nations (mostly by First Nations contributors), Inuit, and Métis. Articles discuss history, sociocultural traditions, writing, maps (including Indigenous cartography), cultural expression, education, economics, research, health, housing, environment and geopolitics, urban populations, and more. A time line runs along the foot of each book. Stunning color photos and historical images show sites and artifacts, including tools and textiles. Many portraits of named individuals, mostly in vibrant close-up, take Indigenous people out of the realm of the abstract. This work is no mere exercise in beauty or nostalgia: there is a forward-looking focus on justice, recognition, community renewal, and education of the non-Indigenous. The inclusion of Indigenous perspectives and authentic first-person accounts distinguish this set.
VERDICT Exceptionally instructive and beautiful, this work should attract and inform a range of readers, whether they are conducting research, seeking artwork or maps, or simply browsing.—Patricia D. Lothrop, formerly with St. George's Sch., Newport, RI
Le Cordon Bleu. Pastry School: 101 Step-by-Step Recipes. Grub Street. 2018. 521p. photos. index. ISBN 9781911621201. $59.95. COOKING
This beautifully photographed and thoroughly detailed cookbook by the Le Cordon Bleu school does not disappoint. It will inspire and challenge ambitious home cooks who dream of creating gorgeous and delicious cakes, pastries, tarts, biscuits, and other treats. The recipes span a dazzling array of eclairs, macarons, mille-feuilles, financiers, numerous meringues, a variety of yule logs, cakes of every description, and other delights. Although techniques are fairly advanced even in the less difficult recipes, each is clearly expressed and accompanied by specific photo illustrations. The volume concludes with pastry basics, outlining equipment, ingredients, and foundational recipes and techniques (e.g., puff pastry, tempering chocolate over a bain-marie), plus two indexes (by recipe and by ingredients).
VERDICT A worthy primer for anyone desiring to produce pastries in the French tradition. This book will challenge and delight the committed, experienced home baker; its lavish illustrations make it a delight to peruse.—Courtney McDonald, Univ. of Colorado Boulder Lib.
Metzl, Jonathan M. Dying of Whiteness: How the Politics of Racial Resentment Is Killing America's Heartland. Basic: Perseus. Mar. 2019. 352p. illus. notes. index. ISBN 9781541644984. $32; ebk. ISBN 9781541644960. SOC SCI
Meztl (sociology, psychiatry, Vanderbilt Univ.) makes the case that the politics of racial resentment is actually detrimental to the health and well-being of low-income white people. He seeks to explore the conundrum of why poverty-stricken people in America's heartland will consistently vote against their own interests in presidential and midterm elections. In order to ascertain the motivations of local citizens, he examines issues in three states: gun control in Missouri, health care in Tennessee, and the politics of austerity in Kansas. Based on his research and dialog with voters, Meztl asserts that people are aware that conservative policies may be harmful to them but are willing to sacrifice their own welfare "rather than imagining scenarios in which diversity or equity might better the flourishing of everyone." Meztl spends little time reflecting on the detrimental effects of institutional and everyday racism on black Americans. His overarching thesis, that white backlash is harmful to the health of white people, feels forced.
VERDICT Books on this topic have proliferated in the last few years, and readers seeking to understand what sociologist Arlie Hochschild calls the "Great Paradox" would be better served by her bookStrangers in Their Own Land, as well as Carol Anderson'sWhite Rage and Thomas Frank's What's the Matter with Kansas?—Barrie Olmstead, Lewiston P.L., ID
Oller, John. White Shoe: How a New Breed of Wall Street Lawyers Changed Big Business and the American Century. Dutton. Mar. 2019. 448p. illus. notes. bibliog. index. ISBN 9781524743253. $30; ebk. ISBN 9781524743277. LAW
In his legal history of the period 1890–1920, retired attorney Oller explains how "white shoe" Wall Street law firms, by representing the interests of their clients, helped steer the United States between the extremes of unchecked capitalism and the alternative of state socialism. Prominent lawyer Paul Drennan Cravath, Oller says, created the model for white shoe firms with his focus on efficiency, teamwork, and the hiring and grooming of young associates fresh from top law schools. Oller recounts the role of attorney William Nelson Cromwell in lobbying the U.S. government to take over his French client's project that ultimately resulted in the Panama Canal. Using brief biographical sketches, Oller introduces a host of prominent white shoe attorneys including Elihu Root, Charles Evans Hughes, and John Foster Dulles. He traces their contributions in establishing landmark case law, influencing legislation, advising presidents, and filling key government posts. These elite attorneys, according to Oller, were brilliant, religious, charitable, and patriotic.
VERDICT This fast-paced history of the period from the white shoe perspective will be both entertaining and enlightening for most readers.—Lawrence Maxted, Gannon Univ. Lib., Erie, PA
Pushcart Prize XLIII: Best of the Small Presses 2019. Pushcart. (Prize). 2018. 599p. ed. by Bill Henderson & Pushcart Prize Eds. index. ISBN 9781888889888. $35; pap. ISBN 9781888889895. $19.95. LIT/ANTHOLOGIES
Containing 71 stories, essays, and poems from 62 presses, this latest Pushcart Prize collection delivers "a sample of the excellence out there in the worldwide universe of literary endeavor," according to editor Henderson. In C.J. Hribal's story "Do I Look Sick to You? (Notes on How To Make Love to a Cancer Patient)," a nameless father describes the care and humor needed with his cancer-stricken wife. A judge's note appears prior to Leslie Jill Patterson's "Brace Yourself," alerting readers to a story about domestic violence yet without a single scene of abuse. Contemporary politics is central to Julie Hecht's "Taco Night," in which an unnamed female character recalls an evening in November 2016 when she had tacos at the home of a local gardener to avoid watching "that thing." Entries turn historical throughout. Justin St. Germain's essay "Murder Tourism in Middle America" takes readers back to Holcomb, KS, where St. Germain is on a pilgrimage as the final edits for his book about his mother's murder are due. Hal Crowther's "Christian Soldiers" describes his personal hero, Daniel Berrigan, a 1960s radical priest and federal fugitive, whose conscience-building encouraged him to follow a harder God down a harder road.
VERDICT Once again, the Pushcart collection captures the candid dismay of life, presenting a literary snapshot of humanity.—Joyce Sparrow, Kenneth City, FL
Teicher, Craig Morgan. We Begin in Gladness: How Poets Progress; Essays. Graywolf. 2018. 176p. ISBN 9781555978211. pap. $16. LIT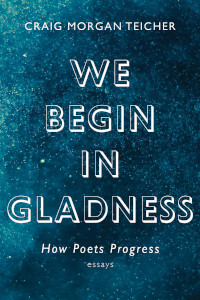 Poet, critic, and teacher Teicher writes about how poetry in general, as well as specific poets ranging from W.S. Merwin and Lucille Clifton to Brenda Hillman, evolves over time. For Teicher, poetry, or the act of making a poem, is part of a continuous conversation. In his analysis, he shows whom the poet might be speaking to in a work, ultimately declaring that the author is constantly trying to reach that highest level of writing, a plateau in which a masterpiece is conceived and able to communicate the exact message the poet wishes to convey. Attaining this level of mastery, according to Teicher, speaks to the peak of a poem or a poet's career, a process in which the author is most interested.
VERDICT Highly recommended for lovers of reading and thoughtful critiques of 20th- and 21-century poetry.—Jeremy Spencer, Univ. of California, Davis, Law Lib.
Wallace-Wells, David. The Uninhabitable Earth: Life After Warming. Tim Duggan: Crown. Feb. 2019. 320p. notes. index. ISBN 9780525576709. $27; ebk. ISBN 9780525576723. NAT HIST
The contradiction of the title matches the content of the book: global warming has hit humankind, but people will adapt and survive. Building on his July 2017 article of the same name, Wallace-Wells (deputy editor, New York magazine; National Fellow, New America Fdn.) explores how warming impacts how we will live on this planet. The author writes clearly and offers current information, citing events even from this past year as well as interviews with experts and research from academic journals. Those who find global warming to be politicizing might be drawn to this book as the author claims he isn't an environmentalist and the text doesn't focus on playing the blame game. However, readers might get discouraged by the predictions of how natural disasters are going to become even greater and more frequent. The original article received some criticism about promoting alarmism, and even Wallace-Wells says anyone who makes it through the dire examples of the first 12 chapters here is "brave." He also states he is optimistic about the future and seeing how people will rise to the challenge.
VERDICT Those who appreciated the article will want to see the author's assertions expanded.—Elissa Cooper, Helen Plum Memorial Lib., Lombard, IL
Williams, Duncan Ryuken. American Sutra: A Story of Faith and Freedom in the Second World War. Harvard Univ. Feb. 2019. 344p. photos. notes. index. ISBN 9780674986534. $29.95. HIST
The story of Japanese Americans interned in camps has been well covered, but the attitude toward their Buddhist faith has been rarely discussed. After Pearl Harbor, Buddhist priests were some of the first Americans identified as a threat to national security. Temples across the nation were vandalized, and detained citizens were denied the right to practice their faith as Buddhism was seen as incompatible with American values. Williams (religion, East Asian languages and cultures, Univ. of Southern California; The Other Side of Zen) describes how Japanese American Buddhists fought for their faith even as they were being imprisoned. Williams identifies how the United States failed its citizens, from confining religious leaders to denying Buddhist funeral rites to Japanese American soldiers. Sadly, the author's unearthing of the treatment of Buddhism in this country during World War II parallels the current treatment of Muslim Americans.
VERDICT This exploration of one of the darkest moments in 20th century U.S. history shows how Buddhism took root in American soil and grew under even the harshest of conditions. Spanning history, political science, and religion, this thoroughly researched book is recommended for a variety of collections.—John Rodzvilla, Emerson Coll., Boston