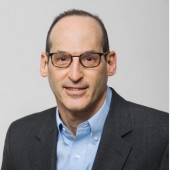 Seasoned leaders know the importance of having their 30-second pitch about the library down to perfection. If you've somehow overlooked this or are new to leadership, now is the time to craft your pitch.
There's a Steve Jobs story that may be true, but certainly speaks to what can happen in a 30-second elevator ride. According to insiders, Jobs could turn a trip between floors into the ride from hell. He'd probe employees about what they were working on and he expected to be impressed. Did he actually fire staff during one of those rides? Apparently, Apple workers went out of their way to avoid being stuck in an elevator with Jobs. While it may be pure myth or mere exaggeration, it does speak to the importance of being prepared with the proverbial elevator pitch. While I advocate for every library worker having a pitch ready that gets to the why, what, and how of the operation, it's critically important for top administrators to deliver to everyone from community members to the highest-level executives and potential donors. That means perfecting the art of the elevator pitch.
START WITH VISION
Seasoned leaders should already have their pitch perfected and ready to deliver. Newer leaders and managers are undoubtedly familiar with the elevator pitch, but may have yet to polish it. Those still waiting to get started should begin with what they know best: Vision. Good pitches are authentic. They are infused with passion and should be easy to internalize and deliver in a way that seems more spontaneous than practiced. If the tone used to deliver the pitch makes it sound and feel as if it's coming from a robot, something's wrong. When the pitch originates from a leader's vision, hitting the why, what, and how points should come more naturally. The trick is keeping it to that half-minute mark. If leaders can succinctly state their vision for the library, communicating a sense of purpose and why it matters, in a way that draws in and hooks the listener's imagination, leaving them wanting to learn more, their pitch is perfect.
KNOW YOUR LOGLINE
Imagine this for a moment. What if a library leader's pitch was about more than just a combination of information and inspiration, designed to generate an enthusiastic response? What if the library's entire yearly budget depended on that leader's ability to convince, in just a few sentences, a funder to finance the entire operation? The stakes for a perfect pitch would be immensely high. That's what it's like for a start-up entrepreneur or a Hollywood screenwriter. It's all or nothing. Everything is on the line. For them, the logline is crucial. A logline is just a few sentences that sums up and explains the idea behind the invention, service, or plot. In her column "The Art of the Elevator Pitch," Carmine Gallo provides examples of effective loglines along with tips for better pitches, such as:
Keep it brief. Does "Organizes the world's information and makes it universally accessible" sound familiar? No, it's not your library. Those nine words landed Google its first round of funding.
The one thing you want people to remember. "Carry 1,000 songs in your pocket" sold people on the Apple iPod.
Everyone on the same page. Whatever your logline or pitch is, make sure staff members are prepared to deliver the same message so you don't confuse stakeholders.
Consider the logline the core of the pitch or possibly the leadoff statement. Classic loglines immediately transmit both the substance and sizzle. Like any top notch writing or speech, they immediately hook the audience and leave them wanting more.
PRACTICE THE PITCH
For those seeking more tips, additional advice on crafting an elevator pitch is readily available. There are also templates for turning basic components of a pitch into a statement. Whatever resource is used, it's important to give thought to those basic questions. What is the purpose being communicated? How does the library support an essential need? It always comes back to why you do what you do. Remember that line from Simon Sinek's TED Talk on "Start With Why." He said, "People don't buy what you do, they buy why you do it." For library leaders, their pitch needs to quickly and visually communicate why the library matters and how it makes a difference. This is no simple task, especially since libraries do so many different things, so take every opportunity to use the resources available to build the pitch.
When it's done, the next step is execution. Getting it right takes practice. I found it helpful to commit my pitch to paper. Then to deliver it again and again until it's as easy to speak as write. Chances are slim of getting stuck on an elevator with a Jobs-like leader who decides an employee's fate based on how well they deliver the pitch. Then again, it's probably a good idea to prepare for the elevator moment as if it will.