Carr, Jack. True Believer: A Thriller. Emily Bestler: Atria. Apr. 2019. 480p. ISBN 9781501180842. $27; ebk. ISBN 9781501180866. CD. THRILLER
In this follow-up to The Terminal List, former navy SEAL James Reece hides out in Mozambique with the family of his estranged best friend and former SEAL colleague as multiple terrorist attacks shatter the holiday season in the West. The CIA flushes him out with a presidential pardon, then persuades him to go after the mastermind of the attacks. With a 125,000-copy first printing.
Downing, David. Diary of a Dead Man on Leave. Soho Crime. Apr. 2019. 312p. ISBN 9781616958435. $27.95; ebk. ISBN 9781616958442. THRILLER/HISTORICAL
In 1938, Walter Gersdorff, the young son of a widow who owns a boarding house in Hamm, Germany, looks up to new tenant Josef Hofmann, who says he has returned home from Argentina. A half-century later, Walter discovers a diary revealing that Hofmann was in fact a spy sent by Moscow to rally the remains of the German Communist Party as a means of countering Hitler. From the best-selling author of the Jack McColl novels.
Feeney, Alice. I Know Who You Are. Flatiron: Macmillan. Apr. 2019. 304p. ISBN 9781250147349. $27.99; ebk. ISBN 9781250147332. CD. PSYCHOLOGICAL THRILLER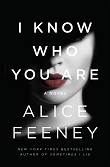 Having crashed onto the scene with her best-selling debut, Sometimes I Lie, Feeney returns with the story of Aimee Sinclair, a familiar if not immediately identifiable actress stalked by someone who saw what she did and clearly knows who she is. Aimee's troubles start with the disappearance of her husband.
Golden, Christopher. The Pandora Room. St. Martin's. Apr. 2019. 320p. ISBN 9781250192103. $27.99; ebk. ISBN 9781250192110. SUPERNATURAL THRILLER
In an older version of the well-known Pandora myth, both Pandora and her sister Anesidora had jars, one holding all the world's evils and the other all its blessings. Here, in a city in northern Iraq, archaeologists unearth a chamber whose walls bear testimony to that older version. But there's only one jar, and surrounding countries (not to mention jihadi forces) vie to grab it. But what does it contain? From the New York Times best-selling author of Ararat, Dead Ringers, and more,

Golding, Melanie. Little Darlings. Crooked Lane. Apr. 2019. 304p. ISBN 9781683319979. $26.99; ebk. ISBN 9781683319979. SUPERNATURAL THRILLERS
Friends and family pooh-pooh Lauren Tranter's claim that a woman crept into her hospital room and tried to replace Lauren's newborn twins Morgan and Riley with her own strange creatures. So surely they'll pooh-pooh her concern when the twins, quickly located after vanishing from her side in the park, seem somehow creepily different. A modern take on the changeling tale from a debut author; optioned by Free Range Films.
Gudenkauf, Heather. Before She Was Found. Park Row: Harlequin. Apr. 2019. 352p. ISBN 9780778308621. $26.99. pap. ISBN 9780778307730. pap. $16.99; ebk. ISBN 9780778307730. PSYCHOLOGICAL THRILLERS
A librarian favorite, particularly in the Midwest, New York Times best-selling Gudenkauf (The Weight of Silence) returns with the story of 12-year-old Cora Landry and friends Violet and Jordyn, who sneak out on an overnight to explore an abandoned railyard at the edge of town. Past midnight, Cora is found near death on the tracks, and her friends are nowhere to be seen. Soon, everyone in town is a suspect—and seemingly everyone wants to suppress the truth. With a 75,000-copy hardcover and 75,000-copy paperback first printing.
Hall, Rachel Howzell. They All Fall Down. Forge. Apr. 2019. 320p. ISBN 9780765398147. $26.99; ebk. ISBN 9780765398161. SUSPENSE
Miriam Macy is thrilled to be invited to a private island set in the sparkling green waters off the coast of Mexico—until she arrives and discovers that the guests are strangers to one another, lured there because they are all hiding secrets. Now they're stuck, and the dark games begin. A stand-alone from the author of the Lou Norton series.
Kelly, Erin. Stone Mothers. Minotaur: St. Martin's. Apr. 2019. 368p. ISBN 9781250113719. $26.99; ebk. ISBN 9781250182838. CD. SUSPENSE
Having grown up in a town dominated by the Nazareth Mental Hospital, Marianne isn't eager to return, but her mother is suffering from dementia and needs help. Marianne's husband even buys her an apartment in the newly renovated asylum building—a place holding dark secrets that fills her with dread. From the author of The Poison Tree, long-listed for the John Creasy Dagger, and the novelization of the BAFTA-winning Broadchurch.
Kerr, Philip. Metropolis. Putnam. Apr. 2019. 384p. ISBN 9780735218895. $28; ebk. ISBN 9780735218918. lrg. prnt. Downloadable. THRILLER
Star of Kerr's eponymous New York Times best-selling series, Bernie Gunther became a police investigator in Berlin and then a private eye after serving in World War I's trenches. But how did he get his start? Here we see Bernie in his early twenties, struggling through his first weeks on the Berlin Murder Squad to solve a string of particularly vicious murders claiming the most vulnerable—wounded soldiers and prostitutes. A sad note: Kerr passed away in March 2018.
Malerman, Josh. Inspection. Del Rey: Ballantine. Apr. 2019. 400p. ISBN 9781524796990. $27; ebk. ISBN 9781524797003. Downloadable. PSYCHOLOGICAL THRILLER
J. studies at a school for exceptionally gifted boys that's hidden away in the forest, while K. studies at a similar school for girls. Students, who are forbidden to leave their respective premises, don't know the other school exists or what the wide, wide world is like, but both J. and K. are beginning to ask what the purpose of their education really is. From the Bram Stoker Award–nominated Bird Box, basis of a film being released in December 2018.
Sandford, John. Neon Prey. Putnam. Apr. 2019. 400p. ISBN 9780525536581. $29; ebk. ISBN 9780525536598. lrg. prnt. CD/downloadable. THRILLER
In this latest starring Lucas Davenport, whose books always end up in the first or second slot on the New York Times best sellers list, U.S. marshals get a warrant to enter a home for a small matter but come up with something big—evidence of nearly two dozen killings. Now Lucas is on the serial killer's trail.
Scottoline, Lisa. Someone Knows. Putnam. Apr. 2019. 400p. ISBN 9780525539643. $27; ebk. ISBN 9780525539650. lrg.prnt. CD/downloadable. SUSPENSE
Two decades ago, teenager Allie Garvey and a bunch of friends were fooling around in the woods when a prank they played went lethally awry. They kept it a secret, but for Allie not getting caught has been the worst of it, and as she heads home for a funeral, she's ready to confess all. Yet even she isn't ready when she finally learns what really happened.
Suarez, Daniel. Delta-v. Dutton. Apr. 2019. 448p. ISBN 9781524742416. $27; ebk. ISBN 9781524742423. Downloadable. TECHNOLOGICAL THRILLER
Tapping out techie thrills, Suarez introduces us to a bold billionaire who recruits some adventurous types to start the first mining operation in space. It's supposed to launch an off-world economy—and maybe change the course of human civilization—but it doesn't go as planned. Suarez's four backlist titles together average sales of 750 copies a week, and he sells even better in audio than in print, so he's a good bet for libraries.