Week ending October 19, 2018
Fitzgerald, Ali. Drawn to Berlin: Comic Workshops in Refugee Shelters and Other Stories from a New Europe. Fantagraphics. Oct. 2018. 196p. ISBN 9781683961321. $24.99. GRAPHIC NOVELS
The global refugee crisis receives a personal, historical, and deeply compassionate treatment from American cartoonist Fitzgerald ( Hungover Bear and Friends) in this multilayered and beautifully written reflection on her years teaching art classes in Berlin refugee shelters. Recounting her interactions with students while faithfully re-creating their artwork, Fitzgerald illustrates their agency, optimism, and determination in the face of terrible trauma. As much a meditation on the present as on Berlin's history, in particular as a destination for Jewish refugees in the 1920s, this work weaves a dreamlike journey that takes readers from the intimacy of a child's drawing to the global impacts of civil wars while critiquing the role of design and aesthetics in oppression and propaganda. Fitzgerald herself is depicted in almost every panel conveying her struggles as a teacher and chronicler of her students' stories. Warm and occasionally surreal black-and-white drawings profoundly and respectfully humanize people too often rendered as statistics while encouraging contemplation of a more humane future.
VERDICT An important contribution to the literature on conflict and diaspora and a microcosmic companion to Ai Weiwei's documentary Human Flow. Highly recommended. —Michael Dudley, Univ. of Winnipeg Lib., Man.
Powell, Nate. Come Again. Top Shelf: IDW. Jul. 2018. 272p. ISBN 9781603094283. Rated: Mature. $24.99. FANTASY/LITERARY FICTION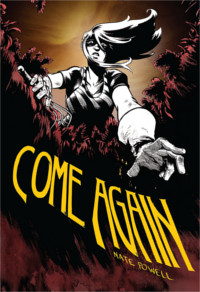 Secrets are harbored by all societies—even small, hippie-style communes of the 1970s in the Ozarks. When two families struggle with a hidden infidelity, one couple literally takes their clandestine affair underground. But burying desires can be dangerous, especially if they're covertly witnessed by something...nonhuman. This dark, convoluted tale demonstrates in a microcosm what most cultures go through historically over generations. Here secrets revealed become filtered truth and interpreted reality, ultimately evolving into a kind of collective amnesia. National Book Award winner Powell (cocreator, March trilogy) turns out a foggy, shadow-filled fable that speaks beyond a simple, surface narrative of marital betrayal to offer an open-ended story skillfully illustrated with clever graphic interpretation of dialog and action sequences.
VERDICT Aficionados of dark fantasy and painterly graphic works will relish this fine concoction of horror and literary nuance. [Previewed in Jody Osicki's "Graphically Speaking," LJ 6/15/18.]—Russell Miller, formerly with Prescott P.L., AZ
Roy, William (text) & Sylvain Dorange (illus.). Hedy Lamarr: An Incredible Life. Life Drawn: Humanoids. Nov. 2018. 176p. tr. from French by Mark Bence. ISBN 9781594656194. pap. $19.99. BIOG
French creators Roy and Dorange examine the life of actress/inventor Hedy Lamarr (1914–2000) in this brightly colored, whimsically illustrated graphic biography and first-time collaboration. Born Hedwig Kiesler in Austria-Hungary, Lamarr grew up a curious child, with loving parents. Her first husband, Lewis J. Boies, was a controlling industrialist who kept his wife well hidden from the outside world. Determined to become an actress, Lamarr eventually escaped her marriage and left for America just as World War II loomed across Europe, changing her name upon her arrival in Hollywood. Known for her beauty, Lamarr was also a talented inventor whose frequency-hopping system became the basis for today's Wi-Fi technology. Featuring sharp and realistic illustrations as opposed to caricatures, the book does a wonderful job of incorporating panels depicting newspaper headlines and scenes from Lamarr's movies (e.g., Algiers; Boom Town) alongside more traditional narrative sequences.
VERDICT Despite occasional misspellings and incorrect word usage, which may be owing to the translation, as well as a lack of cited sources or books for further reading, this serves as an exciting introduction to Lamarr's life that is sure to pique readers' interest in this smart and fascinating woman.—Traci Glass, Multnomah Cty. Lib., Portland, OR
Semanas, Daniel. Roly Poly. Fantagraphics. Sept. 2018. 150p. ISBN 9781683961291. $19.99. GRAPHIC NOVELS
[DEBUT] Brazilian cartoonist/animator Semanas's first graphic novel centers on Phanta, who is maybe a teenager, maybe a young adult, living in a psychedelically colored pop art world obsessed with social media. Her favorite color is orange and drink is orange soda, from which her name appears to be derived. Ads appear everywhere, and she follows a young man who resembles Seto Kaiba from the manga Yu-Gi-Oh! The randomness of the illustrations match the almost nonexistent plotline well, leaving readers to decide where Phanta is going and why. This potential narrative doesn't appear until the last few pages, so most of the work is an appreciation of the fusion of pop art and manga. Since Phanta's age is indeterminate, it's difficult to say if the soda is actually soda or a metaphor for something stronger, and if the stars she's desperate to get from the Dealer are drugs or a magic pill to stardom. Packaged in a brightly colored slipcover over a hardcover black binding, this volume may be difficult to circulate.
VERDICT Only recommended where patrons request.—Melanie C. Duncan, Washington Memorial Lib., Macon, GA