Becquets, Diane Les. The Last Woman in the Forest. Berkley. Mar. 2019. 352p. ISBN 9780399587047. $26; ebk. ISBN 9780399587054. Downloadable. THRILLER
Passionate about her new work using rescue dogs to protect endangered wildlife in Alberta, Marian Engström also gets passionate about her mentor, Tate. But emerging inconsistencies about his life make her suspect that he's a serial killer. From the author of Breaking Wild, a national best seller, Colorado and New Hampshire fiction award winner, and Indie Next pick.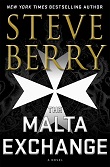 Berry, Steve. The Malta Exchange. Minotaur: St. Martin's. Mar. 2019. 416p. ISBN 9781250140265. $28.99; ebk. ISBN 9781250140272. CD. THRILLER
At Italy's Lake Como, former Justice Department operative Cotton Malone is hunting for possibly history-shaking letters between Winston Churchill and Benito Mussolini that vanished in 1945. Unfortunately, they vanish again after he finds them—someone else is clearly interested—and trying to retrieve them gets him involved with the nearly millennium-old Knights of Malta, currently controlled by the Secreti even as the election of a new pope looms. Top-five New York Times best seller Berry's recent The Lost Order was an LJ Best Thriller.

Box, C.J. Wolf Pack. Putnam. Mar. 2019. 384p. ISBN 9780525538196. $27; ebk. ISBN 9780525538202. lrg. prnt. THRILLER
Back on the job after some trouble he encountered in The Disappeared, Joe Pickett is distraught to learn that the drone killing wildlife in the vicinity belongs to a rich mystery man whose grandson is dating Joe's daughter. He's even more distraught when a bunch of dead bodies signal that killers known as the Wolf Pack, working for the notorious Sinaloa cartel, have dropped by. So Joe teams up with a female game warden, based on an actual person that the multi-award-winning, No. 1 New York Times best-selling author knows.

Coulter, Catherine & J.T. Ellison. The Last Second. Gallery: S. & S. Mar. 2019. 448p. ISBN 9781501138225. $27.99; ebk. ISBN 9781501138249. THRILLER
Meant for communications, the satellite launched by the private French space agency Galactus actually carries a nuclear electromagnetic pulse that when activated could devastate Earth. It also means that treasure-hunting Galactus owner Jean-Pierre Broussard and second-in-command Dr. Neveah Patil could get their hands on the Holy Grail, the immortality-granting stones of the heavens. That's where Special Agents Nicholas Drummond and Michaela Caine come in. Sixth in a New York Times best-selling series.

Downing, Samantha. My Lovely Wife. Berkley. Mar. 2019. 384p. ISBN 9780451491725. $26; ebk. ISBN 9780451491749. Downloadable. THRILLER
Happily married to the love of your life but, yeah, after 15 years getting a little bored? Here's a solution from the couple at the heart of Downing's debut: try getting away with murder. Bought in a preempt after 48 hours, which suggests a very eager and hard-reading editor; foreign rights are starting to boil.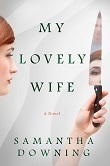 Fairstein, Linda. Blood Oath. Dutton. Mar. 2019. 400p. ISBN 9781524743109. $28; ebk. ISBN 9781524743116. lrg. prnt. CD/downloadable. THRILLER
New York Times best-selling author Fairstein hands Assistant DA Alex Cooper another topical case, as a woman who testified years ago at a key federal trial discloses that she was sexually assaulted by a prominent law enforcement official at the time. That pulls Alex and NYPD detectives Mike Chapman and Mercer Wallace into dark secrets involving biomedical research at Manhattan's famed Rockefeller University. With a five-city tour.

Fox, Candice. Redemption Point. Forge. Mar. 2019. 400p. ISBN 9780765398512. $25.99; ebk. ISBN 9780765398536. CD. THRILLER
Wrongly accused of abducting Claire Bingley, former police detective Ted Conkaffey is protecting himself from Claire's murderous father by hiding out in a remote town in the Australian rain forest and trying to find the real culprit. Meanwhile, the detective inspector investigating the killing of two bartenders at the local Barking Frog Inn is a homicide first timer. Enter tattooed-to-the-hilt Amanda Pharrell, a private detective who's done time for murder and who joins with Ted to discover who's responsible for all the blood. Just the way Ned Kelly Award–winning Fox joins forces with James Patterson now and again.

Goodman, Carol. The Night Visitors. Morrow, Mar. 2019. 320p. ISBN 9780062884367. $26.99; Morrow  Paperbacks. ISBN 9780062852007. pap. $15.99; ebk. ISBN 9780062852014. THRILLER
Fleeing a relationship gone violent, Mattie gets off a bus in Delphi, NY, with ten-year-old son Oren and is picked up by social worker Mattie and taken not to a shelter but to her ramshackle house in the woods. Sure, Mattie is a do-gooder with plenty of room, but Oren also reminds her of the little brother she lost 30 years ago. Mary Higgins Clark Award winner Goodman creeps us out. With a 50,000-copy paperback and a 25,000-copy hardcover first printing.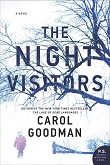 Hamilton, Glen Erik. Mercy River. Morrow. Mar. 2019. 336p. ISBN 9780062567437. $26.99; ebk. ISBN 9780062567413. lrg. prnt. THRILLER
When fellow vet Leo Pak is accused of murder, Van Shaw legs it to Broken Ridge, OR, where hundreds of former and active Rangers gather annually for a little bonding. But as Shaw soon learns, there's more going on; the victim belonged to a team of private military contractors tasked with recovering stolen heroin-grade opiates, and they'll help clear Leo's name if Van helps them find the thieves. From an Anthony, Macavity, and Strand Critics award-winning author. Previewed in Prepub Alert, 7/2/18, as A Fast Full Dark.

Iles, Greg. Cemetery Road. Morrow. Mar. 2019. 752p. ISBN 9780062824615. $28.99; ebk. ISBN 9780062824639. lrg. prnt. CD. THRILLER
A big-time Washington, DC, journalist, Marshall McEwan never thought that he would return home to his small Mississippi hometown. But his father is dying, and his mother can barely keep the local paper going. Alas, the town's economic rebirth seems to be based on corruption, and then an archaeologist is murdered at the construction site. It's definitely the start of something bad. With a 400,000-copy first printing.

Johansen, Iris. Dark Tribute. St. Martin's. Mar. 2019. 384p. ISBN 9781250075888. $28.99; ebk. ISBN 9781466887268.  THRILLER
Violin prodigy Cara Delaney is lucky to have forensic sculptor Eve Duncan and former Navy SEAL Joe Quinn for guardians, and her life is flowing smoothly. Then she's kidnapped by an evil man from her grandfather's past, and everyone is in danger. A national one-day laydown on March 26.

Lelchuk, S.A. Save Me from Dangerous Men. Flatiron: Macmillan. Mar. 2019. 336p. ISBN 9781250170248. $27.99; ebk. ISBN 9781250170255. CD. THRILLER
Bookseller Nikki Griffin has a little sideline: she tracks down men who hurt women they supposedly love and makes sure that it never happens again. (Think Dexter Morgan.) Tailing a tech company employee named Karen on a standard PI job, Nikki can see that some bad men are after Karen and drops her cover to intervene. A big debut, and Nikki will be back.

McMahon, John. The Good Detective. Putnam. Mar. 2019. 320p. ISBN 9780525535539. $27; ebk. ISBN 9780525535553. Downloadable. THRILLER
Consumed with grief after his wife and son are killed in an accident, Det. P.T. Marsh often makes rash decisions, like trying to protect an exotic dancer by beating up her punch-happy boyfriend. Then the man turns up dead, and even as P.T. wonders whether he is responsible, he and his partner see connections between the victim and the terrible lynching of a black teenager a few days earlier. So P.T. killed a prime suspect? The executive creative director of a Hollywood-based ad firm makes his debut.

Michaelides, Alex . The Silent Patient. Celadon: Macmillan. Feb. 2019. 336p. ISBN 9781250301697. $26.99; ebk. ISBN 9781250301710. CD. THRILLER
All seems well in the life of celebrated painter Alicia Berenson, who lives in a lush house overlooking one of London's lush parks and is married to an equally celebrated fashion photographer. So why does she shoot him five times in the face one night and refuse to say another word? Not just the police but the fascinated public wants to know. A big-buzz debut.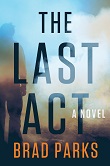 Parks, Brad. The Last Act. Dutton. Mar. 2019. 384p. ISBN 9781524743536. $26; ebk. ISBN 9781524743550. Downloadable.  THRILLER
Stage actor Tommy Jump needs money so that he can get married, and now he's got the role of a lifetime. He's to pose as a felon, enter a low-security prison, and cozy up to Mitchell Dupree, a banker arrested for laundering money for a particularly vicious Mexican cartel, and get him to reveal the whereabouts of key documents. It turns out to be tougher than Tommy imagined. From the Shamus, Nero, and Lefty Award winner.

Patterson, James & Brendan DuBois. The Cornwalls Are Gone. Little, Brown. Mar. 2019. 352p. ISBN 9780316485555. $28; ebk. ISBN 9780316422604. lib. ebk. ISBN 9780316489256. lrg. prnt, Downloadable THRILLER
After walking into her wrecked Virginia home, Army intelligence officer Amy Cornwall gets a call giving her her toughest assignment yet: she must find and free an unnamed captive in 48 hours, or her kidnapped husband and ten-year-old daughter will be killed. And for Amy that means defying Army Command. A Patterson stand-alone.

Pomare, JP. Call Me Evie. Putnam. Mar. 2019. 368p. ISBN 9780525538141. $26; ebk. ISBN 9780525538158. Downloadable. THRILLER
A man named Bill has locked up 17-year-old Kate Bennet in a remote seaside cabin far from her Melbourne home, explaining that he's protecting her after something awful she did and insisting on calling her Evie. Kate cannot remember the night in question, but the things Bill is telling her about her life are not making sense. A debut with push; Pomare has been long-listed for several writing prizes in Australia.

Robards, Karen. The Fifth Doctrine. Mira: Harlequin. Mar. 2019. 384p. ISBN 9780778369479. $26.99; ebk. ISBN 9781488088735. THRILLER
Following The Ultimatum and The Moscow Deception, Robards gets really tough on Bianca St. Ives, who rights the world's wrongs by stealing money back from swindlers. The authorities have caught up with her but will give her a break—if she will go undercover as a female hacker who stole intelligence from the North American Aerospace Defense Command. It's all related to some secret moves in North Korea.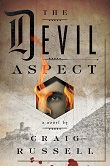 Russell, Craig. The Devil Aspect. Doubleday. Mar. 2019. 368p. ISBN 9780385544368. $26.95; ebk. ISBN 9780385544375. Downloadable. THRILLER
In 1935, Jung-trained psychiatrist Viktor Kosárek arrives at the Hrad Orlu Asylum for the Criminally Insane near Prague and gets to work trying to prove that the six vicious killers there share an archetype called the Devil Aspect. Meanwhile, in Prague itself a serial killer nicknamed the Leather Apron is imitating Jack the Ripper, and police investigator Lukas Smolak turns to Viktor for help. From a Scottish author who won the Crime Writers' Association Dagger in the Library award.

Schutt, Bill & J.R. Finch. The Darwin Strain. Morrow. Mar. 2019. 384p. ISBN 9780062835475. $26.99; ebk. ISBN 9780062835499. THRILLER
With the Cold War underway, crypto-zoologist R.J. MacCready and indigenous Brazilian Yanni Thorne, an expert in animal behavior, have been directed by the Pentagon to investigate a volcanic spring on a Greek island that reputedly has healing powers (and is reputedly guarded by sea monsters). In fact, the spring contains a type of microbe that transforms life at lightning speed, including a mysterious aquatic species called the Kraken floating about in the water—they've evolved into a high alien intelligence. Following Hell's Gate and The Himalayan Codex; not surprisingly, Schutt is a research associate at the American Museum of Natural History. With a 50,000-copy first printing.

Swanson, Peter. Before She Knew Him. Morrow. Mar. 2019. 304p. ISBN 9780062838155. $26.99; ebk. ISBN 9780062838179. lrg. prnt. THRILLER
Illustrator Henrietta (a.k.a. Hen) is feeling good. Her bipolar disorder is under control, and she and husband Lloyd have moved into a new house outside Boston with a nice little studio out backfor her work . But she's a bit obsessed with unsolved crimes, and she can't help but notice that a sports trophy perched on a shelf at the neighbors' house looks just like one that vanished from the home of a young man killed two years earlier. From the popular author of All the Beautiful Lies; with a 75,000-copy first printing.

Ward, Annie. Beautiful Bad. Park Ron. Mar. 2019. 384p. ISBN 978077836910. $26.99. THRILLER
An American travel writer living in Sofia, Bulgaria, Maddie frequently travels to Macedonia to visit irrepressible best friend Jo, an aid worker. There she meets Ian, a British bodyguard, and falls wildly in love. But Ian carries heavy burdens from the work he does, and Jo tries to warn Maddie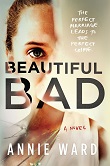 again him—though maybe she's just jealous. Now flash forward 15 years (though the book itself moves back and forth in time). Maddie and Ian are living in Kansas with their son Charlie, she's in therapy after a mysterious accident, and something is about to explode. A big-deal debut, won in a boiling-hot seven-way auction; with a 250,000-copy first printing.

Woods, Stuart & Parnell Hall. Skin Game. Putnam. Mar. 2019. 320p. ISBN 9780735219168. $28; ebk. ISBN 9780735219182. CD/downloadable. THRILLER
Cool as cream and just as smooth, sophisticate Teddy Fay is on his third case, solving crimes where others dare not tread. No plot details, but that doesn't seem to matter.