From its earliest days as an independent system, Kent District Library (KDL) in West Michigan has prioritized strong customer service. In recent years, however, the library has centered what it calls the KDL Way, a service model emphasizing the values that underly all KDL's work: innovation and advocacy, but also kindness, empathy, and care. On the surface this may sound idealistic, or more earnest than seems feasible in these days of hot takes, partisan politics, and a focus on the numbers needed to make the library's case to voters, funders, and partners.
But KDL's attention to relationships is embedded in everything it does, from working with state legislators to supporting staff success to providing imaginative, well-loved programs and services. With 20 branches in 27 municipalities across Kent County, and a service area of just over 400,000 residents, the library serves a wide range of communities and needs a clear picture of what's important.
This is no top-down philosophy, though. Lance Werner, KDL director since 2011, sees the work the library does as a holistic process where change originates with personal connections that can happen anywhere. "Oftentimes, especially in this industry, I think that we compartmentalize too much," he says. "When you're talking about advocacy, and being engaged and understanding what's going on, it's critical to start at the ground floor and then work your way up and be effective at each of those levels."
Making and maintaining those connections is a skill, he adds. "You can't really understand your community unless you are engaging at every level in an effective way." KDL's centering of relationships in all spaces, and the success those priorities have brought to its community and staff, has earned it the 2023 Jerry Kline Community Impact Prize, developed in partnership with the Gerald M. Kline Family Foundation.
LEADING THE KDL WAY KDL Leadership Team: standing (l.-r.), Jaci Cooper, Director of Projects and Planning; Lance Werner, Executive Director; and Brian Mortimore, Director of Human Resources and Organizational Development. Seated (l.-r.), Kurt Stevens, IT Director; Jennifer DeVault, Director of Library Operations; and Randy Goble, Director of Engagement. Photo ©Jeff Hage,Green Frog Photo
FACING FORWARD (AND FISHING)
Prior to leading KDL, Werner served as director of Michigan's Capital Area District Library, and before that as an attorney, administrative law judge, and library law specialist at the Library of Michigan. That aggregated experience, he says, opened his eyes to the power of comprehensive involvement.
When he arrived at KDL, Werner says, he felt that the system was "othered" by many of the municipalities it served—"We didn't really have a presence there." To change that dynamic, he met with state, county, and local leaders one-on-one, spending the time necessary to find common ground. Werner is well-known around Kent County for his love of fishing and the outdoors, and has forged many a relationship on his boat.
Libraries cannot simply show up when advocacy is needed, he notes; there needs to be an intentional, genuine connection in place that the library can draw on in times of need. Having built that trust in advance has also helped mitigate some political issues before they become problems.
Werner has taken this advocacy to the top, lobbying the Michigan State Legislature to introduce two bills: one similar to the recently passed Illinois law prohibiting book bans and another criminalizing behavior that endangers library or school employees. Neither has progressed, owing to a lack of resolution between parties, but Werner intends to keep lobbying for their support. "I feel like Don Quixote sometimes, but it's always worth getting back on the horse and trying again," he says.
KDL also presents its annual report at each of Kent County's 27 municipalities every year. Members of the library's leadership team, managers, and the board trustee who oversees each district are invited to attend, speak, and connect with community leaders and constituents. This helps keep KDL visible at the local government level, as well as generating connections within its communities.
"Our regional managers, and the people who are forward-facing locally, also have those same sorts of interpersonal relationships with municipal leaders," says Werner. "That's our culture, and that's what we promote. We don't take ourselves super seriously, but we take people's civil rights very seriously."
However, "you don't necessarily have to agree with who you're talking to," Werner adds. "Be authentic, be your true self. Posturing—I think that's counterproductive. I just try to be as real and empathetic as I can be."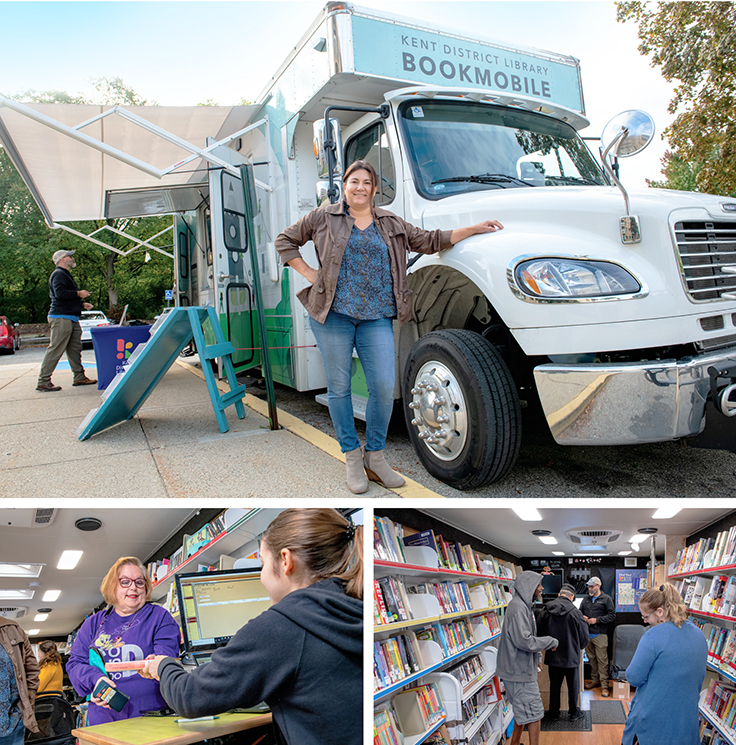 TEAM EFFORT

Everyone at KDL is part of the action. Top row: Sara Proaño, Community Engagement Manager, along for the ride with KDL'S bookmobile, and visiting Tamarisk Apartments, a low-income, senior apartment complex, to deliver books (bottom row). Photos ©Jeff Hage,Green Frog Photo
WIN-WIN PARTNERSHIPS
With its 700,000-item floating collection of physical materials, and a digital collection that saw more than 1 million downloads in 2022 alone, KDL makes good on its promise to provide quality programming and services across its service area. This work couldn't happen without the library's local partners—collaborations born out of shared missions, resources, and relationships forged early that ultimately grew to include new participants.
"As a library, we're limited in how much we can do because we only have so many people, so many hours that we can pay them," says KDL Director of Engagement Randall Goble. "But through these partnerships with the community, anything is possible. Our capacity just multiplies."
These include KDL's PerkPass, which offers complimentary guest passes to local cultural institutions—such as museums, the theater and opera, and botanical gardens—for cardholders age 18 and up. Each pass entitles up to six people to visit an institution for free on a reserved date or provides two tickets per performance. The most recent addition is a weeklong family pass to the YMCA. In exchange for a set number of complimentary passes, the library promotes each organization and provides it with usage statistics.
Since 2022, KDL has partnered with the Frederik Meijer Gardens and Sculpture Park in Grand Rapids Township to offer Concerts for the Community to cardholders. Each year the Fifth Third Bank Summer Concerts brings performers from around the world to Meijer Gardens for a concert series that is popular but, with tickets running $60 to $120 apiece, can be out of reach for many. KDL works with local agencies to identify eligible families and provides them with tickets, transportation to and from Meijer Gardens, and a meal; this summer KDL gave away more than 300 tickets.
WonderKnook Playspaces, KDL's child-centered areas in every branch, are built on partnerships as well. Feedback from branch managers, community members, and early childhood education experts helped create play concepts and themes that represent the communities each branch serves. A local factory designed and built commercial-grade, safe, and whimsical furniture, using the branches as live showrooms to test new designs. And a Kent County artist designed a fun, interactive map of all locations to encourage parents and caregivers to explore new libraries; kids who have visited at least five win a prize. The Playspaces appear to be popular—branches report an average 15 percent increase in visitor counts since November 2022.

THE NEWEST BRANCH

Left: the Amy Van Andel Library and Community Center in Ada, one of KDL's 20 branches. At right, Scott Ninemeier, Regional Manager I for the Amy Van Andel Library (r.), discusses an art installation with a patron. Photos ©Jeff Hage,Green Frog Photo
INVENTIVENESS—PARTICULAR SERVICE
While it serves a broad assortment of constituencies with varying needs, KDL's responses to what its communities want are consistently imaginative, thoughtful—and fun.
KDL Vibes is a commercial-free streaming service that gives West Michigan musicians a platform to share their work and provides patrons a listening portal. Curated by members of the local music scene, selections range from rock to hip hop to folk to blues. KDL Vibes pays the artists, ensuring that their contributions offer tangible returns. The library has completed four rounds of submissions and booked eight live performances this year. "We call it the Reference Desk concert series, like NPR's Tiny Desk concerts," says Goble. "They go into the library, set up a chair in front of the reference desk, and start making music for about 20 to 40 minutes." In September, the Cascade Township Branch hosted a two-day Vibes Fest featuring multiple artists.
For younger residents, KDL coproduces the hugely successful Wimee's Words, a web-based children's show that originated as virtual outreach during the pandemic shutdown and currently airs on the Michigan Learning Channel and various PBS stations around the country. The live, interactive program, featuring the robot puppet Wimee and friends, was created in March 2020 by developer Michael Hyacinthe, children's book author Stephanie Kammeraad, and author, puppeteer, and KDL bookmobile operator Kevin Kammeraad. It offers children and caregivers early literacy programming about rhymes, songs, numbers, and wordplay that they can engage in together—and airs on Fridays, when children who attend the local Monday-to-Thursday preschools are home or in childcare.
KDL and Great Start Collaborative of Kent County, which convenes stakeholders around childhood health and literacy initiatives, have partnered on projects including the Books for Babies kits distributed to new parents through local health care providers, which contain bilingual books provided by the library, and the One County, One Book campaign, which distributes thousands of literacy kits and titles for young readers. The library's Early Lit Bits newsletter features books that focus on Great Start's early childhood success basics (love, talk, count, play, and read)—"Simple messaging, but essential," says Great Start Director Paula Brown—and KDL brings the bookmobile to Great Start parent coalition meetings, where families can sign up for library cards and request books. "I can't say enough about the partnership," says Brown. "This is a great way for us to be able to reach into all four corners of the county."
VIBES AND PERKS

Top: Vibes Fest 2023 brought music and patrons together. Bottom left: choosing prizes at Vibes Fest. Right: patron signing up for KDL's popular Perk Pass. Top and bottom left photos courtesy of Kent District Library, bottom right photo ©Jeff Hage,Green Frog Photo
COMMUNITY COHESION
Michigan remains a majority-white state that is slowly becoming more diverse. According to state census demographics, Kent County—with a population of 72.9 percent white, 13.87 percent Latine or Hispanic, 8.96 percent Black, 3.06 percent Asian, and less than 1 percent American Indian and Alaska Native—was one of Michigan's five most diverse counties in 2020.
KDL has recognized the need to provide a welcoming, safe environment to all members of the municipalities it serves through inclusive, community-driven programming and services, with a particular concentration on underserved and underrepresented areas. Offerings include American Sign Language and Spanish story times, an annual partnership with Feeding America that provides free lunches for children in the library, and a Mother Bear Support Group, where new mothers can come to create community and find support from peers and staff.
The Men of Color Read program draws on all KDL's strengths—continuing work toward inclusion and leveraging community ties, with a simple setup that other libraries could replicate. The program, produced in partnership with local filmmaker John Covington, brings older men of color into schools in their communities to read and talk to students. "They also talk about life stories and offer a lot of mentorship," says Goble. "It's an amazing program for the kids. And it's also great for the men, because afterwards they always have a meal—so there's a little fellowship in this too."
The library has broadened its geographic reach in recent years, including launching a new bookmobile; building a branch expansion; opening its 20th location, the Amy Van Andel Library and Community Center; and installing an ExpressLibrary kiosk in Grattan Township, complete with a "robot" helper—a video and voice interface to answer people's questions in real time.
In 2018, KDL embarked on a partnership with Kelloggsville High School on a library branch within the school's new two-story, 6,000 square foot media center. During the school day, only students can access the branch, which operates with a staff of five. But it keeps regular hours for the public afterward and all day during summer break, offering a full collection with a range of interests and reading levels for all ages.
Kelloggsville Branch Librarian Cameron Holmes does a little bit of everything: collection development, helping run programs and events, and operating the Teen Zone on Wednesdays. He is also a new union steward—KDL staff is represented by UAW Local 2600. When the branch celebrated its fifth anniversary, Holmes organized a birthday bash, with games, crafts, goody bags, and—of course— ice cream.
Werner is currently working on an initiative that will make it possible for people to sign up for library cards when they apply for state IDs, driver's licenses, and absentee voting. "It's one of our philosophies here: Water, electricity, and people move along the path of least resistance, and what's easy gets done," he says. "If we can make it easy for people to sign up, then we're going to get more people using our services."
ENGAGEMENT ALL AROUND

Left: At KDL's Kelloggsville branch, located within a local high school, Assistant Branch Librarian Dan Nguyen chats with Branch Librarian Cameron Holmes. Right: KDL staffer Johanna Boyne puts together one of the booster packs that compliment Individualized Reading Improvement Plans, which are part of school testing. Photos ©Jeff Hage,Green Frog Photo
SECOND LIFE FOR BOOKS
By necessity, libraries weed. KDL takes this deaccessioning a step further, however, giving all physical collection materials second lives. Some go to book sales to generate revenue, but many others are repurposed through local partnerships.
In addition to welcoming residents who want to pick up used books for their own Little Free Libraries, KDL has a fleet of its own Free Libraries. Some can be found in terminals A and B at Gerald R. Ford International Airport, for travelers in need of reading material—two books recently made their way back to the library from Munich International Airport, along with notes of appreciation from borrowers. For those with shorter commutes, KDL drops off some seven boxes a month to the operation center of The Rapid, Grand Rapids' bus system, where drivers can stock their buses from the shelves.
A KDL Free Library shelf is located in the waiting room of Reflexions hair salon, which provides space to beauty professionals and hairdressers from the African and African American community. Another Free Library resides at Bridgeway, a school and living accommodation for unaccompanied minors detained at border crossings or who are seeking asylum. KDL's bookmobile team visits the site every two weeks to update or rotate materials in English, Spanish, French, and Arabic; kids can take books without worrying about returning them if they move between bookmobile visits.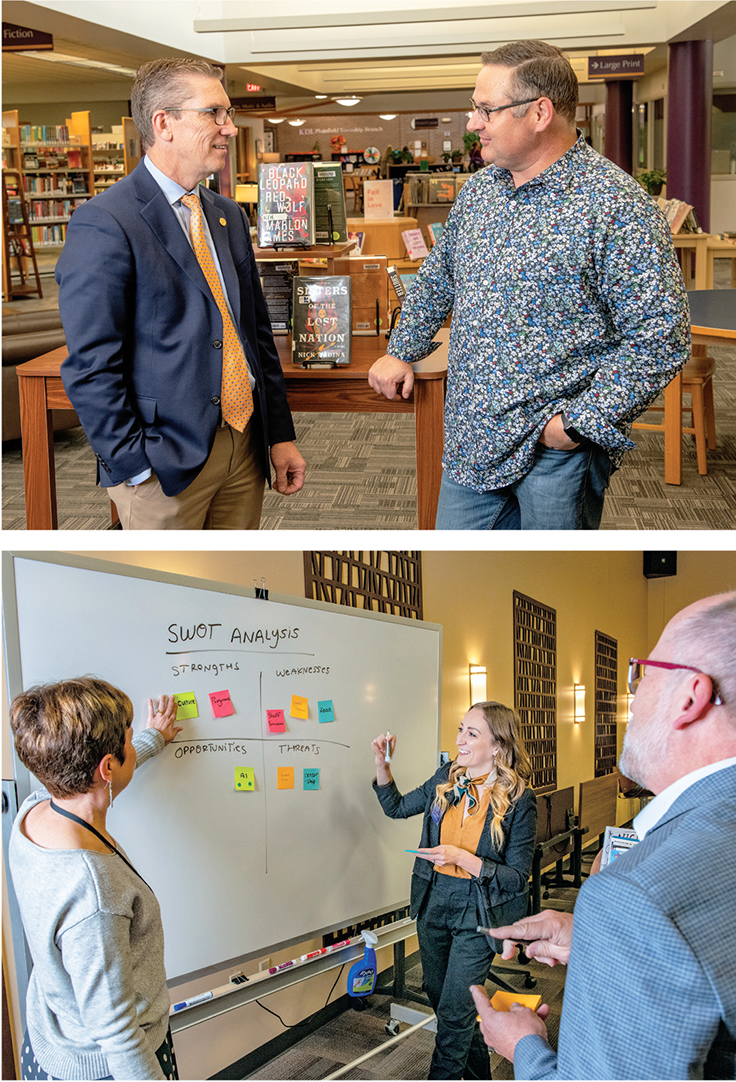 TELLING THE STORIES

Communication gets high priority at KDL. Top: Werner (r.) in conversation with Michigan Senator Mark Huizengaat the Plainfield Township Branch. Bottom: Cooper (c.) discussing Project Management Office initiatives with Hennie Vaandrager, Manager of Programming and Outreach (l.) and Goble (r.). Photos ©Jeff Hage,Green Frog Photo
HELPING STAFF GROW
None of this work can happen without KDL's leadership team, administration, staff, and volunteers. The value the library places on those relationships is demonstrated at every level—"the programs they have ID'd for staff development walk the walk," says Rivkah Sass, former director of Sacramento Public Library, winner of the inaugural Kline Community Impact Prize and one of this year's award judges.
KDL prioritizes succession planning and clear pathways to promotion, and in 2019 launched a manager-in-training program. Twice a year the library posts a series of internal temporary Regional Manager positions. Each lasts four months, offering ample time for participating staff to learn as they shadow a branch manager and are given the space to develop personal management skills and style. In addition to benefiting future leaders, this intentional career-path work increases employee retention and smooths the way for everyone during times of transition or turnover.
The program is about more than simply learning the ropes, although temporary managers develop critical problem-solving, decision-making, and conflict resolution skills. As in all KDL's work, making interpersonal connections is given high priority, and the manager-mentors demonstrate what that looks like in action.
"It's amazing how a few months can change the traditionally siloed relationship between the branch and the Service Center [KDL's administrative offices] and open up new connections for relationship building," says Regional Manager Josh Bernstein. "This was a valuable way to prepare employees for transition into a management role because so much of it is relational and takes place outside of the building."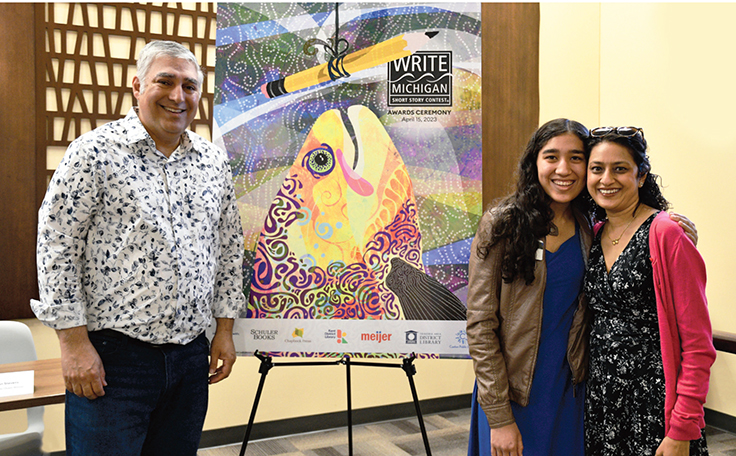 WINNING SMILES

Happy winners at the awards ceremony for the 2023 Write Michigan Short Story Contest that KDL partners on. Photo courtesy of Kent District Library
WORKING TOWARD DIVERSITY
Along with mobility for existing employees, KDL has upped its focus on intentional hiring. Director of Human Resource and Organizational Development Brian Mortimore, working with West Michigan's HireReach initiative, uses evidence-based selection in the hiring process—tests and assessments to determine if a candidate is a match for a particular job based upon the needed knowledge, skills, abilities, and personality requirements. This "whole person" approach reduces implicit bias, recognizing that a person is more than just the credentials on their résumé. KDL eliminated the MLIS requirement for many positions in 2019 to help break down barriers to employment; current staff come from fields such as hospitality, retail, and social work.
ENSURING A GREAT START

A team from library partner Great Start Collaborative of Kent County: Parent Liaison Tomarra Richardson, Director Paula Brown, and Parent Liaison Shanequa Mosley reviewing a new delivery for the Books for Babies project. Photo ©Jeff Hage,Green Frog Photo
Even with evidence-based hiring, the candidate pool in West Michigan is fairly homogenous. KDL re-evaluated its job posting language and the platforms where positions were advertised, but attracting a wider selection of candidates still wouldn't help the library's mission if new hires felt uncomfortable or pushed to assimilate into a change-resistant organization. So KDL partnered with the equity, diversity, and inclusion (EDI) training platform Paradigm Reach for library-wide training. All employees—more than 350—completed modules on implicit and explicit bias, cultural competency, welcome strategies, and organizational awareness as part of their personal development time. Managers, executive leadership, and board members also engaged in a separate baseline training.
KDL "is the second library system I've worked for," says Kelloggsville's Holmes, "and I must say that I have felt the most valued, appreciated, and seen working here, especially as I am a man of color." Given the state's relative homogeneity, the library's EDI efforts are a work in progress, he adds—"It's going to take time. It's not something that's going to happen overnight"—but he feels that the trainings are valuable, management consistently listens to staff needs, and that KDL is on the right track.
CULTIVATING GRASSROOTS
Many of KDL's wins start with relationships at the top, but many others happen at the grassroots community level. Recently, residents of Kent County's Algoma Township floated the idea of leaving KDL and creating their own library with nearby Solon township. Proponents stated that forming a unique library would cost taxpayers less than the current 1.24 mill rate they pay now. In January, the Algoma Township Board voted 6–1 to add a proposal to its May ballot asking voters if they wanted to break ties with KDL.
In March flyers were sent to Algoma Township residents by the FH4JE (Forest Hills for Just Education) PAC urging them to withdraw from KDL; among other statements, the flyers claimed that the library was hosting drag queen story hours—something it has never done.
Keeping in mind that the Patmos Public Library, in nearby Jamestown Township, had recently been defunded by an anti-LGBTQIA+ "Vote No" campaign, KDL leadership understood that it needed to step up with a campaign of its own. The library set up a webpage outlining the issues in play, including the fact that Algoma Township households are among the most frequent users of KDL hot spot loans. The work of on-the-ground advocacy, however, ultimately fell to the Algoma Township residents who valued the services KDL provides.
Residents formed a grassroots campaign, KeepKDL, to counter the detractors, printing and dispersing postcards with corrections and positive messaging, putting up yard signs, attending public meetings, and taking every possible opportunity to explain the math of what Algoma Township got from the library for its tax dollars. The May 2 election saw one of the largest turnouts in the municipality's voter history, and constituents overwhelmingly decided to stay with KDL, 2,415 to 712. Werner credits the local campaign with rallying the needed support. "We were so proud of them," he says.
KEEPING IT AUTHENTIC
During and after the grassroots campaign, KDL fielded calls, emails, and letters from members of the public asking how they could become more involved with library advocacy. The library also has an abundance of volunteers—more than 500 in the past year across all branches—as well many avid patrons and power users. KDL's Library Ambassador Program helps channel their enthusiasm into organized advocacy, offering another option for supporting the library in addition to—or instead of—donating or volunteering. The program trains participants in outreach to friends, businesses, and schools, and offers additional in-depth advocacy opportunities. Since April, more than 60 volunteers have been trained as Library Ambassadors.
At KDL, "Everybody has a seat at the big table, and no seat is any bigger or smaller than the other seat, and everybody's valued and welcome," says Werner. "It really has to be that authentic, and be that far in your DNA, for it to work. It's nothing that you can pretend. You have to work at it and build it." KDL continues to put in that effort, and the system's successes keep growing—proof that real connections do matter.
---
HONORABLE MENTIONS
HENRICO COUNTY PUBLIC LIBRARY | VIRGINIA
Barbara Weedman | Director
Located in one of the nation's oldest counties, Henrico County Public Library (HCPL), VA, places a high value on engaging with the community as it once was as well as how it is now. Some of that history is painful; Henrico County has deep roots in the Confederacy. The region's racist history is something HCPL continues to contend with and makes an active effort to redress. "Henrico's history is our nation's history, the good and the bad," says former Communications & Media Manager Patty Conway.
In 2020, HCPL formed an Equitability Task Force to address systemwide equity. Internally, the library delivered employee training in anti-racist practices and developed support for staff who experienced microaggressions at work. On the public side, HCPL conducted a diversity audit of its collection and changed policies to be more inclusive, including instituting fine-free services for youth. To build a more diverse workforce, the library has expanded recruitment efforts at Historically Black Colleges and Universities.
In partnership with the Henrico Department of Mental Health and Developmental Services, the library provides afterschool programming to youth in subsidized housing developments. They also strengthened ties between the community and public services through Henrico United, a collaboration with the Police, Fire, and Recreation & Parks departments that connects county services to residents in areas with reduced access.
HCPL's commitment to community care extends to is tiniest users as well. The library recently received an Excellence in Virginia Government Award from Virginia Commonwealth University for the design of Computer Work and Play Stations at the Fairfield Area Library. These adult-sized computer desks with an adjacent play enclosure, custom-built for HCPL, allow adult caregivers to use library computers while accompanied by their little ones. Director Barbara Weedman envisioned the concept, drawing from her experience serving families in public libraries and as a single mother.
Strong oversight and support from the county's executive leadership ensures that HCPL is accountable to its users. The community, in turn, demonstrates its appreciation through feedback, awards, votes—75 percent of residents approved a referendum that funded the $30 million Fairfield Library, which opened in a historically Black district in 2019—and donations. "Henrico County's commitment, and the contributions of our passionate and gifted staff, to access, equity, and inclusion, and to fostering community through times of crisis, have allowed us to be resilient and innovative," says Weedman.
---
KENOSHA PUBLIC LIBRARY | WISCONSIN
Barbara Brattin | Director
In August 2020, more than 100 buildings in uptown Kenosha, WI, were damaged or destroyed after days of civil unrest following the police shooting of Jacob Blake. As the city began to rebuild, residents expressed concern for how this would affect the community's children, who had already weathered disruptions to school and family life during the pandemic. Kenosha Public Library (KPL) opted to put its strategic plan philosophy—strengthening neighborhoods, inspiring learning, and keeping you curious—into tangible action with the construction of its first children's branch in the heart of uptown Kenosha, a neighborhood with the lowest literacy rates in the city. The new Kids at Uptown Library, located on the ground floor of a 70-apartment mixed-use development, is scheduled to open in spring 2024.
Thanks to an infusion of federal relief dollars and private investment, the new 7,000 square foot children's branch will be a vibrant addition to a challenged neighborhood's renaissance, an interactive learning center focused on full family health, STEM activities, experimental play, art, and curiosity. "No tests, no grades, no failure," says Director Barbara Brattin of its future users. "Just discovering their own potential among other explorers."
Helping its most vulnerable community members is nothing new for KPL. In 2015, an incident between police officers and residents led to increased youth violence in a local park, and the mayor reached out to the library. Brattin partnered with more than 15 local organizations to form the Kenosha Parks Alliance, which implemented a free youth day camp, baseball lessons, dinosaur digs, and more, with spoken word and poetry performances for adults; the initiative eventually expanded to four parks throughout the city.
Impactful partnerships are critical to KPL's mission. Working with the Aurora Health system, the Growing KPL Kids series connects caregivers with medical professionals for health and well-being education. The Dynamic Dads program, a longstanding collaboration between KPL's Youth and Family Services Department and the Kenosha Correctional Center, offers monthly literacy workshops for incarcerated men to engage with their children through reading, singing, playing, and writing. Partnering with the Coalition to Dismantle Racism, KPL also holds multiple Courageous Conversation programs each year, bringing community members with diverse viewpoints together to discuss current events. All this is in addition to laptop and hot spot distribution, tax help, and a dedicated social worker to direct patrons to social services.
KPL tracked more than 375,000 visits to its branches in 2022—the equivalent of every city resident visiting the library at least four times a year—a strong indication that KPL has earned their community's support.
---
The Jerry Kline Community Impact Prize recognizes the public library as a vital community asset. The prize seeks to honor a library that has achieved this recognition to the highest degree through a strong reciprocal relationship with its civic stakeholders and community.
To honor its exemplary record, Kent District Library will be presented with $250,000 from the Gerald M. Kline Family Foundation and will be honored at the 2024 Public Library Association Conference, April 3–5, in Columbus, OH.
We thank the following external judges who helped inform the final decision:
MARC A. OTT l Executive Director, International City/County Management Association
---
LESSA KANANI'OPUA PELAYO-LOZADA l Adult Services Assistant Manager, Palos Verdes Library District and 2022–23 President, American Library Association
---
RIVKAH SASS l Former Director, Sacramento Public Library, inaugural Jerry Kline Community Impact Prize winner
---
DARA SCHMIDT l Director, Cedar Rapids Public Library, IA, 2022 Jerry Kline Community Impact Prize winner
Also serving as judges were: Leslie Straus, Library Grants Director, Gerald M. Kline Family Foundation and Lisa Peet, Executive Editor, LJ.
For more information, see libraryjournal.com/communityimpact